Chef Shelly and Captain Randy Tucker on the luxury charter sailboat THREE MOONS live and work by their motto, "Love All, Feed All" and cater to the foodie traveler with gourmet dishes and southern hospitality. Just pick up a copy of Shelly's cookbook, Three Moons Island Cookbook, and you'll get a glimpse of her philosophy and experience from the start.
Originally from Tennessee, Shelly and Randy seized the opportunity to chase their dream of sailing over 20 years ago by refurbishing and racing sailboats until they eventually went all in and began their charter business in the Caribbean. Chef Shelly has been delighting guests with her award-winning cuisine ever since!
Shelly has been recognized for her dishes in culinary contests throughout the Virgin Islands for creations such as a Smoked Salmon Cheesecake Appetizer (recipe below) and Kiss-me Key Lime and the Coconut Chocolate Cheesecake. And when you're on board THREE MOONS, you can expect to be dazzled by her delicacies from sun up to sundown.
THREE MOONS: What's on the Menu
Your day aboard this luxury charter sailboat might begin with a breakfast such as a Heart Healthy Hearty O'Brien Frittata, Gluten-Free Cinnamon Muffins, and Fresh Fruit enjoyed al fresco in order to take in the warm breeze of the British Virgin Islands as you discuss the day ahead.
When you're ready, come back in after splashing in the blue waters and refuel with one of Shelly's many delicious tacos, wraps or nachos that have been custom designed for your charter.
At the end of your day, relax aboard THREE MOONS in the indoor dining room or enjoy a Caribbean sunset as you dine on Shelly's Grilled Creole Rubbed Salmon with Tamarind Glaze, Steamed Shrimp, and Scallops, or any of a number of delectable dishes created by Shelly. And that's just the first day!
Chef Shelly will happily work with any dietary restrictions or requests but know that you're in expert hands should you decide to let Shelly serve one of her "Shelly Surprises".
If you can't wait until your charter with Three Moons to get a taste of Shelly's creations, try out her award-winning recipe below: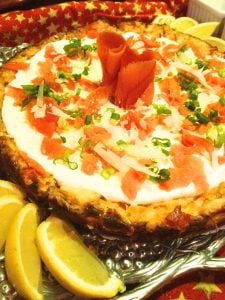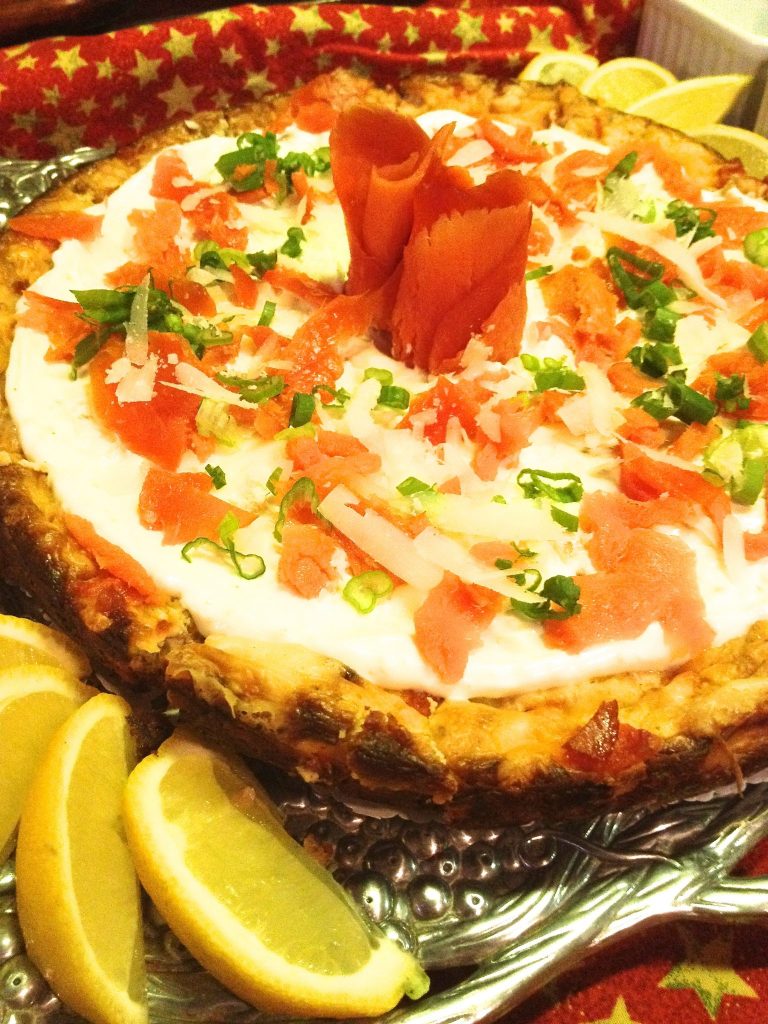 *Award Winning Smoked Salmon Cheesecake
Buttery Cracker Crust:
1 c. Ritz crackers, crushed
3 TBS butter, melted
Cheesecake Filling:
2 Ig. eggs
1/4 tsp. salt
2 (8-oz.) pkg. cream cheese softened
1/2 c. Gouda cheese, shredded
1/4 c. heavy whipping cream
1/4 tsp. garlic powder
3 med. scallions, chopped
1 (4.5-oz.) pkg. smoked salmon, flaked
Topping:
8 oz. cream cheese, softened
8 oz. sour cream
1/8 tsp. garlic, to taste
Garnish:
2 med. scallions, chopped
2 TBS red caviar, rinsed and drained
Heat oven to 375°. Mix cracker crumbs and butter. Place in a greased 9-inch springform pan. Bake 10 minutes. Cool while preparing the filling mixture. Reduce oven temperature to 325°.
Beat cream cheese until smooth. Add whipping cream, eggs, salt, and garlic powder. Beat until smooth. Stir in shredded Gouda cheese, scallions and salmon until well blended. Spoon mixture evenly over crust. Bake 45-50 minutes until lightly browned. Remove from oven and run a knife around the edge of the cheesecake to loosen. Cool completely at room temperature. Cover and chill at least 2 hours. Prepare toppings by beating together cream cheese and sour cream. Stir in garlic powder.
Before serving, carefully remove cheesecake from the springform pan onto a serving platter. Spread cream cheese topping mixture on top of the cheesecake. Sprinkle with remaining chopped scallions and red caviar. This is really pretty with the garnish arranged in a yin-yang pattern.
Servings: 10
*Recipe Note: 1st Place Winner – Virgin Islands Charter Yacht League Culinary Competition.
For more information about chartering the luxury sailboat "Three Moons", contact CKIM Group at 321-777.1707.
You make the memories. We make the arrangements.
Please call us today at 1 (321) 777-1707 or describe Your Vacation Vision to help you plan your fully-crewed private luxury yachting vacation! Inquire as soon as possible about your custom, crewed yacht charter.
You make the memories. We make the arrangements.