Agistri | Small Pristine Island for Adventure
Agistri is a lush green Saronic Island. It has thick pine forests extending down to the beach-lined shore. Its villages are unspoiled, making for a delightfully low-key vacation destination.
Agistri is famous for day trips from Athens and Aegina and weekend getaways. Mediterranean yacht charters include Agistri on many itineraries.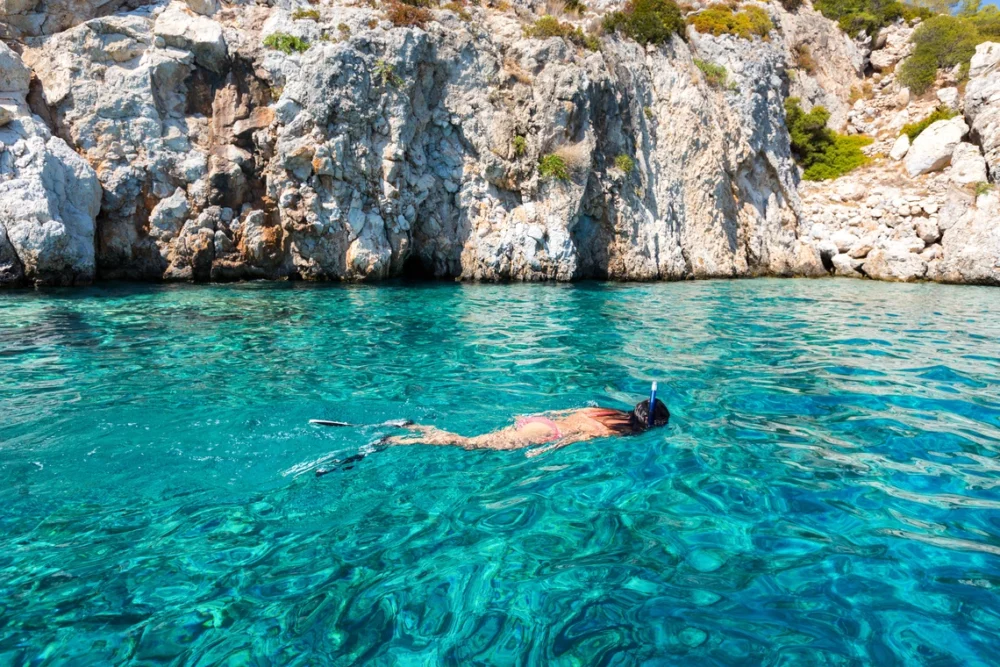 The islands of Agistri, Aegina, and the surrounding area formed the kingdom of Aegina, which King Aeacus once ruled. There are archaeological finds on the islands and their surrounding waters.
Agistri Mediterranean Yacht Charters | Climate
Agistri is warm and has dry periods in May, June, July, August, and September. July is hot, with an average high temperature of 31°C (87°F). The coldest month is February, with an average maximum temperature of 13°C (55°F). December sees the most rain.
Places to see
Agistri Mediterranean yacht charters stopping in Agistri will find loads of places to see, primarily historic sites.
Church of Agia Kyriaki in Limenaria, a tiny village in southern Agistri. An annual folk festival (panigiri) takes place on July 7th.
The Church of Agioi Anargyroi is the most photographed whitewashed church in Agistri, with a blue dome. It is next to Skala Beach.
Church of Virgin Mary in Metochi village. Use the trekking paths to hike to this hilltop church. You will have breathtaking views of the sea and the surrounding mountains. The annual Mass to honor the death of the Virgin Mary is on August 15th.
Archaeological remains at Aponissos, Megaritissa, and Kontari.
The villages. Skala is the main port. Megalochori, on the island's northern side, is the capital village. Its traditional architecture and sandy beaches make it a great spot to take Instagram photos.
Limenaria is a small village nestled by pine trees. Metochi is a tiny traditional village with just a few houses.
Things to do
Work on your tan at the beach. Many lovely beaches grace Agistri Island. For example, Chalikiada Beach (Limenaria village) is popular with nudists.
Aponissos Beach, also close to Limenaria, offers good swimming and some services. Other beaches include Dragonera Beach, Skala Beach, Megalochori Beach, Skliri Beach, and Xekofti Beach.
Windsurf. There are many little coves and hidden bays to discover in Agistri. They are ideal for sports such as windsurfing and fishing.
Scuba dive and snorkel. Discover the colorful and diverse underwater beauty surrounding the island.
Hike. Beautiful mountain trails winding through pine trees let you see the unspoiled natural surroundings firsthand. Stop for a cool drink at a local taverna following a hiking adventure.
Horseback ride. Aponisos Horse Riding offers trail rides as well as lessons.
Stargaze from your private yacht. Since you will be at sea, lights from town won't interfere with your view.
Biking: Rent a bicycle and explore Agistri's picturesque landscapes at your own pace. The island's small size and well-maintained trails make it perfect for cycling enthusiasts. Pedal through lush forests, along coastal paths, and past charming villages.
Agistri Mediterranean Yacht Charters | Gastronomy
Greek cuisine in Agistri is similar to Greek food throughout the region. The cuisine features vegetables, olive oil, grains, fish, and meat, including pork, poultry, veal and beef, lamb, rabbit, and goat.
In addition, you can find paidakia, a dish with lamb chops and roast potatoes, in every tavern. Other popular meat dishes are beef stifado, fried tefteli, kokoretsi, and lukaniko sausages. Souvlaki and trachanas are also popular dishes in Greece.
Visit Agistri when sailing the Saronic Gulf Islands in Greece.
Please call us today at 1 (321) 777-1707 or describe Your Vacation Vision to help you plan your fully-crewed private luxury yachting vacation! Inquire as soon as possible about your custom, crewed yacht charter.
You make the memories. We make the arrangements.