Ibiza Yacht Charter Nightlife Fun
Why not consider an Ibiza yacht charter vacation if you plan your next holiday? This beautiful island off the coast of Spain is one of the world's most popular holiday destinations. It offers something for everyone, from gorgeous beaches to lively nightlife and unique culture. There are plenty of beautiful things to do on an Ibiza yacht charter vacation.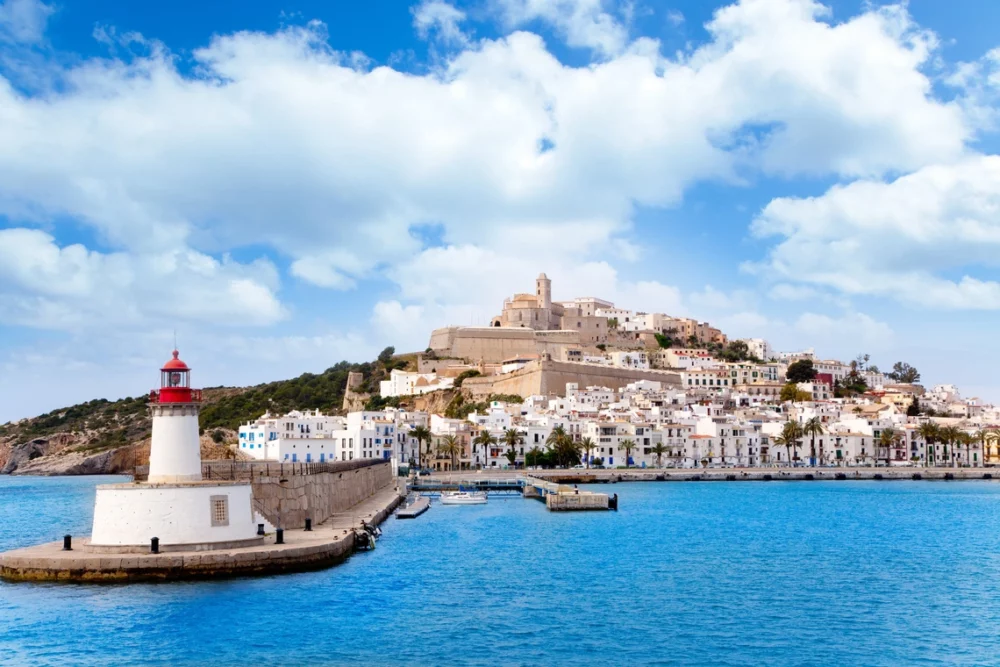 A yacht charter vacation is a perfect way to spend a summer in Ibiza. Its colorful collage of landscapes with glimmering blue waters, crystal-clear skies, and beautiful white sand beaches are just a few reasons this area is so popular among travelers.
Ibiza is a perfect destination for anyone who wants to experience the culture, history, and nature, all while relaxing on a yacht charter vacation.
Climate
With an average temperature of 79°F, August is the hottest month in Ibiza, while January is the coldest, with an average temperature of 54 °F. Since you'll find sunshine and the warmest sea temperature in August, you may want to consider traveling then.
Places to See on Your Ibiza Yacht Charter
Sant Antoni. It is located on the west coast of Ibiza and has a vibrant nightlife. In addition to a natural harbor, Sant Antoni's Bay makes it an attractive tourist destination.
Sant Josep town is a charming village situated slightly inland. Here you can visit the beautiful Church of Sant Josep, shop for local handmade goods, and soak up the pleasant atmosphere of this friendly town.
Eivissa (Ibiza Town) is the capital of Ibiza. This town, located in the old quarter, is a place you must visit while on the island. The Old Town is now a recognized UNESCO World Heritage Site.
Contemporary Art Museum. A small museum housing an exciting collection of exhibits.
Churches and Cathedrals. Some religious buildings are Esglesia de Nostra Mare de Jesus, San Rafael Church, San Rafael, and Catedral de Eivissa in Old Town. Els Amunts reserve, northwest of Ibiza, is a beautiful area for hiking and photography.
Santa Eularia. Santa Eulalia is on the island's east coast. Since it is quieter than other towns in Ibiza, it is popular with families and those looking for a peaceful holiday. Moreover, Santa Eulalia is recognized as the island's culinary and cultural center. Here you'll find art galleries, restaurants, as well as shopping.
Things to Do on Your Ibiza Yacht Charter
Shop. Boutiques in Ibiza Town are one of the best places to get a feel for the island's heart and rich history. From pottery and leather goods to jewelry and clothing, there is something for everyone in this small but bustling town.
Nightlife. Ibiza is world-famous for its nightlife in the Calle de la Virgen, located in the Old Harbor District. Bars, restaurants, and clubs are plentiful for those seeking a fun party atmosphere.
Tour the city. Set out on your own or join a guided tour.
Go to the beach. A yacht charter to Ibiza wouldn't be complete without a day at a gorgeous beach. There are lots of sandy stretches for everyone, from remote uncrowded shores for couples, calm coves for families, and vibrant beaches with bars for the party crowd. One trendy club is the Blue Marlin, located in Cala Jondal.
Hike. Ibiza isn't just for the party crowd, it's also brimming with pure nature, breathtaking landscapes, and many trails for hikers of all skill levels.
Bike. One of the easiest (and most fun) ways to explore the island is by bike.
Gastronomy
Your Ibiza yacht charter has a private chef who will create out-of-this-world meals for you and your guests. But while visiting Ibiza, make it a point to try some of the local cuisines.
Over the years, Ibiza has evolved and has been home to many different peoples, and the local recipes have reflected this diversity of inhabitants. Aromas and methods have been passed down from the Phoenician, Roman, Arabic, and Catalan cultures through preservation methods such as marinating, pickling, and curing.
Try some of the traditional dishes, such as
Arros de Matances is a soupy dish made with pork and squid mixed with tomatoes, peppers, garlic, onion, olive oil, saffron, and rice.
Borrida de Ratjada is made with locally fished ray marinated with lemon and served with potatoes and a sauce prepared with almonds, garlic, parsley, saffron, egg, and olive oil.
Bullit de Peix is a rockfish, potatoes, and vegetable stew. Only local fish varieties are used in this recipe, including scorpion fish, bream, and angler fish.
Marinas and Anchorages
Marina Ibiza offers 425 berths for superyachts up to 360 feet. Luxury shopping, restaurants and clubs, beauty services, laundry, and dry cleaning.
Marina Botafoch. This marina has 428 berths with water, electricity, and telephone lines. It also has a fuel station and a large selection of restaurants and shops.
Marina Port Ibiza. Marina Port Ibiza in Ibiza Town accommodates large yachts near the historic quarter. There are berths for 89 yachts up to 196.8 feet. Services include 24-hour security, concierge, shuttle, postal service, and Wi-Fi.
Club Nautic Sant Antoni de Portmany has 578 berths for yachts up to 164 feet, Wi-Fi, security, a cafe, restaurant, lounge, and club.
Marina Sovren offers 16 berths for the largest super yachts between 197 and 608 feet. This ultra-modern marina has CCTV surveillance and 24-hour active patrol and complies with IMO International Ship and Port Facility Security Code.
Santa Eulalia Marina. Marina Santa Eulalia is conveniently located only 8.5 miles from Ibiza town and has moorings for vessels up to 72 feet. In addition to shopping, the marina offers restaurants, bars and cafes, and nautical services.
Yacht Types
We can arrange your Ibiza yacht charter on a sailing catamaran, monohull sailboat, power catamaran, or motor yacht. All yachts have an experienced Captain and crew, including a private chef.
Sailing itinerary options are one-way charters between the islands or round-trip from Ibiza or Palma de Mallorca and experience a Spain Yacht Charter Vacation.
Sample Itineraries | Ibiza Yacht Charter
Please view our sample itineraries for Balearic Islands charters. You may also want to take a look at the yacht, SPIRIT OF MK as one option for these itineraries.
Please call us today at 1 (321) 777-1707 or describe Your Vacation Vision to help you plan your fully-crewed private luxury yachting vacation! Inquire as soon as possible about your custom, crewed yacht charter.
You make the memories. We make the arrangements.