Where are the most Instagrammable places in Greece? Firstly, you probably think of the islands. Whitewashed houses draped with pink bougainvillea in the Cyclades, turquoise waters, and Venetian fortresses in the Ionian.
Secondly comes the mainland, with its archaeological sites and remote monasteries. So here we list our Top 10 most Instagrammable places in Greece.
Acropolis, Athens
The Unesco-listed Acropolis is a world-class attraction above the rooftops of modern Athens. With the 5th-century BC white marble Parthenon as the centerpiece, it's possibly the most Instagrammable place in Greece. In addition, nearby, there's the ultra-modern Acropolis Museum, displaying finds from the site.
Oia sunset, Santorini, Cyclades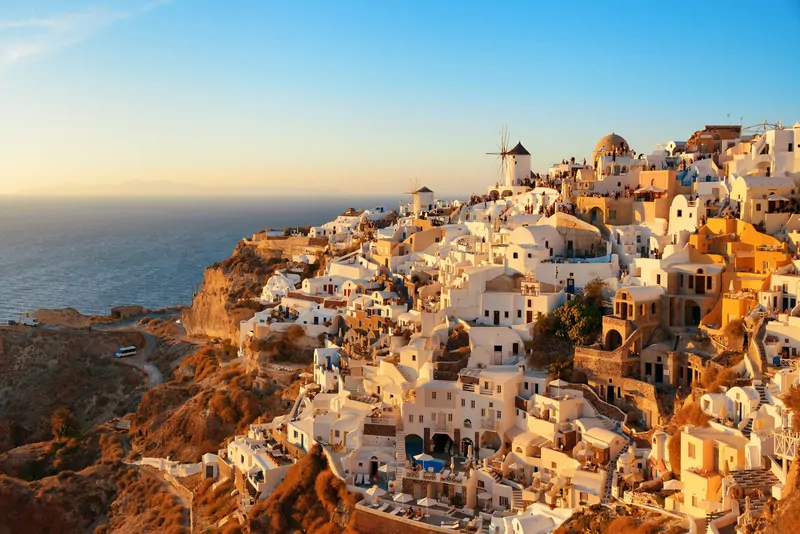 Undoubtedly Greece's most Instagrammable island, we've all seen pictures of Santorini's whitewashed cubic buildings and blue-domed churches. The must-do experience is watching the sunset over the sea from the cliff-top Oia. After that, a romantic seafood dinner with Santorini's esteemed white wine.
Mykonos Town, Cyclades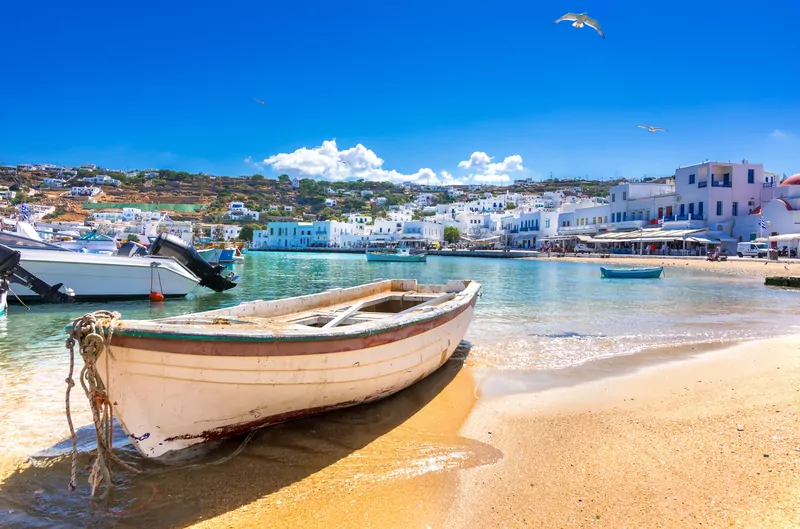 Famed for its extravagant nightlife, Mykonos Town is a warren of cocktail bars, expensive restaurants, and late-night dance clubs. Some of the most alluring venues are in Little Venice, overlooking the harbor. Nearby, Mykonos' seven white hilltop windmills are also iconic.
Corfu Town, Ionian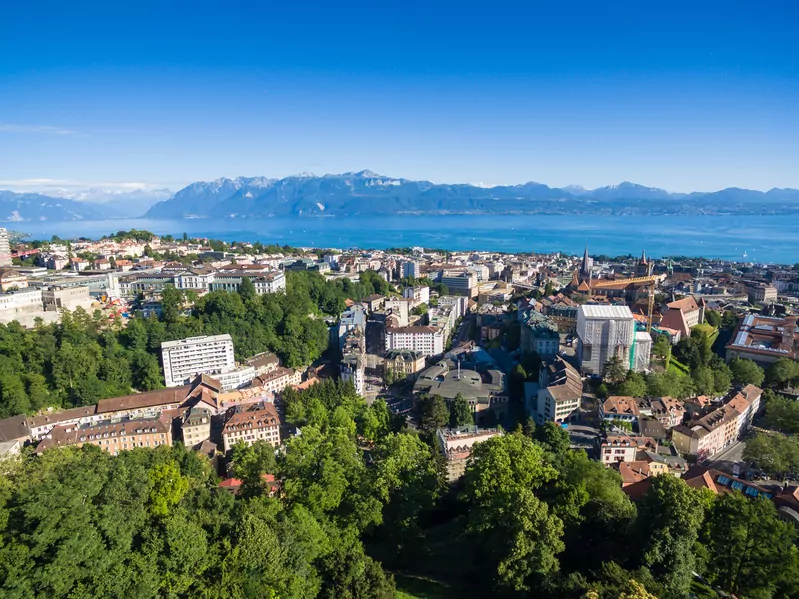 Two mighty Venetian fortresses guard the grandest city on the Ionian, Unesco-listed Corfu. You'll find proud neo-classical mansions, quaint churches, and rustic seafood eateries in the historic center. The centerpiece is the vast green Spianada, where locals play cricket in summer.
Navagio Beach, Zakynthos, Ionian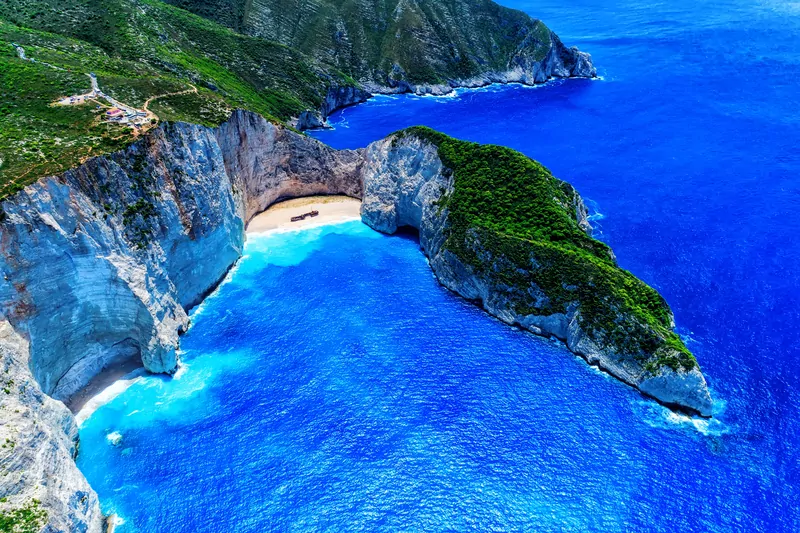 Indeed, regarding beaches, Navagio is one of the most Instagrammable places in Greece. There is a wreck on this pebble beach, a cargo ship that ran aground in 1980. Locals say that contraband was aboard the ship, which is why the beach also has the name Smuggler's Bay.
Melisani Cave, Kefalonia, Ionian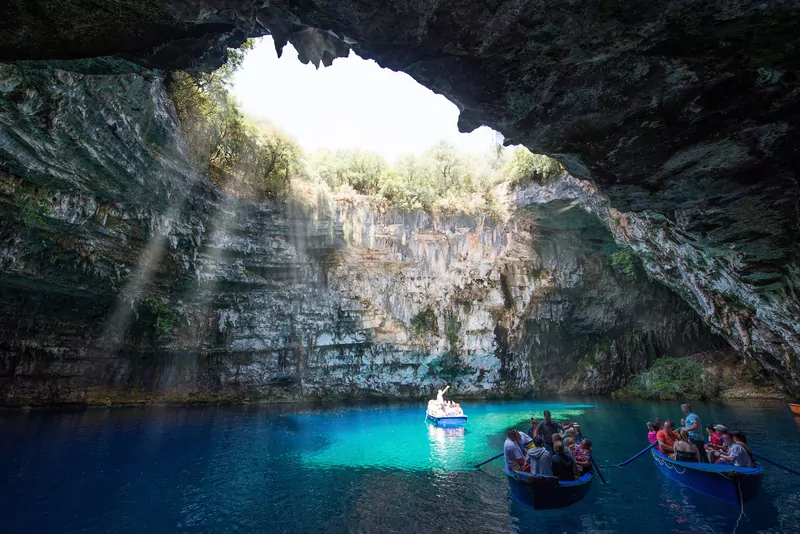 On Kefalonia, this extraordinary limestone cave hosts a lake you can explore by rowing a boat. Try to visit around midday, when the sun's rays bathe the cave in pale blue fluorescent light. According to Greek myths, Pan kept a harem of nymphs here.
Sarakiniko Beach, Milos, Cyclades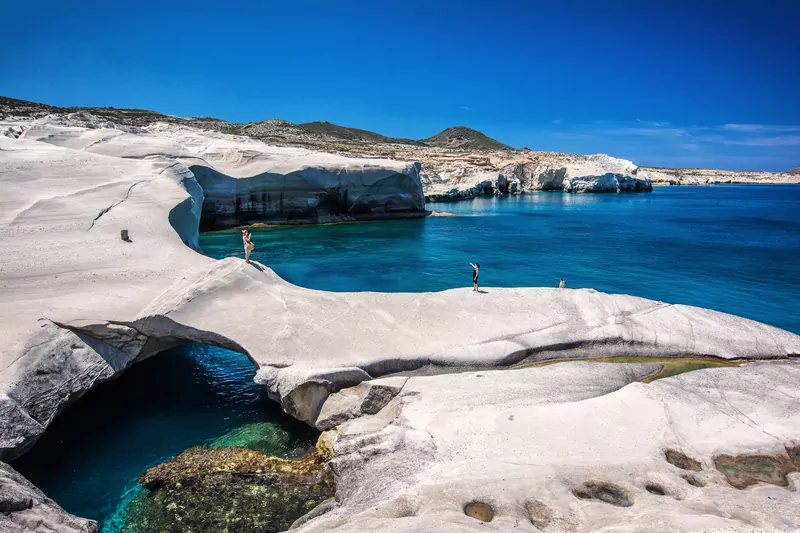 Another superb beach, Sarakiniko, combines white volcanic rock formations and the azure sea. There's no plant life here, so it's often described as a moonscape. Moreover, the constant ebb and flow of the sea have worn the rocks smooth, with curious holes and hollows. For some action photos, try cliff-jumping into the sea.
Lindos, Rhodes, Dodecanese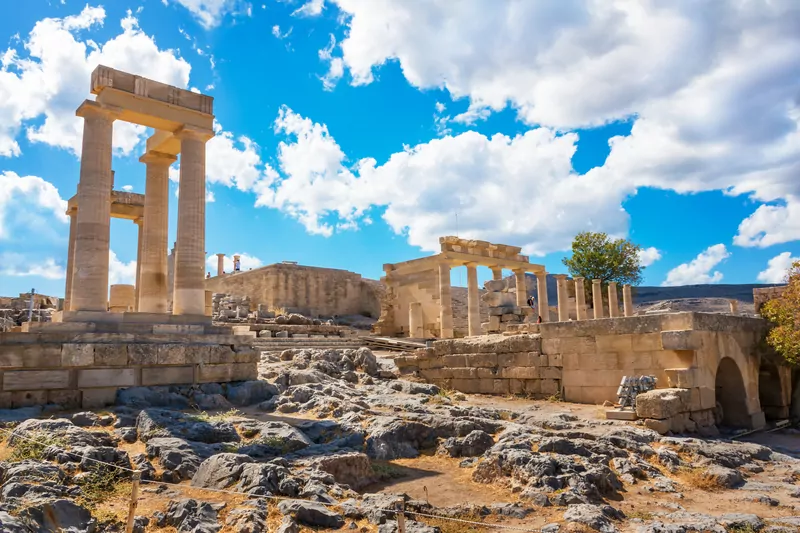 Charming Lindos is a huddle of whitewashed houses, capped by a fortress, overlooking a blissful sandy beach. Pebble mosaics adorn Lindos' pretty alleys. Nearby, medieval Rhodes Town is better known, but we rate Lindos the most Instagrammable place in Greece's eastern islands.
Symi Harbor, Dodecanese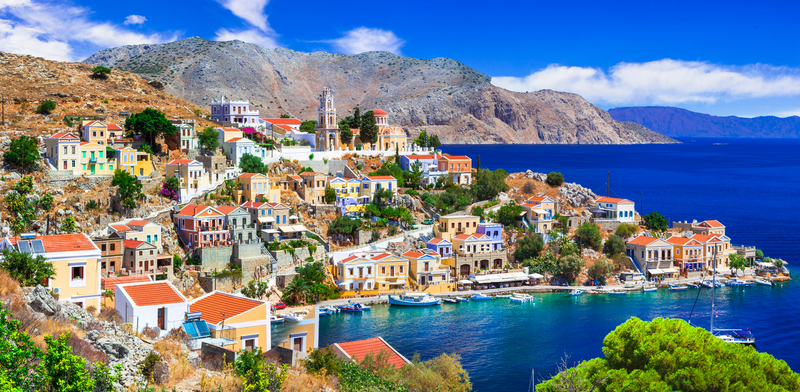 Sailing into Symi's picturesque harbor, filled with wooden fishing boats, is an unforgettable experience. In addition to pastel-colored neo-classical mansions built into steep seaward slopes, rim three sides of the inlet. Additionally, foodwise, snap the local specialty, tiny pink Symi shrimps, fried and eaten whole.
Meteora, Thessalia

Moving inland, the Meteora is a bizarre landscape where medieval monasteries perch atop massive limestone columns. Expect bearded monks, flickering candles, golden icons, and incense wafts. It juxtaposes natural features and artificial beauty; the Meteora is undoubtedly one of the most Instagrammable places in Greece.
Please call us today at 1 (321) 777-1707 or describe Your Vacation Vision to help you plan your fully-crewed private luxury yachting vacation! Inquire as soon as possible about your custom, crewed yacht charter.
You make the memories. We make the arrangements.