You want to make the most of your time in paradise, so we've outlined what a day might be like for you and your group in Nassau. This sample day's itinerary provides an idea of what you might do during a day on your yacht. There are plenty of activities to keep you busy on your motor-yacht rental in the Bahamas.
Each day will bring something new: a hidden cove, a quiet anchorage, or a lively beach bar.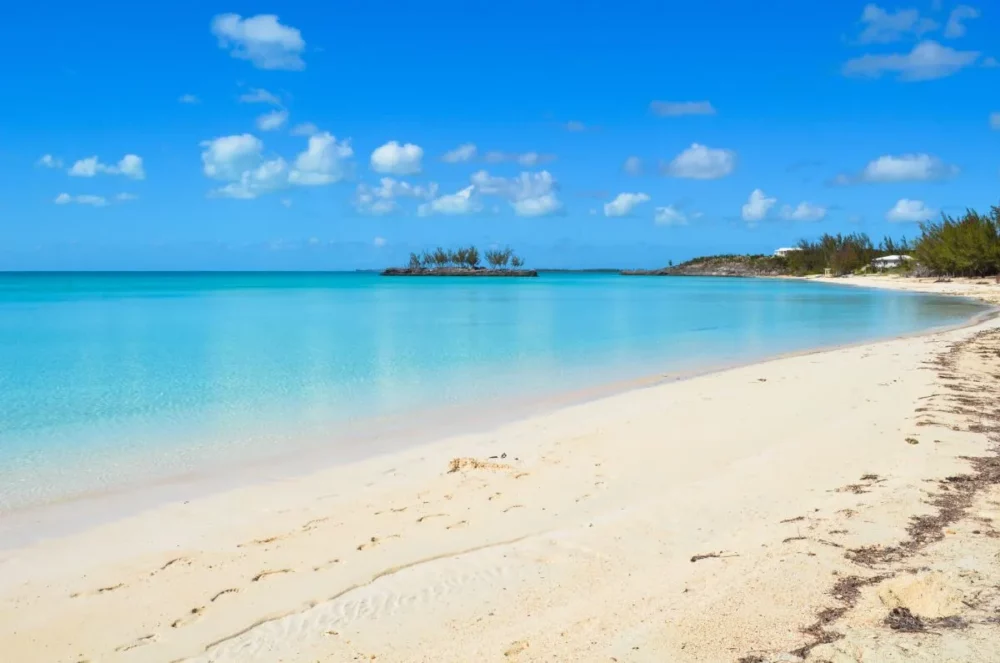 Bahamas Morning Activities
From 8:00 to 12:00, start your day on the sun deck, enjoying a coffee or a cup of tea as you wake up to the spectacular view. The light of the day slowly brightens, and you can begin making out other yachts in the harbor.
It's time for breakfast—colorful fresh fruit, eggs Benedict, or some other favorite prepared by your chef. Enjoying breakfast is great because it lets you take in the whole scene before deciding what activities to do during the day. Don't feel like getting up early? It's up to you! After all, this is your vacation.
Change into your clothes if you will be going ashore, or throw on your swimsuit if you plan on a few hours of water fun. Remember to bring a wide-brim hat, sunglasses, and sunscreen if you're going ashore. The tropical sun can be pretty strong. What you see and do will depend on where you go. For example, you might spend your day at a resort like Atlantis or Coco Cay. Book a spa treatment and pamper yourself with a massage or a facial.
Early Afternoon on a Motor-Yacht Rental in the Bahamas
12:00-1:30 Return to the boat and smell the delicious lunch being prepared by your chef. It may be lobster on the grill or aboard motor yacht AMARYLLIS; your chef may prepare:
Caprese salad with a melody of green, orange, and red tomatoes and basil pesto with pine nuts.
Serrano ham and melon ball salad with a truffle dressing.
Pan-fried gnocchi in a roasted pepper sauce with wild rocket.
Italian baked halibut with tomatoes, olives, and fresh oregano.
Creamy garlic spaghetti alle vongole with handfuls of parmesan cheese.
Veal Milanese with charred green vegetables.
As you savor your lunch, spend some time reviewing your morning. Discuss what you would like to do next.
1:30-4:00 Try something new: maybe a jetski or the standup paddleboard. Your crew will show you how if you've never tried these activities. Of course, a nice long nap is always on the schedule!
If you go ashore in Nassau…
Take a sightseeing tour and visit iconic places such as Cable Beach, Queen's Staircase, Fort Fincastle, and Fort Charlotte.
Queen's Staircase. This remarkable walkway of 66 steps was carved out of limestone rock by 600 slaves between 1793 and 1794. It was an escape route from a fort and is now a famous landmark in Nassau.
Fort Fincastle. This distinctive fortress resembles a paddle steamer. It was constructed in 1793 to safeguard Nassau from pirate invasions. The fort provides sweeping views of Nassau, Paradise Island, and the eastern entrances to New Providence. Visitors on foot commonly access it via the renowned Queen's Staircase.
Fort Charlotte. A British-colonial fort overlooking Nassau's harbor. Constructed in the late 18th century by Governor Lord Dunmore after the American Revolutionary War, it has never been used in battle.
Cable Beach. A gorgeous pink-sand beach. The pink sand is created from crushed coral, which looks like rust and makes for spectacular photos when wet. Bring water shoes if you want to go out into deeper water, as there is quite a bit of coral near shore.
More Experiences in Nassau
In addition to fascinating historical sites, Nassau offers many shops and restaurants. A few notable ones are:
Straw Market. A vibrant downtown marketplace that showcases Bahamian culture. Visitors can haggle with friendly vendors and find handmade crafts, souvenirs, and woven straw items.
Doongalik Studios. Art enthusiasts should make a point to visit the Doongalik Studios Art Gallery. The gallery offers diverse art forms, including paintings, sculptures, ceramics, and quilts, providing a captivating showcase of Bahamian artistic expression.
The Fish Fry, also known as Arawak Cay, is a must-visit destination for tourists and locals in Nassau. It offers an authentic culinary experience showcasing the local food of the area. This lively area, filled with restaurants and bars, guarantees you'll find genuine Bahamian flavors.
Versailles Gardens. These European-style gardens offer a tranquil retreat with stunning harbor views and 12th-century statues. Enjoy a romantic stroll, witness breathtaking sunsets, and capture unforgettable photos on the cloister steps. Admission is free, and the gardens are open throughout the night. Located on the eastern end of Paradise Island, accessible by bus, taxi, or car.
If you remain on board, take a dip or relax on the sun lounge chairs. You can also use water toys: beach toys, sea kayaks, snorkeling gear, paddleboards, and standup paddleboards. If you like fishing – cast a line and see what you can catch!
Late Afternoon/Early Evening
4:00-7:00 Return to the boat. Enjoy appetizers and pre-dinner cocktails while you discuss your day's adventures.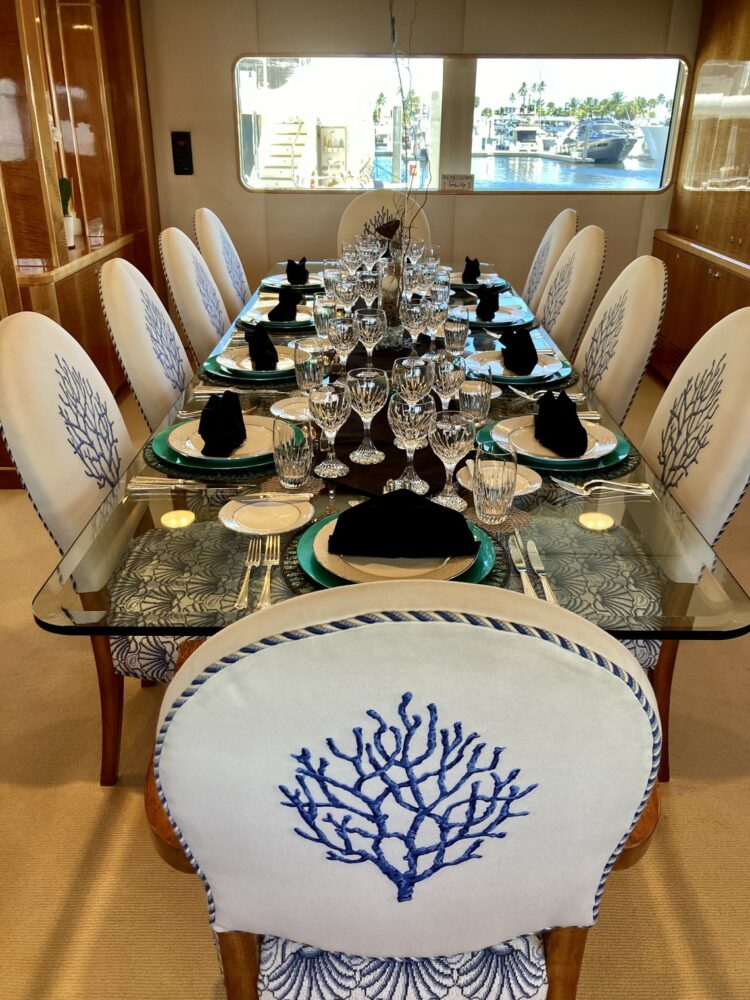 Dinner may be indoors or outdoors, depending on your mood. If you are on the motor yacht RENA, your chef may prepare the following:
Raw Kale Salad with Ginger Sesame Vinaigrette
Miso Grouper with Edamame Puree,
Roasted Spinach
Vanilla Bean Roasted Pineapple
Green Tea Ice Cream
Evening/Night on Your Motor-Yacht Rental in the Bahamas
7:00-9:00 Sunset. Watch the sunset and see the stars come out. Relax to island sounds. Enjoy a drink or two. The night is young and full of possibilities! You can return to shore to experience the local nightlife or stay on the yacht and soak in the hot tub. Retire to your comfortable, spacious cabin where you can settle into bed with a good book.
Start Planning Your Bahamas Yacht Charter Today
Together with you, we'll create a luxury yacht charter itinerary that aligns precisely with your interests. Whether you seek leisurely swims in shallow waters, world-class golfing experiences, or even encountering the delightful swimming pigs on Big Major Cay, we are dedicated to bringing your dreams to life.
Your satisfaction and enjoyment are our utmost priority, and we will go above and beyond to ensure an unforgettable experience tailored specifically to you. Your motor-yacht rental in the Bahamas promises days of fun, relaxation, and memories that will last a lifetime.
Please call us today at 1 (321) 777-1707 or describe Your Vacation Vision to help you plan your fully-crewed private luxury yachting vacation! Inquire as soon as possible about your custom, crewed yacht charter.
You make the memories. We make the arrangements.