Portsmouth | Maritime History and Coastal Luxury
Portsmouth is a New Hampshire port city on the Piscataqua River, and Portsmouth is the only port in the state. Known for tax-free shopping, waterfront views, and historical sites, the city of Portsmouth sits just 60 miles north of Boston.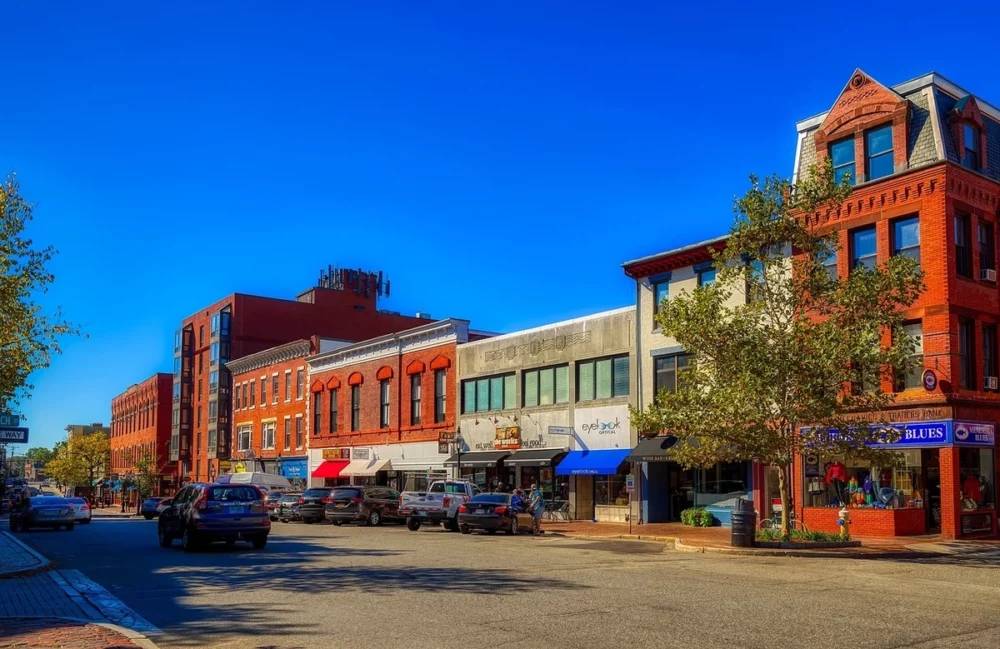 This could be one of your ports when sailing north to Maine or south from Maine to Newport or Boston. The Piscataqua River separates New Hampshire from Maine. The final stretch of the Piscataqua River near Portsmouth Harbor is a swift tidal estuary. It is among the fastest in North America.
A Brief Historical Overview
Portsmouth has a captivating history dating back to 1623, when it was first settled. As one of the oldest towns in the United States, it boasts a wealth of historical sites and architectural gems. The town played a significant role in the American Revolution. It served as a bustling seaport during the 18th and 19th centuries. Today, you can wander the historic district and soak up the well-preserved colonial charm.
Weather
In Portsmouth, the summers are warm, and the winters are freezing, wet, and windy. It is partly cloudy year-round. Over the year, the temperature typically varies from 19°F to 80°F. It is rarely below 5°F or above 89°F.
Portsmouth | Places to see
Strawbery Banke Museum: Immerse yourself in history at this living museum, featuring restored buildings from the 17th to the 19th centuries. Stroll through the picturesque streets, interact with costumed interpreters, and gain insights into the daily life of Portsmouth's early settlers.
Prescott Park: This waterfront park has meticulously manicured gardens, stunning river views, and a vibrant summer arts festival. Catch a live performance, take a leisurely walk, or relax amidst the tranquil surroundings.
USS Albacore Museum and Park: Dive into naval history at this unique museum. It is dedicated to the USS Albacore, a revolutionary research submarine. Explore the vessel and learn about Portsmouth's maritime heritage.
Historic Portsmouth Harbor Lighthouse: Delight in the panoramic views of the harbor and the Atlantic Ocean from this iconic lighthouse. Take a guided tour to learn about its fascinating history and climb to the top for breathtaking vistas.
John Paul Jones House. This historic home was the former residence of American naval hero John Paul Jones. He is known as the "Father of the American Navy." Explore the meticulously restored rooms, admire the period furnishings, and learn about Jones' remarkable naval career.
Portsmouth | Things to do
Tour one, two, or three local breweries. First, try Great Rhythm Brewing Company. Next, visit Beara Brewing Company, and last (if you're up to it), go to Liars Bench Beer Company.
Take a steamship cruise. During this narrated history tour, you'll see Portsmouth Harbor, the Isles of Shoals, and the New Hampshire Seacoast.
Shop. Discover the heart of downtown Portsmouth at Market Square. This vibrant area is brimming with shops, boutiques, art galleries, and a wide array of restaurants and cafés.
Marinas
Piscataqua Marina offers slips ranging from 32-125′ for summer, winter, and transient occupancy. Amenities include showers, 30-100 amp electrical service, ice, water at the slip, free Wi-Fi, complimentary pump-out, laundry, and concrete floating docks. Walk to nearby dining and nightlife.
Portsmouth Yacht Club: Located on the Piscataqua River. With top-notch services, waterfront dining, and a bustling social calendar, it's an excellent choice for a temporary berth.
Great Bay Marine has 128 slips accommodating 13′ to 70′ LOA, available 30A & 50A power and fresh water, free Wi-Fi, 72 moorings, a dedicated dinghy dock, four moorings at Hilton Park for tall rig sailboats, transient slip and moorings.
Please call us today at 1 (321) 777-1707 or describe Your Vacation Vision to help you plan your fully-crewed private luxury yachting vacation! Inquire as soon as possible about your custom, crewed yacht charter.
You make the memories. We make the arrangements.