New Hampshire
New Hampshire, one of the original 13 colonies, was the first state to have its constitution. This state is defined by its quaint towns and large expanses of wilderness. White Mountain National Forest is known for its winter sports areas in the north. Mt. Washington, the region's highest peak, has a cog railway to its summit. Also in the White Mountains are moose, black bears, and part of the Appalachian Trail.
Portsmouth | Maritime History and Coastal Luxury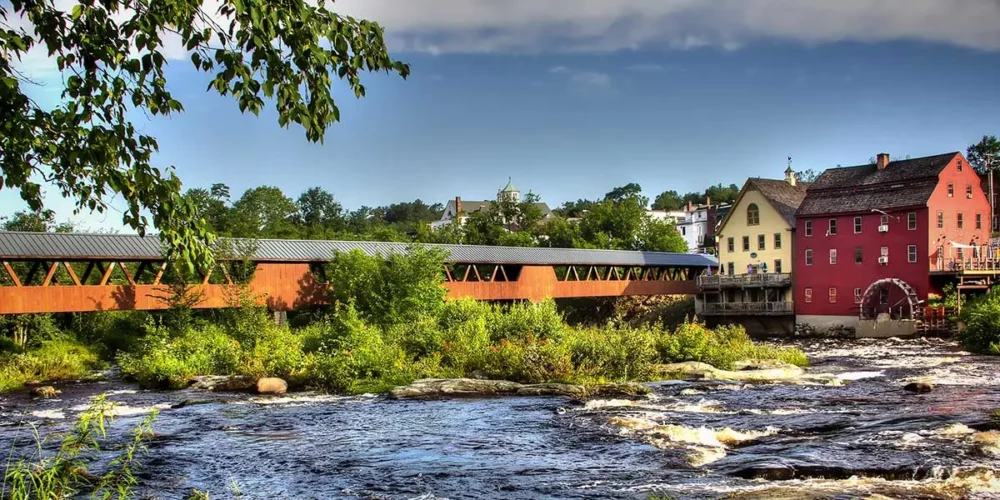 Portsmouth is a New Hampshire port city on the Piscataqua River, and Portsmouth is the only port in the state. Known for tax-free shopping, waterfront views, and historical sites, the city of Portsmouth sits just 60 miles north of Boston. Downtown Portsmouth This could be one of your ports when sailing north to Maine or south from Maine to Newport or Boston. The Piscataqua River separates New Hampshire from Maine. The final stretch of the Piscataqua River near Portsmouth Harbor is a swift tidal estuary. It is among the fastest in North America. A Brief Historical Overview Portsmouth has a captivating history dating back to 1623, when it was first settled. As one of the oldest towns in the United States, it boasts a wealth of historical sites and architectural gems. The town played a significant role in the American Revolution. It served as a bustling seaport during the 18th and...
New Hampshire Division of Travel and Tourism Development
172 Pembroke Road
Concord, NH 03302
Tel: 800-FUNINNH
Fax: 603-271-6870
Web site: www.visitnh.gov
Climate
New Hampshire has a humid continental climate with warm summers and cold, snowy winters. Summers have average daytime highs in the 70°F to 85°F range.
New Hampshire | Places to see
Find aerial adventure at Morningside Flight Park. In addition to hang-gliding, Morningside offers paragliding, powered paragliding, and zip-lining.
Visit America's Stonehenge. Like Stonehenge in England, America's Stonehenge is an accurate astronomical calendar.
Take New Hampshire's longest scenic gondola sky ride to the mountain top at Loon Mountain Resort.
Sail down to Boston and Portsmouth, Rhode Island.
New Hampshire | Things to do
Go whale watching. Not only is Granite State Whale Watch a top-rated tour company, but they are also dedicated to whale conservation.
Visit the beach. Although New Hampshire has a small coast, it can boast several top-rated beaches.
Take a ride on the Mount Washington Cog Railway. In addition to being the first mountain-climbing cogway in the world, The Cog is the only one currently operating in North America. With an average grade of 25% (some sections approach nearly 38%), it's also the second steepest in the world!
Experience white-water rafting. RaftNH has rafting tours and programs that allow you to interact with sled dogs.
Marinas
New Hampshire offers a variety of marinas, including Wentworth by the Sea Marina in Little Harbor, Hampton River Marina in Hampton, and Melvin Village Marina in Melvin Village.
Visit New Hampshire when sailing to or from Maine.
Please call us today at 1 (321) 777-1707 or describe Your Vacation Vision to help you plan your fully-crewed private luxury yachting vacation! Inquire as soon as possible about your custom, crewed yacht charter.
You make the memories. We make the arrangements.