Picture yourself setting sail from a charming harbor, your elegant sailboat gently rocking beneath your feet. As your skilled captain hoists the sails, you relax with a drink and the company of good friends. A sailing yacht rental makes an excellent backdrop for a perfect holiday. Find out about the basics of pricing a sailboat rental vacation.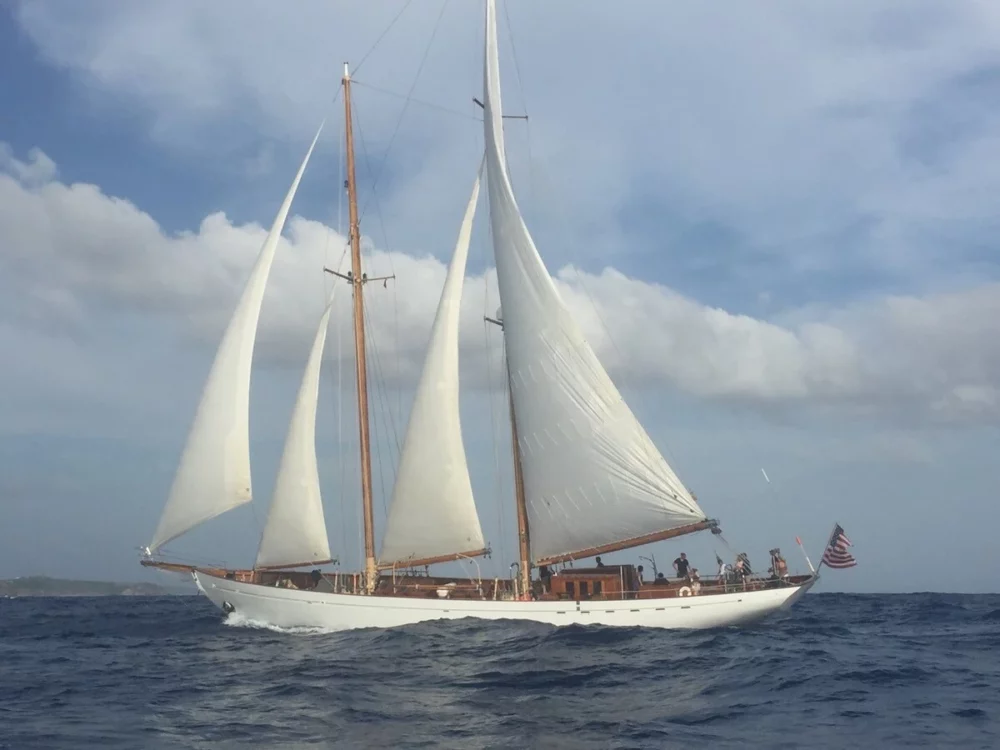 Good news – grasping the basics of yacht charter pricing is simple. Our experienced charter brokers can help you accurately estimate the costs for your upcoming vacation.
The pricing structure of a sailing yacht rental hinges on various factors. These factors include the charter destination, local taxes, the type of yacht, and the size. A Perini Navi will cost more than a Jeanneau or CNB. Also, if the boat has a famous or celebrity owner, it may be more expensive.
Consequently, yacht charters have a wide range of base prices. This diversity results in sailing yacht rentals ranging from $10,000 per week for modest sailing yachts to exceeding $150,000 per week for the largest and most opulent sailboats.
Navigating the Waters of Sailing Yacht Rental Pricing: "All-Inclusive" versus "Plus Expenses"
In the realm of yachting, there are two distinct types of crewed yacht charters: " all-inclusive" and "plus expenses."
All-Inclusive Yacht Charter
This category, prevalent in charters like catamaran and monohull charters in the Virgin Islands, offers inclusive rates based on the number of guests. These rates cover all food, drink, water sports, and fuel expenses. Dockage and taxes are typically billed separately.
Plus Expenses Charters
Larger yachts present a different scenario: The base price covers the yacht alone. Additional costs for food, bar, fuel, dockage, port taxes, and other expenses are separate.
Most commonly, these running expenses are covered by an Advance Provisioning Allowance (APA). The APA is typically about 35% of the base price. This fee is paid before the charter begins.
Average Weekly Sailing Yacht Rental Rates
The following is a general idea of weekly sailing charter rates:
$12,000-$20,000: Sailing Boats Under 50ft
$21,000 – $35,000 Sailing boats up to 56ft
$35,000 – $70,000 Sailing boats up to 77ft
$70,000-$150,000: Sailing Boats 80ft and bigger

Once you have decided on your destination, we will help you find the best sailboat at the perfect price.
Sailing Yacht Rental | Factors for Pricing
At its core, chartering a yacht involves renting a luxury superyacht for an agreed-upon period. While on the charter, you'll enjoy lavish amenities like a Jacuzzi, beach club, or gym.
The water toys are another highlight. You'll have access to equipment for water sports like wakeboarding, snorkeling, or water skiing. The yacht's dedicated crew ensures your every need is met. So, with all of these amenities, what factors in the pricing?
Elements such as the year of construction, builder (such as Perini Navi), previous owners, and the yacht's selection of water toys can increase its cost.
Click on these sailboats to see their pricing and amenities.
Season
Prices undergo fluctuations based on the season. High-season periods, such as summer in the Mediterranean or winter in the Caribbean, have price increases. You will find that seasons are less expensive.
Destination
The charter destination plays a pivotal role in determining costs. Areas lacking substantial charter fleets, like the Galapagos, may have higher prices. Destinations such as the Bahamas, BVI, or the Mediterranean offer more competitive pricing and a larger selection of boats. Greece is also a very popular sailing destination.
Additional Considerations for Sailing Yacht Rental Rates
Beyond the core expenses associated with operating the yacht and provisioning, certain substantial costs necessitate consideration:
Taxes and Value Added Tax (VAT): Most charters, whether all-inclusive or Plus Expenses, exclude local taxes or VAT from their rates. Charterers are responsible for settling these taxes, varying significantly by destination.
Insurance: We highly recommend travel insurance. It covers unforeseen events such as medical emergencies, lost or stolen luggage, etc.
Also, read our "Yacht Charter Costs, Exploring the High Seas."
Please call us today at 1 (321) 777-1707 or describe Your Vacation Vision to help you plan your fully-crewed private luxury yachting vacation! Inquire as soon as possible about your custom, crewed yacht charter.
You make the memories. We make the arrangements.