There are as many ways to enjoy luxury yacht charters as there are people to enjoy them. On one extreme are those who want to sip a tropical drink and turn the page in their book. On the other extreme are those who want to go-go-go, doing and seeing as much as possible while on vacation. Here we delve into Fun Yacht Water Toy Options.
Then there are those in the happy middle for whom a combination of water sports and leisure is perfect. Many fun yacht water toys are available on a luxury yacht charter if you find yourself in this middle area.
Use this list below as a checklist to help determine what you'd like to do on your vacation. Happy planning!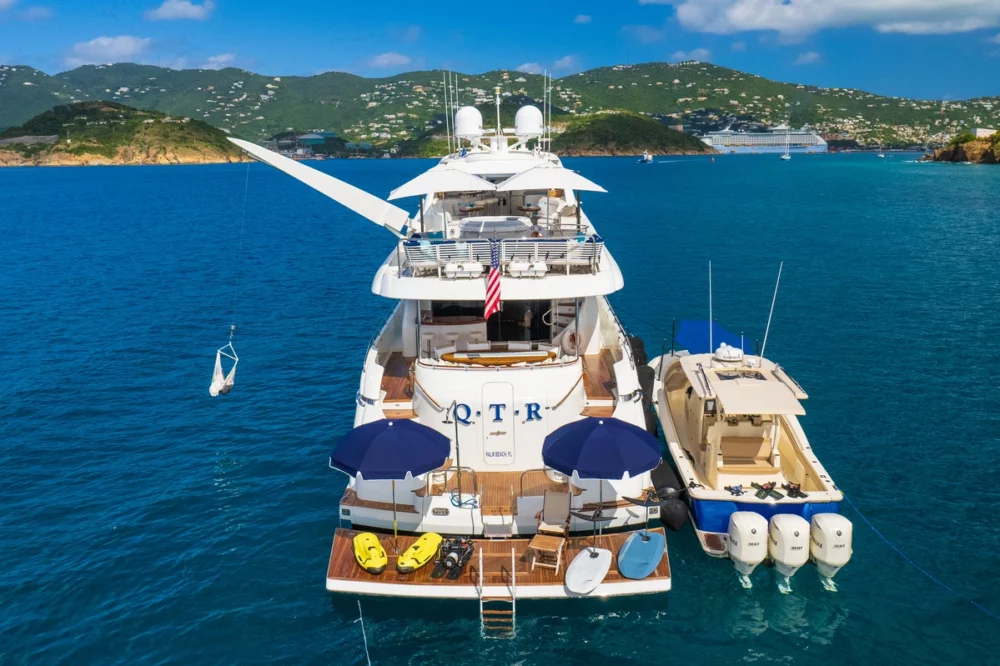 SUP Boarding
SUP Boarding (short for Stand Up Paddle Boarding). One of the most popular water toys for enjoying stunning views and blue waters, and it's also an excellent way to burn some vacation calories. It doesn't require much instruction and is easy to learn, even for children and older adults.
However, SUP requires a fair amount of balance. You can SUP Board standing or sitting with one or two people. Many luxury charter yachts offer this watersport and often have two boards available to guests.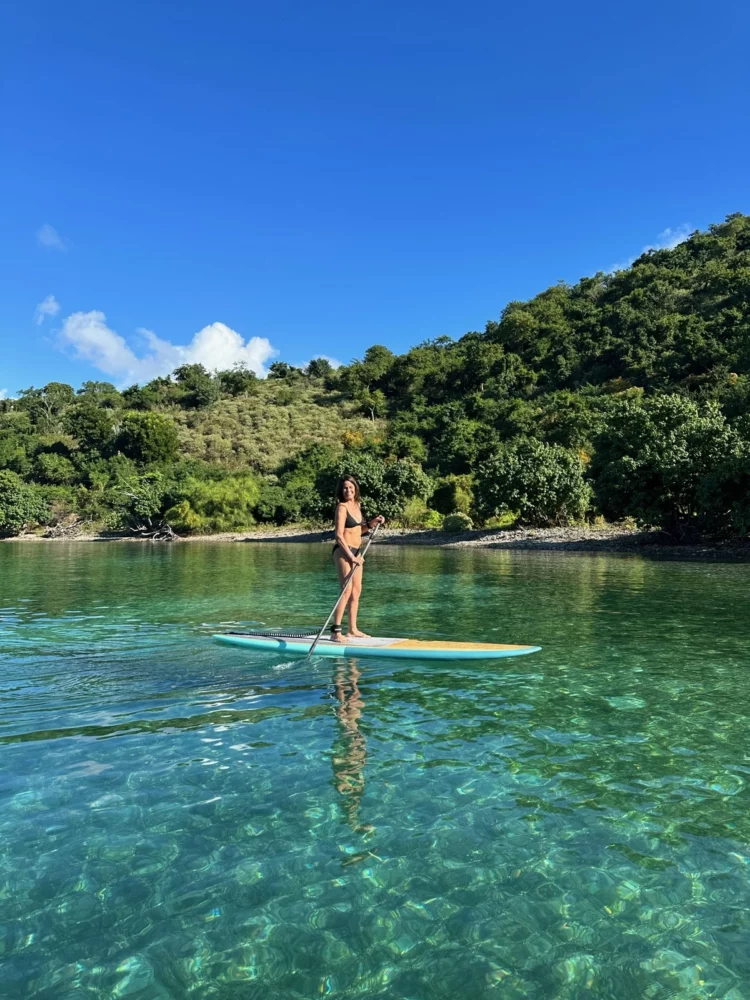 Kayaking
Kayaking has a more extended history than SUP Boarding, but they offer some of the same features. They, too, are a great way to explore your surrounding waters and get close to some fantastic scenery. There are different kayaks, including single or tandem kayaks and "sit on tops" or cockpit-style decks.
Snorkeling
As much as there is to explore above the water, below the water exists another world entirely. Snorkeling is an incredible, accessible way to discover the stunning world beneath the surface of the beautiful waters at which you've gazed from your luxury yacht charter.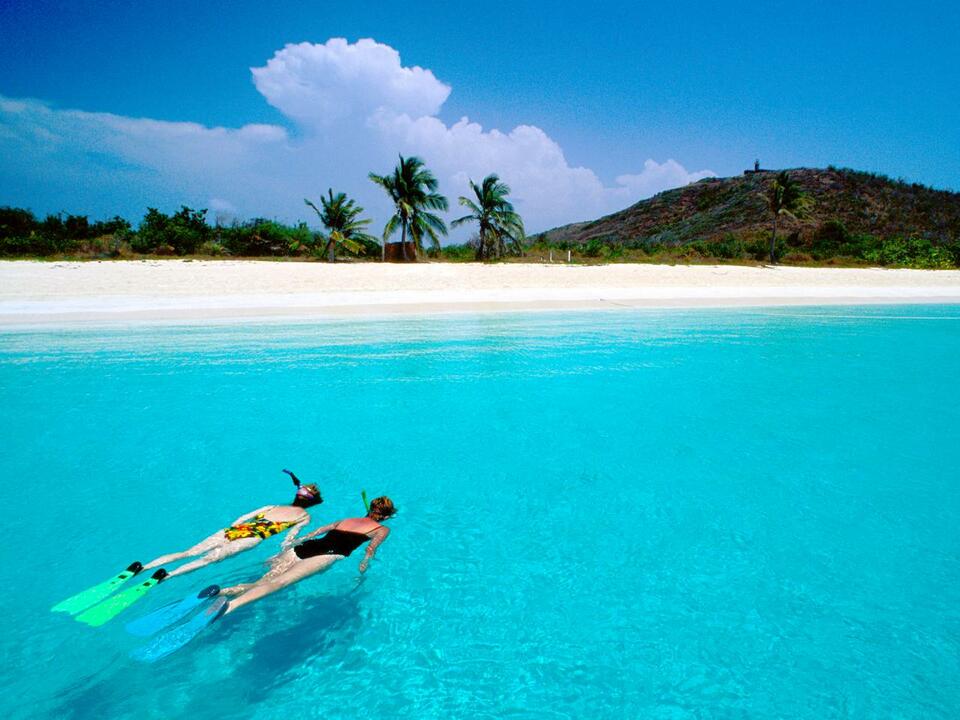 Being low-impact, snorkeling is a popular water toy for all ages and abilities, requiring very little equipment (a mask, snorkel, and fins). You can snorkel with very little instruction. Moreover, it's a great way to observe and admire the underwater world beneath you.
SCUBA Diving
SCUBA stands for self-contained underwater breathing apparatus and is much like snorkeling in that it offers the opportunity to experience the sea life around you. The advantage SCUBA diving offers is that you can go deeper underwater and stay underwater longer than you can while snorkeling because of the oxygen tank you wear on your back.
This type of water toy requires a bit more training and is not suitable for all types and ages, but for those who can try it, SCUBA diving can be a fantastic experience. Many luxury yacht charters have equipment on board, and those who don't can often arrange rendezvous dives.
SubWing
One of the latest and most exciting new water sports has to be the SubWing. This revolutionary board allows water lovers to be towed underwater with as little as 2 to 4 knots. Scuba divers will love the ability to easily view the many sea creatures and plants below the surface without exerting too much energy.
A combination of snorkeling with the ease of being pulled behind a tender, the Subwing lets you submerge underwater and discover the life below. You control your direction and can come up for air when necessary. The sensation is like flying underwater! Novice swimmers will also enjoy the ease of use and access to beautiful scenery. If you're lucky, you may even have the chance to swim alongside dolphins!
Skurfing
As you might guess, Skurfing is a hybrid sport based on the much-loved sport of surfing. While there's evidence of iconic surfers being towed behind boats in the early 1900s, Skurfing wasn't popularized until 1985, when Tony Finn revamped the board and revolutionized the sport. Then, in 1990, a Skurfing competition was televised by ESPN for the first time. For a taste of Skurfing's past, please see this 1985 promotional video.
eFoil – Electric Hydrofoil
An eFoil combines the effortless gliding of a surfboard with the power and stability of a small motor. Traverse crystal clear waters easily as you balance these new and highly regarded yacht charter toys. With an electric propeller and wing below the surface, you can fly over the water by controlling the speed with a vest-attached remote control. Unlike more challenging wind sports, eFoils can be mastered in a few hours. As they are motorized, proper instruction, a helmet, and a life jacket are always required.
Seabob
One of the most liberating and exhilarating toys out there has to be the Seabob. This compact, hand-held motor toy is perfect for those who want to explore the surrounding seas leisurely and for those looking for a fast-paced adventure.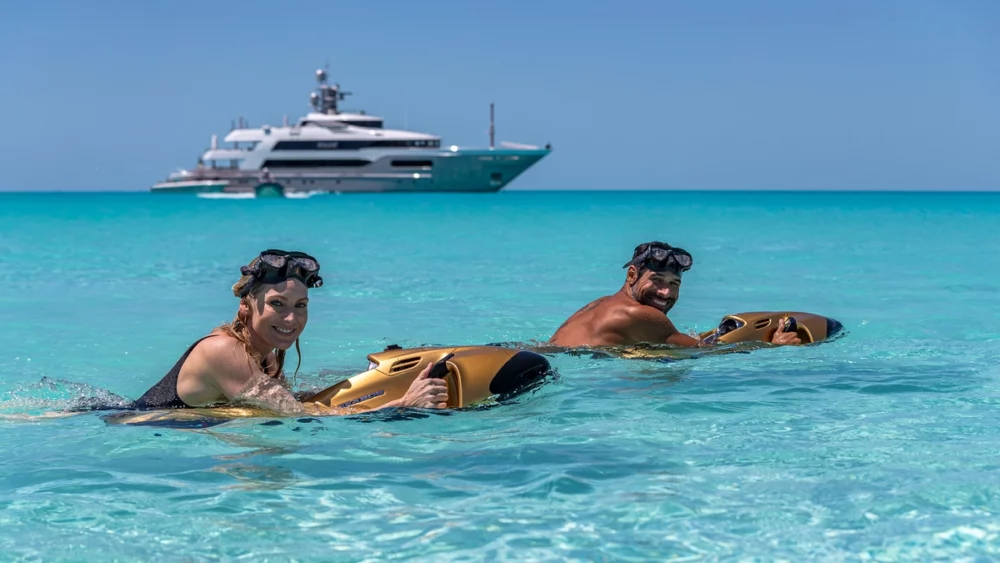 Steer and maneuver effortlessly with your body weight and grip, even diving up to 40m below the surface, with equipment and qualifications. Be the captain of your own water experience when you try a Seabob, also sometimes called a Sea Scooter, aboard your luxury yacht charter.
Tubing
As the name suggests, tubing involves an inflatable tube towed by the tender of your luxury yacht charter. This is another fun water toy for people of all ages. Depending on the size of the tube, one or more people can ride at the same time. You won't get much sightseeing done on this one, but you'll have a blast zipping through the water and maybe even catching a little air!
Waterskiing
Waterskiing is an exciting way for you to enjoy the water. It takes a bit of training and preparation, but waterskiing is great fun if you need speed. It is a solo activity and can be done on one or two skis while being pulled behind the tender on your luxury yacht charter. You'll be asked to wear a life jacket, and you will get wet!
Swimming
Water toys are great fun, and many can be available on your luxury yacht charter, but when stunning blue waters surround you, make sure to add swimming to your list of things to do. Splashing around is excellent, and if you'd like to take it to the next level, discover different techniques, such as total immersion swimming, and take advantage of your vacation.
Bigger Boats, Bigger Toys
A few extra water toy options are available when chartering a larger luxury yacht, depending on the area of travel.
Personal watercraft, such as Waverunners and Jetskis, are sometimes available for adventurous people. With a bit of practice, these are a lot of fun for one or two people to explore those hard-to-reach sites simultaneously.
You can try your hand at sailing with a Hobie Catamaran. These smaller-sized catamarans can fit up to four people (depending on size) and can be great fun for a couple or small group.
Larger tenders are usually available for the bigger luxury yacht charters, which can mean terrific access to more diving and fishing holes. You can go snorkeling or diving in remote waters or take a group with you to catch dinner!
Options Available
Most luxury yacht charters offer one or more, if not all, of the Fun Water Toy Options listed here. Please let us know what you'd like to experience on your next vacation!
Where can you enjoy these Fun Yacht Water Toy Options?
The Exumas in the Bahamas
The Caribbean
Croatia
The French Riviera
Italy
Please call us today at 1 (321) 777-1707 or describe Your Vacation Vision to help you plan your fully-crewed private luxury yachting vacation! Inquire as soon as possible about your custom, crewed yacht charter.
You make the memories. We make the arrangements.