Summertime in Greece marks the season of vacations, parties, and, best of all, yacht charters. Make the most of your summer months and choose the perfect yacht charter vacation in Greece! We've compiled a list of five incredible summer Greece yacht charter destinations guaranteed to provide an unforgettable holiday!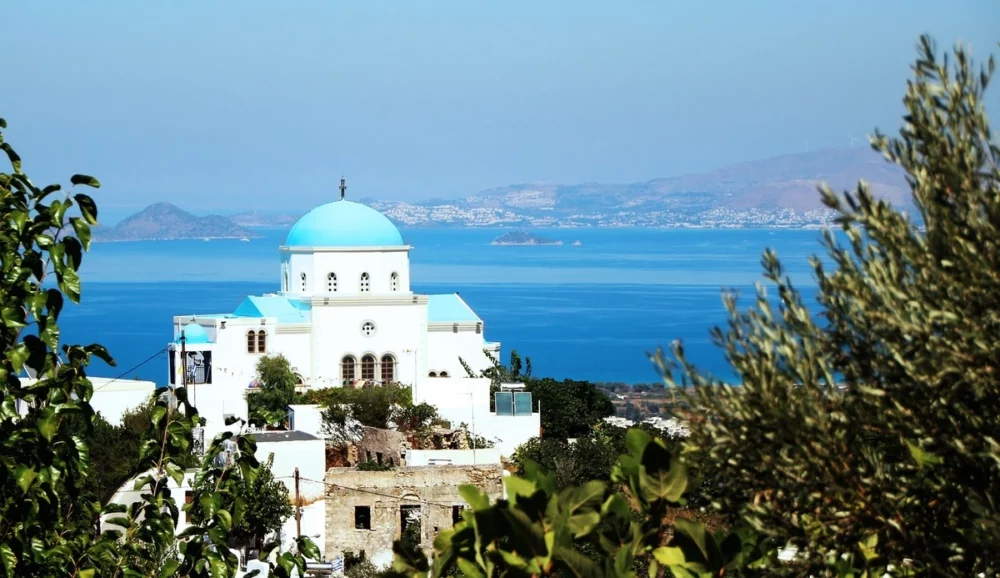 1. Aegina | Water Sports and Relaxation
Aegina is a small island within the Saronic Gulf, considered part of the Athens and Attica region of Greece. This popular destination attracts those who want to relax and enjoy the Aegean sun on its vast beaches.
Water activities abound here, and we enjoy swimming, kayaking, and windsurfing on the crystal-clear waters of the island's shores. Aegina offers many dining options, from casual tavernas to upscale restaurants serving traditional Greek cuisine.
Here are ten top things to see and do on this captivating Greek island:
Temple of Aphaia
Explore the ancient Temple of Aphaia, a well-preserved Doric temple dating back to the 5th century BC. Marvel at its stunning architecture and panoramic views of the island.
Agios Nektarios Monastery
Visit this beautiful monastery dedicated to Saint Nektarios, a significant religious figure in Greece. The monastery's serene surroundings make it ideal for contemplation and reflection.
Paleochora
Embark on a hiking adventure to Paleochora, an abandoned medieval settlement tucked away in the island's hills. Discover its historical ruins and relish the picturesque scenery along the way.
Agia Marina Beach
Unwind on the sandy shores of Agia Marina Beach, one of Aegina's most popular beaches. Bask in the sun, swim in the clear waters, and indulge in beachfront dining.
Fish Market
Immerse yourself in the island's culture by visiting the lively fish market in Aegina Town. Experience the vibrant atmosphere and try some freshly caught seafood.
Pistachio Groves
Take a scenic tour of Aegina's lush pistachio groves, known for producing some of the finest pistachios in the world. Taste these flavorful nuts and explore the local pistachio products.
Chrysoleontissa Monastery
Discover the Chrysoleontissa Monastery, an ancient Byzantine monastery nestled in a peaceful setting. Admire its intricate frescoes and rich history.
Enjoy Your Yacht's Water Toys
Embark on a boat tour around the island to explore its hidden coves and beaches. Enjoy swimming, snorkeling, and sailing in the crystal-clear waters of the Aegean Sea.
Markellos Tower
Visit the historic Markellos Tower, a traditional stone tower that once was a watchtower to protect the island from pirates. Take in the panoramic views from its vantage point.
Try Local Cuisine
Delight your taste buds with the island's delicious local cuisine. Savor fresh seafood, mouthwatering souvlaki, and Aegina's renowned pistachio-based desserts.
2. Mykonos | Glitz and Glamour
Mykonos is one of the most famous islands in Greece and has been a notable tourist destination for decades. Besides its beautiful beaches, Mykonos is famous for traditional Cycladic architecture, nightlife, festivals, and fashion. Mykonos is famous for its picturesque coves and beaches, with Platys Gialos being one of them. It's a well-known beach with crystal clear waters, appealing to families with small children.
Here are some things to see and do on Mykonos:
Little Venice
Wander through the charming neighborhood of Little Venice, characterized by its colorful houses with balconies overhanging the sea. Enjoy the stunning sunset views and explore the narrow streets filled with boutiques, art galleries, and cafes.
Windmills of Mykonos
Visit the iconic windmills, one of the island's most famous landmarks. These historic windmills are on a hill overlooking Mykonos Town and offer breathtaking views of the Aegean Sea.
Paradise Beach
Experience the legendary party scene at Paradise Beach, one of Mykonos' most renowned party spots. Enjoy beach bars, DJ sets, and dancing in the sand until the early morning hours.
Delos Island
Island hop to the nearby archaeological site of Delos, a UNESCO World Heritage Site. Explore the ancient ruins of this sacred island, once a significant religious and cultural center in ancient Greece.
Panagia Paraportiani
Admire the unique architecture of the Panagia Paraportiani, a stunning whitewashed church located in Mykonos Town. This church is a Cycladic architectural masterpiece and an iconic island symbol.
Super Paradise Beach
Relax on the beautiful Super Paradise Beach, famous for its crystal-clear waters and lively atmosphere. Enjoy water sports, sunbathing, and beach parties at this popular destination.
Matoyianni Street
Stroll down Matoyianni Street, the main shopping street in Mykonos Town. Explore the charming shops, boutiques, and art galleries, and find unique souvenirs to take home.
Scorpios
Experience Scorpios, a renowned beach club known for its bohemian vibe and laid-back atmosphere. Enjoy cocktails, live music, and breathtaking views of the sea.
Ano Mera Village
Venture to the peaceful village of Ano Mera, located inland from Mykonos Town. Visit the Panagia Tourliani Monastery and savor traditional Greek dishes at local tavernas.
Psarou Beach
Discover the upscale Psarou Beach, favored by celebrities and luxury travelers. Lounge on luxurious sunbeds, enjoy gourmet dining and indulge in a sophisticated beach experience.
3. Corfu | Art Lover's Paradise
Corfu, one of the Ionian islands, is part of a handful of islands off Greece's Adriatic Sea coast. One of Corfu's main attractions is its beautiful coastline. With around 100 beaches on offer, you can be sure to find your perfect spot.
Here are a few things to see and do while visiting Corfu:
Old Town of Corfu
Explore the UNESCO-listed Old Town with its narrow cobblestone streets, Venetian architecture, and charming squares. Don't miss the Liston, a promenade lined with cafes and elegant arches.
Achilleion Palace
Visit the Achilleion Palace, a grand neoclassical mansion built by Empress Elisabeth of Austria. Marvel at the exquisite gardens and the imposing statue of Achilles.
Paleokastritsa
Discover the scenic village of Paleokastritsa, nestled between green hills and turquoise bays. Take a boat tour to explore its crystal-clear waters and visit the Paleokastritsa Monastery.
Corfu's Fortresses
Explore the two Venetian fortresses, the Old and New Fortress, which offer stunning views of the town and the sea.
Kassiopi Castle
Hike up to the ruins of Kassiopi Castle, offering panoramic views of the coast and the surrounding countryside.
Beaches
Relax on Corfu's beautiful beaches, such as Glyfada, Barbati, Agios Gordios, and Agios Stefanos. Each beach offers its own charm and amenities.
Mount Pantokrator
Drive or hike up Mount Pantokrator, the highest peak on the island, for breathtaking vistas of Corfu and the surrounding islands.
Greek Cuisine
Savor the delicious Greek cuisine at traditional tavernas and restaurants. Don't miss out on trying local specialties like moussaka, pastitsada, and fresh seafood.
4. Santorini | A Picturesque Summer Greece Yacht Charter
Santorini is arguably one of Greece's most breathtaking islands and one of its most Instagrammable. Hop on your private yacht and sail through black-lava rock formations and blue lagoons while enjoying sweeping ocean views.
At sunset, snap some stunning photos or just before dawn for a more ethereal experience. Most tourists who come to Santorini spend their time in Oia. Many call Oia the "postcard village" because it looks like something out of a travel magazine. With whitewashed buildings perched atop green hills and turquoise waters below, it doesn't get much prettier than Santorini.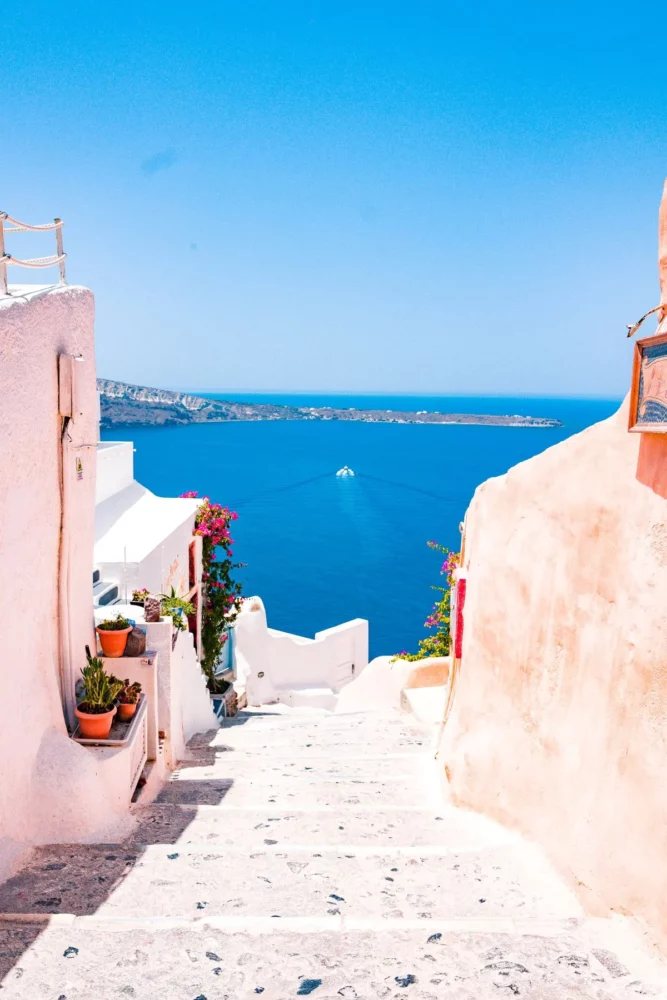 5. Kos | Nightlife & Beaches
Kos is one of the most famous Dodecanese islands. In addition to warm, sandy beaches and rich history, there is also a vibrant nightlife. Other interesting sites on the island include
Sanctuary of Asclepius (Asklepieion)
Ancient Agora
Venetian Castle in Kos Town
Fortress in Antimachia.
Kos is also home to some fantastic beaches:
Thermes
Paradise
Mastichari
Agios Stefanos.
Yachts for Your Summer Greece Yacht Charters
For the epitome of sophistication and indulgence, consider a luxurious motor yacht. These vessels exude modernity and speed, featuring lavish interiors and state-of-the-art amenities. With a professional crew attending to your needs, you can relish the thrill of swift cruising between Greek islands. Bask in the lap of luxury aboard your private floating paradise.
A classic sailing yacht beckons if you yearn for a more authentic and eco-friendly experience. Picture yourself gliding gracefully through the azure Mediterranean waters, guided by the gentle breeze. Embrace the allure of timeless maritime beauty as you explore Greece's breathtaking coastal gems.
For those desiring a spacious and stable haven at sea, luxury catamarans are the answer. These vessels boast generous deck spaces and modern interiors, perfect for families and larger groups. Choose from power catamarans or sailing catamarans.
Summer Greece Yacht Charter Itineraries
Let the professionals at CKIM Group work with you to select the perfect yacht and design the perfect itinerary.
Are you and your group active? Do you enjoy hiking, biking, and water sports? Or are you more laid-back and interested in browsing unique shops and enjoying fine wines as you savor the sunset?
Perhaps you are a combination of both! We will listen carefully to your interests and desires and create the right vacation experience. In addition, during July and August, Greek charters are popular.
Motor yacht AMORAKI is one fabulous yacht for traveling the Greek seas. If you want more information about a luxury yacht charter in Greece this summer, please call CKIM Group.
Please call us today at 1 (321) 777-1707 or describe Your Vacation Vision to help you plan your fully-crewed private luxury yachting vacation! Inquire as soon as possible about your custom, crewed yacht charter.
You make the memories. We make the arrangements.