In the Caribbean, with turquoise waters and white sandy beaches, the BVI is among the world's most enchanting sailing destinations. There are four main islands – Tortola, Virgin Gorda, Anegada, and Jost Van Dyke – plus some 50 smaller islands and islets. In December 2022, Chris Patrick of the CKIM Group joined a three-night BVI Fam Trip 2022. Here he tells us about the experience.
Could you tell us a bit about the BVI familiarization trip?
Two catamarans took out a group of about 11 charter brokers for three days. We started at St Thomas, in the US Virgin Islands, at Yacht Haven Grande marina. And then we sailed over to Jost Van Dyke, in the British Virgin Islands. Here we cleared into BVI customs and immigration – we didn't have to go through customs and immigration ourselves; the captain took our passports. Then we sailed to an island called Little Jost, where the two boats anchored.
Karin and I were aboard Seaclusion (80ft sailing catamaran; that sleeps eight guests in 1 King and 3 Queens), built in 2020 by Sunreef. We had one of the Queen cabins. All the cabins had marble bathrooms, and in the salon, there was a marble centerpiece.  
The other boat, Mariah Princess III (77 ft; sleeps eight guests in 2 Kings and 2 Queens), was built by Lagoon. Her interiors had a darker wood finish, and that's also a lovely yacht. The master cabin had a balcony, so you can imagine that when you get up in the morning, you can have breakfast on it and then roll into the water! Or you can roll into the water first and then come up for breakfast!
What did you like best about Seaclusion?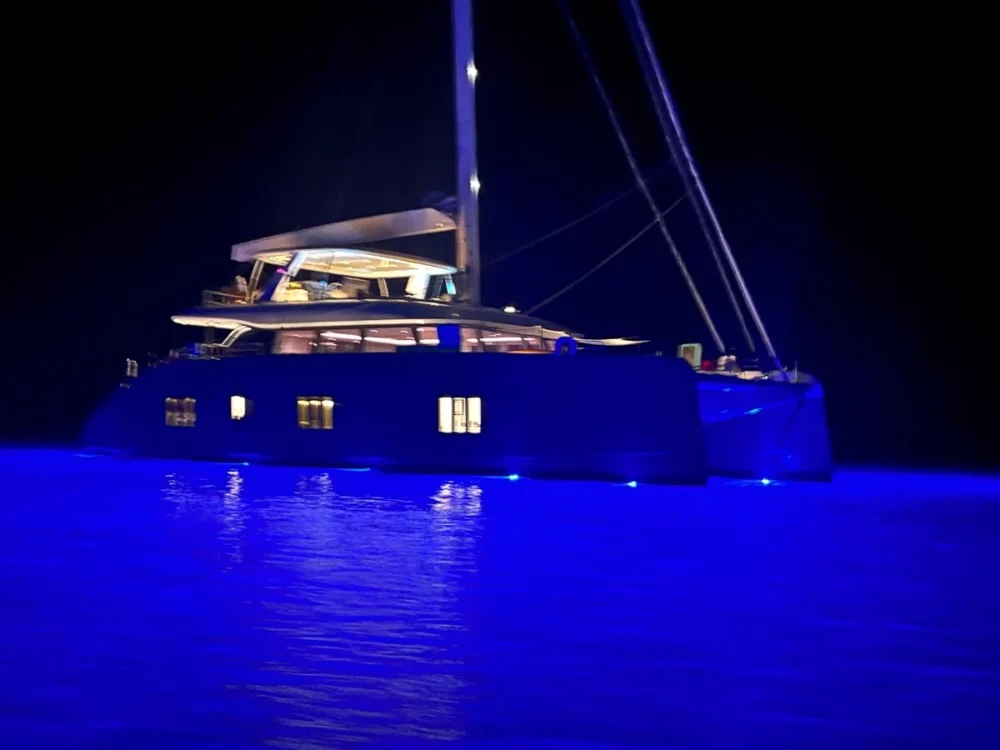 I'm 6ft 3in. Sunreef builds their boats with a lot of freeboard. If you put the two boats side by side, the Sunreef boat is about 4ft higher. So in the salon, you have a 3-meter high ceiling, and when you step down into the cabins, you have excellent headroom. So, I was not ducking at any time! Similarly, it's pretty high on the Lagoon but not as high as the Sunreef.
The flybridge had a lot of volume, very spacious – we had a cocktail party up there with 14 people. You were very comfortable in that space. So the headroom and the flybridge were outstanding features. And because the galley is down below, you have a big salon area. Even with seven guests and three crew, it never seemed crowded. So we felt very comfortable.
How were the sailing conditions? Was the weather kind to you?
Oh my goodness me, the weather was delightful! It was outstanding! We couldn't have asked for better weather – warm days, cool evenings, but not cold. And moonlight. And during the day, the sun was sparkling on the water.  
Can you tell us about the food aboard?
Karin and I are plant-based eaters. The chef on Seaclusion did an outstanding job of preparing plant-based vegan meals for us. Breakfast was a delight, buffet-type, with lots of fresh fruit, mango mousse, and avocado dishes. Lunch was great, and dinner was outstanding three courses. And we had French wine, which was good, and some New Zealand wine. We were pampered on this BVI Fam Trip. Just delightful.
What did you do when you weren't sailing?
On the first day, we went to the Bubbly Pool (a natural Jacuzzi in a rocky pool) on Jost Van Dyke. That was a delight. We swam and snorkeled from the boat and used a few water toys. The sea scooters were fun, and we did some SUP (stand-up paddle board). And there was an eFoil, but I didn't use that. They had two diving instructors aboard the other boat, so some of the folks went scuba diving too.
Is there much underwater life?
Turtles we saw because both boats had the blue light – as soon as you switched the blue light on at night, the turtles would gather around it. And I think some of the folks saw a sand shark while snorkeling.
At an anchorage, where we spent the second night, off Norman Island in a very secluded bay called Privateer Bay, we saw many starfish, so many starfish I was amazed. And the following day, we went to one of our favorite BVI beaches on Peter Island, Deadman's Bay. The beach is delightful, with fine white sand and palms, and the water is delightful too.
The BVI is known for good bars – did you go anywhere special?
On Jost Van Dyke, we took a taxi over to White Bay and the Soggy Dollar, which is a famous bar. It got its name because there was no road to it initially, so you would anchor your boat and swim ashore with money in your pocket. And then, to get your Painkillers (a rum-based cocktail), you'd be pulling out these soggy dollars.
And we also had drinks at Foxy's on Jost Van Dyke. The girls did some shopping there – you could say that's a cultural experience because Foxy is world-renowned. It was networking among brokers, getting to know each other and their stories, and sharing tips.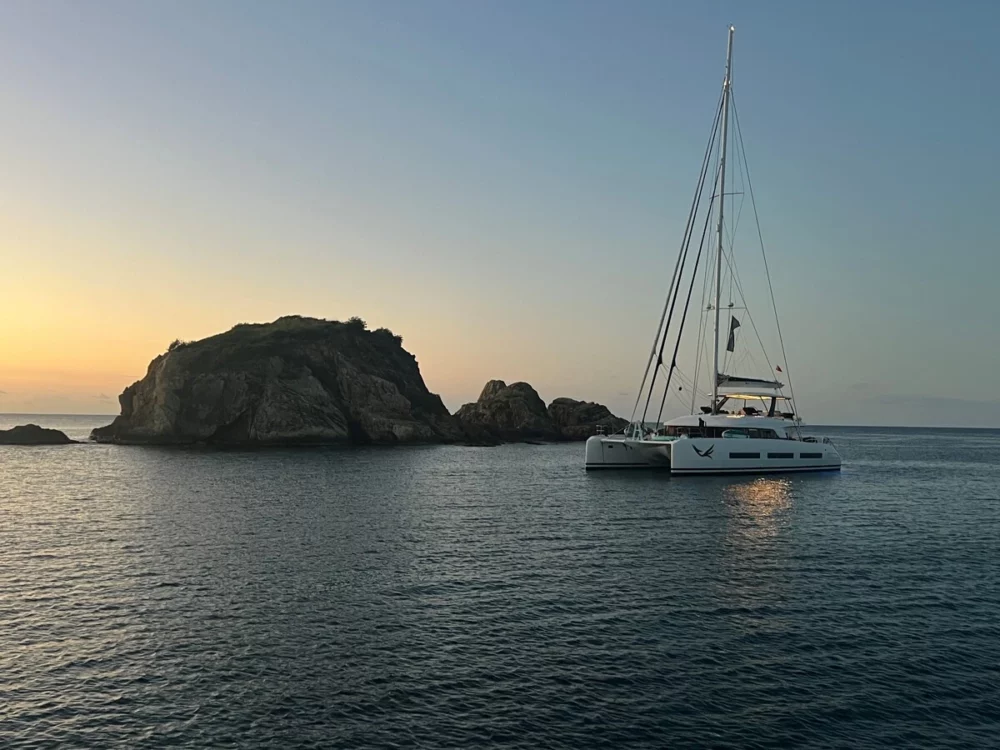 What are the most popular drinks | on the BVI Fam Trip?
In the British Navy, sailors would get a tot of rum. Pusser's rum was developed on Tortola (the biggest and most densely populated of the islands). And so there's a drink called a Painkiller which is made from Pusser's rum, plus pineapple juice, orange juice, and cream of coconut, with some grated nutmeg on top. And it's rated a one, two, or three. The number you get determines how much rum it has and if your legs will work after consuming the drink. Your head might be okay, but your legs may not cooperate! So, Pusser's rum, rum punches, rum, and coke, rum, and ginger. Onboard we had a lot of wine and a little beer. But on the islands, it is mainly rum.
You know the BVI well – besides places from this trip, are there any additional attractions you'd recommend to visitors?
On Virgin Gorda, The Baths with its rock formations, and North Sound, where you can visit Saba Rock, Bitter End Yacht Club, the Pusser bar-restaurant at Leverick Bay, and rent a jet ski or other power water toys from Blue Rush Water Sports, the only permitted jet ski operator in the BVI.
Then there's the island of Anegada, where you can see the flamingoes, go bone-fishing or deep-sea fishing, and enjoy a fresh lobster lunch or dinner on the beach. And for scuba diving and snorkeling, you might head for The Dogs (a group of uninhabited islets of volcanic origin). As well as Monkey Point and Mountain Point (home to shoals of colorful fish, corals, and sea sponges).
On the last morning aboard Seaclusion, we were treated to another delightful breakfast/brunch before departing on one of Island Time's Water Taxi for the trip to St. Thomas. Seaclusion and Mariah Princess III have a special offer for May in the British Virgin Islands.
It was an Amazing BVI Fam Trip and a reminder of our client's experiences sailing the BVI.
| | |
| --- | --- |
| 8 Guests | Year/Rebuilt: 2022 |
| $93,700 - $100,000 /wk | 80.00 Ft Cat |
| | |
| --- | --- |
| 8 Guests | Year/Rebuilt: 2020 |
| $77,000 - $80,000 /wk | 77.00 Ft Cat |
Please call us today at 1 (321) 777-1707 or describe Your Vacation Vision to help you plan your fully-crewed private luxury yachting vacation! Inquire as soon as possible about your custom, crewed yacht charter.
You make the memories. We make the arrangements.