Renovatio Luxury Tours Italy has just opened its doors to all the traveling public.
Alessandro Tieppo – General Director – and Diana Ricci – Tour Coordinator – decided to start a new business in the field of Luxury Tourism.
Renovatio Background
He says, "After years of marketing experience in other sectors, I decided to jump into this new exciting adventure with my business partner Diana who has been working in the tourism field for years. Traveling with style and class allows people to totally enjoy the magic atmosphere this Country has to offer. We want to give our clients the best and highest service so that they can experience the trip without worrying about all the traveling stuff tourists usually have to deal with."
"Our clients are pampered and coddled with the finest comforts," says Diana, "because we want them to completely feel the charm of our destinations and of the luxury accommodations we propose. When they are going back home they should have the so-called Africa bug but converted into the "Mal d'Italia". This County offers so a wide range of experiences that you should visit more than one time!"
In fact, during the wintertime, the majestic Dolomites Mountains (UNESCO World Heritage) are perfect for long and exciting ski excursions. What's more, the landscape is beyond compare. Luxury hotels located next to the ski slopes offer relaxation and tranquility. In addition, they provide every kind of comfort and wellness treatments.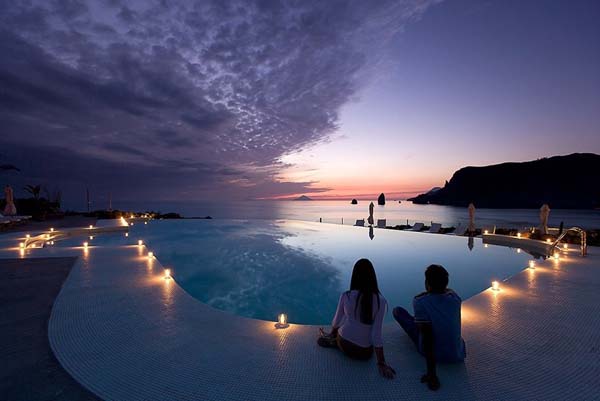 Spring is the ideal season to discover cultural cities. First, visit the city on the water, Venice. Next, go to the city of Romeo & Juliet, Verona. From there, travel to the fashion capital, Milan, to the colossal Rome, and last the jewel of the Renaissance, Florence. Lakes Como and Garda, offer unique stays thanks to their prestigious Villas and their enchanting views.
The South of Italy and the isles are of unequaled beauty. You can enjoy this area almost any time of the year. It still preserves the unspoiled rural charm with grand villas, banks of brilliantly colored bougainvillea, and lemon groves. Not only that, you'll see limestone rock that rises sheerly through the impossibly blue water. Sailing around these small islands is one of the most exciting experiences!
Unparalleled Dining
All this is matched with the unparalleled gastronomic experience: the delicious taste of the finest Italian cuisine accompanies our travelers all along their journey. From North to South, Italy has a wide range of tastes, flavors, and scents, so different from each other and so unique!
Renovatio works to make your dreams come true! Contact CKIM Group Inc for more Italy luxury tours.
Please call us today at 1 (321) 777-1707 or describe Your Vacation Vision to help you plan your fully-crewed private luxury yachting vacation! Inquire as soon as possible about your custom, crewed yacht charter.
You make the memories. We make the arrangements.