Experience a Yacht Rental in Italy onboard NAFISA, a 108-foot motor yacht built in 1975 by the acclaimed Admiral Yachts. Notably, the yacht was recently refit in 2020 to provide modern furnishings and amenities. In addition, her 6-person crew will guarantee a comfortable and memorable stay.
NAFISA has vast open areas, including the flybridge, two large couches, a dining area outdoors, and a stunning four-person Jacuzzi to take in the captivating Mediterranean views. With a yacht charter aboard NAFISA, you can experience Italy's coastline and islands like no other vacation can!
The main deck has a large living room, a cozy aft area with a coffee table and couches, and a sunbathing area at the bow. In addition, she features a complete gym set-up with an exercise bike, stepper, yoga mat, weights, kettlebell, elastics, and resistance bands.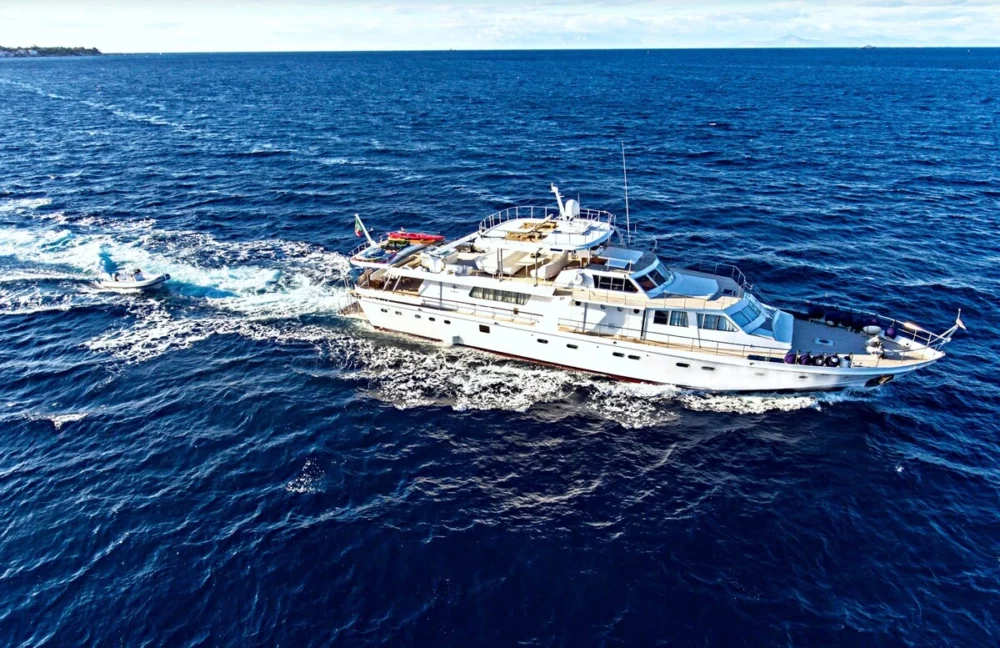 Key Features
The luxury yacht has a wood hull and two 1770hp MTU engines.
She has a cruising speed of 13 knots and a top speed of 20 knots.
NAFISA can accommodate up to 10 charter guests in 5 impressive suites with private bathrooms.
The main suite is located forward and boasts a king-sized bed.
Additionally, there is a VIP suite with a king-sized bed, a cabin with a queen-sized bed, another cabin with a twin bed and a single bed, and one more cabin with a twin bed.
Deck showers, exercise equipment with Jacuzzi on the deck, sun cushions, and sun loungers are all available.
Water Toys | Indulge in a Yacht Rental in Italy
Tender Dinghy 6m with a 100hp engine.
Tender Stil Mar 7 mt. 200 hp Honda four-stroke
Donuts
Snorkeling equipment
Waterski
inflatable toys
2 new kayaks
Four new SUPs (stand-up paddleboards)
1 new Windsurf
1 Wakeboard
1 new water slide
Other Amenities
Full gym equipment for a total workout
Stationary bike with seven training programs
Stepper
Yoga mat
Weights
Kettlebell 6 kg
Resistance band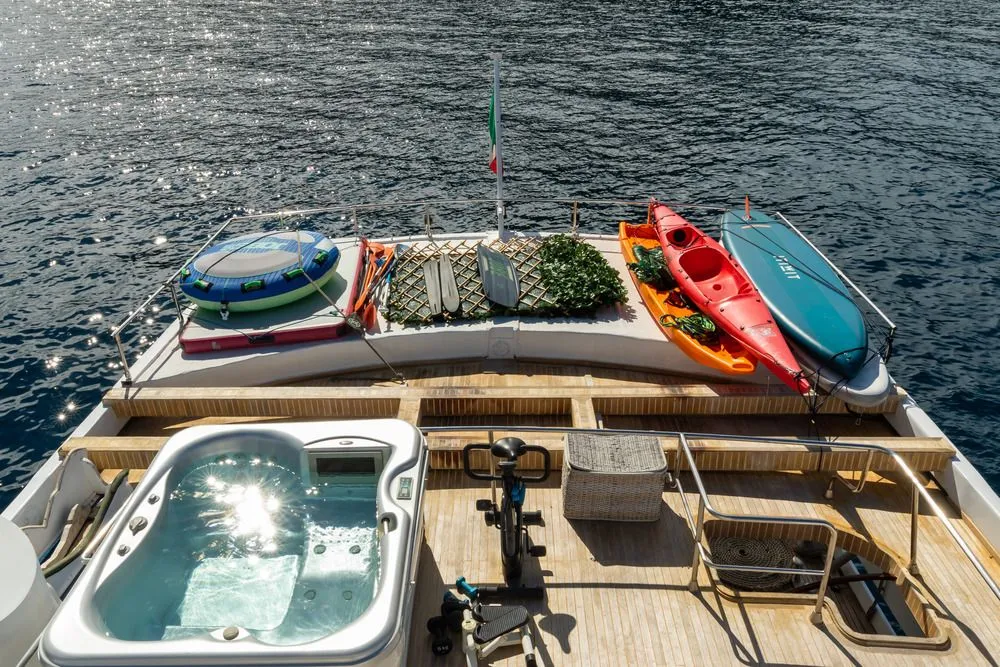 Places to Visit On Your Yacht Rental In Italy
The Aeolian Islands
The Aeolian Islands, a UNESCO World Heritage site, is a picturesque archipelago located off the northeastern coast of Sicily. These islands blend natural beauty, volcanic landscapes, stunning beaches, and charming coastal towns. Here are some of the best places to visit on a yacht in the Aeolian Islands:
Lipari
As the largest and most populated island in the archipelago, Lipari is a great starting point for exploring the Aeolian Islands. Visit the historic town center, stroll along the charming streets, and explore the impressive archaeological park. Lipari also offers beautiful beaches, crystal-clear waters, and vibrant nightlife.
Vulcano
Known for its active volcano and therapeutic mud baths, Vulcano is a unique and fascinating island to visit. Take a hike to the volcano's crater for panoramic views, relax in the natural mud baths, and unwind on the island's black sand beaches. Don't miss the chance to sample the local cuisine, particularly the famous "pane cunzato" (seasoned bread).
Stromboli
One of the Aeolian Islands' highlights is Stromboli, an active volcano that provides a captivating natural spectacle. Witness the eruptions and glowing lava flows during a guided hike to the volcano's summit. The charming village of Stromboli offers a relaxed atmosphere, picturesque streets, and beautiful beaches.
Salina | Yacht Rental In Italy
Known for its lush vegetation and excellent wines, Salina is a tranquil island with a slower pace of life. Visit the picturesque town of Santa Marina, explore the beautiful vineyards and wineries, and enjoy panoramic views from Monte Fossa delle Felci. Salina's peaceful atmosphere and unspoiled beauty make it a perfect spot for relaxation.
Panarea
As the smallest and most exclusive island in the Aeolian archipelago, Panarea offers a luxurious and glamorous experience. Explore the chic boutiques, dine in upscale restaurants, and party in trendy beach clubs. Panarea is known for its beautiful bays, crystal-clear waters, and stunning views.
Alicudi and Filicudi
These two remote and less-developed islands are perfect for those seeking tranquility and a sense of untouched nature. Alicudi and Filicudi offer a more rustic and authentic experience, with picturesque landscapes, pristine beaches, and a slower pace of life. Enjoy hiking, swimming, and exploring the simplicity and charm of these islands.
Visiting the Aeolian Islands on a yacht allows you to explore each island at your own pace, enjoy secluded bays and beaches, and experience the unique volcanic landscapes. The islands offer diverse experiences, from vibrant nightlife and upscale amenities to natural beauty and relaxation.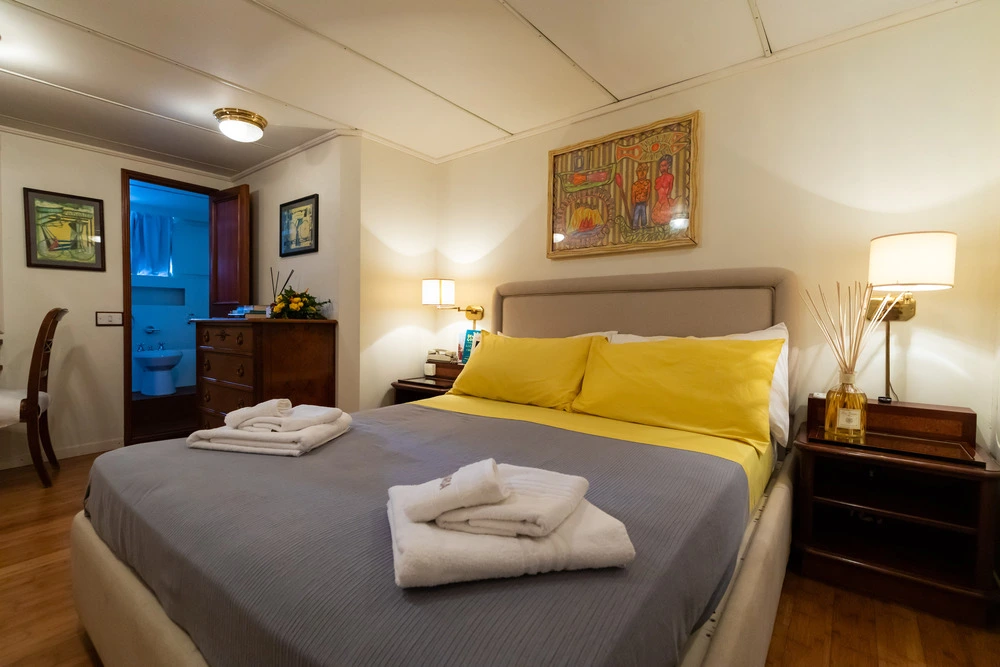 The Amalfi Coast | Yacht Rental in Italy
The Amalfi Coast in Italy is a stunning stretch of coastline that offers breathtaking views, charming coastal towns, and crystal-clear waters. Exploring the Amalfi Coast on a yacht allows you to admire the dramatic cliffs, visit picturesque villages, and discover hidden coves. Here are some of the best places to visit on a yacht in the Amalfi Coast:
Positano
Known for its pastel-colored houses cascading down the cliffside, Positano is a postcard-perfect town that should not be missed. Anchor your yacht in the bay and stroll through the narrow streets with boutique shops and cafes. Relax on the beautiful Spiaggia Grande beach or hike the Path of the Gods for panoramic views.
Amalfi
The namesake of the Amalfi Coast, the town of Amalfi is a historical gem with a rich maritime history. Dock your yacht in the harbor, explore the medieval streets, visit the impressive Amalfi Cathedral, and take in the charming atmosphere. Don't miss the opportunity to sample local limoncello, a traditional lemon liqueur.
Ravello
Perched high above the coast, Ravello is known for its panoramic views and exquisite gardens. Visit the magnificent Villa Cimbrone and Villa Rufolo, which offer stunning coastlines and sea vistas. Ravello is also famous for its classical music festival, held annually in the gardens of Villa Rufolo.
Capri
While not technically part of the Amalfi Coast, the nearby island of Capri is a popular destination for yacht charters. Anchor in the Marina Grande and take a boat trip to the iconic Blue Grotto. Explore the town of Capri, visit the famous Piazzetta, and take a chairlift up to Mount Solaro for breathtaking views.
Sorrento
Located at the northern end of the Amalfi Coast, Sorrento serves as a gateway to the region. Explore the charming old town, stroll along the marina, and indulge in delicious cuisine. Sorrento offers a mix of historical sites, including the Duomo and the ancient Roman ruins of Pompeii, which can be easily accessed from the town.
Li Galli Islands
A group of small islands between Positano and Capri, the Li Galli Islands is a hidden gem on the Amalfi Coast. These islands offer secluded coves, clear waters for swimming and snorkeling, and a tranquil atmosphere away from the crowds.
Ischia and Procida
A yacht charter to Ischia and Procida, two beautiful islands in the Bay of Naples, offers a mix of natural beauty, cultural heritage, and relaxation. Here are some things to see and do during your yacht charter to Ischia and Procida:
Ischia | Yacht Rental in Italy
Visit the Aragonese Castle: Explore the imposing Aragonese Castle, which dates back to ancient times and offers panoramic views of the island and the sea.
Enjoy the Thermal Springs: Ischia is known for its thermal springs, so take advantage of the island's natural spas and rejuvenating thermal waters. Poseidon Thermal Gardens and Negombo Thermal Park are popular options.
Explore the Gardens of La Mortella: La Mortella is a stunning garden created by English composer Sir William Walton and his wife. Wander through its beautifully landscaped grounds and admire the colorful plants and sculptures.
Relax on the Beaches: Ischia has a variety of beaches, from sandy stretches to rocky coves. Some popular beaches include Maronti Beach, Citara Beach, and Spiaggia dei Pescatori.
Procida
Visit Terra Murata: Stroll through the historic fortified village of Terra Murata. Explore its narrow streets, visit the Abbey of San Michele, and enjoy panoramic views of the island.
Explore Marina Corricella: Marina Corricella is a picturesque fishing village with colorful houses lining the waterfront. Enjoy a leisurely walk along the marina, soak in the charming atmosphere, and savor local seafood at waterfront restaurants.
Relax at Chiaiolella Beach: Chiaiolella Beach is a tranquil spot with crystal-clear waters, perfect for swimming and sunbathing. Relax on the beach, snorkel in the clear waters, or enjoy a beachside meal at one of the local establishments.
Discover the Abbey of San Michele: Located at the highest point of the island, the Abbey of San Michele offers panoramic views of Procida and the surrounding area. Visit the abbey and admire its beautiful architecture and serene atmosphere.
As you can see, there are many incredible places to visit on a yacht rental in Italy. Don't worry; you can always take a second or third trip to Italy!
Please call us today at 1 (321) 777-1707 or describe Your Vacation Vision to help you plan your fully-crewed private luxury yachting vacation! Inquire as soon as possible about your custom, crewed yacht charter.
You make the memories. We make the arrangements.