Just off the west coast of the mainland, Sardinia offers an oasis of Italian chic. A new wave of stylish resorts and boutique shops adorn the Costa Smeralda, where models and moguls romp among beautiful sapphire shores, and sleek sailboats dot the horizon. Read on to learn more about this fabulous destination and your Sardinia luxury boat rental.
Sardinia has some of the most scenic stretches of coast in Italy. An Italy Mega Yacht Rental is one of the best ways to enjoy them. Relax on the beach or explore beautiful ruins or landmarks like the Nuraghe Su Nuraxi di Barumini. You could easily cruise for two weeks or longer to explore this fabulous island!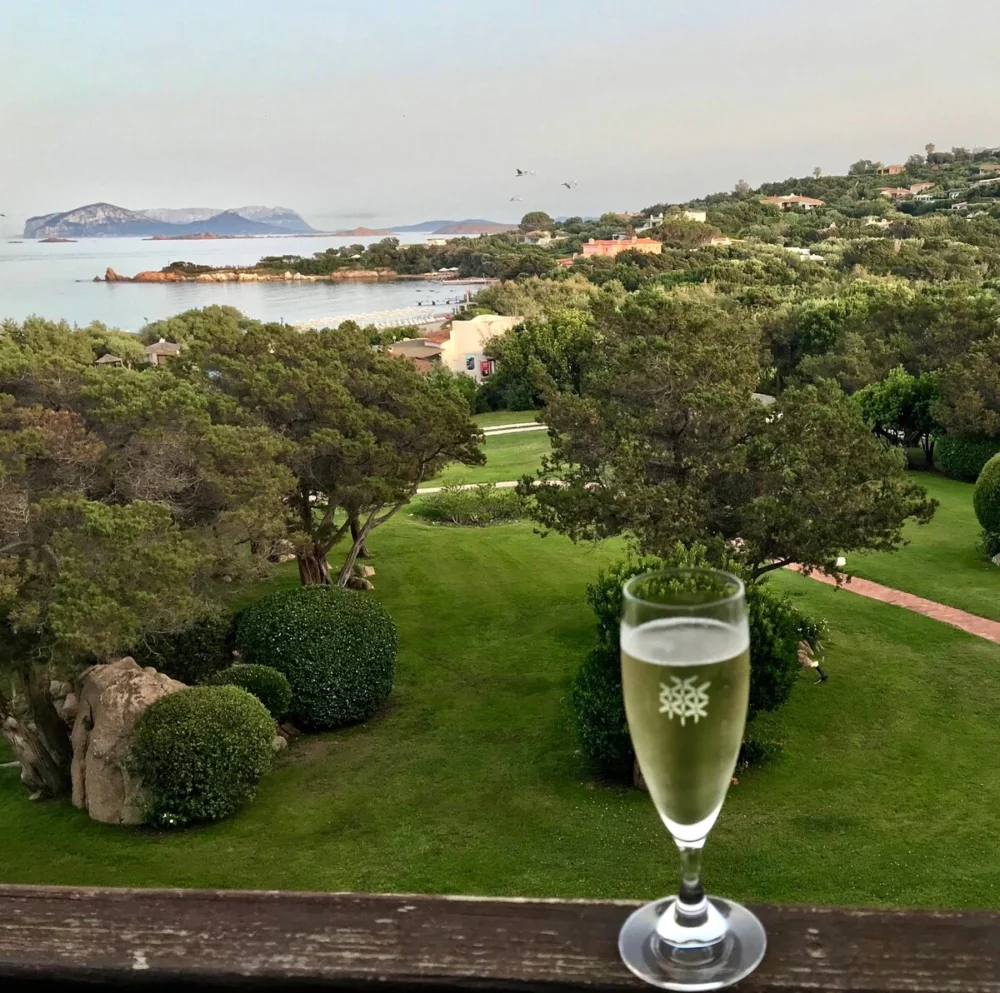 Sardinia, Italy | The Green Island
The Island of Sardinia is very large and diverse. In addition to its extensive coastline, the island's interior is dotted with mountain ranges and valleys. Moreover, Sardinia is one of Europe's oldest geological bodies of land.
As such, it has various historical features to explore, like prehistoric dwellings known as nuraghi. You are sure to encounter one while exploring. Moreover, Sardinia is also just a short hop from Corsica, making it the perfect base for exploring more of the Mediterranean.
Eastern Sardinia
If you're looking to explore the east coast of Sardinia, a luxury boat rental is a perfect way to do it. You'll be able to see everything from the island's stunning beaches to its historical landmarks. Plus, with a private yacht, you can customize your itinerary to include all the activities and sights you want.
Sardinia's east coast is home to some of the world's most beautiful beaches. There's something for everyone, from white sand beaches like Spiaggia li Piscini to dramatic cliffs like Capo Caccia. Since the water is crystal clear, jump in, swim, snorkel, and even scuba dive. Of course, you will also want to take advantage of your yacht's many water toys!
Western Sardinia
The west coast of Sardinia is a stunning mix of rocky cliffs, sheltered coves, and turquoise waters. It's the perfect place to visit on a luxury yacht and explore all the island offers. There are plenty of things to see and do here, such as exploring caves, hiking, swimming, sunbathing, and enjoying delicious seafood. Whether you're looking for an action-packed vacation or a relaxing getaway, the west coast of Sardinia has something for everyone.
Around Oristano on Your Sardinia Boat Rental
Oristano is a province in the central-western part of Sardinia. The landscape is varied, with mountains and hills near the coast and flatter inland areas. The province is home to several archaeological sites, such as Su Nuraxi, declared a UNESCO World Heritage Site in 1997.
There are also several beaches in Oristano, such as the beautiful Is Aruttas and Mari Ermi. If you're looking for a place to eat, try one of the many seafood restaurants in the province, such as Il Lido.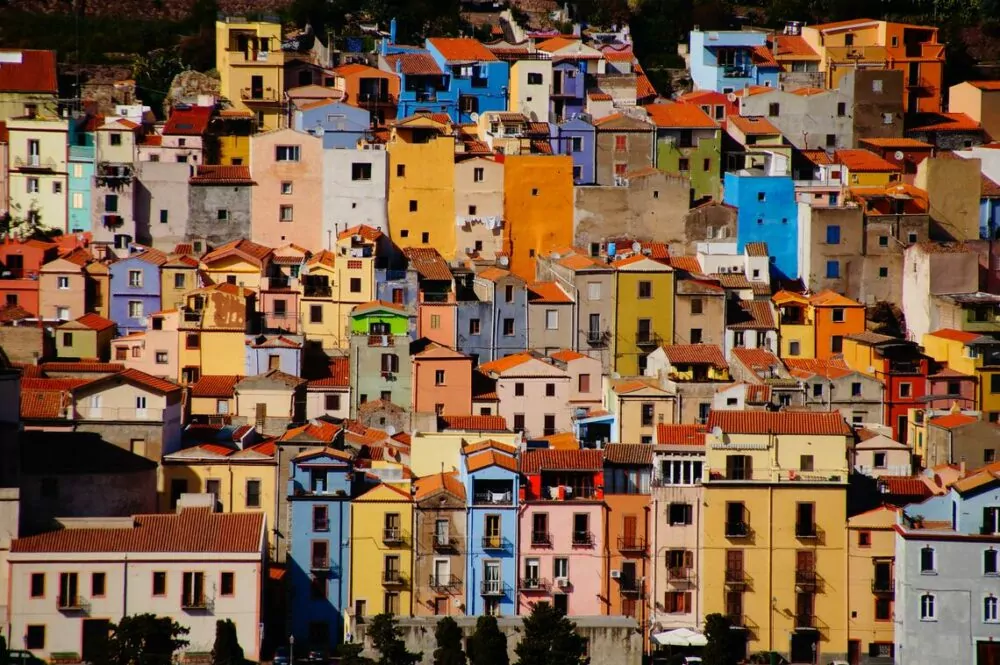 There are many exciting places to visit while on Sardinia yacht charters. A few of the more notable attractions include:
Castello Malaspina. This hilltop castle was constructed in the 12th and 13th centuries.
Ruins of ancient Tharros. Ruins of nearly 2,000 years of history.
Nuraghe di Santa Cristina. Significant archaeological site.
Piazza Eleonora d'Arborea. Center of social and political life in Oristano.
Basilica di Santa Giusta. The cathedral, built between 1135 and 1145, is one of the significant Romanesque churches in Sardinia.
Chiesa di San Leonardo de Siete Fuentes. 12th-century Romanesque church.
North and NE Sardinia, Including Corsica | Sardinia Luxury Boat Rental
On your luxury yacht, cruise to islands like La Maddalena and Caprera. Or, anchor off one of the many secluded coves along the coast.
Besides being one of the best places to visit in Sardinia, Italy, you will also find some of the best beaches in northwest Sardinia. Le Bombarde Beach is the most famous and loved by locals and tourists. Lazzaretto and Mugoni are also quite popular.
Corsica, France, is very close to Northern Sardinia. You may want to include Corsica in your itinerary or make it your next yacht charter holiday destination.
La Maddalena Archipelago: A Pristine Paradise
No boat rental in Sardinia would be complete without visiting the La Maddalena Archipelago. This group of islands, located just off the northern coast, is a haven of unspoiled beauty. In fact, it has been a national park since 1994.
The marine life here is thriving, making it a paradise for snorkeling and diving enthusiasts. Relax on secluded beaches with fine, white sand, and let the calming rhythm of the waves soothe your soul.
Olbia and Around on Your Sardinia Boat Rental
Olbia is the gateway to Costa Smeralda. It is a section of coastline known for its dramatic cliffs, crystal-clear waters, and luxury resorts. Offshore, several small islands make perfect day trips when renting a yacht. The island of Tavolara, for example, is home to a nature reserve and some of the best snorkeling in the area.
If you're looking for a more active adventure, the island of Caprera is popular with hikers. It offers stunning views of the Tyrrhenian Sea.
Porto Cervo
Porto Cervo, a jewel nestled along the dazzling Costa Smeralda in northern Sardinia, is an enchanting destination. Famous for its world-class marina and upscale amenities, Porto Cervo has long been a playground for the elite and jet-setters.
This glamorous resort town offers a seamless blend of modern sophistication and traditional charm, evident in its immaculate streets adorned with designer boutiques, high-end restaurants, and exclusive bars. The picturesque harbor is adorned with lavish yachts. Beyond the glitz, Porto Cervo also boasts breathtaking beaches with fine, golden sands and crystalline waters.
Northwestern Sardinia
The northwest coast of Sardinia is home to several beaches, towns, and historic sites. Alghero is one such city. It is encircled by ancient walls and is known for its cobblestoned old center. Some of its Catalan Gothic buildings include the Cattedrale di Santa Maria and Chiesa di San Francesco, a 14th-century church.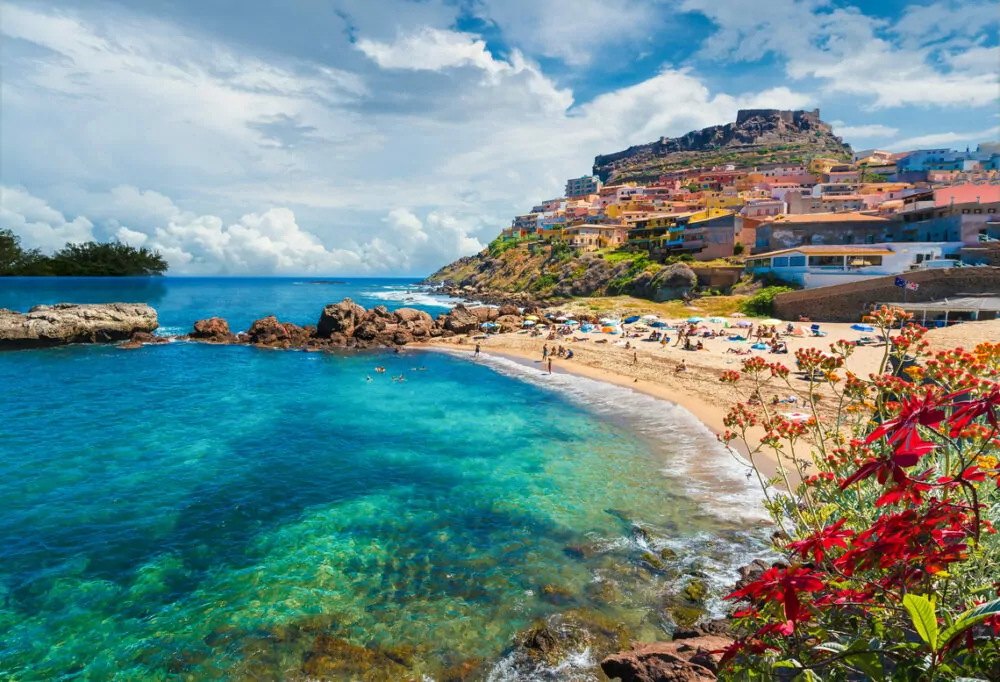 The captivating village of Castelsardo has a fantastic combination of nature, history, culture, local cuisine, and artisan tradition. Its beach, Lu Bagnu, is perfect for relaxing. The fine sand and clear sea make an ideal setting for snorkeling and swimming. Enjoy a picnic on the beach catered by your yacht crew.
Southeastern Sardinia Luxury Boat Rental
Southeastern Sardinia is home to Cagliari, the island's capital city. This seaside town makes a great place to stop while on your Sardinia boat rental. Spend some time relaxing aboard your yacht or venture into town to explore.
You certainly won't want to miss the San Benedetto market. Its sights, aromas, and amazing food will delight you! Pick up some local cheese and wine for an afternoon snack back on board.
Other areas of interest in Southeastern Sardinia include
Santuario & Basilica di Nostra Signora di Bonaria. Popular religious pilgrimage site.
Cattedrale di Santa Maria. 13th-century cathedral.
Museo Archeologico Nazionale. Sardinia's premier archaeological museum.
Torre dell'Elefante. Constructed in 1307 as a defense against the Aragonese.
Poetto Beach. Popular water-sports beach with bars and restaurants.
Southwestern Sardinia
The offshore islands of San Pietro and Sant'Antioco have distinct charms. San Pietro with its energetic vibe, and Sant'Antioco with its rustic charm and rich archaeological history. Cruise to Carloforte, a fishing and resort town on Isola di San Pietro, approximately 7 km off the southwestern coast.
Sardinia Luxury Boat Rental
Take a look at some of the yachts that are available for your Sardinia Luxury Boat Rental.
7 Cabins
Year/Rebuilt: 1994 Refit:
Built: 1994
€650,000 - €790,000 /wk
239.00 Ft Power
36 Cabins
Year/Rebuilt: 2012 Refit:
Built: 2012
€247,650 - €342,000 /wk
223.00 Ft Power
6 Cabins
Year/Rebuilt: 2010 Refit:
Built: 2010
€110,000 - €120,000 /wk
211.00 Ft Sail
Please call us today at 1 (321) 777-1707 or describe Your Vacation Vision to help you plan your fully-crewed private luxury yachting vacation! Inquire as soon as possible about your custom, crewed yacht charter.
You make the memories. We make the arrangements.