Cruise the Italian coast on an Italy Mega Yacht Charter. You can soak in the scenery by day and twinkling lights from ancient towns at night. Take a private tour of UNESCO World Heritage sites and taste some incredible wines. Enjoy gourmet meals like local Tuscan specialties or enjoy freshly caught seafood.
In addition, you will experience the best this destination offers on an Italy mega yacht charter!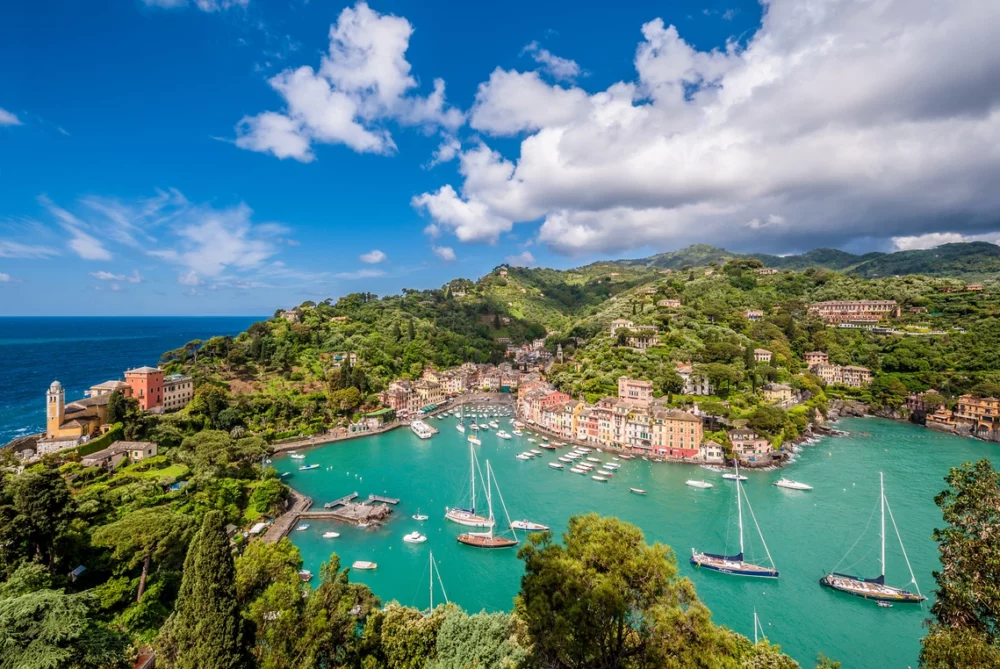 What is a Mega Yacht?
Officially, there is no real distinction between the words Superyacht and Mega Yacht. Many people use the terms interchangeably. Please click here for more information about these terms and what amenities each offer.
High levels of service and professionalism characterize mega yacht charters. The captain and crew respect guests' privacy and meet their expectations.
Vacationing on a mega yacht is the ultimate luxury holiday. The journey allows you to spend precious time with your family and friends in the utmost luxury.
Mega Yacht Amenities
Mega yachts are enormous and offer a wide range of features and amenities. Luxurious features can include state-of-the-art entertainment systems, climate control systems, jacuzzis, and swimming pools.
Other features may include:
an entire deck area dedicated to a spa
beauty salon
massage room
sauna
a helicopter deck
submersibles
water jet packs
golf tee
climbing wall
an elevator
Naval design is quickly changing, so mega yachts typically feature the latest generation stabilizers for smooth sailing. Super-modern security systems provide the utmost safety while at sea or in port. Additionally, many mega yachts have military-style technology and trained personnel for added security.
A Comprehensive Guide to Choosing the Perfect Italian Destination for Your Yacht Charter.
Italy offers a wide range of possibilities for yacht charters. Explore the captivating Amalfi Coast, the vibrant Sardinia, the historically rich Sicily, the enchanting Aeolian Islands, and the picturesque Ligurian Coast.
With such diverse destinations, you might feel overwhelmed by the abundance of choices. Rest assured; we are here to provide expert guidance and support you throughout the process.
In fact, this comprehensive guide aims to assist you in selecting the ideal Italian destination for your yacht charter adventure. Whether you're a history enthusiast, a lover of fine cuisine, or a seeker of natural beauty, Italy has something to offer.
Exploring Italy's Rich Yacht Charter Destinations
The Amalfi Coast:
The Amalfi Coast along the Tyrrhenian Sea is an iconic Italian destination famous for its breathtaking beauty. It boasts dramatic cliffs, colorful villages, and crystal-clear waters, making it a perfect spot for a yacht charter.
Explore the charming town of Positano, savor delectable seafood cuisine, and enjoy the rich history and culture of the region. Make sure not to miss the chance to sail to the legendary island of Capri, just a short distance away. There, you can witness the famous Blue Grotto and experience stunning landscapes.
Sardinia:
Sardinia, the second-largest island in the Mediterranean, offers a remarkable yacht charter experience. Its pristine beaches, secluded coves, and azure waters make it a paradise for water sports enthusiasts and beach lovers.
Discover the glamour of Costa Smeralda, with its luxurious resorts and vibrant nightlife. You can also venture to the less explored southern coast, where untouched natural beauty awaits. Sardinia also boasts a rich cultural heritage, with ancient ruins, charming villages, and cuisine influenced by its unique history.
You can explore Porto Cervo with its fine restaurants and sights.
Sardinia yacht charters provide an exclusive and luxurious way to explore this Mediterranean gem's stunning landscapes and crystal-clear waters.
Sicily:
History lovers will find Sicily to be a treasure trove of ancient wonders.
This island proudly showcases the remnants of past civilizations, such as the majestic ruins of Agrigento's Valley of the Temples and the well-preserved amphitheater in Taormina.
Explore the vibrant cities of Palermo and Catania. Sample traditional Sicilian dishes bursting with flavors, and immerse yourself in the warmth and hospitality of the locals. Sicily's diverse landscapes, including the towering Mount Etna and picturesque coastal towns, provide an unforgettable backdrop for your yacht charter adventure.
Aeolian Islands:
Situated off the northern coast of Sicily, the Aeolian Islands offer a secluded and mystical experience. Comprising seven main islands, each with its own unique character, this volcanic archipelago is a haven for nature lovers. Visit the otherworldly Stromboli, an active volcano known for its eruptions, and soak in its black sand beaches.
Explore the charming streets of Lipari, the largest island, and indulge in its local cuisine. The Aeolian Islands are perfect for those seeking tranquility, unspoiled landscapes, and rejuvenating thermal baths.
Ligurian Coast
The Ligurian Coast, renowned for its breathtaking beauty, is a coastal gem that captivates travelers with its iconic Cinque Terre. Designated as a UNESCO World Heritage Site, this scenic region in Italy is a must-visit destination for those seeking natural wonders.
A sailing yacht charter adventure along the Ligurian Coast provides views of the rugged shoreline and crystal-clear waters stretching as far as the eye can see. The coastline has dramatic cliffs, lush greenery, and charming coves that invite you to explore their hidden treasures.
The journey's highlight will undoubtedly be Cinque Terre, a collection of five vibrant fishing villages precariously nestled on the cliffs. These villages, namely Monterosso al Mare, Vernazza, Corniglia, Manarola, and Riomaggiore, each possess their unique charm and character. With their colorful facades, narrow alleys, and terraced vineyards, they create an unforgettable and picturesque sight.
Additionally, you can hike through the trails connecting these villages, admiring the stunning vistas of the Ligurian Sea. Indulge in the region's renowned pesto sauce, fresh seafood, and local wines. The Ligurian Coast offers a unique blend of adventure, culture, and gastronomy.
Whether you choose to explore the Amalfi Coast's dramatic landscapes, relax on the pristine beaches of Sardinia, immerse yourself in Sicily's ancient wonders, discover the mystical Aeolian Islands, or hike the picturesque trails of the Ligurian Coast, an unforgettable experience awaits.
Ask us for Guidance.
We offer valuable guidance and assistance in planning your vacation. We can offer useful insights and help you customize your itinerary based on your preferences. Moreover, throughout the charter process, we are available to address any questions or concerns you may have.
Take the time to research each destination. Consider weather, crowd levels, and specific activities or attractions that align with your interests.
Embark on your Italian yacht charter with an open mind and a spirit of adventure. You will undoubtedly fall in love with Italy's beauty, history, and culture. The memories created during your yacht charter adventure will undoubtedly leave an indelible mark and inspire a lifelong love for this enchanting country.
So many options!!
With so many yacht rentals in Italy, this country is a versatile luxury yacht charter destination. The Amalfi Coast, Sardinia, Sicily, Aeolian Islands, and Ligurian Coast are famous for their fascinating history, culture, secluded beaches, and cuisine. If you have never been to Italy, you may want to begin with our page Italy Yacht Charters.
In addition, you can explore the Italian Riviera, Sardinia, Corsica, Capri, and on a mega motor yacht or mega sailing yacht.
Browse some of the yachts.
Book Your Mega Yacht Today
Nothing can compare to a mega yacht charter in Italy. Indeed, the journey allows you to spend precious time with your family and friends in the utmost luxury. Call today and make plans to charter a yacht in Italy for your next vacation.
Please call us today at 1 (321) 777-1707 or describe Your Vacation Vision to help you plan your fully-crewed private luxury yachting vacation! Inquire as soon as possible about your custom, crewed yacht charter.
You make the memories. We make the arrangements.