The 8 Best Things to Do in Turkey
Turkey is an incredible country with amazing things to do and places to visit. From a relaxing beach vacation to an exciting cultural exploration, Turkey has something for everyone. From the iconic skyline of Istanbul to the stunning mountain villages in Cappadocia, there is no shortage of things to experience and places to see in Turkey. Below, please enjoy our 8 best things to do in Turkey.
1. Visit Istanbul
No trip to Turkey would be complete without a visit to Istanbul, one of the country's most popular tourist attractions. This vibrant and cosmopolitan city straddles the continents of Europe and Asia, offering visitors a fascinating mix of cultures, history, and attractions.
Start your visit to the historic district of Sultanahmet, where you'll find the Hagia Sophia, the Blue Mosque, and the Topkapi Palace. These stunning landmarks are must-see attractions in Istanbul, with their intricate architecture, beautiful mosaics, and impressive collections of art and artifacts.
Next, explore the bustling streets of Istanbul's Grand Bazaar, one of the world's largest and oldest covered markets. Here you can haggle for souvenirs, textiles, ceramics, and more or soak up the sights and sounds of this lively marketplace. It's truly one of the most memorable Turkey activities to experience.
2. Take a Bosphorus Cruise
One of Turkey's most iconic tourist attractions is taking a Bosphorus Cruise in Istanbul. This scenic boat ride offers stunning city views, including the famous Blue Mosque and Hagia Sophia. As you sail along the Bosphorus Strait, you'll see the waterfront, including fishermen, cargo ships, and ferries.
It's an ideal way to experience the vibrancy of Istanbul's culture while taking in its breathtaking beauty. Plus, there are many tour options so that you can customize your experience to your liking. If you dream of dinner with traditional Turkish music and food, a Bosphorus Cruise is a must-do on your Turkey vacation.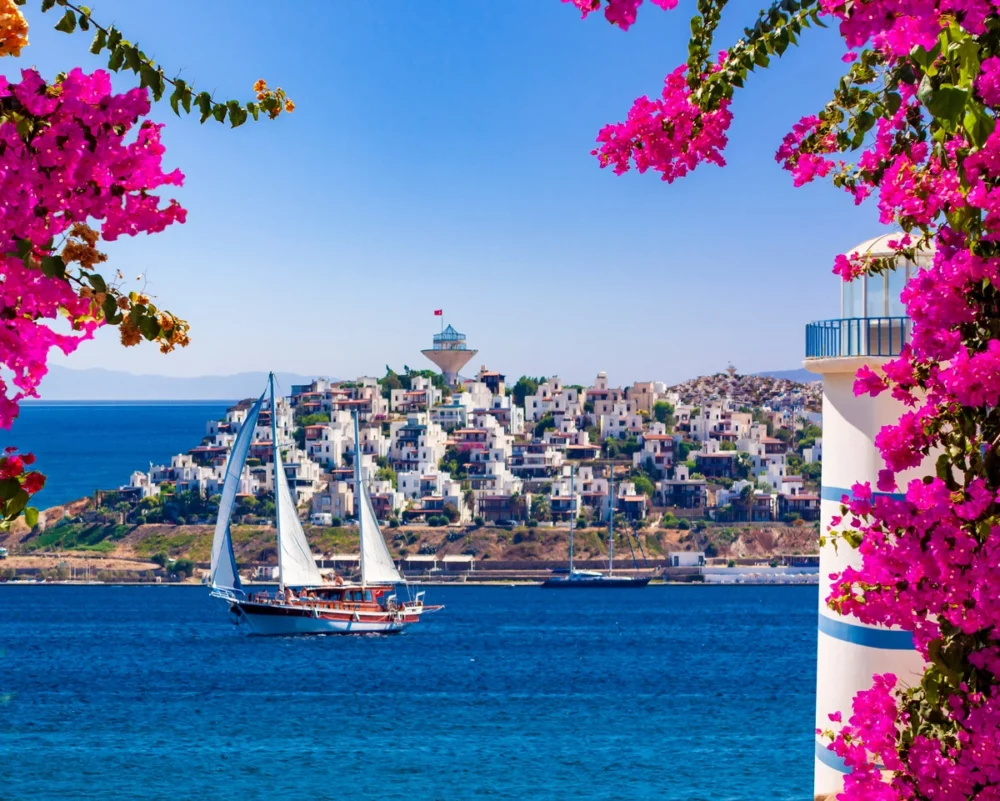 3. Go On A Hot Air Balloon In Cappadocia
One of Turkey's most unique and mesmerizing sights must be the Fairy Chimneys in Cappadocia. These unusual rock formations were created over millions of years through volcanic eruptions, and they have become one of the most popular Turkey tourist attractions.
One of the best ways to see the Fairy Chimneys is from a hot air balloon in Turkey. This breathtaking experience will give you a bird's-eye view of the area and allow you to witness the stunning landscape. You'll be able to see the Fairy Chimneys from above and marvel at their bizarre shapes.
Aside from taking a hot air balloon ride, there are other ways to see the Fairy Chimneys up close. You can take a guided tour of the area, rent a bicycle or ATV, and explore the valleys and hills independently. You'll be able to explore the ancient cave churches and underground cities scattered throughout the region.
Overall, seeing the Fairy Chimneys in Cappadocia is an experience that should not be missed. The surreal landscape is like nothing else you'll see in Turkey or anywhere else. So be sure to add this amazing Turkey tourist attraction to your itinerary and prepare to be amazed.
4. Take a Yacht Charter on the Turkish Riviera
The Turkish Riviera, known as the Turquoise Coast, boasts stunning natural beauty with crystal-clear waters, white sandy beaches, and an impressive coastline. A yacht charter is one of the best ways to explore the stunning scenery of the Turquoise Coast.
Many yacht charter options are available, from a luxurious motor yacht to a more affordable traditional sailboat. Uniquely, you can also charter a Turkish Gulet or Motor-Sailor. Regardless of your budget and preferences, the experience of sailing along the Turquoise Coast is unforgettable. Please view some of our favorite Turkish charter yachts below, and contact us for more.
Places To Visit on a Turkish Yacht Charter
You can start your yacht charter in Antalya, a popular city on the Turkish Riviera, and explore the charming town of Kas, the picturesque Kekova Island, and the famous Blue Lagoon in Oludeniz. These destinations offer fantastic swimming opportunities and a chance to witness some of the most breathtaking scenery in the region.
Moreover, a yacht charter allows you to explore hidden bays, secluded beaches, and charming towns that are not easily accessible by land. You can also anchor in secluded bays and watch the sunset with a refreshing drink.
Another popular destination on the Turkish Riviera for yacht charters is Bodrum. This lively city is known for its vibrant nightlife, markets, and picturesque harbor. You can explore the charming streets of the old town, visit the famous Bodrum Castle, or relax on one of the many beaches in the area.
Bodrum also offers easy access to nearby Greek islands like Kos and Rhodes, worth exploring if you have more time.
Finally, the yacht charter experience is incomplete without indulging in delicious local cuisine. The Turquoise Coast is known for its fresh seafood, olive oil, and traditional dishes like meze and kebab. You can visit the small fishing villages along the coast and enjoy a traditional Turkish breakfast or a fresh seafood dinner.
Taking a yacht charter on the Turkish Riviera is an ideal way to explore this stunning region's natural beauty, culture, and history.
5. Visit Pammukale's Travertine Terraces
Pamukkale is one of the most popular Turkey tourist attractions, and it's easy to see why. Located in Denizli province, Pamukkale is famous for its thermal hot springs and terraces made of travertine, which look like a frozen waterfall. The terraces are formed by the hot springs depositing calcium carbonate as they flow down the hillside, creating a stunning white landscape.
Visitors to Pamukkale can dip in the hot springs, walk on the travertine terraces and take in the breathtaking views of the surrounding landscape. Be sure to bring your camera to capture the natural beauty of this unique site.
Aside from the terraces, Pamukkale is also home to the ancient city of Hierapolis. Visitors can explore the ruins of this once-great city and see the remains of the Roman baths, temples, and a large amphitheater.
There are plenty of ways to enjoy Pamukkale. You can go on a guided tour or explore on your own.
6. Visit Mount Nemrut | The 8 Best Things to Do in Turkey
Mount Nemrut is a fascinating historical site in southeastern Turkey that should be included in your travel itinerary.
This mountain features two 50-foot statues of gods and numerous smaller statues and inscriptions. Built during the first century BC by King Antiochus I, Mount Nemrut has been a UNESCO World Heritage Site since 1987.
To fully experience this site, we recommend taking a guided tour to learn about the history of the statues and the surrounding ruins. A popular time to visit Mount Nemrut is sunrise or sunset, when the sun's rays reflect beautifully off the statues.
One of the unique features of Mount Nemrut is the statues' alignment with the constellations. This creates an astronomical clock of sorts. Be sure to take time to soak in the beauty of the mountain's surroundings and the historical significance of the statues.
For those interested in adventure, Mount Nemrut also offers a hiking trail that leads up to the summit. This challenging hike will reward you with stunning panoramic views of the surrounding landscape.
7. Hike the Lycian Way
If you're looking for an outdoor adventure in Turkey, you can't miss hiking the Lycian Way. This stunning trail covers 540 kilometers of beautiful coastline, rocky cliffs, and forested hills. You can hike the entire route, which takes around three weeks, or opt for a shorter section.
As you hike the Lycian Way, you'll come across various historic sites, including the ancient ruins of Olympos and the amphitheater in Kas. Along the way, you'll also have the chance to swim in secluded coves and relax on unspoiled beaches.
For the best experience, plan your hike between September and November or April and June. This way, you can avoid the intense heat of summer and enjoy mild temperatures and fewer crowds.
The Lycian Way is a true bucket list adventure that shouldn't be missed during your visit to Turkey. It doesn't matter if you're an experienced hiker or love the outdoors; you'll find the trail's natural beauty and fascinating history captivating. So lace up your hiking boots and prepare for an unforgettable adventure on the Lycian Way.
8. Visit Ephesus
Ephesus is one of Turkey's most impressive archaeological sites and a must-visit for any history buff. It was once a thriving ancient Greek and Roman city located near the western coast of Turkey. It was home to over 250,000 people.
The highlight of a visit to Ephesus is undoubtedly the ruins of the ancient city, which are beautifully preserved. Visitors can wander through the ancient streets, marvel at the grand public buildings, and explore the intricately detailed homes of wealthy residents.
One of the most impressive structures at Ephesus is the Great Theatre. It could hold up to 25,000 spectators and was used for entertainment and political purposes.
Another highlight of Ephesus is the Temple of Artemis, one of the Seven Wonders of the Ancient World. Although little of the original temple remains today, visitors can see this once-grand structure's foundation and some decorative elements.
For those interested in the early history of Christianity, Ephesus is also home to several important biblical sites. The House of the Virgin Mary is said to be where Mary spent her final years, while the Basilica of St. John was built on the site of the apostle's burial.
For a good reason, Turkey is one of the most fascinating destinations in the world. Its rich culture, stunning landscapes, and exceptional cuisine offer a unique vacation experience. From hot air balloon rides over Cappadocia's fairy chimneys to yacht charters on the turquoise waters of the Turkish Riviera, there are plenty of ways to enjoy the country's natural beauty in style. Finally, Turkey is a gastronomic paradise, and indulging in its world-renowned cuisine is an experience. We hope you've enjoyed our top 8 best things to do in Turkey, and remember, they merely scratch the surface.
Please call us today at 1 (321) 777-1707 or describe Your Vacation Vision to help you plan your fully-crewed private luxury yachting vacation! Inquire as soon as possible about your custom, crewed yacht charter.
You make the memories. We make the arrangements.