Take a Bahamas yacht charter holiday on a sensational luxury motor yacht. When you charter a motor yacht, you will enjoy all the benefits of a land-based resort with the utmost privacy and service. Whether you're interested in relaxing on secluded beaches or taking in the sites and sounds of Bahamian culture, a yacht holiday will delight you.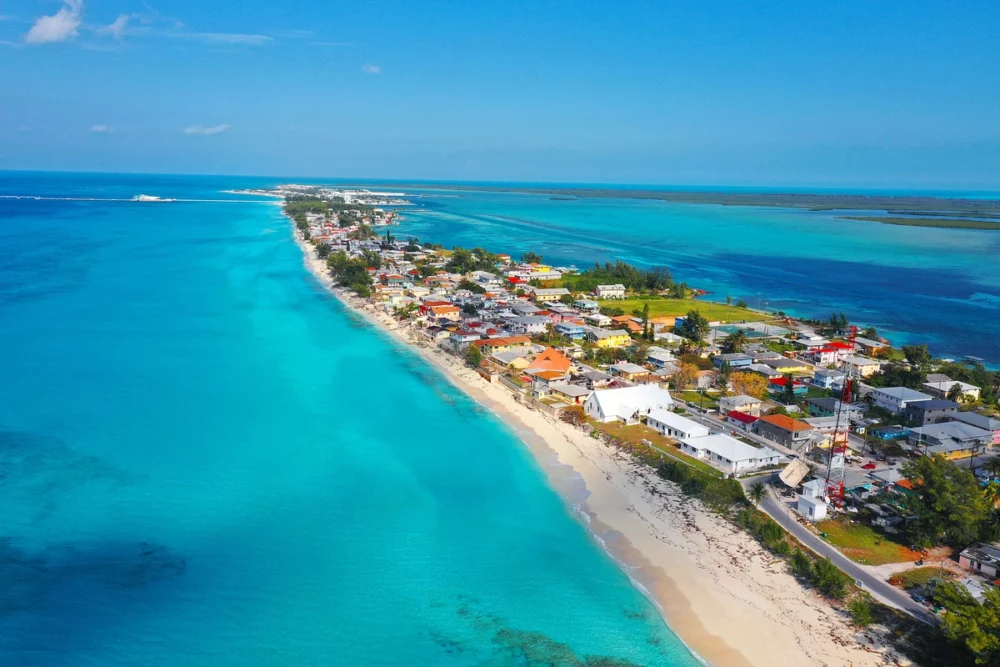 Islands and Cays of the Bahamas | Perfect for Your Yacht Charter Holiday
The Bahamas are the perfect destination for families of all ages, couples, or groups of friends. Since motor yachts have a lot of space, you can spend time together or have quiet time.
Perhaps you would like to wake up early and enjoy coffee on the deck while watching the sunrise. Later, join the others for a day of exploring and watersports. It's all up to you.
Unparalleled Natural Beauty
The Bahamas is renowned for its unparalleled natural beauty, and there's no better way to explore its hidden gems than by chartering a private yacht.
Set sail to the Exumas, a stunning archipelago with 365 cays and islands, each with unique allure. Discover secluded beaches like Pig Beach, where you can swim with adorable swimming pigs. Or, visit Thunderball Grotto, a famous underwater cave system featured in the James Bond movie. The Exumas also offer superb snorkeling and diving opportunities.
Every Bahamas yacht charter arranged by Luxury Yacht Charters allows you to enjoy virtually unspoiled territory. We work with some of the best yachts and crews cruising the Bahamian waters. Therefore, you can ensure that your yacht charter experience will be first-class.
Whatever you decide to do — whether it's a gourmet meal with freshly-caught fish or a refreshing nap on trade winds caressed sun deck on your Bahamas vacation won't be forgotten.
Choosing Your Yacht and Itinerary
Indulge in the lap of luxury aboard your private yacht. Imagine waking up to panoramic ocean views from your opulent cabin. Feel the gentle sea breeze as you enjoy breakfast on the deck, or unwind with a cocktail at sunset while the crew takes care of your every need.
From spacious lounges and state-of-the-art entertainment systems to world-class amenities and gourmet dining options, your yacht charter holiday promises an unforgettable experience.
Our team personally inspects many yachts each year. They get to know the boats and the crews to ensure you have the best yacht based on your personality and interests.
We will help you design the ideal itinerary, ensuring you have a unique vacation. Best of all, you will have the entire yacht to yourselves, so you don't have to share space with thousands of strangers. A private yacht charter is the best way to maintain a safe social distance while enjoying spectacular views and destinations.
Activities Abound
Motor yachts offer various water sports, such as snorkeling, kayaking, skiing, windsurfing, and jet skiing. Depending on the yacht, many water toys are available, and some yachts even offer scuba diving onboard. Whatever your activity level, there will be something to keep you and your guests as active as you want.
Island Hopping and Local Culture
The Bahamas is not just about stunning beaches and pristine waters; it's also rich in vibrant local culture and history. Take the opportunity to explore various islands and immerse yourself in the Bahamian way of life. Visit Nassau, the bustling capital, and explore its colorful markets, historic sites like Fort Charlotte, or even try your luck at the Atlantis Casino.
Experience the authentic charm of the Out Islands, such as the Abacos or the Andros, where you can enjoy local cuisine, interact with friendly locals, and learn about the island's traditions and folklore.
Spectacular Sunsets and Serenity
As the day draws to a close, prepare to be captivated by the breathtaking Bahamian sunsets. Witness the sky ablaze with gold, pink, and purple hues as the sun dips below the horizon, painting a picture-perfect backdrop to end your day in paradise.
As night falls, revel in the tranquility and serenity of the open sea, away from the hustle and bustle of everyday life. Gaze up at a sky filled with countless stars, undisturbed by city lights, and let the peacefulness of the ocean lull you into a state of complete relaxation.
A Sample of Motor Yachts for a Bahamas Yacht Charter Holiday
There are many yachts from which to choose. A few excellent choices include:
AT LAST, is a 145-foot Heesen motor yacht that accommodates 11 guests in 6 cabins. An eight-member crew is onboard to make sure your vacation is perfect.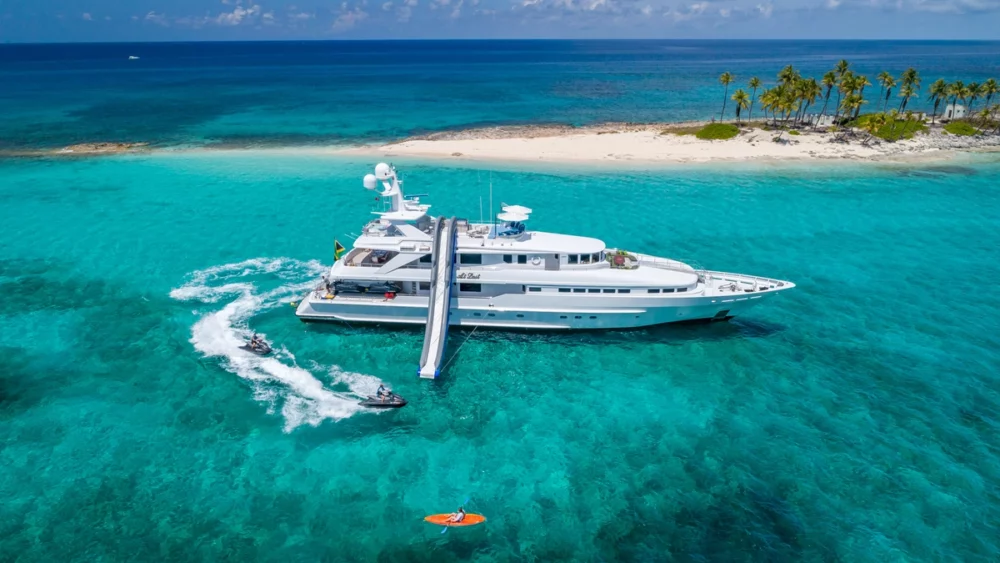 STARSHIP is a 143-foot Van Mill motor yacht accommodating 12 guests in 5 cabins.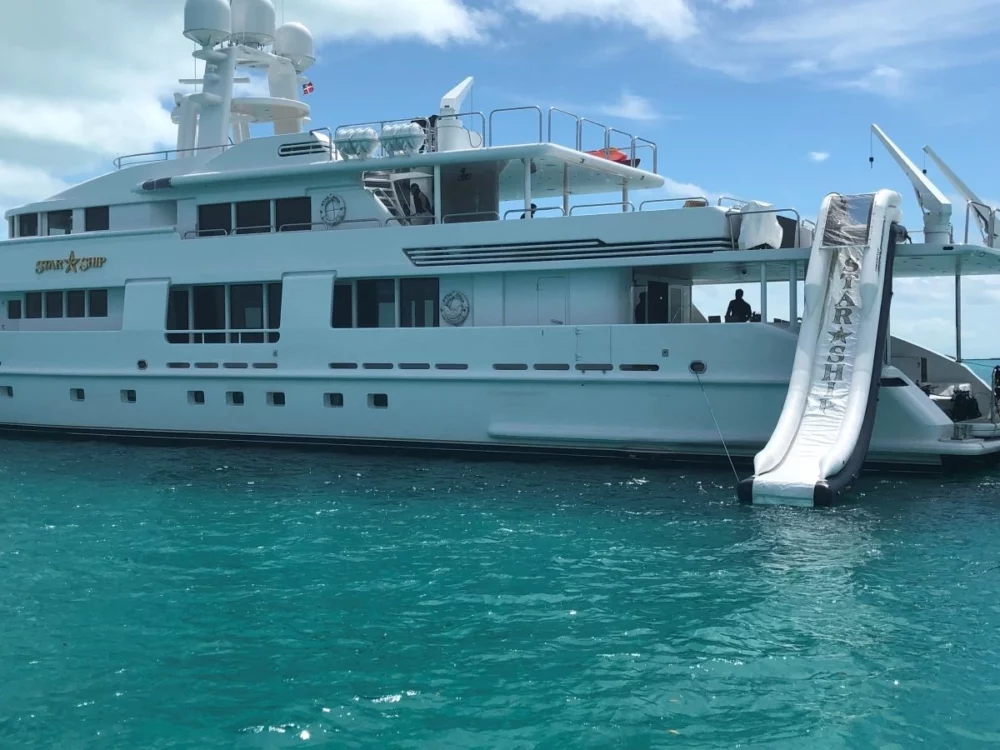 NEVER ENOUGH is a 140-foot Feadship that accommodates ten guests in 5 cabins.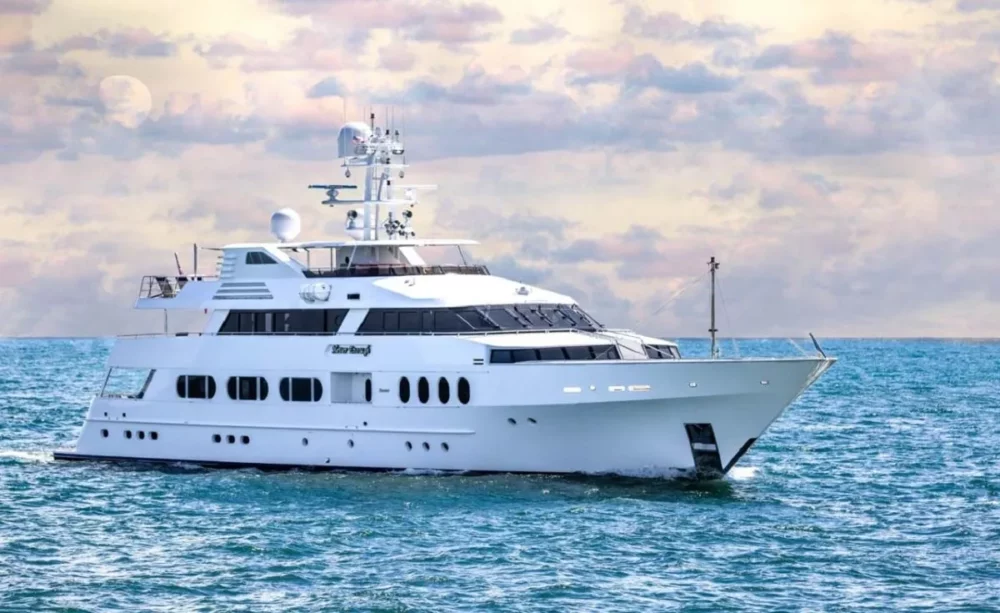 Many other yachts are available for your Bahamas yacht charter holiday. Let us help you find the perfect boat and crew for your vacation.
Please call us today at 1 (321) 777-1707 or describe Your Vacation Vision to help you plan your fully-crewed private luxury yachting vacation! Inquire as soon as possible about your custom, crewed yacht charter.
You make the memories. We make the arrangements.