Explore the Luxury: Antigua Motor-Yacht Charter
Antigua and Barbuda are two beautiful Caribbean sister islands with endless possibilities for exploration. Discover why an Antigua motor-yacht charter is a fantastic way to see this tropical paradise.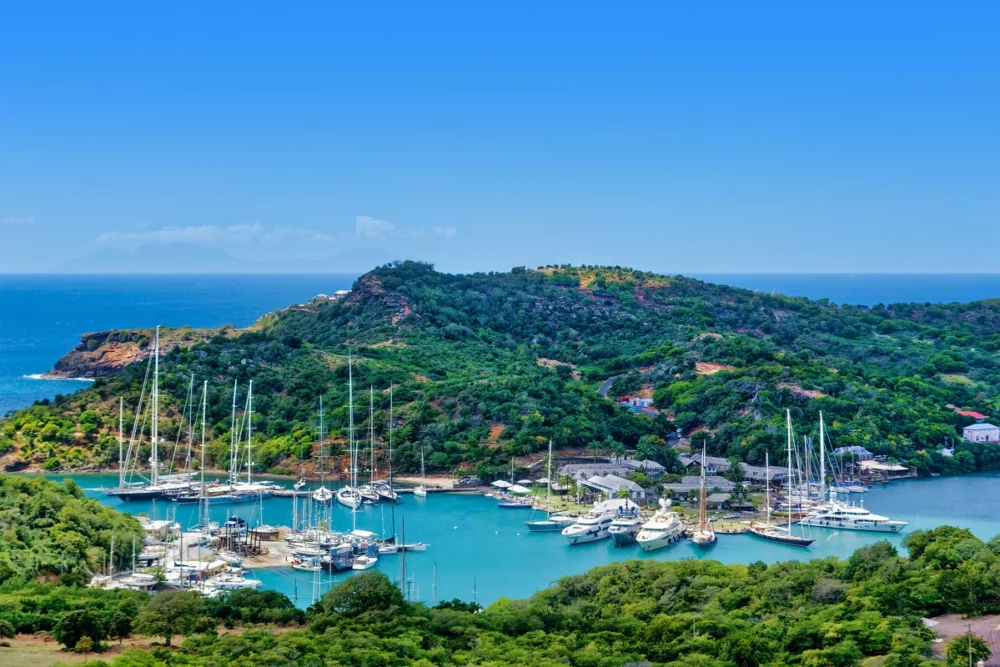 Why a Motor Yacht for Your Charter?
A motor-yacht charter is a luxurious way to discover Antigua. Everything from the delicious gourmet food served onboard, the variety of entertainment options, and the attentive crew combine to make your motor yacht vacation unforgettable.
Motor yachts have many benefits for a vacation in Antigua, such as:
The ability to move from place to place very quickly. You can see more places than if you were on a traditional sailboat.
Stabilizers that make the voyage smooth when underway and when at anchor. The stabilizers reduce the rocking motion, which may lead to seasickness.
Large staterooms. Some yachts offer full-beam master staterooms with ample storage space.
Some ensuite bathrooms have full-size bathtubs. Many yachts provide bathrobes, luxury soaps, and shampoos.
Entertainment features may include cinemas, fitness rooms, saunas, bars, underwater observatories, swimming pools, jacuzzis, and more.
Luxurious interior furnishings, floor-to-ceiling windows, multiple decks, elevators, and numerous dining areas.
Beach clubs. A yacht's beach club is the space aft of the vessel that is a combination lounge area and swim platform. It creates additional space for indoor-outdoor living and entertaining. Some beach clubs include cocktail bars and saunas.
Sample Antigua Motor Yachts
We will work with you and your group to find the right motor yacht and crew. Here are a few sample yachts that charter in Antigua and Barbuda:
QTR. A 116-foot Lazzara yacht that accommodates eight guests in 4 cabins. QTR offers onboard scuba diving for certified divers.
ECLIPSE 114 is a 114-foot Couach yacht that accommodates ten guests in 5 cabins. Amenities aboard Eclipse include a spacious flybridge and a Jacuzzi.
LADY SHARON GALE is a 112-foot Broward that accommodates ten guests in 4 cabins. Very spacious staterooms and an on-deck Jacuzzi make this yacht family-friendly and ideal for island hopping.
HANNAH. is a 112-foot Westport that accommodates nine guests in 4 cabins. Hannah's overflowing water toy box includes two wave runners, four sea scooters, and a floating island.
ISLAND GIRL is a 112-foot Westport that accommodates eight guests in 4 cabins. ISLAND GIRL's roomy flybridge with Jacuzzi is the perfect place to watch the sunset.
CYNDERELLA is a 101-foot Hargrave that accommodates eight guests in 4 cabins. CYNDERELLA features two master staterooms, one on deck and one below, and two twin convertible staterooms.
Why Antigua for Your Motor-Yacht Charter?
The Caribbean is home to numerous beautiful islands, yet there is something special about Antigua. Antigua and Barbuda have 365 beaches. One every day of the year and lush tropical rainforests, beautiful coral reefs, and vibrant island nightlife.
The islands have warm, steady winds, providing perfect sailing conditions. In addition, a varied coastline of safe harbors and a colorful wall of coral reef invites you to explore the islands' undersea beauty.
The Weather
Antigua enjoys a warm, tropical climate year-round; generally, it's drier and less humid than most other Caribbean islands. Its nearness to the Equator means there's slight seasonal variation.
The driest months are January to April, making them the busiest. The temperature is warm and pleasant. There's more chance of rain from May to August, but this usually consists of shorter bursts of tropical rain. Temperatures are warmer, around 77°F to 88°F.
The wettest months are September to November; however, there are still many hours of sunshine in the day. The official hurricane season falls between June and November. Thankfully the storms are tracked.
The Beaches
There are 365 beaches in Antigua and Barbuda, so exploring them would take a lifetime. Choose a beach based on your mood. Fancy a lively beach-party vibe?
Then head to Dickenson Bay on the Northwestern coast. This beach has plenty of restaurants, bars, and water sports activities.
Want a more secluded beach experience? A tropical rainforest surrounded by the Caribbean Sea and a white sand beach await you at Carlisle Bay Beach on Antigua's southern coast. Enjoy the spa at Carlisle Bay Resort and use your yacht's water toys.
Families with small children will enjoy Ffryes Beach. It has shallow, calm water and sand, just the right consistency for building castles.
The History
Antigua is steeped in history, and there are a few places that you must visit while on your motor yacht vacation.
Shirley Heights. The incredible views and the Sunday barbeque are not to be missed.
Betty's Hope was a sugarcane plantation established in 1650, shortly after the island had become an English colony. This is a small but significant historical site.
Nelson's Dockyard in English Harbour is part of Nelson's Dockyard National Park, which also contains Clarence House and Shirley Heights, and is a UNESCO World Heritage Site.
Fort James is an 18th-century fort located at the entrance of the harbor of St. John's. You can see several cannons, a powder magazine, and remnants of the old buildings and foundation walls. The view from the fort is spectacular.
Antigua Motor-Yacht Charter | The Activities
There is more to Antigua than just spectacular beaches. There is also a wide variety of activities from which to choose. Whether you are an avid athlete, a foodie, or simply an adventurer, there is something for you to enjoy.
Enjoy walks along the coast to totally deserted beaches.
Soak in the beautiful views from some of the historical ruins around English Harbour and Shirley Heights.
Play tennis, go horseback riding, scuba diving, or snorkeling.
Rent an ATV and explore the island.
Swim in the calm, warm sea.
Pamper yourself at one of Antigua's wellness spas.
In addition to land and water activities, there is much to do on board the motor yacht.
Spend the day lounging on the sundeck. Remember that Antigua is very close to the equator, and the sun is powerful. Be sure to reapply sunscreen often.
Photograph the stunning views of the Caribbean Sea. Upload your pictures to Instagram or FaceBook to let your friends enjoy the views, too!
Watch movies in the salon. Your yacht has a variety of movies for guests of all ages.
Practice yoga on the deck. Some yachts have crew members that are also yoga instructors.
Work out in the yacht's gym. Maintain your fitness routine while on vacation.
Enjoy a massage. Some superyachts have spa facilities. If your yacht doesn't have a spa, we can arrange for a mobile therapist to come aboard.
Play computer or board games. Your yacht's air-conditioned salon is a good place to play a few games during the hottest part of the day.
Soak in the jacuzzi while sipping bubbly champagne.
Cool off in the swimming pool.
Read.
Antigua Sailing Week
One of the most popular events in Antigua is the annual Antigua Sailing Week, held every April. The celebration attracts thousands of sailors from around the world. During the week, sailors compete in various races around the island and the coast.
The Food
Antigua is a food-lovers delight. You will find something delicious with international and indigenous foods and drinks. For an authentic Caribbean dish, try fungee, a traditional savory dish made with yellow cornmeal and okra. It is usually served with fish or conch.
Restaurants offer everything from Middle Eastern to Sushi to Chinese and everything in between. Of course, rum is very popular in Antigua. Try the local rum punch and see for yourself!
On your yacht, your professional chef will prepare exquisite meals tailored to your tastes. Imagine starting your day with a breakfast of freshly baked croissant and omelet, a fresh fruit salad, and a robust cup of coffee—a light salad of greens and grilled shrimp for lunch with a chilled glass of white wine.
As the sun sets, relax on the deck and enjoy a dinner of pan-seared scallops served with lemon risotto and sautéed spinach. Or, if you're feeling indulgent, a filet mignon with creamy mashed potatoes and a bottle of vintage champagne. As a nightcap, finish with a selection of homemade desserts and herbal tea.
You can still enjoy delicious food on your luxury motor yacht holiday if you're vegan. Instead of the above options, you might have vegan eggplant toast with cashew cheese and avocados, quinoa salad with avocado, tomatoes, mixed greens, and roasted sweet potatoes with tahini dressing. Many vegan dessert options include oatmeal cookies, almond butter cups, and vegan cheesecake.
The Beaches, Activities, and Food are just a few reasons that an Antigua Motor-Yacht Charter is an excellent choice for a luxury vacation. The ultimate charter experience in Antigua awaits.
Anchorages and Marinas
Antigua offers a variety of beautiful and safe anchorages and marinas. Many marinas are within walking distance of bars, restaurants, and attractions.
Jolly Harbour. Berths for 155 yachts up to 75 feet. Jolly Harbour Marina is within a self-contained 300-acre development consisting of waterfront bars and restaurants, an 18-hole golf course, ATMs, waterfront villas for rent, a large swimming pool, tennis courts, a gym, and a squash court.
Antigua Yacht Club Marina. Situated in Falmouth Harbour, the AYC Marina is conveniently located among shops, boutiques, and restaurants. The historic Nelson's Dockyard and Pigeon Beach are a short walk away.
Nelson's Dockyard Marina. The only continuously working Georgian-era dockyard in the world. Has well over 30 large berths for boats to 164 feet.
Falmouth Harbour Marina. Superyacht dock offers big berths for yachts up to 330 feet long and 20 feet draft.
Morris Bay. Protected anchorage is perfect for larger yachts.
Pearns and Reeds' anchorage at the entrance marker to Jolly Harbor Marnina. There's a nice variety of shops and restaurants to visit.
Nonsuch Bay has many anchorages.
Barbuda has many lovely anchorages too. A few of the best anchorages in Barbuda are Cocoa Bay, Low Bay South, Gravenors Bay, and Spanish Well Point.
Moreover, Barbuda offers miles of white sand beaches, seafood, and historical sights.
Nearby Islands to Visit on Your Motor Yacht Charter
You may also wish to visit St Kitts & Nevis or Guadeloupe while on your Antigua luxury motor-yacht charter.
St Kitts. St Kitts is 18 miles long and 5 miles at its widest part and encompasses 69 square miles. This island is gorgeous. St Kitts should be on your itinerary to experience its historical sights, beaches, and welcoming locals.
Nevis. Sister island to St. Kitts. Nevis is exceptional in its own right. You can hike or walk in the forests, follow trails, or stroll along the beach.
Nevis Peak is one hike that serious adventurers should try. In addition, The Four Seasons Resort has a beautiful golf course.
Guadeloupe. The Guadeloupe archipelago includes five islands Basse-Terre, Grande-Terre, Marie-Galante, Les Saintes, and La Desirade. Explore mountains, beaches, rainforests, waterfalls, and more.
You can also do a one-way charter from Antigua and Barbuda to St. Martin. While doing so, enjoy visiting St. Kitts, Nevis for a game of golf, St. Barths, and Anguilla.
Please call us today at 1 (321) 777-1707 or describe Your Vacation Vision to help you plan your fully-crewed private luxury yachting vacation! Inquire as soon as possible about your custom, crewed yacht charter.
You make the memories. We make the arrangements.