New Horizons 2, a 50-foot Fontaine Pajot catamaran, is ready to take you sailing in the Greek Islands. Explore the Saronic Gulf Islands or the Cyclades Islands of Mykonos, Kea, Santorini, or where the wind blows. And now is the perfect time to charter with these special rates:
New Horizons 2 |Special charter rates

April – May and October: Euros 14,000 per week + 12% VAT + 25% APA
August – July: Euro 18,000.00 per week + 12% VAT + 25% APA
June – September: Euro 16,000 per week + 12% VAT + 25% APA

Charters less than one week as per MYBA Terms rate ./. by 6
Preferred embarkation time 16:00hrs
Preferred disembarkation time 10:00hrs
Holds Greek Charter License
One way charters are subject to extra charges according to the destination.
The delivery or redelivery fee for one way charters departing from their Athens base in Alimos is:
Argosaronic / Central Aegean Sea: Euro 450 – Euro 700
South/ Northern Aegean Sea: Euro 900
Ionian Sea: Euro 1,100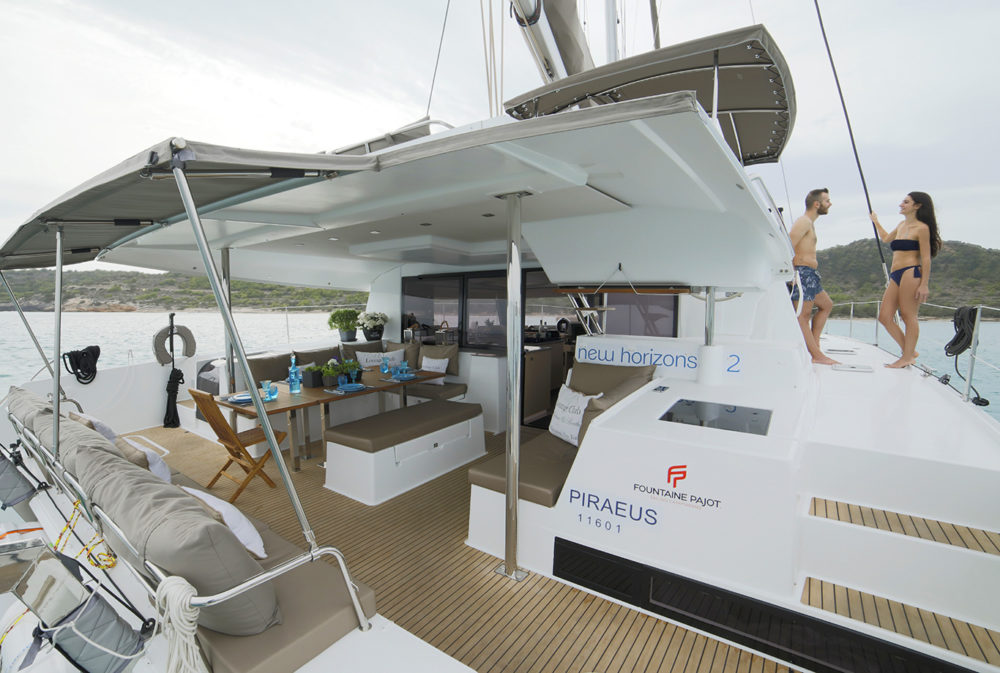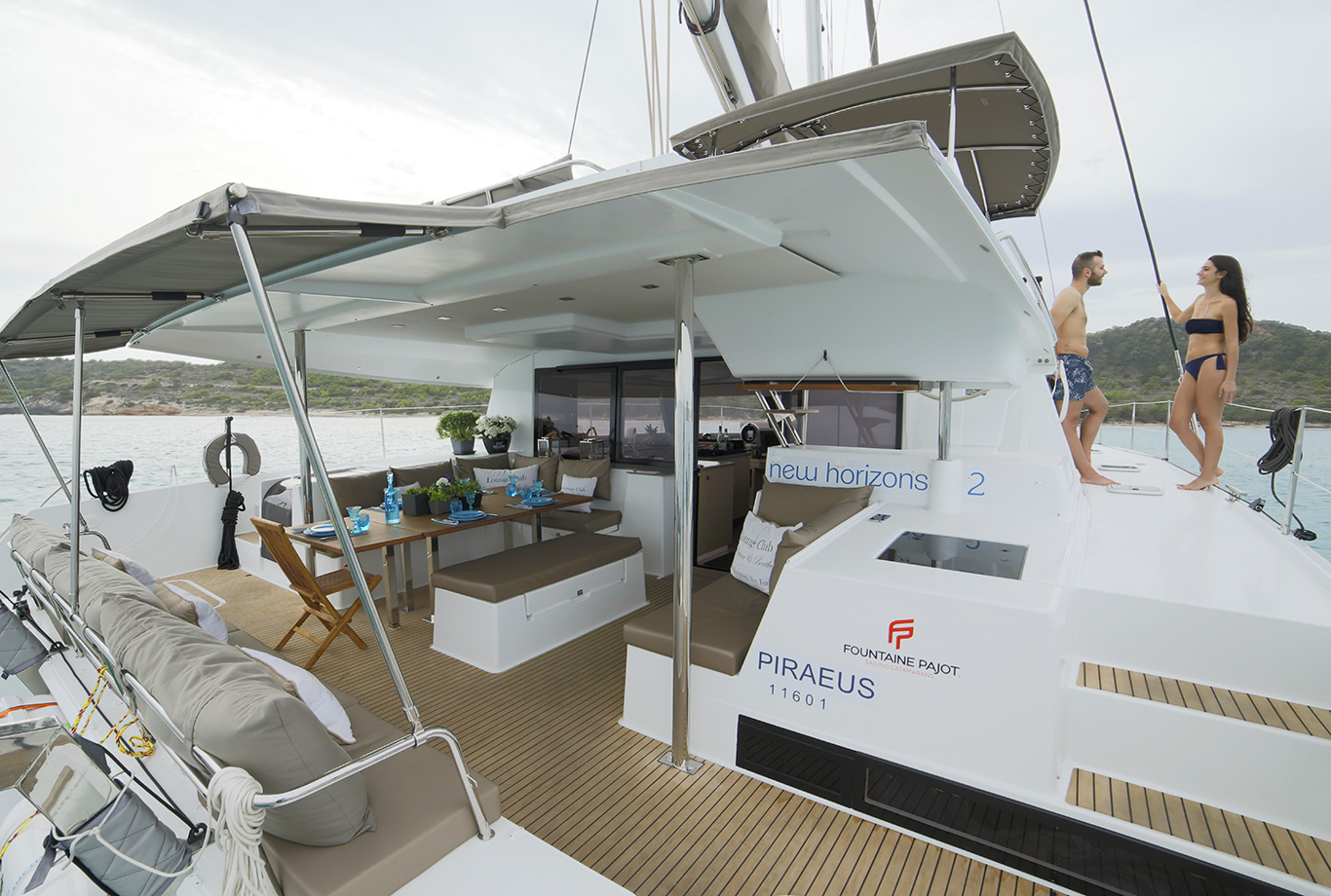 Welcome Aboard New Horizon 2
When you step onboard this sleek yacht, you'll find plenty of room throughout. Five ensuite cabins, one master, three double and one triple (all with Queen beds) accommodate up to 11 passengers. Very comfortable for 8 guests depending on the group.
If you choose, enjoy a meal in the aft seating area. It's fully covered from the sun and perfect for lounging and dining in the shade. If you prefer a sunnier spot, on the bow there's a comfortable netted area complete with cushions to relax during the day or view the stars at night. An upper flybridge with the helm provides a separate sunning area.
There's never a lull in the activity unless you want it. Choose from one or more of the included water toys. There's a wakeboard, waterskis for both children and adults, a stand-up paddleboard, snorkel equipment, fishing gear, and more.
In the main salon, relax with complete electronic amenities including Wi-Fi, HDMI Hookup, TV, and Audio Visual Equipment.
New Horizons 2 Greek Islands | Your Crew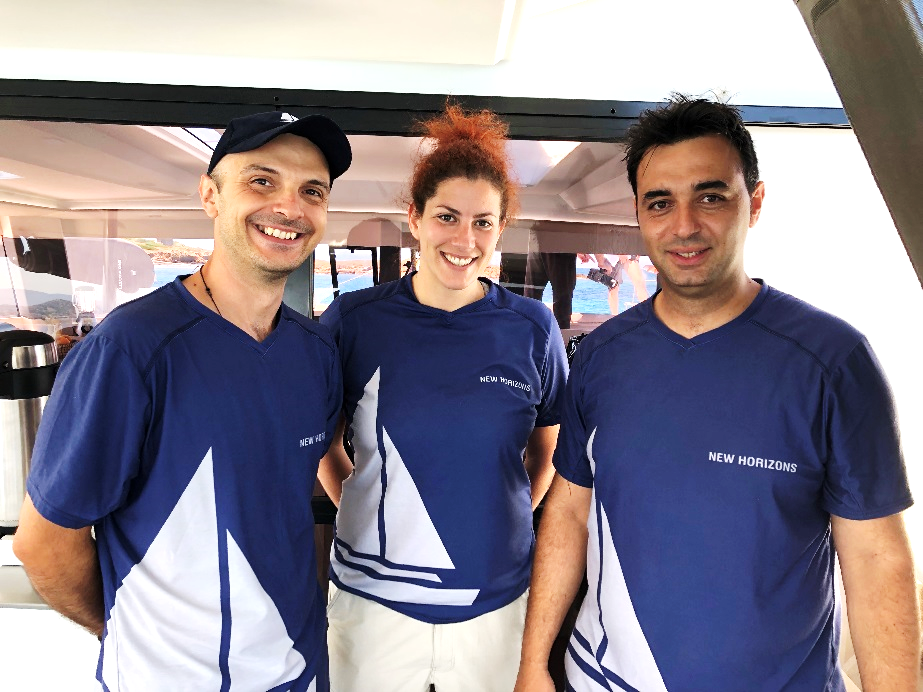 The three-person crew is discreet, allowing you privacy, while being ready to attend to your every need. Captain Sotiris Drokalos loves to sail and enjoys being out at sea. He holds an off-shore Skipper's license, Scuba Dive Master license, and a Padi emergency certificate. He has extensive knowledge of the Greek islands will keep you safe while sailing you to unforgettable destinations.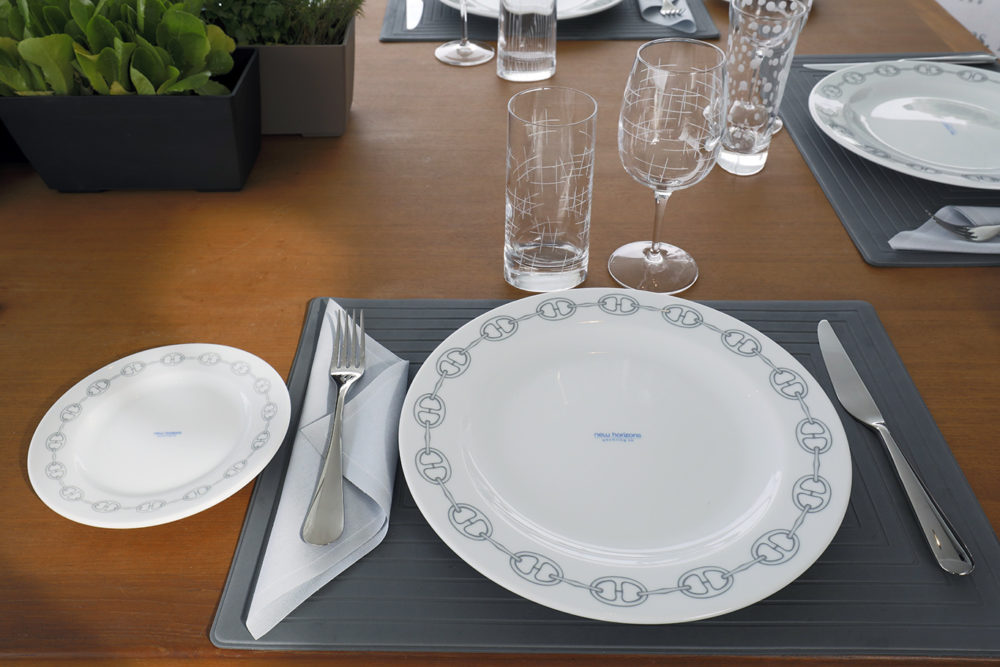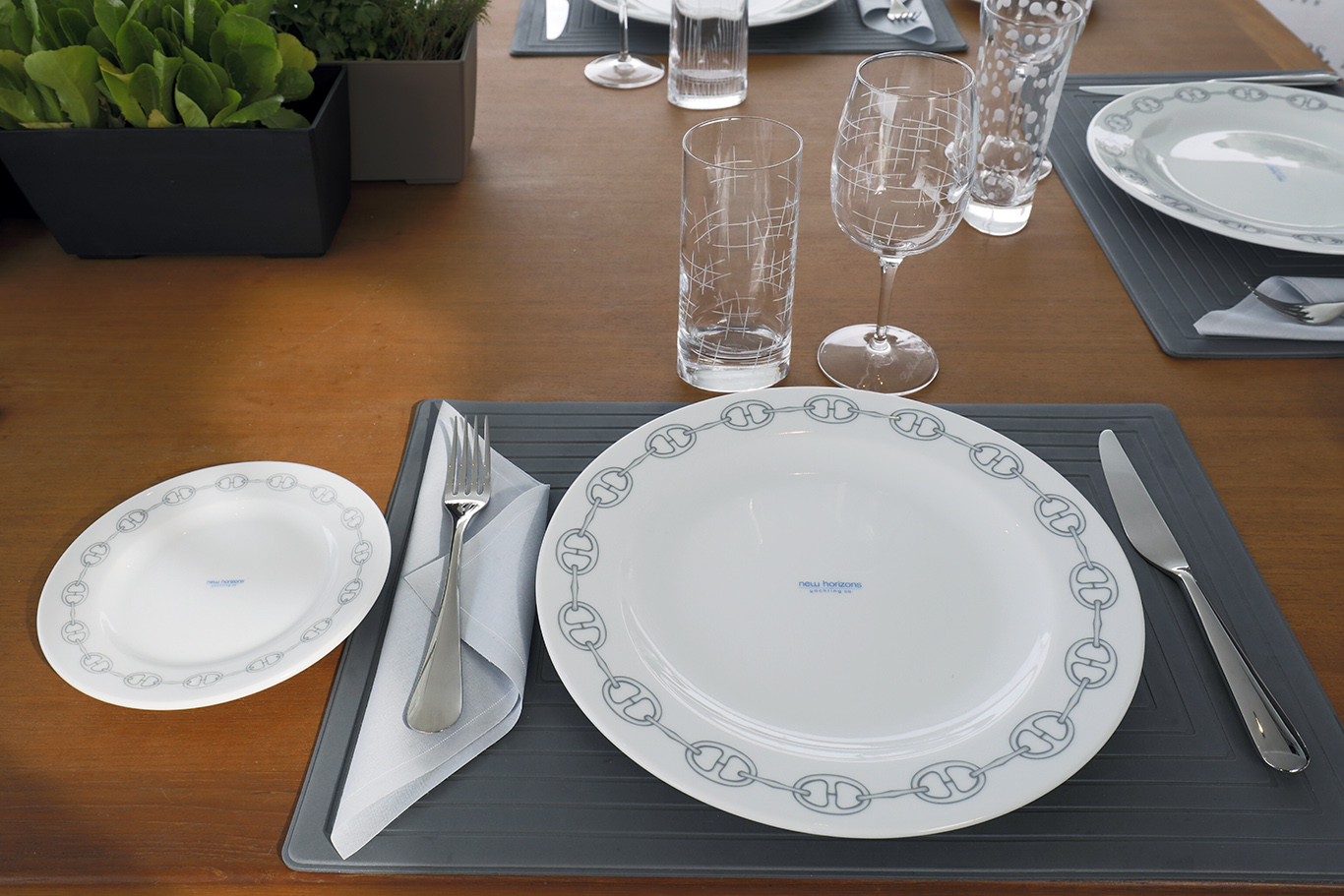 Dining onboard New Horizons 2 is an absolute delight. Chef Thanasis Amdaris has a passion for cooking and his dishes reflect his love for it. Enjoy fabulous Greek cuisines such as baked eggplant with mozzarella and tomato. Steamed mussels with wine and garlic shrimp saganaki with maratho (similar to dill). Enjoy ouzo, or mushroom with truffle and cheese. Of course, if you prefer something different the chef will be happy to accommodate you.
Your hostess is ready to attend to you and help make your vacation effortless.
Places to Visit
Visit the Sporades Islands with destinations such as Alonissos, Skiathos, Skopelos, and Skyros. Wherever you choose to sail, the Greek Islands will not disappoint.
The Cyclades Islands – Kea, Santorini, Mykonos, and more.
The Saronic Islands – Hydra, Spetses, Poros, and more.
Contact Luxury Yacht Charters for more information.