Introducing Eco-Sailing Sunreef VIVA LA VIDA – one of the newest Sunreef 80 Sailing Catamarans and a portrait of innovation and comfort. She boasts eco-friendly features like solar panels and a recycling and composting system to reduce plastic use and waste.
She is ready to explore the Western Mediterranean, including Italy's gorgeous Sardinia. She'll be in the Caribbean the rest of the time, sailing in places including St. Martin and Anguilla.
Key Features
Step inside the opulent salon, and you will find a luxurious interior complete with a wooden floor, bespoke furniture, and décor. Also, she has four elegantly decorated cabins that house eight guests in double beds and one guest in a Pullman bed – each equipped with an en-suite.
Her exterior offers numerous spots for stunning sea views. The yacht offers an impressive flybridge with a wet bar, sundeck, and spacious dining area. Additionally, she offers a second outdoor dining space aft and lounging and trampoline in the bow.
Water Toys Aboard Eco-Yacht VIVA LA VIDA
Tender ZAR Z5
E-foil Flite Carbon
Wakeboard
2x Seabob
2x Kayak
2x Paddleboard
2x Towing toys
Water skis (for adults and children)
Snorkeling equipment
Gym equipment (weights, kettle ball, TRX, etc.)
Sunreef's Eco-Yacht Features
Electric Engines & Solar Skin
The Sunreef Eco series' advanced electric engines are powered by ultralight, custom-made battery banks, granting ultimate energy efficiency for a silent, exhaust-free sailing experience. To take the environmental friendliness of their yachts a step further, Sunreef Yachts Eco equips them with "solar skin," an in-house developed collection of solar panels, and the option of using hydro generation and wind turbines. In terms of interior decoration,
Sustainable Materials
Sunreef Yachts Eco offers sustainable, ecologically-responsible solutions using recycled teak, linen, basalt-based furniture, and natural and recycled fibers. Also, the yachts feature top-notch, recyclable sails, guaranteeing an incomparable performance in any condition.
Crew Highlights | Sunreef Eco-Sailing Sunreef 80 VIVA LA VIDA
VIVA LA VIDA has a top-notch crew of 4, led by the Captain, Chris Stollery, who has many years of experience in sailing catamarans and will be more than happy to share his vast knowledge of the sea. You will also enjoy the culinary creations of Chef Sara, whose creative cooking will surprise and delight you.
Captain Chris Stollery
Growing up in a sailing-focused family in Spain, Captain Chris quickly developed an immense passion for the ocean. This drive was bolstered by his years of experience navigating across the Atlantic and Med, leading to an undeniable and impressive level of professionalism. In addition, Chris is well-versed in many parts of the world.
His other passions, like kitesurfing, wakeboarding, and diving, have resulted in a Dive Instructor certification. Thus, guests aboard Eco-Yacht VIVA LA VIDA will surely have an enjoyable and stress-free experience with the assistance of Chris and his crew. Their welcoming and hospitable personalities have become their signature trademarks of excellence.
Chef Sara Corsco
From a young age, Sara was inspired to cook due to her family's emphasis on the importance of quality food. Open to learning; she has blossomed into an excellent chef. Having a deep-rooted appreciation for global gastronomic cuisine, she showcases a variety of creative dishes. Moreover, Sara excels in taking simple ingredients and making them extraordinary with her knack for healthy and imaginative cooking.
Destination Highlights | Eco-Sailing Sunreef 80 VIVA LA VIDA
Sardinia
Costa Smeralda
Begin your yacht charter adventure in Sardinia by cruising along the stunning coastline of Costa Smeralda. This exclusive destination is known for its glamorous resorts, pristine beaches, and crystal-clear turquoise waters. Also, enjoy snorkeling, sunbathing, and exploring hidden coves along the coast.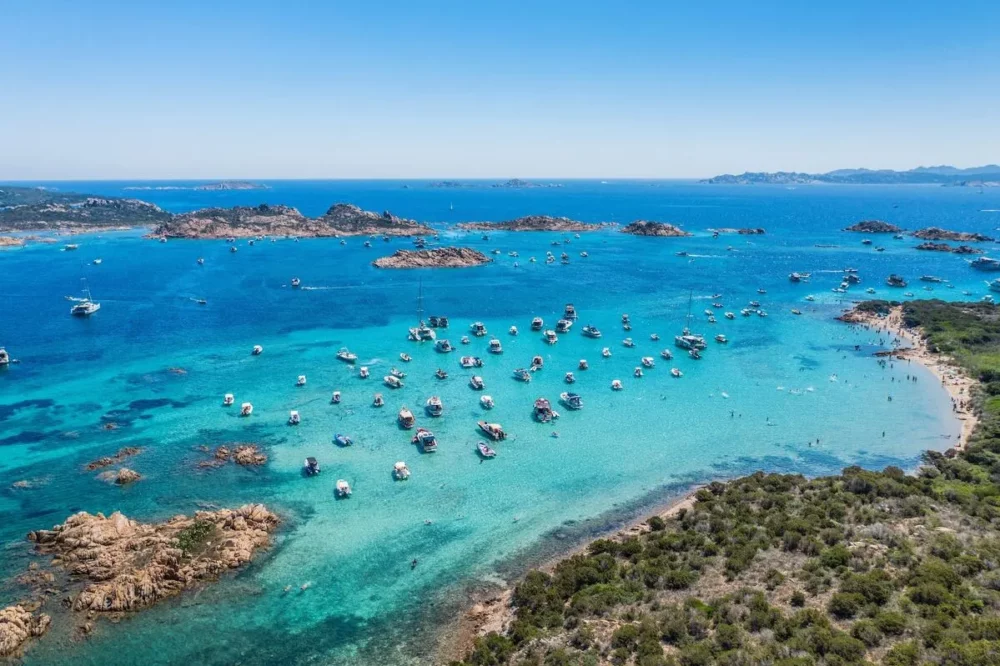 La Maddalena Archipelago | Eco-sailing Sunreef 80 VIVA LA VIDA
A true paradise for nature enthusiasts, the La Maddalena Archipelago is a collection of 60 islands and islets with mesmerizing natural beauty. Anchor your yacht and explore the enchanting national park, home to secluded beaches, vibrant marine life, and hiking trails that lead to breathtaking viewpoints.
Porto Cervo
Porto Cervo is a must-visit destination for luxury shopping lovers. In the marina, you will find sleek superyachts and stylish boutiques, making it an ideal place to indulge in shopping, fine dining, and people-watching—afterward, cruise to Spiaggia del Principe, a beautiful beach surrounded by captivating rock formations.
Cala di Volpe
Set sail to Cala di Volpe, an idyllic bay known for its crystal-clear waters and pristine sandy beaches. You can swim in the inviting sea or enjoy water sports like jet skiing and paddleboarding here. In addition, don't miss the chance to anchor near the Cala di Volpe Hotel and Casino for a touch of sophistication and elegance.
Isola dei Gabbiani
For adventure seekers and adrenaline junkies, Isola dei Gabbiani is the place to be. This island, known as the Island of Seagulls, is renowned for its perfect wind conditions, attracting windsurfers and kiteboarders worldwide. Here, grab your gear and feel the thrill as you ride the waves, relax on the sandy beach, and admire the skilled surfers.
Anguilla | Eco-sailing Sunreef 80 VIVA LA VIDA
Regarding yacht charters, Anguilla offers some of the most alluring destinations to explore. First, Sandy Island is a serene and unspoiled hideaway perfect for a relaxing day of swimming and lounging. Then, there's Shoal Bay, an idyllic beach renowned for its pristine sands, turquoise waters, and excellent snorkeling opportunities.
Rendezvous Bay is another favorite, boasting one of the longest beaches on the island, with endless opportunities for sunbathing, swimming, and water sports. Finally, don't miss Little Bay, a secluded cove with crystal-clear waters, colorful marine life, and some of the area's best snorkeling and diving spots. All in all, a yacht charter in Anguilla promises to be a breathtaking journey that you won't soon forget.
St. Martin on an Eco-sailing Sunreef 80 VIVA LA VIDA
Embarking on a mesmerizing yacht charter in St. Martin offers an exquisite tapestry of tropical paradise, unrivaled natural beauty, and captivating cultural heritage. Set sail and navigate through crystalline turquoise waters, unveiling an enchanting plethora of top destinations that will ignite your senses.
Begin your odyssey by docking at the chic marina in Marigot, where you can indulge in the delightful blend of French and Caribbean cuisines while exploring quaint boutique shops. As the gentle sea breeze guides you further, anchor at the enchanting Îlet Pinel, a secluded gem renowned for its pristine white sandy beaches and vibrant underwater world, perfect for snorkeling amidst vibrant coral reefs.
A charter aboard Eco-sailing Sunreef 80 VIVA LA VIDA is an excellent way to see the Mediterranean or Caribbean. So, grab your closest friends and family and book your next dream getaway.
Please call us today at 1 (321) 777-1707 or describe Your Vacation Vision to help you plan your fully-crewed private luxury yachting vacation! Inquire as soon as possible about your custom, crewed yacht charter.
You make the memories. We make the arrangements.