Embark on an incredible journey with an Exumas Bahamas Yacht Charter and explore stunning islands, cays, and the Exuma National Park. You can choose from different types of private yachts, such as sailing catamarans, power catamarans, and motor yachts of various sizes.
The Exumas are famous for their incredibly clear and beautiful waters in the Bahamas and Caribbean. Visit amazing places like Thunderball Grotto, featured in a James Bond movie from the 1960s. Enjoy the Staniel Cay Yacht Club, Warderick Wells National Park, and many secluded and breathtaking anchorages.
Sailing in the Exumas is smooth and comfortable because the island chain protects the water. Stretching 150 miles south of Nassau, the Exumas have an average water depth of 15 feet and no big waves. Stocking Island is a perfect spot to experience crystal-clear waters and enjoy a superb beach.
Getting There | Flights
You can take flights to the Exumas, Nassau, Norman Cay, Georgetown Great Exuma, or locally to Staniel Cay. For example, West Palm Beach Executive offers four daily flights through MakersAir. You'll fly directly to Staniel Cay or Georgetown from Ft. Lauderdale Executive Airport (FXE).
Daily flights to Great Exuma Charlotte, Ft. Lauderdale, and Miami also exist. Depending on the weather, you can arrange for your yacht to pick you up or drop-off you off there.
Things to Do on an Exumas Bahamas Yacht Charter
There are plenty of things to do in the Exumas. Fly into Staniel Cay, then sail around the mid-Exumas before heading south to Georgetown.
The Straw Market
In Georgetown, Great Exuma, visit the Straw Market. Shop for handmade crafts, straw baskets, hats, and other traditional Bahamian souvenirs.
Beyond straw goods, you may also find other local crafts and souvenirs, such as conch shell jewelry, woodcarvings, paintings, and ceramics. You will support local artisans and gain a deeper appreciation for the traditional skills passed down through generations.
While shopping, don't be afraid to engage in friendly haggling, as it is part of the market culture. It's a chance to interact with the vendors, learn more about their craft, and potentially secure a great deal. You will have the opportunity to connect with the local community and experience the vibrant spirit of Georgetown.
Beach Bars
Relax on the beautiful beaches of Stocking Island or listen to live Rake 'n' Scrape music at the historic Peace and Plenty on Thursdays. The Chat 'n' Chill is another popular beach bar with an amazing Sunday pig roast.
More Things to Do on an Exumas Bahamas Yacht Charter
Tropic of Cancer Beach: Located on Little Exuma, this picturesque beach boasts soft, powdery sand and turquoise waters. It's a perfect spot for sunbathing and beachcombing.
Explore the Exuma Cays Land and Sea Park. The Exuma Cays Land and Sea Park is a protected marine reserve spanning more than 176 square miles of breathtaking land and sea.
Moriah Harbour Cay National Park: A park with mangrove creeks, beautiful beaches, and hiking trails, ideal for birdwatching, kayaking, and exploring the pristine natural environment.
Lake Victoria: A fascinating inland blue hole on Great Exuma, where you can swim and snorkel.
Crab Cay: A small island with breathtaking views of the Exuma Sound. It's also a great spot for snorkeling and enjoying panoramic views.
These are just a few highlights of the attractions and natural wonders that Georgetown and its surrounding areas offer.
Snorkeling is out-of-this-world in the Exumas.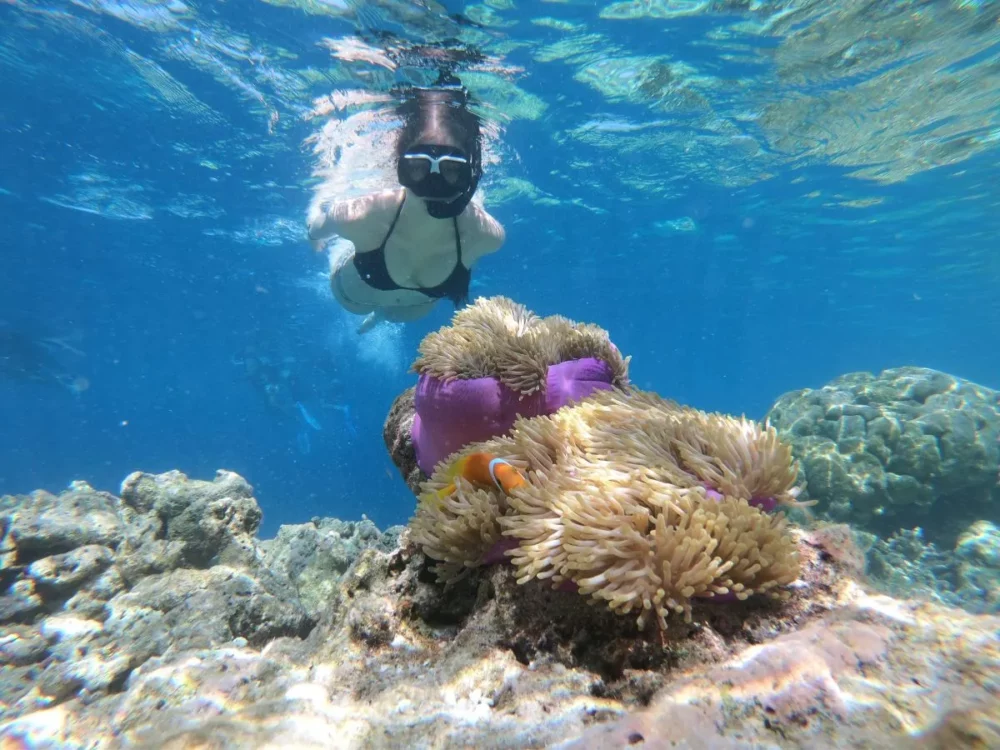 The Exumas offer exceptional snorkeling opportunities. The clear water and shallow coral reefs are perfect for beginner snorkelers. You only need a mask, snorkel, and fins to explore the stunning underwater world. Get ready to see colorful tropical fish, playful dolphins, and graceful sea turtles.
If you are into fishing, you'll undoubtedly enjoy fishing in the Exumas. Try your luck landing fish such as wahoo, Mahi, and tuna.
Luxury Awaits on Your Exumas Bahamas Yacht Charter
Experience the epitome of luxury with yacht charters in the Exumas. Explore captivating destinations like Shroud Cay, Compass Cay, and Allen Cay. These idyllic locations offer a seamless blend of pristine white sand beaches and breathtaking natural beauty.
Indulge in the opulence of luxury yachts as you cruise the crystal-clear waters of the Bahamas, discovering secluded beaches that embody paradise. Whether you seek relaxation or adventure, a luxury yacht charter in the Exumas promises an unforgettable experience.
Whatever you choose to do, you can't go wrong in the Exumas. So, don't delay. Book your Exumas Bahamas yacht charter for this year.
Please call us today at 1 (321) 777-1707 or describe Your Vacation Vision to help you plan your fully-crewed private luxury yachting vacation! Inquire as soon as possible about your custom, crewed yacht charter.
You make the memories. We make the arrangements.