Formentera Yacht Charter
A small island in the Balearic Islands, Formentera is characterized by wild and unspoiled nature, crystal clear sea, golden coves, and guaranteed relaxation. In short, it is a true paradise on Earth. This is the perfect description for this tiny island, declared a Nature Reserve and UNESCO World Heritage Site. Don't wait; explore the reserve and more on a luxury Formentera yacht charter.
Formentera is the smallest and most southerly island of the Pityusic Islands group (comprising Ibiza and Formentera, as well as various small islets), which belongs to the Balearic Islands autonomous community (Spain). Also, the island covers an area of 32.13 sq mi, including offshore islets.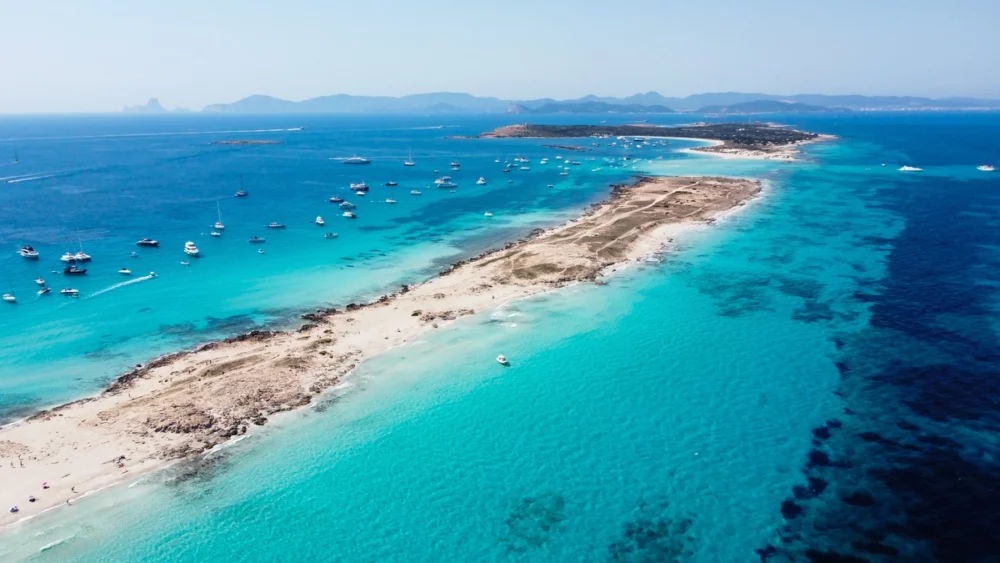 Climate
Formentera has a semi-arid climate with hot, arid summers and warm, dry winters. While the summer is the most popular time for yacht charters, you can also enjoy pleasant weather in late May or June. In addition, visit Formentera in September for excellent conditions and fewer crowds.
Places to See on Formentera
Lighthouses
Formentera is home to three lighthouses: La Mola, Es Cap de Barbaria, and La Savina.
La Mola is the highest lighthouse, located on a 120-meter-high cliff.
Lighthouse Es Cap de Barbaria near the African coast. T
La Savina Lighthouse. This small lighthouse is in the port of La Savina, close to Estany de Peix.
Village of Sant Ferran
Once the meeting point for hippies and bohemians in the 1960s, Sant Ferran boasts restaurants and markets in a simple setting. Of course, you can visit the church of St. Ferran, dating back 2,000 years.
Tomb of Ca Na Costa
The Tomb of Ca Na Costa is a burial site discovered in 1974. The carbon-14 datings for the materials place the site around 2000 BC, which makes it the oldest megalithic site in Spain's Balearic Islands. It was used for a long time, some 400 years, until approximately 1600 BC. However, in 1994, it became a site of cultural interest in the archaeological site category.
Església de Sant Francesc
The Basilica of Sant Francesc is the first church to be built after the island of Formentera was resettled in the 1700s. It took years to eventually consecrate, a symbol of the enormous effort to resettle the area.
Museu Etnològic de Formentera
A modest ethnological museum illustrates Formentera's agricultural, fishing, and artisan heritage. You can see peasant farmers' and fishermen's original tools, utensils, and items. In addition, you'll find equipment from the salt flat workers.
Things to Do on a Formentera Yacht Charter
Markets. There are six popular markets in Formentera. You can find unique items such as jewelry, clothing, and other curiosities. The art market of Sant Ferran and the handicraft market of La Mola offer items exclusively made by hand by artisans living on the island.
Listen to live music. Enjoy summer nights in Formentera, listening to different live groups and musicians play in the village squares.
Go to the beach. There are 17 well-known beaches on the island of Formentera and the island of Espalmador (located in the north of Formentera). There are also many lesser-known small beaches where you can enjoy the sun, sand, and sea.
Scuba Dive. The world under the sea is just as beautiful as the beaches. Explore the rock formations, biodiversity, and the giant shipwreck in the whole of the Mediterranean, the Don Pedro, a cargo ship over 140 meters long. Snorkeling is another excellent option for discovering the underwater beauty around this island.
Take a wine tour. There are two wineries on Formentera: Terramoll and Es Cap de Barbaria. Both wineries offer guided tours.
Gastronomy
Formentera's remote island location makes its cuisine dependent on local products. Some exceptional local products include seafood, including Peix sec (dried fish), and fishermen used to dry the fish to preserve it for year-round use.
Today, it is the star ingredient of the local farmer's salad, which you can enjoy in many restaurants on the island. Other local products include Formentera's liquid salt, honey, dried figs, fresh cheese, herb liqueur, and wine.
Marinas and Anchorages
Boyas de Caló de s´Oli. Located near Savina, this is a historical beach where early Roman remains have been found. The wild landscape is owed to its combination of dunes, natural vegetation, and stones. Caló de s'Oli provides buoys for mooring, as the use of anchors is prohibited in this area.
Marina Formentera Mar is a small marina offering 90 berths for boats up to 98 feet in length. The marina has a fuel station, medical services, laundry, car rental, bar, and restaurant. Electricity and water are available at the berths.
Marina de Formentera has 64 moorings to accommodate boats and mega-yachts of up to 125 feet in length. Marina amenities include a diving center, bar and restaurant, sushi bar, and cafeteria. The marina is within walking distance of supermarkets, shops, post offices, an ATM, and medical services.
Sample Itineraries
Please view our sample itineraries for Balearic Islands charters.
Yacht Types to Charter the Balearic Islands
At CKIM Group, we can arrange crewed sailing catamarans, monohull sailboats, power catamarans, and motor yachts. Sailing itinerary options are one-way charters between the islands or round-trip from Ibiza or Palma de Mallorca. Please contact us to inquire about the yachts and routes best suited to your group's next Formentera Yacht Charter.
Please call us today at 1 (321) 777-1707 or describe Your Vacation Vision to help you plan your fully-crewed private luxury yachting vacation! Inquire as soon as possible about your custom, crewed yacht charter.
You make the memories. We make the arrangements.