Explore New England on a Newport Yacht Rental while on a private yacht charter.
Newport, Rhode Island, is an ideal New England Yacht Charter vacation destination. Located on Aquidneck Island, beautiful beaches surround its rocky shores, creating the perfect backdrop for your charter. The historic downtown area of Newport is filled with quaint shops, restaurants, galleries, and attractions.
Are you looking for a summer romantic getaway, a celebratory trip, or a fun family outing? Then Newport yacht rentals are a great choice. So why not charter a yacht?
There are also plenty of activities to enjoy in the city, such as sailing, kayaking, and biking. There are many crewed charter options, from luxury motor yachts with large crews to smaller vessels for a more intimate setting. In addition, the proximity between charter stops and islands in New England makes for shorter sails and more time for activities.
Crewed Motor Yachts | Newport Yacht Rentals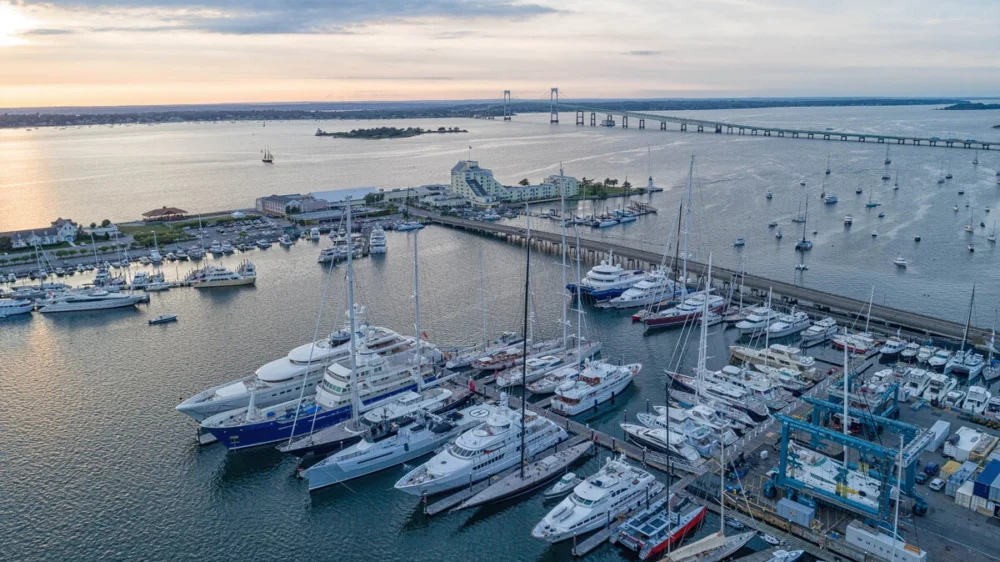 Sailboats | Newport Yacht Rentals
| | |
| --- | --- |
| 12 Guests | Year/Rebuilt: 1978 |
| $34,000 - $44,000 /wk | 92.00 Ft Sail |
Things to See and Do in Newport
The historic district offers plenty of attractions for those interested in history and architecture.
Climb the stairs of the Touro Synagogue, the oldest synagogue in North America.
Visit the luxurious mansions of Bellevue Avenue, such as Marble House and The Breakers.
Take a tour of the White Horse Tavern, the oldest operating tavern in the United States.
You can also explore the area's many art galleries, boutiques, cafes, and restaurants.
For nature lovers, Newport is a paradise. You can take your boat to the picturesque Rose Island, grab a kayak, and explore the nearby beaches and coastline.
Or relax on one of our Newport yacht rentals and watch the seals and seabirds along the shoreline.
You can visit popular attractions such as Fort Adams State Park, where you can explore the grounds of a 19th-century military base.
Places to Visit on Our Newport Yacht Rentals
Newport to Massachusetts Itinerary
The route from Newport to Massachusetts is perfect if you're looking for a genuinely luxurious New England yacht charter vacation. Cruising this area will allow you to experience some of the most picturesque scenery and best anchorages. In addition, it is a unique opportunity to explore only accessible by boat.
Starting your journey in Newport, Rhode Island, you can cruise through Narragansett Bay and head south into Massachusetts, past Martha's Vineyard and Nantucket. You can discover many classic New England villages in this area with quaint shops, restaurants, and more. You can also take advantage of some great fishing opportunities here as well.
Continuing, you'll pass through Cape Cod Bay and further north up the coast of Massachusetts, where you'll find the towns of Plymouth, Gloucester, Salem, and more. Each area offers unique attractions, from historic sites to art galleries. This is the perfect way to experience all the New England coast offers.
Newport to Maine Itinerary
From Rhode Island to Maine, there are plenty of incredible places to visit while on your journey. Starting in Rhode Island, head to Newport and explore its bustling harbor, full of luxury yachts, cozy coves, and sandy beaches. You'll find many excellent restaurants, pubs, and great shopping options here. Stop on Block Island and explore its picturesque lighthouses, bluffs, and beaches.
Heading up to Maine, you'll find more lovely coastal towns and landscapes to explore on your New England yacht charter. Portland and Rockland are charming cities with plenty of galleries and attractions. Further up the coast, you'll find Bar Harbor and Acadia National Park, one of the most beautiful places in Maine. Enjoy the breathtaking ocean views or hike through the park's stunning trails.
Newport to Connecticut Itinerary
Rhode Island has many ports to explore, including Newport, Jamestown, Block Island, and Point Judith. Crossing over into Connecticut, there are even more spectacular ports to explore. Mystic Seaport is an excellent spot to check out if you're interested in maritime history with its many museums and interactive exhibits. There are also charming coastal towns like Stonington, Westbrook, Essex, and Old Saybrook to explore.
A trip to Stamford is necessary for those interested in experiencing New England wildlife. This city is known for its beautiful harborfront and lush bird sanctuaries. Whether you're looking for peaceful kayaking trips or thrilling whale-watching excursions, Stamford has something for everyone.
Sample Itineraries
Below are just a few Newport yacht rentals to browse. Please get in touch with us for more options and availability. We recommend getting in touch as soon as possible, as the best summer weeks aboard many yachts book up fast.
Please call us today at 1 (321) 777-1707 or describe Your Vacation Vision to help you plan your fully-crewed private luxury yachting vacation! Inquire as soon as possible about your custom, crewed yacht charter.
You make the memories. We make the arrangements.