A luxury vacation doesn't have to mean lounging on the beach or taking leisurely strolls through historic towns and peaceful island villages. A private yacht charter can take you directly to the action deep within an island jungle, or remote surfing spot. While there are so many exciting luxury yacht charters experiences to choose from, here are our top 3 active adventure yacht charters.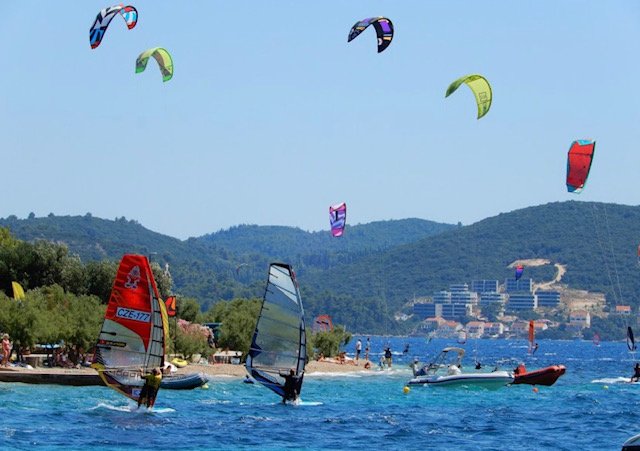 Croatia
Protected waters, excellent wind conditions, and gorgeous views make Croatia one of the top destinations for an active vacation. With numerous yacht charter regions to explore up and down Croatia's coast, you'll be spoilt for choice. In addition, Croatia is home to eight national parks with many in close proximity to its port cities. You certainly won't run out of exciting things to do and see on a Croatia yacht charter.
Starting in Northern Croatia's Istria region, cycle from Novigrad to Porec, exploring towns, vineyards, and more high above the Adriatic. Next, head south where you can zipline, paraglide, canyon, and more in Omis. Just offshore, sail to the island of Brac to windsurf or kiteboard with incredible sea vistas. Continue your journey throughout the Central Dalmatian Islands to discover historic sites, vineyards, and of course fresh seafood. Swim in peaceful bays, or discover Korčula's coastline by kayak, canoe, or stand-up paddleboard.
Further south, there's more to see and do around the Southern Dalmatian Islands and coastal cities. Almost too picturesque to be true, imagine yourself kayaking off the coast of historic Dubrovnik, a 16th-century city fortified city, flanked by beautiful beaches. You can make this dream a reality on one of the many Croatia active adventure yacht charters. Find out more about South Dalmatia yacht charters.
Costa Rica
There are few action and adventures that can't be done on a Costa Rica private yacht charter. Situated in central America, Costa Rica's coastline meets lush forests and mountains, and plenty of top spots for adventure-making.
Costa Rica's many islands provide activities nestled within numerous national parks. Starting your adventure in the north along the Gulf of Papagayo From here, venture inland to Rincon de la Vieja National Park, where you can hike, visit incredible waterfalls and see diverse wildlife. For even better views, take a helicopter trip high above the park's volcano. Back on the coast, head to Witches Rock Beach to learn to surf or get back into it. Next, sail to Islas Huevos to swim, snorkel or kayak taking in the views of the Papagayo Peninsula.
More adventure awaits you as you sail south to Playa Conchal, an amazing location for scuba diving and deep sea fishing. Land-lovers will appreciate the premiere golf courses and beaches awaiting your arrival. Heading further south, you'll encounter many top surfing spots around Tamorindo,
Continue the journey towards the Cabo Blanco Nature Reserve for more wilderness hikes, secluded beaches and blue waters. Rounding out the top locations of northern Costa Rica is Tortuga Island, bursting with beauty and exciting pursuits. Go zip-lining through the inner rainforest, then snorkel the pristine waters, and end your day with a beachside drink. Back aboard your yacht, keep your camera ready for dolphins and the occasional whale bursting out of the calm waters.
The Osa Peninsula
Southern Costa Rica hosts many more yacht charter destinations perfect for wildlife and adrenaline junkies. Start sailing around the Osa Peninsula and Corcovado National Park, surrounding Drake Bay. Here, you'll experience tremendous biodiversity of not only plant life, but also animal species, raining from marine life to monkeys and jaguars.
For even more remote exploration, sail to Caño Island where biodiversity is so protected that only 200 people are able to visit per day. While hiking and exploration can be had above water, the true beauty of Cano can only be seen below the surface, along the island's five coral reef platforms. Fish, turtles, eels, sharks, and more call the area home, making for a great diving trip. If you're sailing from July to October, you'll also have the pleasure of seeing the migrating humpback whales and dolphins who come here to have their offspring in the warmer waters.
As you can see, Costa Rica has no shortage of unique and exciting things to do on your active adventure yacht charter.
St. Lucia & The Windward Islands
The Windward Group of islands in the eastern Caribbean are packed with diverse landscapes and tropical weather. St. Lucia in particular is home to mountains that provide incredible hikes and views of the surrounding islands and crystal clear waters.
Trek up the UNESCO heritage sites of the Gros Piton or Petit Piton, two mountain peaks on St. Lucias southwestern coast. The larger reaches 800m in height, providing breathtaking views and challenging trails you won't soon forget. If you're looking for waterfalls and rich plant life, explore the Diamond Falls Botanical Gardens, which also boasts mineral baths, perfect for hike recovery. Nearby, you can visit thermal baths, mud pools, and hot springs, when you drive into the dormant Soufriere Volcano.
Northern St. Lucia also offers top-notch kitesurfing across the entire tip of the island. From Pigeon Island across to Plantation Beach, you'll have many opportunities to catch some wind. Gorgeous beaches, delicious seafood will greet you after a grueling session. Just inland, golfers can also find exclusive courses surrounded by gardens and incredible views.
The Windward Islands are full of possibilities, whether you choose St. Lucia, Dominica, The Grenadines, or St. Vincent. You can't go wrong if you're in search of spectacular active adventure yacht charters.
Please call us today at 1 (321) 777-1707 or describe Your Vacation Vision to help you plan your fully-crewed private luxury yachting vacation! Inquire as soon as possible about your custom, crewed yacht charter.
You make the memories. We make the arrangements.