Virgin Islands Power-Catamaran Charters
Many excellent crewed Virgin Islands Power-Catamaran charters are available for charter no matter when you choose to travel. A few of these catamarans are available year-round, while others are based in the area only from April to September for the peak period.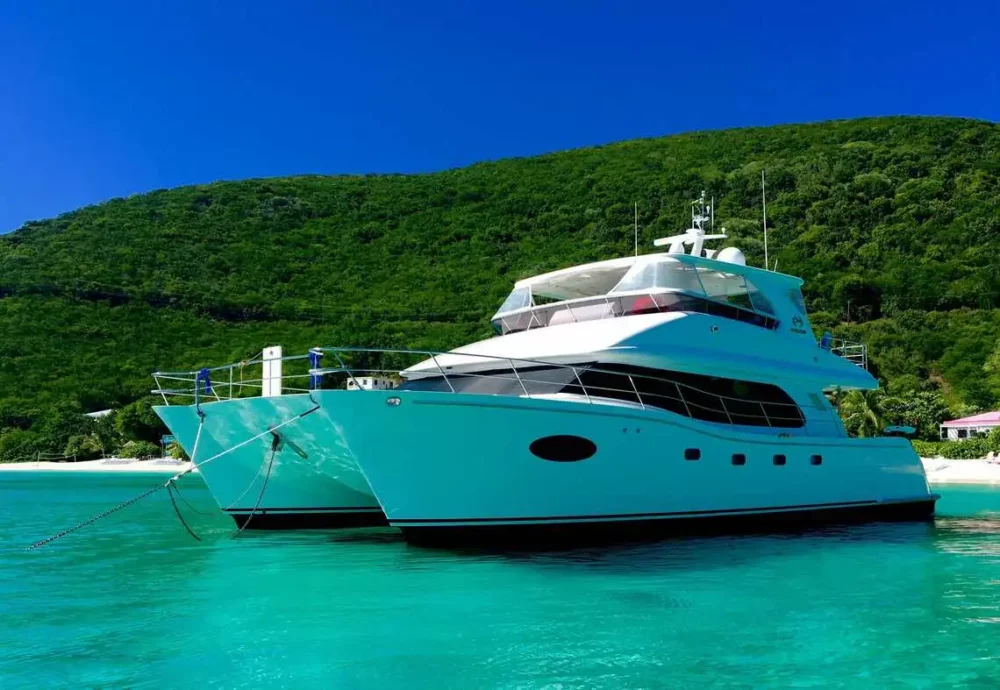 With many options to choose from, we will provide you with boats based on your charter dates, group size, and preferred sailing area.
Areas To Explore on a Power-Catamaran
Visit beautiful beaches, including Deadman's Bay, where you'll enjoy white sands and a truly serene atmosphere. While most of the island is still completely natural, there are many great trails and hiking paths to tackle during your visit. Peter Island is home to many plant species, perfect for photographs.
The BVI's largest island is Tortola, a haven for adventure seekers. Try kitesurfing, ziplining, or traditional surfing at many top spots located around the island. Instead, spend the day shopping, visiting museums, or even a Rum distillery. You won't soon run out of exciting things to do.
On your power catamaran charter in Tortola, you will be able to access some of the most exclusive private island resorts and marinas. You can experience the many spectacular attractions such as The Baths, The Soggy Dollar Bar, The Virgin Gorda Marina, and Jost Van Dyke. There are also plenty of great restaurants and nightlife spots to explore.
The USVI offers great scuba diving and snorkeling, especially off St. Thomas. Discover fascinating shipwrecks underwater and relax on picturesque beaches above. You can't miss climbing up the Steps of Charlotte for great views. The Virgin Islands are teeming with marine life as well. You can swim in the sparkling turquoise waters, visit historical sites such as Blackbeard's Castle, or just relax on deck while soaking up the Caribbean sun.
From tidepools to gorgeous gardens to intriguing museums, St. Croix is an excellent Virgin Islands catamaran charter destination. Take St. Croix's heritage trail and visit numerous sites to learn about the island's past. Of course, don't forget to visit the famous swimming pigs for an excellent photo opportunity.
St Croix's East End is known for its rugged coastlines, unspoiled white-sand beaches, and expansive coral reefs. On the West End, you can find more secluded coves, gorgeous views of the Caribbean Sea, and excellent conditions for windsurfing and kayaking.
Virgin Islands Power-Catamaran Charters | Advantages
Power catamarans are more eco-friendly and economical compared to most motor yachts. The Virgin Islands also have many shallow areas that catamarans can more easily access. This means you can get closer to the beaches and into areas that deeper draft boats can't always reach. In addition, Virgin Islands catamaran charters are a fun way to explore diverse and vibrant islands in comfort and style.
Speed
Power catamarans offer a unique experience for those looking to rent a yacht for their next adventure. They are capable of speeds up to 30 knots, making them a great choice for those wanting to explore different areas quickly and efficiently. Power catamarans offer more space than traditional yachts due to the two hulls, allowing for a larger amount of passengers and equipment. Additionally, power catamarans have more stability than monohulls due to their wider beam, which makes them ideal for rougher waters.
Technology
These vessels also feature some of the latest in technological advancements, with modern navigation systems, satellite radio and even Wi-Fi capabilities. As a result, power catamarans provide guests with a comfortable and luxurious experience while they're out at sea. Power catamarans also come with an array of amenities, such as air conditioning, full kitchens, and bathrooms.
Space
Finally, power catamarans are equipped with luxurious seating, ample storage, and plenty of deck space, making them perfect for entertaining or relaxing while you cruise the open seas.
Power catamarans offer many benefits to those looking to book a yacht charter. With the added stability and speed of these vessels, guests can enjoy a worry-free trip that is sure to be filled with memories to last a lifetime.
Virgin Islands Yachts To Charter
Please call us today at 1 (321) 777-1707 or describe Your Vacation Vision to help you plan your fully-crewed private luxury yachting vacation! Inquire as soon as possible about your custom, crewed yacht charter.
You make the memories. We make the arrangements.