Virgin Islands Catamaran Charters | Find Paradise
Many fantastic crewed Virgin Islands Catamaran charters are available for charter no matter when you choose to go. A few of these sailing catamarans are available year-round, while others are in the area only from April to September for the peak period.
You can rent a catamaran for the BVI and for the USVI.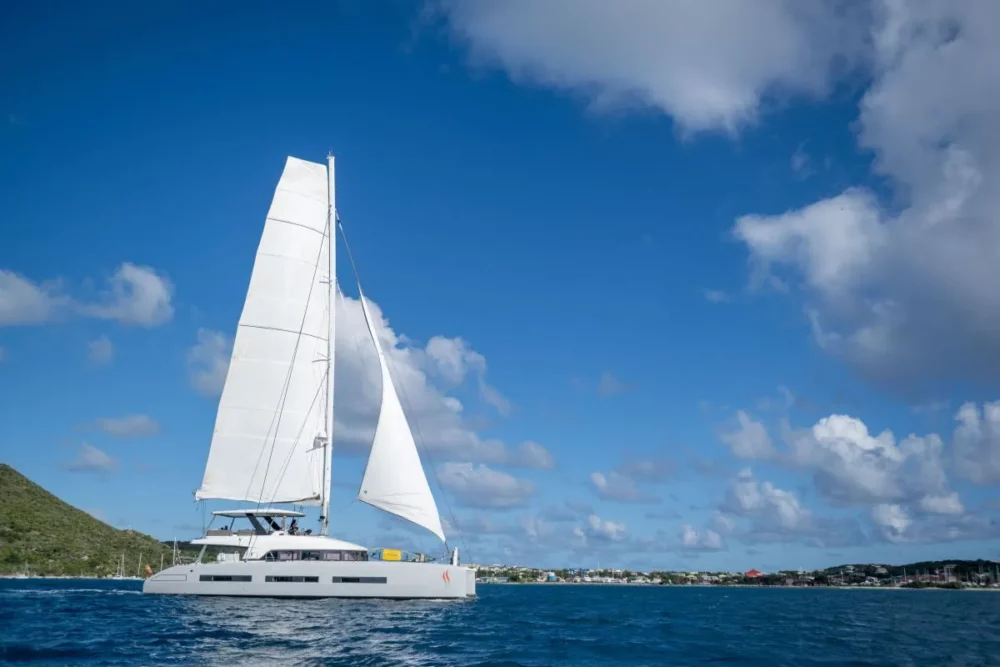 Virgin Islands Catamaran Charters | Advantages
Virgin Islands catamaran charters offer many benefits that you may not find in other yacht types. For example:
Spacious Comfort: Catamarans are renowned for their spaciousness. With multiple cabins and communal areas, you and your guests can relax in comfort and style. The generous deck space is perfect for soaking up the sun or stargazing at night.
Stability: Catamarans offer superior stability thanks to their twin hulls. Say goodbye to seasickness; these vessels glide smoothly over the water, making your journey comfortable.
Privacy: A catamaran charter provides an intimate experience with just your group on board. You can truly unwind and enjoy each other's company. The catamaran's two hulls create a division between cabins, enhancing privacy.
Sailing catamarans are more eco-friendly and economical than most power catamarans and motor yachts. In addition, Virgin Islands sailing catamaran charters are a fun way to explore diverse and vibrant islands in peaceful comfort.
However, you may prefer a power catamaran or motor yacht. In this case, there are available options.
With many options to choose from, we will provide you with boats based on your charter dates, group size, and preferred sailing area.
Areas you may enjoy on your catamaran charters include:
Water Island – From St Thomas, hop on a ferry to the small island known as Water Island. Traverse the island by golf cart, and uncover the fascinating sites of its United States military past.
Tortola – The BVI's largest island is Tortola, a haven for adventure seekers. Visit Road Town and spend the day shopping, visiting museums, or even a Rum distillery. You won't soon run out of exciting things to do.
St Thomas – The USVI offers excellent scuba diving and snorkeling, especially near St Thomas. Discover fascinating shipwrecks underwater and relax on picturesque beaches above. You can't miss climbing up the Steps of Charlotte for great views.
St Croix – From tide pools to gorgeous gardens to intriguing museums, St Croix is an excellent Virgin Islands catamaran charter destination. Take St Croix's heritage trail and visit numerous sites to learn about the island's past. Of course, don't forget to visit the famous swimming pigs for a great photo opportunity.
Why choose the Virgin Islands for your catamaran charter?
The Virgin Islands are a tropical paradise for a sailing vacation, and for good reason. Here's why this Caribbean archipelago is an excellent choice:
Crystal-Clear Waters: The Virgin Islands boast some of the clearest waters in the Caribbean. Snorkeling and diving are excellent in the Virgin Islands. You'll encounter vibrant coral reefs and diverse marine life.
Picture-Perfect Beaches: From the world-famous Trunk Bay Beach in St. John to the secluded white sands of Sandy Spit, you'll find an abundance of pristine beaches to relax on and explore.
Island-Hopping: The Virgin Islands are an idyllic destination for island-hopping. Discover the unique character of each island, from the laid-back vibe of Jost Van Dyke to the historical charm of St. Croix.
Water Adventures: Your catamaran charter opens up a world of water activities. From paddleboarding in Maho Bay to kiteboarding in Anegada, there's something for every water sports enthusiast.
Line of sight sailing. When sailing, you can see your next destination.
Please call us today at 1 (321) 777-1707 or describe Your Vacation Vision to help you plan your fully-crewed private luxury yachting vacation! Inquire as soon as possible about your custom, crewed yacht charter.
You make the memories. We make the arrangements.