Croatia produces quality wines, made from indigenous grape varieties, both inland and along the coast. Through summer, many vineyards and cellars are open for tours and sampling. As a result, it's possible to combine sailing and wine tasting in Dalmatia on your Croatia yacht charter vacation. Here we look at eight of our favorite wineries on the Dalmatian coast and islands.
Top Dalmatian Wines to Try
Plavac Mali
The king of grapes in Dalmatia has to be Plavac Mali, a native grape used to make robust red wines of the same name. Once mistaken for Zinfandel, Plavac Mali wines are similarly bold and rich wines. They often show cherry and dark berry fruit characteristics, along with a bit of herb and spice. The grape is also used to make rose wines, a lighter fresher style.
Grk
A local white grape said to be from the island of Korcula, Grk is blended with other white grapes to make medium-bodied wines. On its own, Grk also creates a semi-aromatic and somewhat salty wine. Its naturally high acidity makes it a great wine to pair with cheeses, and seafood alike.
Pošip
Another white grape native to Korcula, Posip wines are often more fruity and bold than those of Grk. Posip wines are round and soft, and typically well-balanced. They feature riper stone fruit notes, as well as some citrus fruits. Due to their flexibility, they can be paired with numerous Mediterranean dishes.
Babić
Originating from southern Dalmatia, where the abundant sunshine helps ripen the grape, Babic makes strong red wines. More tannic and structured than Plavac Mali, Babic is best paired with meats and richer dishes that match its vigor. Its high alcohol and tannin profile also makes Babic wines very age-worthy.
South Dalmatia Wine Tasting
Matuško in Potomje, Pelješac Peninsula
Home to over 50 winemakers, the Peljesac peninsula produces some of Croatia's finest red wines. Above all, pride of place goes to Dingač, created from Plavac Mali in the Dingač micro-location. It centers on the small village of Potomje, accessed through a 400-meter road tunnel.
The Dingač vineyards are planted on sun-drenched seaward slopes, so steep they can only be worked by hand. Matuško is one of the pioneers of Dingač. Their vast cellars, tasting room, and shop stand just before the tunnel. Potomje lies 15km/9 miles southeast of Orebić.
Korta Katarina in Orebić, Pelješac Peninsula
A 10-minute walk from the seaside town of Orebić brings you to the Korta Katarina winery. It stands high above the Adriatic, enjoying magnificent views of Korčula. Korta Katarina offers tours of the cellars, and guided wine tasting, with optional gourmet tapas.
You'll sample award-winning full-bodied reds, made from Pelješac's Plavac Mali grapes, and summery whites, made from Pošip grapes from Korčula. Lee and Penny Anderson, an American couple who fell in love with Croatia some 20 years ago, founded Korta Katarina.
These are just some of the unique locations for wine tasting in South Dalmatia, Croatia. It's a perfect activity to enjoy while on a yacht charter along Croatia's Adriatic Coast.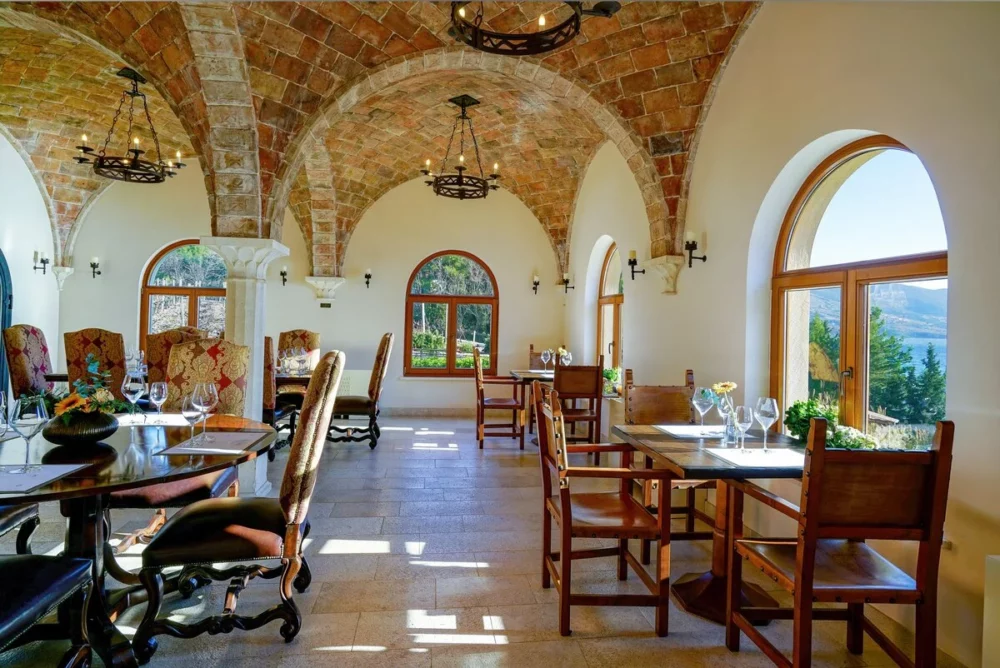 Bire in Lumbarda, Island of Korčula
Behind the sleepy waterside village of Lumbarda, lie the lush vineyards producing Grk white wine. The Ancient Greeks first started cultivating vines in these flat sandy soils in the third century BC. In Croatian, Grk means "Greek", which probably explains the name.
The flowers of Grk vines are all female, so to encourage fertilization, vines of other varieties are planted nearby. At the rustic Bire winery, you can taste Grk made from organic grapes, accompanied by anchovies and capers. To visit, you might hire bikes in Korčula Town, then cycle to Lumbarda (7km/4 miles).
Toreta in Smokvica, Island of Korčula
In Korčula's fertile interior, the village of Smokvica is a huddle of old stone cottages. It stands in a green valley, planted with lush vineyards producing the local Pošip grape variety, unique to Korčula. Here Toreta is one of several family-run wineries, producing Pošip.
The Baničević family will welcome you into their tasting room, displaying a collection of old-fashioned wine-making tools. The atmosphere is informal and rural, and there's a lovely terrace overlooking their centuries-old vineyards. Smokvica lies 30km/19mi west of Korčula Town.
Central Dalmatia Wine Tasting
Tomić in Jelsa, Island of Hvar, Central Dalmatia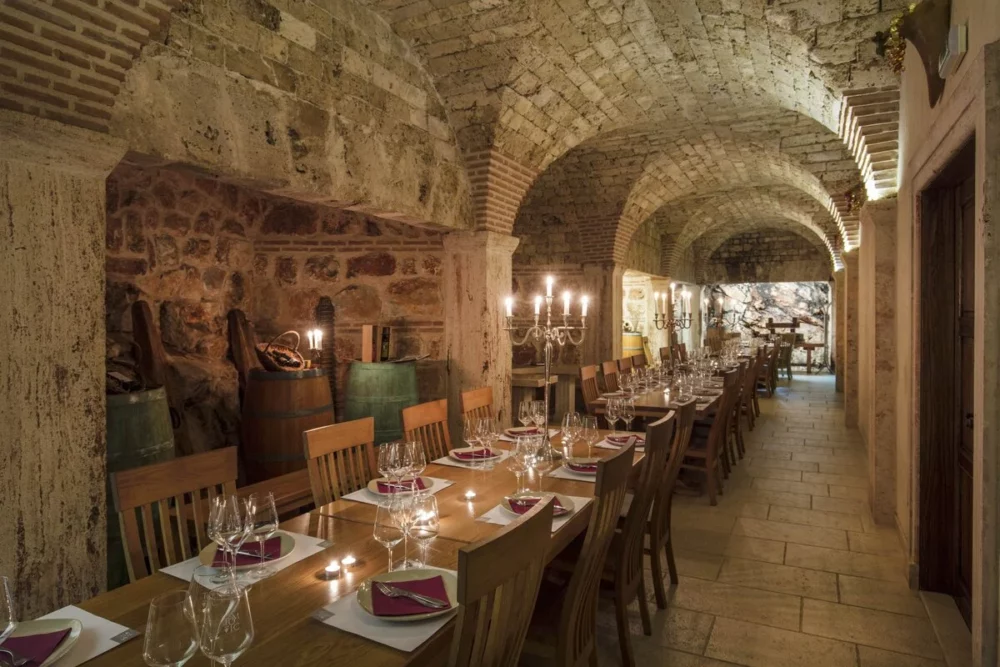 Jelsa sits in a sheltered bay, where yachters moor up on summer evenings. Here you'll find Andro Tomić's Baštijana winery. He grows mainly indigenous grape varieties in several locations across the island. Above all, these are Plavac Mali for reds, and Pošip and Bogdanuša for whites.
He also produces excellent Prošek, a Dalmatian dessert wine made from sun-dried grapes. The tasting room is built of natural stone, and modeled on an Ancient Roman triclinium (dining room). Here you can try tasting various food options or even request a Roman feast, wearing togas.
Zlatan Otok in Sveta Nedjelja, Island of Hvar
Zlatan Otok stands by the sea in Sveta Nedjelja, below the steep seaward slopes of Hvar's sunny south coast. There's a small marina out front, with facilities including water and electricity (open May-Oct). Here, the Bilo Idro restaurant serves seafood specialties, while the wine cellars are underwater, with views onto the seabed. Zlatan Otok is best known for its full-bodied reds, made from Plavac Mali grapes grown locally. In addition, they have some vineyards on the mainland, near Makarska and Šibenik.
Stina in Bol, Island of Brač
Stina winery stands on the seafront promenade in Bol on Brac's south coast. Therefore, if conditions are calm, you can moor up directly on the quay out front. Step ashore to enter the winery, originally home to Dalmatia's oldest Wine Cooperative, dating from 1903.
Stina's wines are made mainly from indigenous grape varieties – the whites from Pošip and Vugava, and reds from Plavac Mali. Stina runs scheduled evening tours of the winery, followed by a choice of wines from their tasting menu. Platters of cheese and olives are optional. 
North Dalmatia Wine Tasting
Bibich in Plastovo, Šibenik Region
In conclusion, Babić is an indigenous grape variety, native to the Šibenik region. To taste the best, moor up in Skradin, at the entrance to Krka National Park.  Then take a taxi or bike to Plastovo (5km/3 miles), to visit the welcoming family-run Bibich winery. They offer various tasting experiences, the most basic being three wines with appetizers.
But for a full culinary adventure, opt for a multi-course lunch or dinner with a wine pairing. In addition to their red Babić, aged in oak barrels, sample their white Debit, likewise made from local indigenous grapes.
Wine Tasting Dalmatia Croatia while sailing the Adriatic sea offers many delightful opportunities to sample Croatian wines. Also in the USA, you can order Croatian Wines from Croatian Premium Wine an importer of wines from Croatia. In addition, Mirena one of the owners is from the Kormana region of Croatia and grew up with some winery owners.
Please call us today at 1 (321) 777-1707 or describe Your Vacation Vision to help you plan your fully-crewed private luxury yachting vacation! Inquire as soon as possible about your custom, crewed yacht charter.
You make the memories. We make the arrangements.