The Italian Riviera is one of the top yacht charter destinations in the world. Among the biggest draws are the area's outstanding food and wine. In particular, the wines and olive oil of the Italian Riviera di Ponente are some of the most prized. Primarily agricultural, this area spans Liguria's west coast from Genoa to the border of France.
Diverse vegetation flourishes on a narrow strip between the mountains and the Ligurian Sea. Harmoniously, tiny vineyards mix with ancient olive groves and beautiful gardens. Unlike larger regions, the Riviera's vineyards may be small and scattered, but they are of premium quality.
White Wines of the Italian Riviera di Ponente
Pigato
Like many coastal regions, white wines reign supreme along the western Riviera. Specifically, the Pigato grape is the area's pride and joy. Native to Albenga, Pigato makes wines with good structure and minerality.
As an herbaceous and salty wine, Pigato pairs great with local seafood and pasta. In addition, you can also drink Pigato after dinner, as a passito (sweet) wine.
Traditionally made as a single varietal wine, Pigato is best pure. It's rarely ever found in blends. In fact, monovarietal wines are typical of the Italian Riveria di Ponente.
Vermentino
Another white grape found along the Italian Riviera is Vermentino. Typically fresh and citrusy, Vermentino is a good wine for light fish, or perhaps an appetizer. While Vermentino is widely planted throughout the Riviera, it's expressed best around Sanremo.
If you'd like to try unique Pigato and Vermentino wines, check out natural winemaker, Selvadolce. Alternatively, look for Azienda BioVio's wide range of organic wines and olive oil.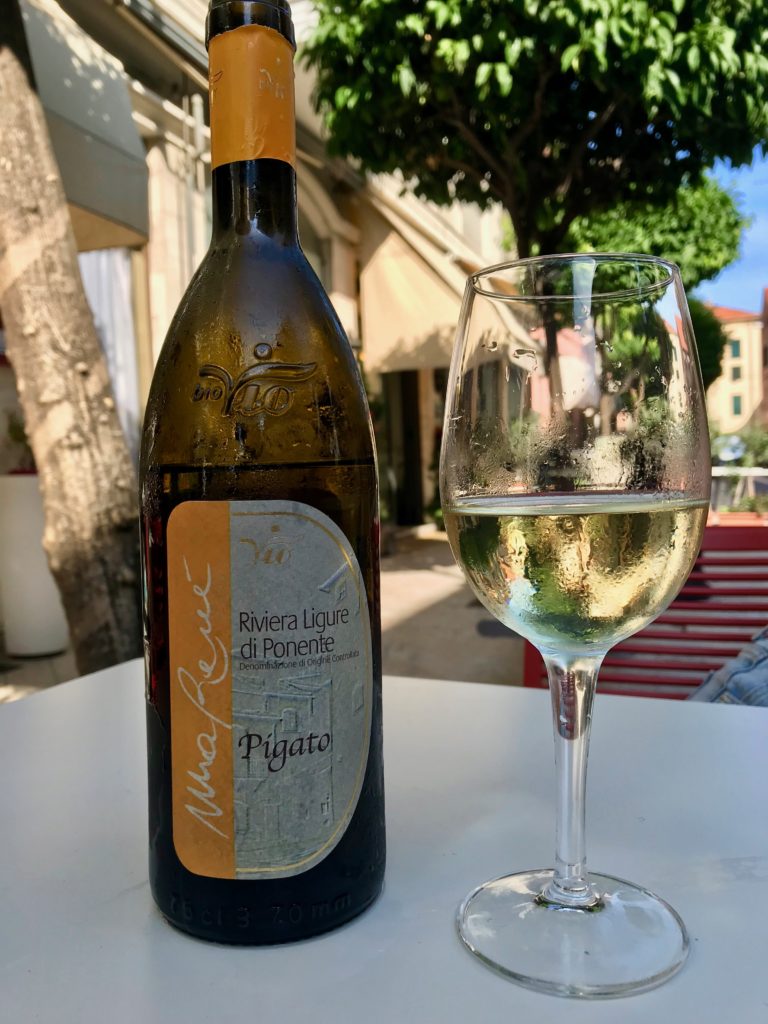 Red Wines of the Italian Riviera di Ponente
Rossese
Two-thirds of the Riviera di Ponente's small wine production is white. However, the region's little-known reds are worth exploring. The most notable of which is Rossese di Dolceacqua. This beautiful ruby red wine comes from the medieval town of Dolceacqua, near France.
An ancient grape, Rossese makes elegant, light-medium bodied wines with a bit of spice. While hard to find internationally, you can try well-regarded Rossese producers while in Italy. For instance, Tenuta Anfosso and Testalonga are two such winemakers worth seeking out.
Rossese wines are also found near the coastal town of Albenga. In this area, they show as lighter, less-tannic, floral wines. Rossese will surely delight Pinot Noir drinkers.
Interested in trying Rossese? Look for Rocche Del Gatto, an excellent Albenga producer crafting premium wines.
Ormeasco
Another noble red wine is that of Ormeasco di Pornassio. Far from the coast, Ormeasco lives along Liguria's mountainous border with Piedmont. While genetically identical to the Dolcetto grape of Piedmont, it retains its own identity as Ormeasco in Liguria.
Typically grown at 2,500 feet above sea level, Ormeasco makes wines of intense plum and blackberry character. With evident tannins, Ormeasco does well with meats and hearty sausage stews. However, for a lighter alternative, look for Ormeasco made as a rosé wine called Scia-trà.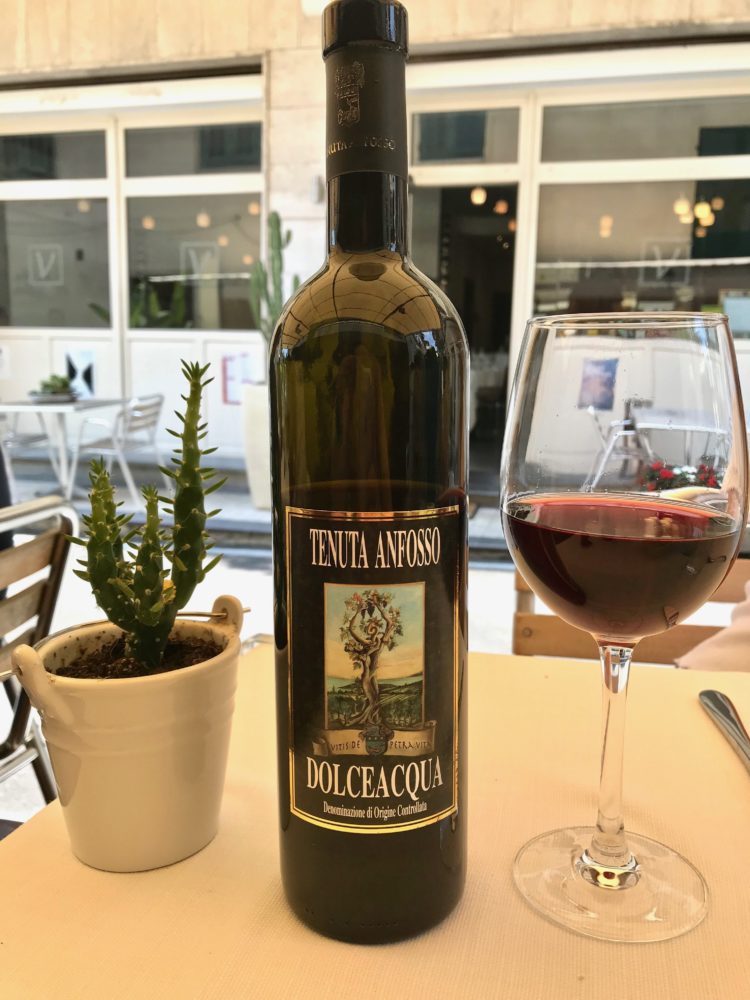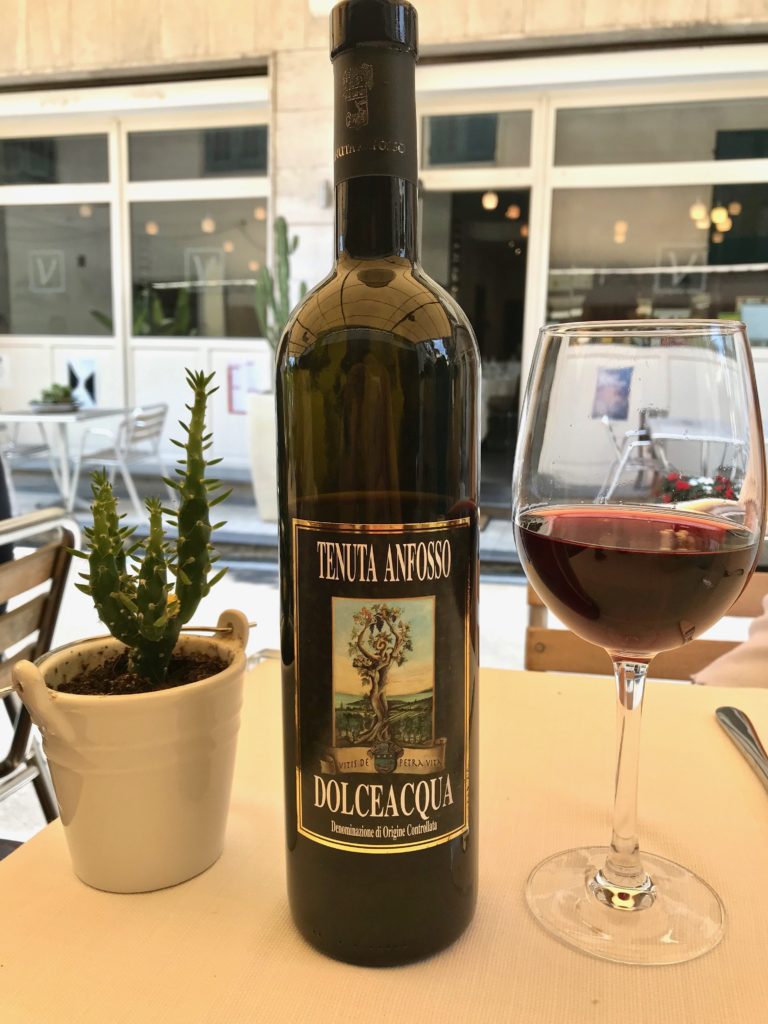 Olive Oil of the Italian Riviera di Ponente
Olive oil is the foundation of Ligurian cuisine. For centuries, it's also been as economically important as it is culturally. Along with wine grapes, olive trees also thrive on the Riviera's terraced hills.
The Taggiasca Olive
The Riviera di Ponente's local olive variety is Taggiasca, from Taggia between Sanremo and Imperia. The highest quality olive oil carries the name Riviera dei Fiori and must contain 90% Taggiasche olives. On the other hand, olive oil from the Riviera del Ponente Savonese must be comprised of only 50% Taggiasca olives.
Originally brought by the Benedictine Monks, Taggiasche olives have a long history in the area. With varied uses, olives continue to be essential in daily recipes and beauty aids.
Most famously, Extra Virgin Taggiasca Olive Oil is mixed with basil, cheese, pine nuts, and salt to make Pesto Genovese. Delicate and fruity, Taggiasche olives also adorn seafood and flatbread focaccia.
Additionally, they can be found simply jarred and preserved with brine. Regardless of preparation, Taggiasche olives are a great compliment to a glass of Ligurian wine.
There's no better place to enjoy the wines and olive oil of the Italian Riviera di Ponente than in Italy. Head to our Italian Riviera Yacht Charter Itineraries to plan your dream trip.
Please call us today at 1 (321) 777-1707 or describe Your Vacation Vision to help you plan your fully-crewed private luxury yachting vacation! Inquire as soon as possible about your custom, crewed yacht charter.
You make the memories. We make the arrangements.