Best Restaurants and Food in Turkey
The flavors of Turkish cuisine are some of the most unique and delicious in the world. From the classic meze platter to sweet baklava, the variety and complexity of Turkish foods are truly remarkable. If you're looking for something new and interesting, our best restaurants and food in Turkey will surely provide you with an unforgettable culinary journey. Sample these delectable foods in cities like Istanbul or along the beautiful Turkish Riviera on a yacht charter.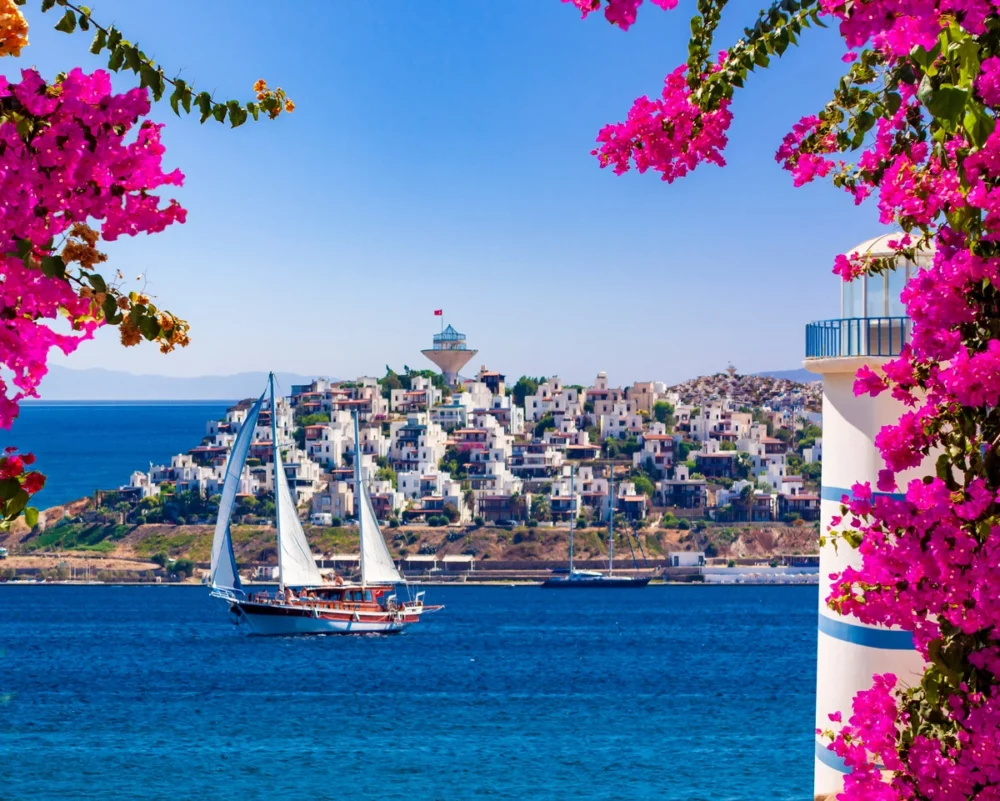 History of Turkish Cuisine
Turkish cuisine is an amalgamation of diverse cultures, which have influenced the culinary art of this region for centuries. The cuisine of Turkey reflects its rich and diverse history, blending Middle Eastern, Balkan, Mediterranean, and Central Asian cuisines.
The Ottoman Empire
The influence of Ottoman cuisine is also evident, which had its roots in the imperial court of Constantinople. Turkish food is not only delicious but also full of health benefits. The ingredients used in Turkish cuisine include fresh herbs, vegetables, olive oil, and various meat and seafood.
The history of Turkish food dates back to the Ottoman Empire, which lasted from the 14th to the early 20th century. The Ottomans were known for their sophisticated cuisine, incorporating various influences worldwide. They had an extensive palace kitchen, where master chefs cooked and experimented with different ingredients and cooking methods. Ottoman cuisine was a fusion of Byzantine, Arab, Persian, and Central Asian cuisines, emphasizing spices, meat, and grains.
Post-Ottoman Empire | Best Restaurants and Food in Turkey
With the decline of the Ottoman Empire in the early 20th century, Turkish cuisine underwent significant changes as the country modernized and became more Westernized. The focus shifted to simple and wholesome meals, using local ingredients and cooking methods. However, Turkish cuisine retains its unique flavor and character, which is enjoyed by people all around the world.
In recent years, Turkish cuisine has gained significant popularity globally. The rich and delicious dishes have become a favorite among food lovers, and Turkish restaurants have opened up in different parts of the world. The influence of Turkish cuisine is also visible in the culinary world, with Turkish spices and ingredients finding their way into different dishes.
Overall, Turkish cuisine is an integral part of the country's culture and history. The unique blend of flavors and aromas has made it one of the world's most popular and loved cuisines. Whether trying traditional meze or indulging in decadent baklava, Turkish cuisine will surely delight your taste buds.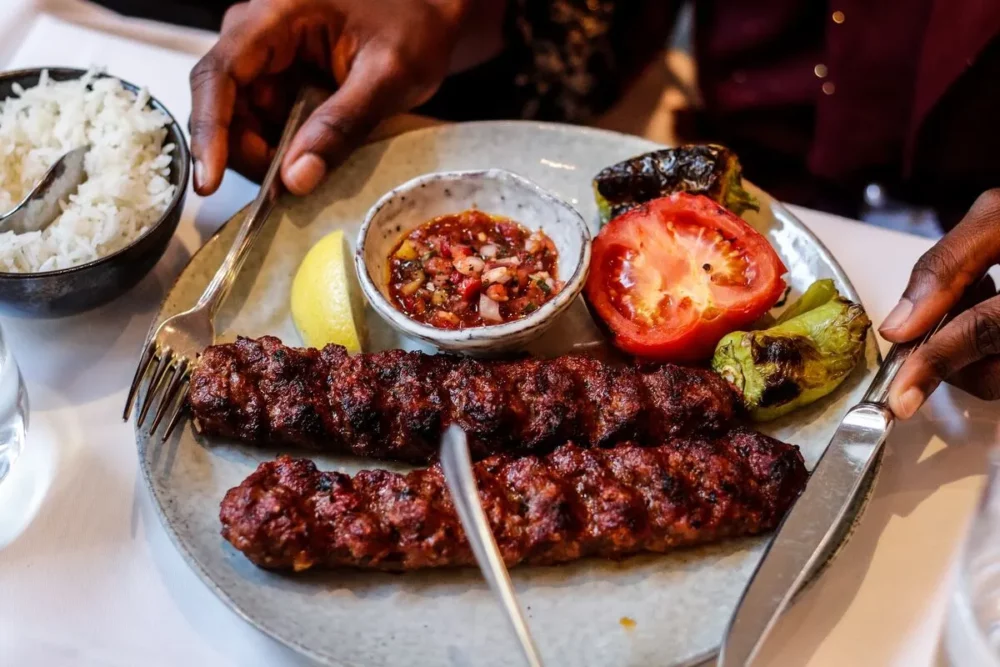 Turkish Meze or Appetizers to Try
When it comes to traditional Turkish food, appetizers, or meze, are a must-try. These small plates usually come before the main course and offer various flavors and textures.
Hummus: One popular meze dish is hummus, made from chickpeas, tahini, and olive oil. It's typically served with warm bread or vegetables for dipping.
Muhammara: Another tasty option is muhammara, a dip made from roasted red peppers, walnuts, and pomegranate molasses.
Sucuk: For meat lovers, there's sucuk, a spicy sausage made from beef or lamb, and sigara borek, a crispy pastry filled with cheese and either beef or lamb. And for seafood enthusiasts, there's midye dolma, mussels stuffed with rice and spices.
Traditional Turkish Food and Main Dishes
Regarding traditional Turkish food, the main dishes are the show's stars. Rich in flavors and ingredients, these dishes will satisfy your cravings and leave you wanting more. Here are some must-try traditional main dishes in Turkey:
Adana Kebab: This kebab is named after the city of Adana and is made from ground lamb meat mixed with hot red pepper flakes. It is usually served with a side of rice and grilled vegetables.
Iskender Kebab: A mouth-watering combination of thinly sliced lamb meat served on top of a bed of pita bread, smothered with tomato sauce, and drizzled with melted butter. This dish is usually served with a side of yogurt.
Manti: Like Italian ravioli, manti is a traditional Turkish dumpling made from thin dough stuffed with ground lamb or beef. It is served with garlic yogurt and a spicy tomato sauce.
Dolma: A popular appetizer in Turkish cuisine, dolma consists of stuffed grape leaves, zucchinis, eggplants, and bell peppers. The filling usually consists of rice, herbs, and ground meat.
Lahmacun: A thin, crispy flatbread topped with minced lamb or beef mixed with vegetables and spices. It is often served with a side of vegetables or a salad.
These dishes are just a few traditional Turkish food options that water your mouth. Be sure to try them all during your visit to Turkey!
Turkish Desserts | Best Restaurants and Food in Turkey
Turkish desserts are famous worldwide for their rich and diverse flavors. These desserts are usually sweet, sticky, and very satisfying. Whether you have a sweet tooth or not, you cannot miss out on desserts in Turkey.
Baklava: One of Turkey's most popular desserts is Baklava, a sweet pastry made with layers of filo pastry filled with chopped nuts and syrup. This dessert is commonly served with Turkish tea or coffee and is perfect for anyone with a sweet tooth.
Kadayik: Another dessert worth trying is Kadayif, a pastry made of shredded filo dough, stuffed with chopped nuts, and sweetened with syrup. It is usually served cold with ice cream or whipped cream.
Turkish Delight: If you want a lighter dessert, try Turkish Delight, a confectionery made of sugar and starch, often flavored with rose water, orange blossom, or lemon. Turkish Delight has a jelly-like texture and comes in many different flavors.
Sutlac: Last, you cannot miss out on Sutlac, a creamy and delicious rice pudding popular throughout Turkey. This dessert is usually served with a sprinkle of cinnamon on top and is the perfect comfort food after a long day of sightseeing.
Best Restaurants in Turkey
If you plan a trip to Turkey, indulge in some of the country's best cuisine at its finest restaurants. Turkish food comes in all shapes and sizes, from street food vendors to high-end restaurants.
Here are some of the best restaurants to try in some of Turkey's tourist destinations:
Istanbul
Nusr-Et Steakhouse: This upscale restaurant in Istanbul is famous for its delicious steaks and prime meats. The owner, Nusret Gökçe, became an internet sensation with his signature salt-sprinkling technique, often called "Salt Bae."
Mikla: Also located in Istanbul, this rooftop restaurant offers a fusion of Scandinavian and Turkish cuisine. Chef Mehmet Gürs uses local ingredients to create innovative dishes that will tantalize your taste buds.
Çiya Sofrası: This casual eatery in Istanbul specializes in traditional Turkish dishes that have been passed down for generations. The restaurant's motto is "We don't serve fast food; we serve good food quickly."
Zuma: This high-end restaurant in Istanbul is a favorite among the city's elite. Enjoy Zuma's modern Japanese cuisine in a sophisticated and stylish atmosphere.
Antalya | Best Restaurants and Food in Turkey
Antalya Balıkçısı: Located in Antalya, this restaurant serves fresh seafood that is caught daily by local fishermen. Enjoy your meal with stunning views of the Mediterranean Sea.
Seraser Fine Dining Restaurant: In the historic Kaleiçi district, Seraser Fine Dining Restaurant offers a modern twist on traditional Turkish cuisine. The menu includes dishes like grilled octopus and slow-cooked lamb; all presented beautifully on the plate. The restaurant also boasts a beautiful outdoor terrace with stunning harbor views.
Maraş Urfa Sofrası: If you're looking for an authentic Turkish kebab experience, look no further than Maraş Urfa Sofrası. The restaurant serves up succulent kebabs, including the famous Maraş doner, made with slow-cooked lamb meat. The restaurant's traditional décor and friendly staff add to the dining experience.
Dürümcü Yaşar Usta: These are just a few of the best restaurants that Turkey has to offer. From high-end dining experiences to local eateries, Turkish cuisine has something for everyone. So, grab a seat, dig in, and enjoy the flavorful journey.
Marmaris
Vamos Beach Restaurant: For an unforgettable dining experience, head to Vamos in Marmaris! This chic eatery is on the beach and boasts spectacular ocean views. Their seafood dishes are a must-try, along with inventive cocktails.
Hacis Cafe: Hacis Cafe is a cozy restaurant perfect for a casual meal. This charming establishment offers a menu of simple yet delicious Turkish dishes, such as stuffed grape leaves, grilled lamb, and eggplant dip. They also have a great selection of Turkish teas and coffees.
Ali Usta Restaurant: Another great spot for authentic Turkish cuisine is Ali Usta, located on the beach in the heart of Marmaris. Fresh seafood is the star of the show, but great vegetarian dishes can be found, along with homemade pistachio ice cream!
Turkey is a fascinating country for gastronomy, culture, and nature lovers! We hope our guide to the best restaurants and food in Turkey helps inspire your next trip!
Please call us today at 1 (321) 777-1707 or describe Your Vacation Vision to help you plan your fully-crewed private luxury yachting vacation! Inquire as soon as possible about your custom, crewed yacht charter.
You make the memories. We make the arrangements.