Turkey Travel Guide | Incredible Vacation
A luxury vacation to Turkey blends history, culture, natural beauty, unique experiences, and warm hospitality. It allows you to immerse yourself in luxury, explore fascinating sites, indulge in culinary delights, and create lasting memories in one of the world's most captivating destinations. Our Turkey travel guide can help you spend your vacation visiting culturally rich Istanbul, Cappadocia, or the coast on a luxury Turkey yacht charter.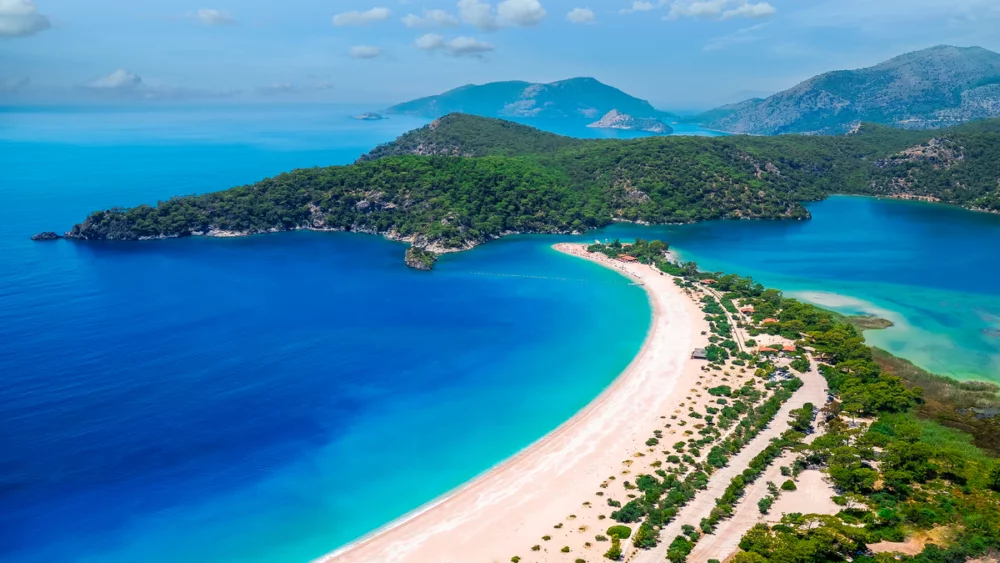 Top 5 Reasons To Visit Turkey
1. Rich Cultural Heritage:
Turkey is a country steeped in history, boasting a diverse and rich cultural heritage. From the ancient ruins of Ephesus and the incredible rock formations of Cappadocia to the iconic landmarks of Istanbul, Turkey offers a wealth of historical and cultural sites to explore. A luxury vacation allows you to experience these wonders in comfort and style, with the opportunity to visit renowned archaeological sites, palaces, and museums.
2. Unique Experiences
Turkey offers a plethora of unique and memorable experiences. From floating in a hot air balloon over the magical landscapes of Cappadocia to sailing along the stunning Turquoise Coast on a private yacht, there are endless opportunities for adventure and luxury. Pamper yourself with spa treatments, and indulge in exquisite Turkish cuisine. Alternatively, partake in exclusive cultural experiences such as private concerts or traditional Ottoman-style baths.
3. Natural Beauty
Turkey has breathtaking natural beauty, from pristine beaches and turquoise coastlines to dramatic mountain ranges and thermal springs. The country offers diverse landscapes, including the stunning Pamukkale terraces, the Turkish Riviera's idyllic beaches, and the Cappadocia's picturesque valleys. A luxury vacation allows you to experience the natural wonders of the Eastern Mediterranean while enjoying the highest level of comfort and service.
4. Delicious Cuisine
Turkish cuisine is renowned worldwide for its flavors and diversity. A luxury vacation in Turkey offers the opportunity to indulge in gourmet dining experiences, from street food delights to fine dining at Michelin-starred restaurants. Savor traditional dishes such as kebabs, mezes, and baklava, accompanied by excellent Turkish wines and traditional Turkish tea.
5. Warm Hospitality
Turkish hospitality is legendary, with locals known for their warmth, friendliness, and generosity. A luxury vacation allows you to experience the renowned Turkish hospitality firsthand, as you are treated to exceptional service, personalized attention, and the finest amenities.
Best Places To Visit | Turkey Travel Guide
On a luxury vacation to Turkey, there are several remarkable destinations to explore, each offering unique experiences. Here are some of the best places to visit in Turkey and where to stay in the major cities:
Istanbul
Begin your luxury vacation in Istanbul, the vibrant cultural capital that bridges Europe and Asia. Stay in the upscale neighborhoods of Beyoglu or Besiktas, where you'll find luxury hotels and boutique accommodations. Must-see attractions include the historic Hagia Sophia, the Blue Mosque, Topkapi Palace, and the bustling Grand Bazaar.
Bodrum
Known as the "St. Tropez of Turkey," Bodrum offers a glamorous coastal escape. Stay in luxury resorts along the Bodrum Peninsula, such as the town of Yalikavak or the village of Turkbuku. Explore the magnificent Bodrum Castle, relax on the stunning beaches, and indulge in the lively nightlife and high-end restaurants.
Cappadocia
Experience the enchanting landscapes of Cappadocia, known for its unique rock formations and hot air balloon rides. Stay in Goreme, where luxury cave hotels are carved into the cliffs. Marvel at the surreal rock formations of the Fairy Chimneys, visit ancient cave churches, and enjoy a hot air balloon ride at sunrise.
Antalya
Located on the beautiful Turkish Riviera, Antalya offers a blend of history, luxury resorts, and stunning natural beauty. Stay in the luxurious beachside resorts of Lara Beach or Konyaalti. Explore the well-preserved ancient city of Aspendos, relax on the pristine beaches, and visit the picturesque old town of Kaleici.
Pamukkale
Pamukkale is famous for its natural thermal pools and the ancient ruins of Hierapolis. Stay in luxury hotels near the Pamukkale terraces, where you can soak in the mineral-rich thermal waters. Explore the stunning white terraces, visit the ancient ruins, and relax in the rejuvenating thermal spas.
Remember, our Turkey travel guide highlights a few destinations to visit on a luxury vacation. Each city offers its distinct charm, luxurious accommodations, and unforgettable experiences, ensuring a memorable journey through this captivating country.
Turkey Yacht Charters
You can charter various yachts on the Turkish Riviera to suit your preferences and group size. Here are the types of yachts commonly available for charter.
Motor Yachts
Motor yachts are a popular choice for luxury charters on the Turkish Riviera. These yachts offer power, speed, and comfort. They come in various sizes and can accommodate different group sizes, ranging from small intimate groups to larger parties. Motor yachts provide ample space for lounging, dining areas, and luxurious cabins. The larger high-end yachts have luxurious amenities like swimming pools, Jacuzzis, onboard spas, and expansive living areas.
Sailing Yachts
Sailing yachts offer a classic and elegant way to explore the Turkish Riviera. These yachts harness the power of the wind and provide a serene and eco-friendly sailing experience. Sailing yachts are available in different sizes and can cater to various group sizes. They typically offer spacious decks for sunbathing, comfortable cabins, and dining areas.
Catamarans
Catamarans are becoming increasingly popular for yacht charters due to their stability, spaciousness, and comfort. These multihull vessels have two hulls, offering a more stable and smooth sailing experience. Catamarans often have generous deck space, allowing for outdoor dining and lounging. They are suitable for larger groups and families, offering multiple cabins and living spaces.
Gulets or Motor Sailors
Gulets, or Motor Sailors, are traditional Turkish wooden sailing vessels adapted for modern yacht charters. These charming boats offer a unique and authentic experience. Gulets typically feature spacious deck areas, comfortable cabins, and onboard amenities such as dining areas and lounges. They typically use their engine power rather than rely on their sails, which are more of a supplement.
Top Places to Visit on a Turkey Yacht Charter | Turkey Travel Guide
Bodrum
Start your journey in Bodrum, a vibrant coastal town known for its lively atmosphere, historical sites, and beautiful beaches. Visit Bodrum Castle, explore the charming streets of the old town, and enjoy the vibrant nightlife. Bodrum also serves as a gateway to the nearby Greek islands of Kos and Rhodes.
Fethiye
Located on the southwest coast of Turkey, Fethiye is surrounded by picturesque landscapes and crystal-clear turquoise waters. Explore the captivating Butterfly Valley, visit the ancient ruins of Kayakoy, and dip in the stunning Oludeniz lagoon. Don't miss the nearby Saklikent Gorge, a natural wonder offering thrilling hiking and canyoning opportunities.
Kas
This charming coastal town is known for its laid-back ambiance and breathtaking views. Discover the underwater wonders by diving or snorkeling in the crystal-clear waters. Visit the ancient ruins of Xanthos and explore the sunken city of Kekova on a boat tour. Enjoy the lively town center with its cozy cafes, restaurants, and local shops.
Marmaris
With its stunningly long stretches of white-sand beaches and majestic coastline views, the former fishing village of Marmaris has flourished into one of Turkey's most beloved tourist destinations. It boasts an alluring year-round mild climate, making it the ideal spot for a Turkish gulet or motor yacht charter. The nearby Datca Peninsula also offers stunning landscapes, pristine beaches, and charming villages. Visit the quaint town of Datca, explore the ancient city of Knidos, and enjoy the tranquil ambiance of the region.
Gocek
Gocek is a picturesque town in a secluded bay surrounded by lush green hills. It is a popular destination for yacht charters, with its marinas and tranquil anchorages. Explore the nearby 12 islands, enjoy swimming in secluded coves, and indulge in delicious seafood at waterfront restaurants.
Luxury Hotels in Turkey
Turkey has many luxury accommodations, including boutique hotels, beachside resorts, and lavish villas. There are opulent resorts overlooking the Mediterranean, boutique cave hotels in Cappadocia, and lavish city hotels in Istanbul. We've got you covered if you're looking for where to stay in Istanbul or you're looking for hotels in Antalya, Bodrum, and more.
Istanbul Hotels
Ciragan Palace Kempinski Istanbul: Situated on the shores of the Bosphorus, Ciragan Palace Kempinski Istanbul is a five-star hotel housed in a restored Ottoman palace. It offers opulent rooms and suites with panoramic views, a waterfront infinity pool, a luxurious spa, and multiple dining options.
Four Seasons Hotel Istanbul at Sultanahmet: Located in the historic Sultanahmet district, this luxury hotel is housed in a former prison and offers elegant rooms and suites with Ottoman-style decor. Guests can enjoy a rooftop terrace with stunning city views, a tranquil courtyard, a spa, and fine dining at the hotel's restaurant.
Raffles Istanbul: Situated in the vibrant Zorlu Center, Raffles Istanbul boasts contemporary design and panoramic city views. The hotel features spacious rooms and suites, a luxurious spa, an outdoor pool, and multiple dining options, including a rooftop restaurant.
Shangri-La Bosphorus, Istanbul: Set on the European side of the Bosphorus, this luxurious hotel offers elegant rooms and suites with views of the city or the Bosphorus Strait. Guests can enjoy a spa, an indoor pool, a fitness center, and various dining options, including a rooftop terrace overlooking the water.
The St. Regis Istanbul: Located in the Nisantasi neighborhood, The St. Regis Istanbul offers luxurious rooms and suites with contemporary design and city views. The hotel features a rooftop terrace, a spa, a fitness center, and upscale dining options.
Pera Palace Hotel: This historic hotel, dating back to 1892, is in the vibrant Pera district. It offers elegantly decorated rooms and suites with a classic, nostalgic ambiance. The hotel features a spa, a fitness center, a rooftop terrace, and dining options that blend traditional and international flavors.
Antalya Hotels | Turkey Travel Guide
Maxx Royal Belek Golf Resort: Located in Belek, Antalya, the Maxx Royal Belek Golf Resort is a highly acclaimed luxury hotel. It offers spacious and elegant rooms and suites, numerous swimming pools, a private beach, and access to world-class golf courses. The resort also has gourmet restaurants, a spa, a fitness center, and entertainment.
Regnum Carya Golf & Spa Resort: Situated in Belek, the Regnum Carya Golf & Spa Resort is known for its exceptional service and luxurious amenities. The hotel provides elegantly designed rooms and suites, several swimming pools, private cabanas, and a beautiful sandy beach. Guests can enjoy a variety of dining options, a full-service spa, fitness facilities, and access to the Carya Golf Club.
Titanic Mardan Palace: The Titanic Mardan Palace is a luxurious beachfront hotel in Lara, Antalya. It boasts stunning architecture, lavish interiors, and many upscale amenities. The hotel offers opulent rooms and suites, a large swimming pool complex, a private beach, and a luxurious spa. Guests can indulge in fine dining at the hotel's multiple restaurants, enjoy live entertainment, and experience the grandeur of the hotel's design.
Bodrum Hotels
Amanruya: Amanruya is a renowned luxury resort in Bodrum's picturesque Torba Bay. It offers exclusive villas with private pools, lush gardens, and stunning sea views. The resort features exceptional service, a serene spa, a beach club, and exquisite dining options that highlight Turkish and international cuisine.
The Mandarin Oriental Resort, Bodrum: Situated on the Bodrum Peninsula, the Mandarin Oriental offers a luxurious retreat overlooking the Aegean Sea. The resort showcases elegant rooms, suites, and villas, some with private pools. Guests can indulge in a tranquil spa, multiple swimming pools, a private beach, and various dining options that cater to different tastes.
Caresse, a Luxury Collection Resort & Spa, Bodrum: Located in the vibrant area of Bitez, Caresse is a stylish and upscale resort. It features elegant rooms and suites with sea views and private balconies. The resort offers a private beach, infinity pools, a spa, and fine dining options. Guests can also enjoy access to a nearby marina and water sports activities.
How to Travel To Turkey | Turkey Travel Guide
You can follow these general steps to travel from the United States to Turkey. Our experienced brokers will help you with all your travel needs as well.
Check Passport Validity: Ensure your passport is valid for at least six months beyond your intended stay in Turkey.
Obtain a Visa: Many travelers to Turkey must obtain a visa before arrival. You can apply for an e-Visa online through the official Republic of Turkey Electronic Visa Application System (www.evisa.gov.tr).
Book Flights: Look for flights from major U.S. airports to airports in Turkey, such as Istanbul Airport (IST), Sabiha Gokcen International Airport (SAW), or Antalya Airport (AYT). We can also arrange a private flight for you.
International Travel Requirements: Check the official websites of the U.S. Department of State and the Turkish Ministry of Foreign Affairs for the most up-to-date information on travel requirements and restrictions.
Travel Insurance: Consider obtaining travel insurance to protect yourself against unexpected cancellations or medical emergencies. We can help with travel insurance as well.
Pack Accordingly: Prepare your luggage based on the season and activities you plan to engage in during your trip. Don't forget essentials such as travel adapters, comfortable clothing, and any necessary medications.
A trip to Turkey's unique and vibrant country is a wonderful way to spend your next hard-earned vacation. We hope our Turkey travel guide helps you to explore the lesser-known side of the Mediterranean!
Please call us today at 1 (321) 777-1707 or describe Your Vacation Vision to help you plan your fully-crewed private luxury yachting vacation! Inquire as soon as possible about your custom, crewed yacht charter.
You make the memories. We make the arrangements.