A Greece Catamaran charter is an incredible vacation experience that is hard to surpass. To start, let's get into exactly what a catamaran charter entails. A catamaran is a yacht with two parallel hulls connected by a spacious deck, providing stability, comfort, and ample living space.
Since Greece is renowned for its stunning islands, clear waters, and picturesque harbors, it's an ideal destination for catamaran charters. We've highlighted some of the top benefits of choosing a catamaran for your next yacht charter.
Spaciousness. Catamarans are famous for their generous living spaces. The wide beam of a catamaran allows for expansive deck areas, roomy cabins, and large saloons.
This spaciousness provides ample room for socializing, dining, and relaxation. Moreover, this makes catamarans ideal for groups or families.
Panoramic Views: Catamarans often have large windows and expansive cockpit areas, providing panoramic views of the surrounding sea. So, whether inside the saloon or relaxing on the deck, you can enjoy the uninterrupted ocean and coastline views.
Shallow Draft: Catamarans have a shallow draft compared to some monohull sailboats, allowing them to access shallow waters. You can anchor closer to shore and access places that may be off-limits to larger yachts.
When you charter a catamaran in Greece, you rent a private boat with a professional crew. The crew includes a captain and, depending on the size of the catamaran, additional staff such as a chef and hostesses. Moreover, this lets you relax and enjoy your vacation while the crew handles the logistics.
Benefits of Sailing Catamarans
Stability: One of the key advantages of catamarans is their inherent stability compared to monohull sailboats. With two hulls and a wide beam, catamarans provide excellent stability both at anchor and while underway. Also, this stability makes them more comfortable for passengers.
Good downwind Sailing and Performance: Catamarans sail efficiently and smoothly, notwithstanding harsh weather conditions. With two hulls, they have reduced resistance to motion, allowing them to achieve higher speeds with less heeling.
Versatility: Sailing catamarans are versatile vessels that can navigate various conditions. Additionally, they perform well in light and strong winds.
Eco-friendly: Since catamarans sail using only wind power, they are a smart option with low fuel costs and emissions.
Benefits of Power Catamarans
Speed and Efficiency: Power catamarans are fast. The twin-hull design reduces drag and allows faster cruising speeds than monohull powerboats. This enables you to reach your destinations more quickly and efficiently.
Stability and Comfort: Power catamarans offer excellent stability, similar to sailing catamarans. The dual-hull design provides a stable platform, reducing rolling and pitching motions. This stability enhances comfort, reduces seasickness, and allows easier movement around the yacht.
Fuel Efficiency: Power catamarans are often more fuel-efficient than monohull powerboats of comparable size. The dual-hull design and reduced drag result in improved fuel economy. This can translate into longer cruising ranges and reduced operating costs.
Versatility: Power catamarans are versatile vessels suitable for various activities and destinations. So, you can cruise along the coastline, explore shallow waters, engage in watersports, or embark on extended voyages.
Common Catamaran Sizes for Charter Yachts
Luxury sailing catamarans available for charter come in various sizes to accommodate different group sizes and preferences. Typically, the common sizes of luxury sailing catamarans that you can charter include:
40-50 feet: Catamarans in this size range are often suitable for smaller groups or families of 6. They offer comfortable living spaces, multiple cabins, and amenities for a luxurious sailing experience.
50-60 feet: Slightly larger catamarans in this range provide spacious interiors, additional cabins, and enhanced onboard facilities. They are ideal for medium-sized groups or families seeking a luxurious sailing vacation.
60-70 feet: Catamarans in this size range are luxury charter yachts. They offer ample space, luxurious cabins with en-suite bathrooms, expansive lounges, and various onboard amenities. They can accommodate larger groups of 8-10 people and provide enhanced comfort and privacy.
70-85 feet: The largest luxury sailing catamarans available for charter can exceed 70 feet in length. These yachts offer luxurious features, premium amenities, and spacious layouts. They provide high comfort and privacy for large groups, corporate events, or special occasions.
Leading Builders of Luxury Catamarans
Lagoon: Lagoon is a renowned French brand that specializes in catamaran yachts. They are famous for their innovative designs, spacious interiors, and luxurious features.
Sunreef Yachts: Sunreef Yachts is a prominent Polish shipyard that builds custom-made luxury catamarans. They specialize in high-end craftsmanship, elegant designs, and personalized features.
Fountaine Pajot: Fountaine Pajot is another well-regarded French manufacturer of catamaran yachts. They offer various models, from cruising catamarans to luxury power catamarans, known for their performance, comfort, and stylish aesthetics.
Leopard Catamarans: Leopard Catamarans is a South African brand recognized for its high-quality catamarans. Notably, they offer sailing and power catamarans focusing on performance, durability, and luxury.
Privilege Marine: Privilege Marine, based in France, is renowned for producing high-end luxury catamarans. They are famous for their craftsmanship, attention to detail, and customized features, offering a luxurious and comfortable experience.
Catamaran Yachts to Charter in Greece
APHAEA
New in 2023, the 67′ Fountaine Pajot APHAEA epitomizes extravagance in a catamaran. She boasts an immense flybridge, an idyllic ocean terrace, and a well-appointed forward cockpit. A Greece catamaran charter aboard APHAEA is an excellent way to spend your next vacation.
Explore Greece with APHAEA and participate in the invigorating sailing experience, or simply lounge on the trampolines or sun pads. Perfect for families and friends, her contemporary interior is welcoming and sleek, radiating coziness and luxury.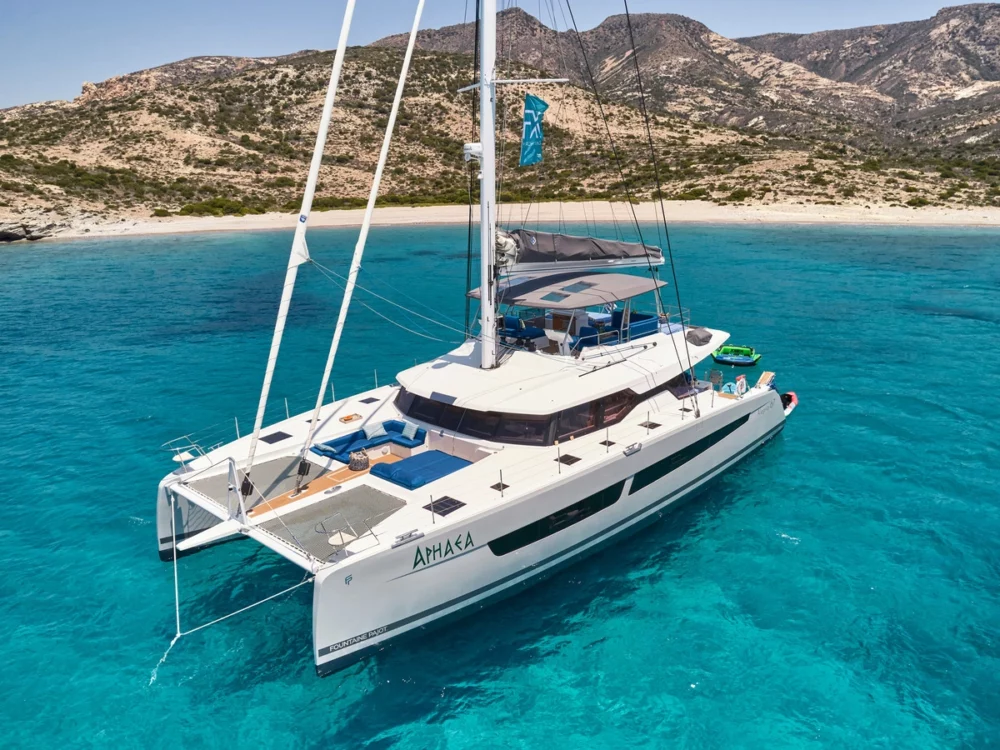 APHAEA features five cabins that accommodate up to ten guests, including a premium owner's suite. In addition, she boasts four opulent queen-sized cabins, each with a private bathroom. Moreover, the sailing catamaran APHAEA provides a host of comforts and amenities matched by few other yachts in its class.
Her flybridge and forward deck provide sunbathing and peaceful respite space, while the aft cockpit is ideal for socializing and dining. In addition, her gorgeous main salon provides a variety of seating and panoramic views of the outdoor scenery. Additionally, the captain, hostess, and chef will dote on all guest's needs, big or small. Of course, APHAEA promises to provide guests with a restful and pampered journey.

Key Features Aboard APHAEA
APHAEA accommodates ten guests in 5 suites
One master cabin with a queen-size bed (size between queen and king bed)
Four double cabins with queen-size beds, all with private bathroom facilities.
Modern, contemporary styling to suit all tastes
BBQ on the flybridge
Hydraulic Swimming Platform
Filtration system for drinking water (mineral & sparkling water)
Flybridge with multiple seating areas and sunbathing loungers
Large sun pads and trampolines on the foredeck
Indoor/outdoor main saloon leading to aft deck dining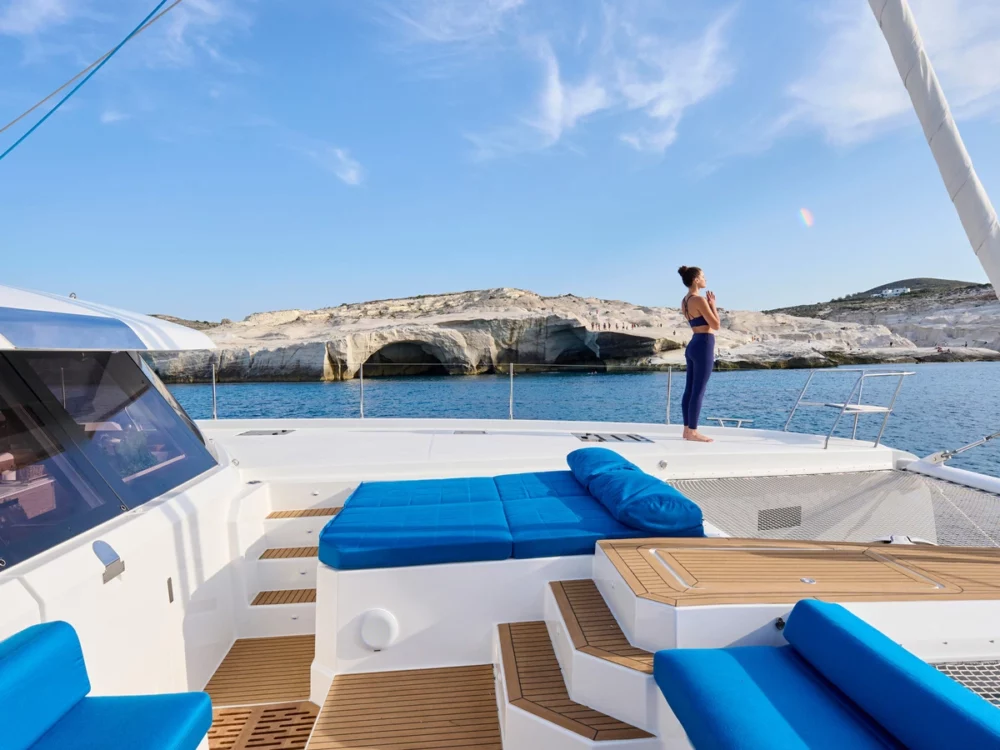 Water Toys
Tender Highfield 4,60 with 60 HP
Seabob F5 basic red (1)
Seabob F5 basic yellow (1)
Aqua Marina Steam 13'6″ Kayak – 2 pax (1)
Jobe Allegre 67" Combo Waterskis Red (1)
Jobe Vanity wakeboard with Maze boots (1)
Jobe Lunar Towable 3P (1)
Aqua Marina Fusion ALL-Around ISUP 330 (1)
Aqua Marina Fusion ALL-Around ISUP 315 (1)
Premium quality snorkeling sets (10)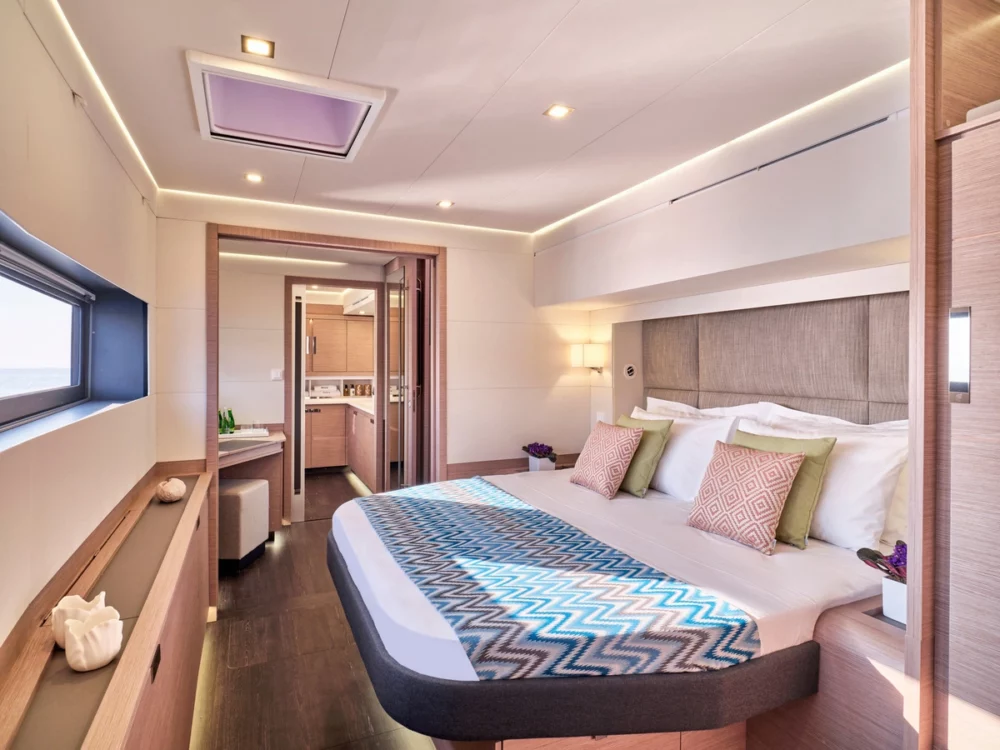 VALIUM 67 | Greece Catamaran Charter Yachts
VALIUM 67 is a spectacular 67-foot custom catamaran outfitted with five luxurious cabins to accommodate up to 10 people. Boasting an elegant yet understated design, it offers a private haven from which to explore the depths of the sea. Additionally, her airy interiors flow seamlessly into the exterior, creating a harmonious atmosphere enveloping all on board with warmth and comfort.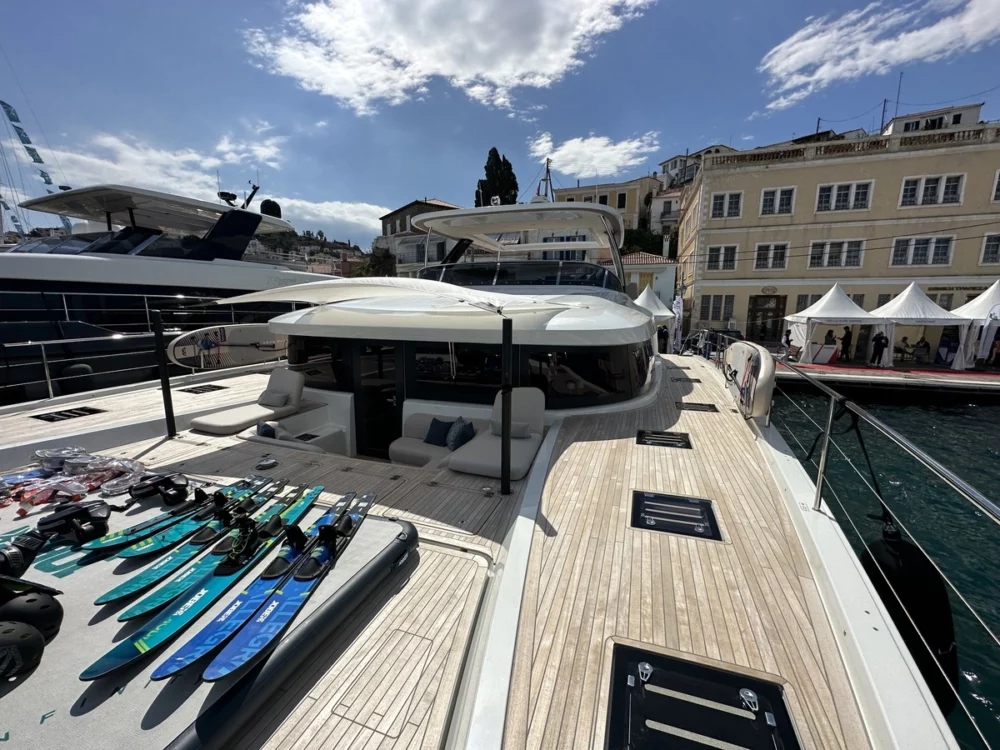 AETHER
AETHER, the 67-foot sailing catamaran, has 4 guest cabins for 8 guests that offer modern accommodations. Moreover, each of these cabins has a lot of living space and high-end finishes. This yacht offers a luxurious escape with its stunning flybridge featuring a sea terrace and a front cockpit with a jacuzzi.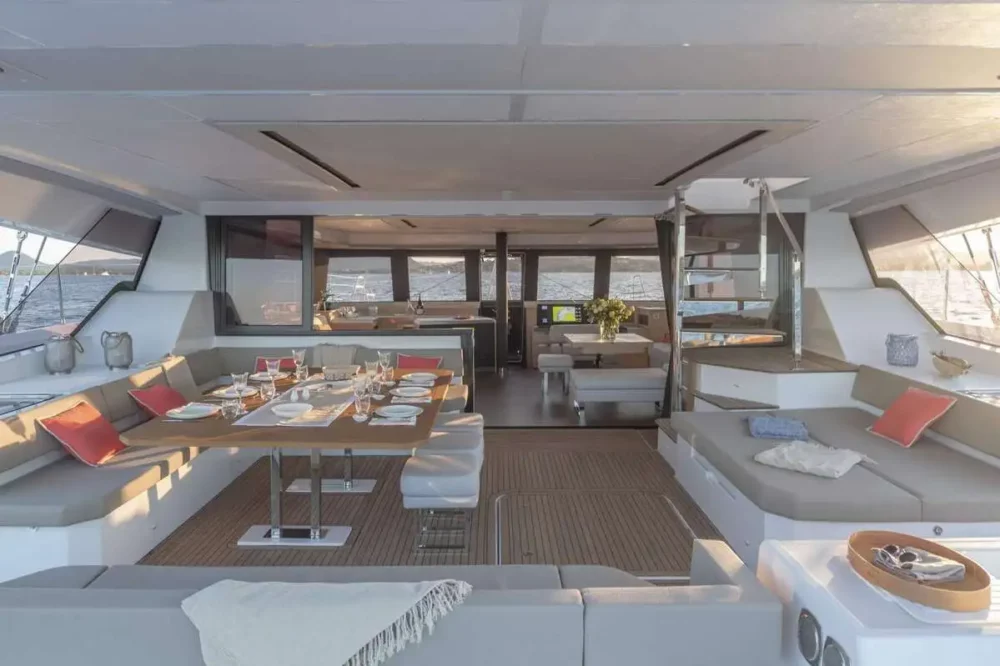 Destinations To Visit On Greece Catamaran Charter
The Cyclades Islands
Mykonos
Mykonos is a must-visit destination known for its vibrant nightlife, picturesque villages, and stunning beaches. It is perfect for those who love a cosmopolitan atmosphere. You can also spend the day walking around the island's cobblestone streets and enjoy the maze of small alleys.
Santorini
The iconic blue-domed churches and stunning caldera views make Santorini a picturesque destination that will leave you in awe. From Oia to Fira, the island's brilliant white buildings and colorful sunsets will be the highlight of your trip.
The Saronic Islands
Folegandros
This tiny island in the Cyclades is a hidden paradise with beautiful beaches. In addition, you'll find a charming whitewashed village filled with bougainvillea-covered streets and stunning views of the Aegean Sea.
Hydra | Greece Catamaran Charter
With no cars allowed, Hydra is the perfect destination for a serene getaway. Moreover, the island's traditional architecture and clear waters are irresistible. Additionally, you can rent a donkey and admire the stunning mansions that once belonged to the island's wealthiest residents.
The Ionian Islands
Corfu
Surrounded by the turquoise waters of the Ionian Sea, Corfu boasts a rich history reflected in its architecture. The island has lots to offer if you like culture and history. Visit the Old Fortress and the beautiful Palace of St. Michael and St. George.
Paxos and Antipaxos Islands
Located off the coast of Corfu, these islands offer stunning white sandy beaches and crystal-clear waters. They are perfect for swimming and snorkeling. Moreover, the smaller Antipaxos is also famous for its vineyards and wine tasting.
Methoni
Methoni is a small village on the southwestern coast of the Peloponnese. The village is famous for its medieval castle, beautiful sandy beaches, and turquoise waters, perfect for windsurfing and kitesurfing.
Mount Olympus
If you want to experience some of the best hiking in Greece, Mount Olympus is the place to be. Located in northern Greece, this mountain is famous for its natural beauty and mythology. Ancient Greek mythology believed it to be the home of the gods.
Things to Do on a Greece Catamaran Charter
Snorkeling and diving: The waters around the Greek Islands are teeming with marine life. Look for colorful fish, sea turtles, and dolphins.
Sunbathing and swimming: The sunny Greek Islands are perfect for soaking up rays and cooling off in the sea.
Water sports: On your Greek yacht charter, you can enjoy various water sports, such as wakeboarding, water skiing, kayaking, and paddleboarding.
Beach hopping: Enjoy many of Greece's beautiful beaches. Some can only be accessed by boat. So, anchor off the coast and take a dinghy ashore to explore the powdery white sands and crystal-clear waters.
Dining and nightlife: In the Greek Islands, you can find a variety of dining and nightlife experiences to suit any taste. From cozy tavernas serving fresh seafood to upscale restaurants and vibrant cocktail bars, there is something for everyone.
A Greece yacht charter is an unforgettable experience that allows you to discover some of the world's most stunning destinations. Whether you're looking for adventure or relaxation, Greece has it all. So, what are you waiting for? Book your Greece catamaran charter on APHAEA and set sail!
Please call us today at 1 (321) 777-1707 or describe Your Vacation Vision to help you plan your fully-crewed private luxury yachting vacation! Inquire as soon as possible about your custom, crewed yacht charter.
You make the memories. We make the arrangements.