One of our CKIM yacht charter brokers recently had the fantastic opportunity to sail aboard the 62′ Greek Catamaran SELENE! They sailed the Saronic Islands and were able to sample some of the services and experiences aboard the Lagoon 620 catamaran. Continue reading to discover what they loved about the trip, crew, and yacht herself!
Key Features of the Greek Catamaran SELENE
SELENE accommodates ten guests in five queen-bed air-conditioned cabins.
The aft cockpit on the main deck boasts large sliding glass doors. This creates an indoor/outdoor space for alfresco dining and entertainment.
Also, there are sun pads with a wet bar on the Greek Catamaran SELENE's starboard side.
Two stern staircases down either hull to easily access the water.
The foredeck has enough space to sunbathe with two sun pads in front of the helm station, plus two trampolines on the bow.
Her flybridge offers a comfortable dining area with a sun pad and plenty of space. She also boasts an L-shaped day bed that can convert to tables and seating.
Finally, she boasts a hydraulic swim platform for easy water access.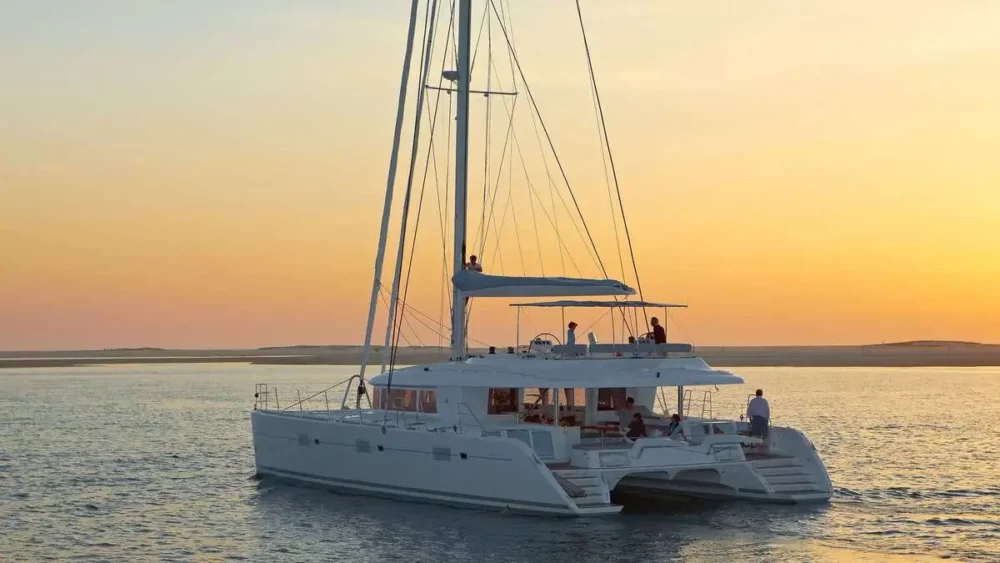 Water Toys | Greek Catamaran SELENE
15′ Tender with a 50 HP outboard engine
Wakeboard (1)
Waterski adult (1)
SUP (2)
SeaBob (2)
Fishing gear (1)
Snorkeling gear (10)
Kayak (1)
Inflatable donut (2)
Monoski (1)
Kneeboard (1)
Baby life jacket
Inflatable Tubes
Beach games
Extraordinary Cuisine | Greek Catamaran SELENE
Our brokers remarked that Chef George's culinary skills were truly outstanding. He skillfully prepared several Greek main dish favorites that delighted everyone's taste buds. Moreover, his expertise in seafood and shellfish resulted in some of the most delectable and memorable dishes they have ever enjoyed savoring.
The crew's dedication to providing a wonderful experience and Chef George's culinary talents made the brokers' time on the boat more enjoyable and memorable.
"The cleanliness of the boat and the delightful crew truly enhanced the overall experience. Captain Theodore Yiannisis, First Mate George, and Chef George were an exceptional team, and it was a pleasure to get to know them throughout the journey. As a warm welcome aboard, they treated us to a delightful family-style lunch, which set the tone for the rest of the trip."

CKIM Charter Broker Jennifer Huffman
Also, Jennifer prepared an authentic Japanese tea ceremony for the crew during the trip. Jennifer noted, "It was the first time such a ceremony had taken place on the boat, making it a unique and memorable experience for everyone involved."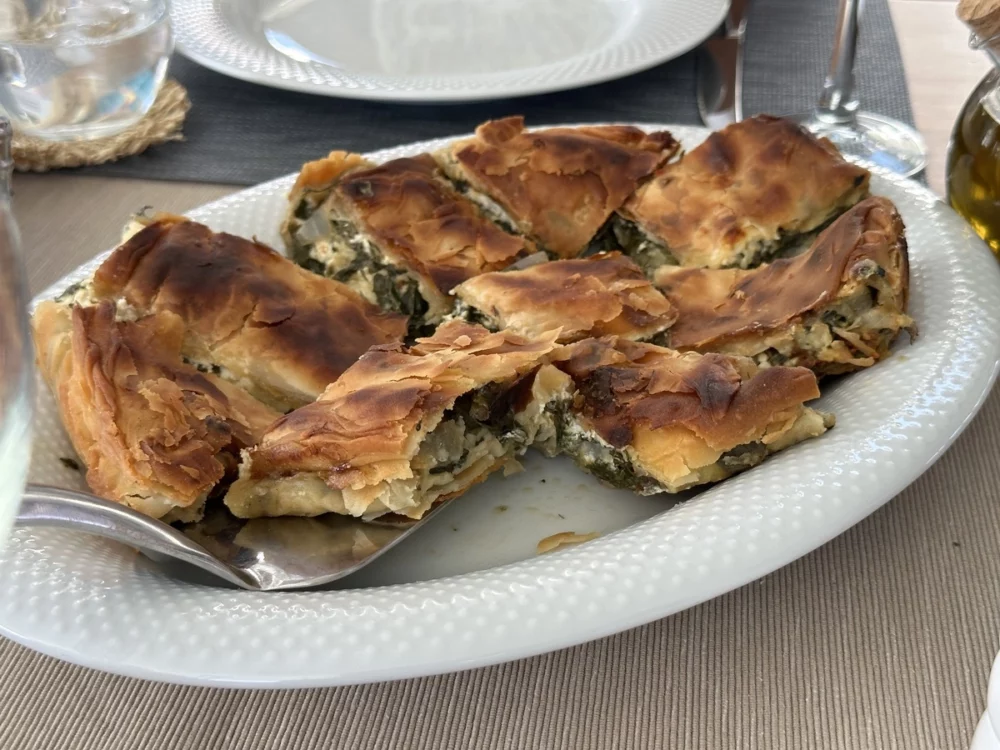 Sample Greece Charter Route Highlights
While your itinerary will be customized to suit your group's needs, below, we have pointed out a few great spots to consider visiting on your Greek charter.
Palaia Epidavros
Charming waterfront town with a rich history. The Theater of Epidaurus, a renowned ancient theater, is just a short 20-minute drive away from the picturesque port town. In addition, Palaia Epidavros boasts numerous other historical sites worth exploring.
Agistri Island | Greek Catamaran SELENE
Visiting Agistri is an absolute must-visit for its crystal-clear waters and serene atmosphere. Its pristine beaches and tranquil surroundings make it a paradise for nature lovers and those searching for relaxation.
Aegina
On the other hand, Aegina offers a delightful blend of beauty and culture. Stroll along the docks with quaint shops and cozy cafes while enjoying the stunning waterfront views. Additionally, Aegina is renowned for its locally grown pistachios and delicious treats, making it an ideal destination for indulging in culinary delights as you explore this charming city.
Poros
Sail from Aegina to the picturesque island of Poros. Here, you can spend the day exploring the town's narrow streets, visit the clock tower, and relax at one of the waterfront cafes.
Hydra
Cruise to the stunning island of Hydra, known for its charming harbor and absence of motorized vehicles. Here, you can enjoy a leisurely walk through Hydra Town, visit historical museums, and indulge in local seafood.
Dokos and Ermioni on Charter Catamaran Selene
Sail to the small and secluded island of Dokos, where you can snorkel or swim in its pristine waters. In the afternoon, head to Ermioni, a quaint fishing village with a relaxing atmosphere.
Spetses
Next, you can head to the lively island of Spetses, famous for its elegant architecture and vibrant nightlife. Rent bicycles to explore the island's pine-scented trails or visit the Bouboulina Museum, dedicated to a heroine of the Greek War of Independence.
The combination of history, natural beauty, and local cuisine makes a Greece charter an incredible vacation.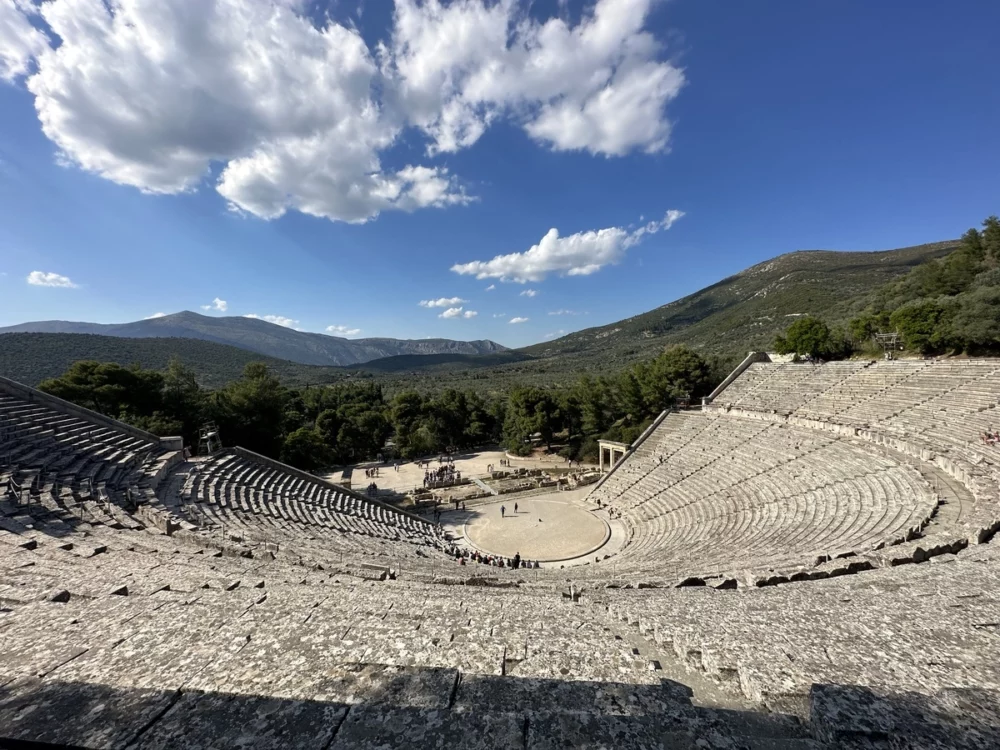 Top Activities To Enjoy on Greek Catamaran SELENE
Swimming and Snorkeling
The Saronic Islands boast crystal-clear waters, which make them ideal for swimming and snorkeling. Explore the underwater world filled with colorful marine life, hidden caves, and beautiful rock formations.
Visiting Historical Sites from Charter Catamaran Selene
Each island in the Saronic Gulf has a rich history and is home to ancient ruins and landmarks. Specifically, don't miss the Temple of Aphaia on Aegina, the clock tower in Poros, and the Historical Archive Museum on Hydra.
Enjoying Local Cuisine
In addition to your chef-prepared meals, you can sample delicious Greek cuisine at the island's tavernas. Taste fresh seafood, local delicacies, and specialties like Aegina's pistachios or Spetses' almond sweets.
Hiking and Biking
Many islands have beautiful hiking trails and cycling routes that take you through scenic landscapes and offer breathtaking views of the Aegean Sea. What's more, your yacht crew will arrange everything you need to hike or bike the
Kayaking and Paddleboarding
Calm waters and hidden coves are great opportunities to perfect your watersports skills. Undoubtedly, our charter brokers had a great time traversing the shoreline while getting a light workout.
Our team had a great time aboard the Greek Catamaran SELENE, sailing some of the Greek Islands. And we know you will too! Contact us today to find out how to book your Greek Yacht Charter Vacation.
Please call us today at 1 (321) 777-1707 or describe Your Vacation Vision to help you plan your fully-crewed private luxury yachting vacation! Inquire as soon as possible about your custom, crewed yacht charter.
You make the memories. We make the arrangements.