Awesome Nightlife and Bars in Croatia
Croatia is well-known for its vibrant nightlife and great bars. From Split's lively clubs to the coastal towns' relaxed atmosphere, Croatia has no shortage of places to party. Want to dance the night away?
Have a few drinks with friends? You'll find the perfect place on the coast and islands of Croatia. Here are a few of the top places to party.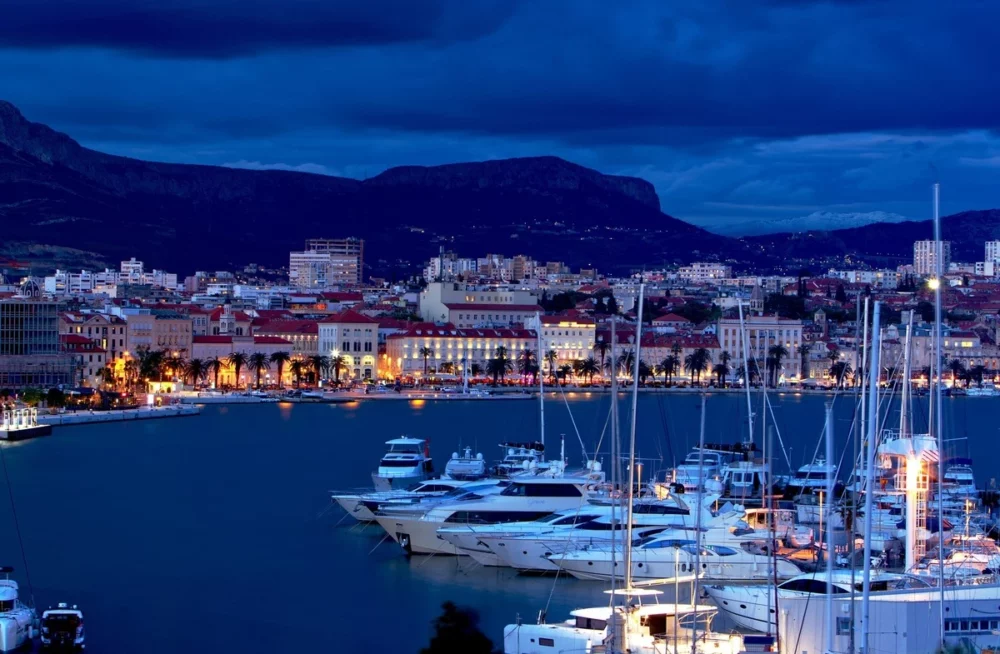 Carpe Diem Bar in Hvar
Carpe Diem is a club/lounge bar in Hvar City (right across the catamaran dock). It is the town's hot spot for cocktails and parties every night until 2 am.
The bar is located right at the harbor of Hvar, on an open-air seafront terrace surrounded by an enchanting sea view, palm trees, and ancient stone. It is the perfect place for excellent lounge music, a gentle Mediterranean breeze, and the finest cocktails.
Brunch is served every day from 10 am to 1 pm. Relax with a glass of champagne, a stunning view, tunes, and the gentle Mediterranean breeze.
For a fantastic Croatia beach party, head to Carpe Diem Beach, a beach club at Paklinski Island. It's a 10-minute boat ride from Hvar town, where you can chill during the day and party at open-air After Beach and Night Parties.
Club Revelin in Dubrovnik
Nightlife in Croatia doesn't get any better than at a medieval fortress! Culture Club Revelin is in a remarkable 500-year-old medieval fortress. You won't want the party to end when you hear the sound and rhythms created by world-class DJs and top-chart performers. Enjoy live performances from artists all over the world.
Book tickets for live performances on their website. Set in impressive stone rooms, you will enjoy a special night at Culture Club Revelin.
Croatian drinking age: The legal age to purchase alcohol in Croatia is 18.

Luxury Yacht Charters
The menu is also unique, with modern Croatian dishes created from seasonal ingredients. Dance into the wee hours with fantastic drinks from the bar, prepared by expert mixologists. With a capacity of up to 2,000 people, Club Revelin in Dubrovnik has everything you need for an exciting night in Croatia.
The Jungle Club in Korcula
The Jungle Club is known as the party destination and nightclub on the island of Korčula. The nightclub is just under 2 miles from Korčula town. It comprises a largely al-fresco series of terraces and awnings with VIP areas, three bars, and plenty of room to circulate and mingle.
This venue is surrounded by lush Mediterranean greenery and can hold up to 1000 people, making it an ideal place to celebrate all night. A long list of drinks and cocktails is served amid palm trees, cacti, drapes, and colored lights—International DJs, themed events, and festivals all summer.
Steel in Rovinj
The cafés at the northwest end of Rovinj harbor, such as the cocktail bar Valentino, are great for sundowners. After dark, head to Steel, the premier nightclub in Rovinj. Music concerts and DJ-led nights with music ranging from house and techno to Latin, rock, pop, and hip hop.
Aquarius Club in Zadar | Nightlife and Bars in Croatia
Croatia's nightlife is at its finest at Aquarius, one of Zadar, Croatia's most popular nightlife spots. Located right on the waterfront, this club offers a great view of the Adriatic Sea and Old Town Zadar. Aquarius is open all year round, and it's always buzzing with activity.
The music selection ranges from top 40 hits to house and techno classics, so there's something for everyone here. The bar serves a variety of alcoholic and non-alcoholic beverages, including some delicious cocktails. The staff is friendly and accommodating, and the atmosphere is lively and upbeat. Whether you're looking for a place to dance the night away or just a casual drink, Aquarius has something for you.
How do you say good night in Croatian?

"good night" in Croatian is laku noc

Luxury Yacht Charters
Paradiso in Pag
Located on the beautiful island of Pag, Paradiso is one of the top spots for nightlife and partying in Croatia. This open-air club has a laid-back atmosphere and stunning views of the Adriatic Sea. The music ranges from EDM to house, techno, and other genres, making it the perfect spot to let loose and have fun.
The venue also features multiple terraces and a VIP area, allowing guests to experience the music more intimately. With a pool, beach, and plenty of delicious food options, Paradiso will surely be the highlight of your Croatian getaway.
Punta Christo in Porec | Nightlife and Bars in Croatia
Located on the east coast of Istria, Punta Christo is a destination for anyone looking for the ultimate party experience. This lively beach club is well-known for its outdoor dance floor, a massive outdoor stage, and plenty of bars to keep everyone hydrated during their visit.
During the day, guests can relax and sunbathe on the beach or take advantage of the multiple swimming pools. At night, Punta Christo becomes one of Croatia's most exciting nightlife destinations with international DJs and performers worldwide.
Kantun Pauli in Trogir
Trogir is home to one of the best nightlife spots in Croatia, Kantun Pauli. Located in an old historic stone building, Kantun Pauli has been a favorite for party-goers for over a decade. Featuring nightly live performances by local bands, DJs, and even magicians, it's a great place to relax and have some fun.
The club also features two spacious terraces overlooking the harbor and nearby islands, making it the ideal place to watch the sunset while sipping a cocktail. With several bars throughout the venue, there's no shortage of drinks. The club hosts popular theme nights and events such as karaoke.
Babylon Beach Club in Stari Grad
If you're looking for an unforgettable nightlife experience on the islands of Croatia, then Babylon Beach Club in Stari Grad is the perfect spot. Located in a quiet cove near the island of Hvar, this beach club offers a unique and unforgettable atmosphere. The breathtaking views and lush surroundings make it an ideal place to kick back and relax after a long day of sightseeing.
The party starts to pick up in the evening, with DJs spinning international tunes. The beach bar offers amazing cocktails and delicious food.
The atmosphere at Babylon Beach Club is electric and contagious, with live music performances and plenty of dancing. There is also a VIP area for a more luxurious experience.
Nightlife and Bars in Split, Croatia
Split, Croatia, the nightlife is one of the top draws for this Mediterranean city. Young people worldwide flock to Split to party at some of Croatia's best clubs and bars. The summer months are especially popular. Many of these are in and around the city center. Here are just a few places to see and be seen:
Charlie's Bar. In the heart of Diocletian's Palace, Charlie's is where the younger crowd lets loose. Extended happy hours, themed parties, and drinks like "Croatian Rocket Fuel" make your night unforgettable.
Vanilla. This indoor and outdoor party spot is a local favorite. During the summer, the club has a mix of locals and tourists. Most of the music played is house, hip-hop, and R&B. Vanilla hosts some of the most famous Croatian singers, like Doris Dragović and Severina.
Academia Club Ghetto. This hidden gem is a small nightclub in the southern part of the Diocletian Palace. The bar area has an original design with the atmosphere of an underground club.
Please call us today at 1 (321) 777-1707 or describe Your Vacation Vision to help you plan your fully-crewed private luxury yachting vacation! Inquire as soon as possible about your custom, crewed yacht charter.
You make the memories. We make the arrangements.