Best Beaches and Bays in Croatia
Your luxury yacht charter along the Croatia coastline will take you to many exciting destinations. If you're looking for some of Croatia's best beaches and bays, you've come to the right place! Croatia has some of the most stunning beaches and bays in Europe.
We've compiled a list of the best beaches and bays in Croatia that you must visit.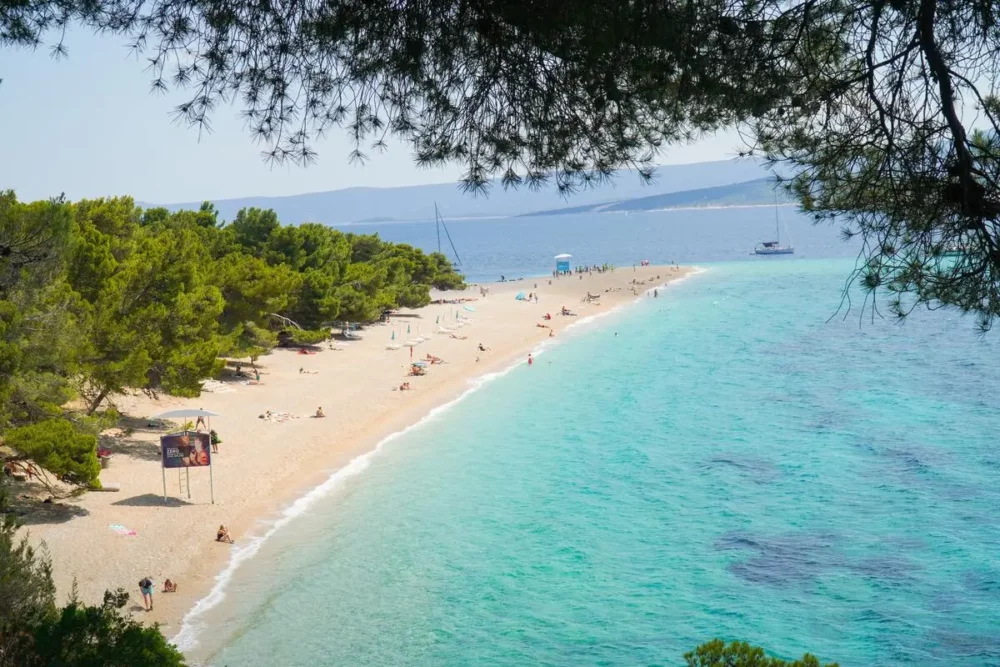 Zlatni Rat
This remarkable beach is undoubtedly one of the most beautiful Croatia beaches and is located on Brac, just a short sail from Split. Often called the most photographed beach in Croatia, Zlatni Rat translates to "Golden Horn." It is well-known for its unique shape, featuring a strip of pebbles stretching like a tongue into the Adriatic Sea. It is often called the "most photographed beach in Croatia."
The clear waters of the Adriatic Sea provide excellent opportunities for swimming, snorkeling, kayaking, and paddle boarding. Visitors enjoy the beach's many sun loungers, umbrellas, and other amenities. With its stunning scenery, variety of water sports, and stunning sunsets, Zlatni Rat is an excellent choice for families, couples, and travelers of all ages.
Winds, waves, and sea currents constantly change Zlatni Rat's shape, resulting in a fascinating appearance. This location is a protected natural area and a favorite spot for surfers and kite surfers from around the globe.
The beach is just over a mile from Bol. You can reach the beach by car or a 20-minute walk along the sea. Anchoring off of Zlatni Rat is prohibited.
Divna, Peljesac Peninsula
Divna Beach is located on the Pelješac peninsula in Croatia, making it an excellent destination for those seeking to explore the beautiful coast of this country. This beach is considered one of Croatia's most beautiful and secluded beaches. It is a sandy beach with clear blue waters.
There are no facilities at Divna Beach, so you should be prepared to bring your food and drink if you plan to spend any time there. However, the crystal-clear waters and amazing views make this beach worth the effort.
The shoreline at Divna Beach consists of fine sand, providing a comfortable place to sunbathe and relax. Several boulders also create exciting spots to explore and take photos.
Bacvice Beach, Split
Bačvice Beach is a stunning sandy beach located in Split. This beach has been a popular destination for locals and tourists for many years and continues to attract visitors worldwide. The beach is characterized by its crystal clear blue waters, soft sand, and beautiful views.
Located in the heart of Split, this beach is easily accessible via foot or public transportation. You can also reach Bačvice Beach by boat, as the beach is directly connected to the port of Split.
Soak up the sun, go swimming, or relax; Bacvice Beach has something to offer everyone. For those looking to explore the surrounding area, Bačvice Beach is within walking distance of many of the city's historical sites, including the Diocletian Palace and Cathedral of Saint Domnius. Additionally, several restaurants, cafes, and bars nearby offer a wide range of food and beverages.
Sveti Jakov Beach, Dubrovnik
Sveti Jakov Beach, one of the best beaches in Dubrovnik, is in a tiny bay in the eastern part of Dubrovnik Town. It is a nice pebble beach with distant views of Dubrovnik Old Town. In the summer, this is a trendy gathering spot for locals.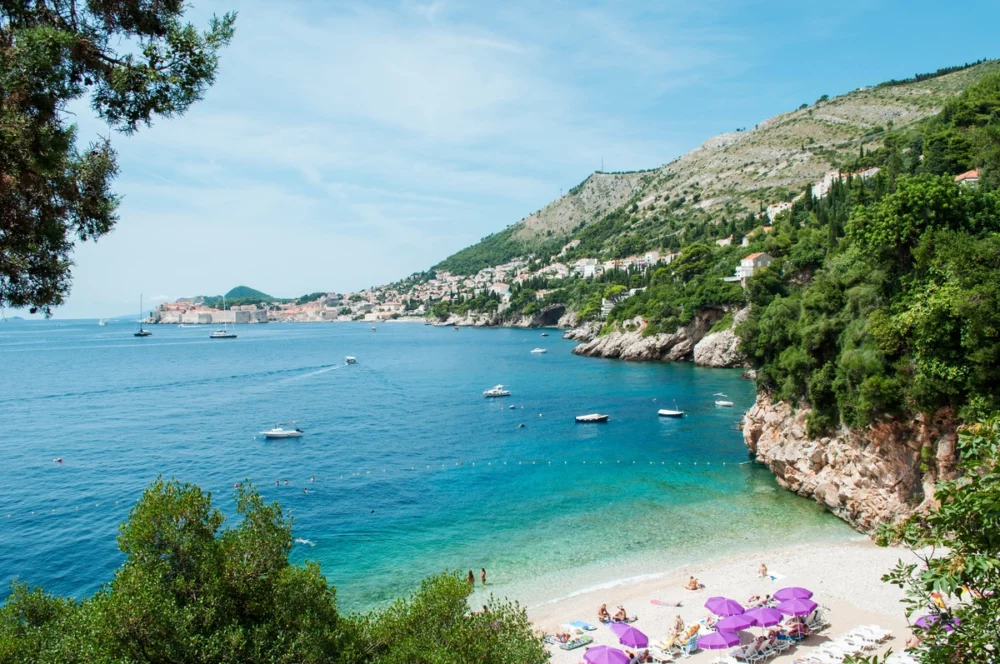 Copacabana Beach, Dubrovnik
Sailing the Dalmatian Coast takes you to Split, Trogir, Dubrovnik, and Vis Island. All of these destinations have some great beaches. In Dubrovnik, Copacabana Beach is a small, relatively secluded pebbly beach in a quiet bay around just around the coast from Dubrovnik Old Town. Lovely crystal clear waters invite you to take a dip.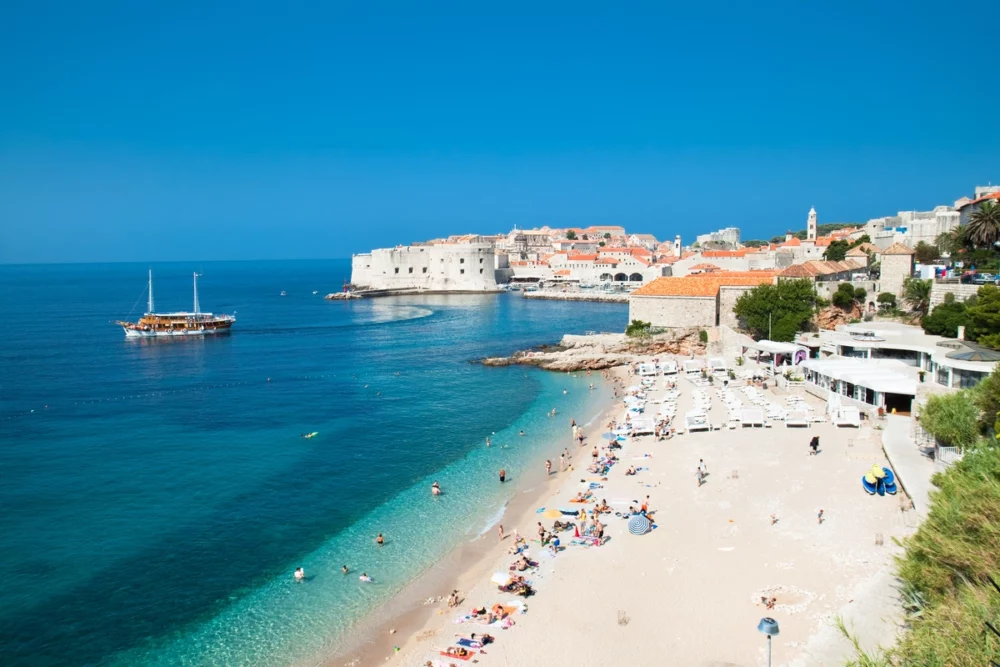 Rovinj
Rovinj is a city on the western coast of Croatia, boasting panoramic views of the Adriatic Sea. This popular tourist destination has plenty of fantastic beaches and coves to explore. Here are some of the best beaches in Rovinj, Croatia:
Monte Beach: Located at the southern end of Rovinj, Monte Beach is a popular spot for swimming and sunbathing. The beach offers a great atmosphere and crystal-clear shallow waters, making it an excellent spot for snorkeling. The beach also has a café serving snacks and drinks.
Cuvi Beach: Cuvi Beach is close to the old town of Rovinj and offers a relaxing atmosphere with plenty of space to sunbathe. The beach has a nice mix of sand and pebbles. The nearby cafe serves food and drinks all day, perfect for refueling after swimming.
Valalta Beach: Valalta Beach is in the northern part of Rovinj. The beach has golden sand and crystal-clear waters, making it a terrific spot for beach combing and swimming. Several restaurants are nearby, so you can enjoy delicious meals with a stunning view.
St. Catherine Beach: St. Catherine Beach is near the old town of Rovinj and is a lovely spot to spend a day. The beach offers clear waters and various activities, including sailing, windsurfing, and scuba diving. There are also plenty of restaurants close by serving traditional Croatian cuisine.
Mulini Beach: Mulini Beach is in the northern part of Rovinj and is an excellent beach for swimming. The beach offers crystal-clear waters and an excellent selection of restaurants and cafes. There are also plenty of activities to enjoy here, such as sailing, windsurfing, and beach volleyball.
Hvar
The island of Hvar is located off the coast of Dalmatia. With its stunning coastal scenery, shimmering waters, and picturesque towns, Hvar is also an ideal destination for beach-goers looking for the perfect spot to lay a beach towel and soak up the Mediterranean sun.
Hvar boasts several incredible beaches that are sure to please any visitor. The most popular beach on the island is Dubovica, located near the town of Jelsa. It is a long stretch of sandy beach with transparent waters and plenty of umbrellas and lounge chairs to rent.
If you're looking for a secluded beach, head to Jerolim Island. This tiny island features two stunning beaches perfect for sunbathing and swimming in tranquil waters. It is a traditionally famous nude area.
Another great beach is Lucisca, located on the southern side of Hvar. It is a long, sandy beach with stunning views of nearby islands.
For those looking for an active beach, check out Sveta Nedjelja Beach. This windy beach has good windsurfing conditions and incredible views of the nearby Pakleni Islands.
Saplunara Beach, Mljet Island
The nearly mile-long cove has two sandy beaches. Since it is also the largest remaining coastal sand habitat in Croatia, home to several plant species that exist nowhere else in Croatia, it is a protected area.
It is said that St. Paul the apostle was shipwrecked nearby in 61 AD. In addition, he spent three months here preaching the Gospel.
The beach is large and made of white pebbles and sand, giving it a unique texture. The surrounding area is full of lush greenery, including pine trees, cypresses, and rolling hills that offer a breathtaking view of the sparkling blue sea. There are several places to eat nearby, including restaurants, cafes, and snack bars.
Saplunara Beach is ideal for swimming and sunbathing, but there are plenty of activities to enjoy on and around the beach. Kayaking and windsurfing are popular in the waters of Saplunara Beach, while hiking and biking are great options for exploring the island's many trails and sights.
Porat Beach, Vis Island
Porat Beach is another stunning beach in Croatia, located on the island of Vis in the Adriatic Sea. It is between two rocky cliffs and offers breathtaking bay views and distant islands. The beach is secluded, surrounded by a pine forest and rugged limestone cliffs. Its crystal clear waters make it an ideal destination for swimming, snorkeling, and scuba diving.
Accessible only by boat, Porat Beach is perfect for those looking for a private, peaceful setting. You can reach the beach from Split or Vis town by taxi or private boat charter. Bring drinks and snacks since there are no beach bars or restaurants nearby.
Stiniva Beach, Vis Island
If you're looking for an idyllic and secluded beach, Stiniva Beach on Vis Island is perfect. This captivating beach has crystal clear waters, white pebbles, and dramatic cliffs that provide a scenic backdrop. It's so secluded that the only way to reach it is by boat.
The beach made of smooth pebbles, making it a great spot for sunbathing. The clear waters are excellent for swimming, snorkeling, and other water activities. Stiniva Beach also known for its stunning sunsets, which make it even more romantic and enchanting.
You can get to Stiniva Beach by boat from Vis Island or nearby islands. Once you arrive at the beach, there are no amenities, so you must bring your food and drinks.
Rajska Plaza (Paradise Beach), Rab Island
Rajska Plaza (Paradise Beach) on the Eastern side of the island of Rab in a secluded bay surrounded by tall cliffs. The beach features crystal clear waters, golden sand, and spectacular views of the surrounding islands and mountains. This beach offers plenty of space for swimming, snorkeling, and sunbathing. There are also several restaurants and cafes in the nearby village for those who want to take a break from the beach.
You can easily reach Rajska Plaza by boat or car. Moreover, if you're driving, the journey is around 30 minutes from the main port of Rab Island. Once you arrive at the beach, plenty of parking space is available.
Rajska Plaza, with a gorgeous beach, should not be missed when visiting Rab Island in Croatia. It offers a perfect combination of seclusion, beauty, and relaxation in a picturesque setting.
Please call us today at 1 (321) 777-1707 or describe Your Vacation Vision to help you plan your fully-crewed private luxury yachting vacation! Inquire as soon as possible about your custom, crewed yacht charter.
You make the memories. We make the arrangements.