Yacht charter scuba diving vacations allow you to explore a different side of your charter destination. While some days you may enjoy the wonders of the land and ocean breezes, other days you'll want to explore an entirely different world – below the sea. Charter guests consistently remark that scuba diving was the highlight of their charter.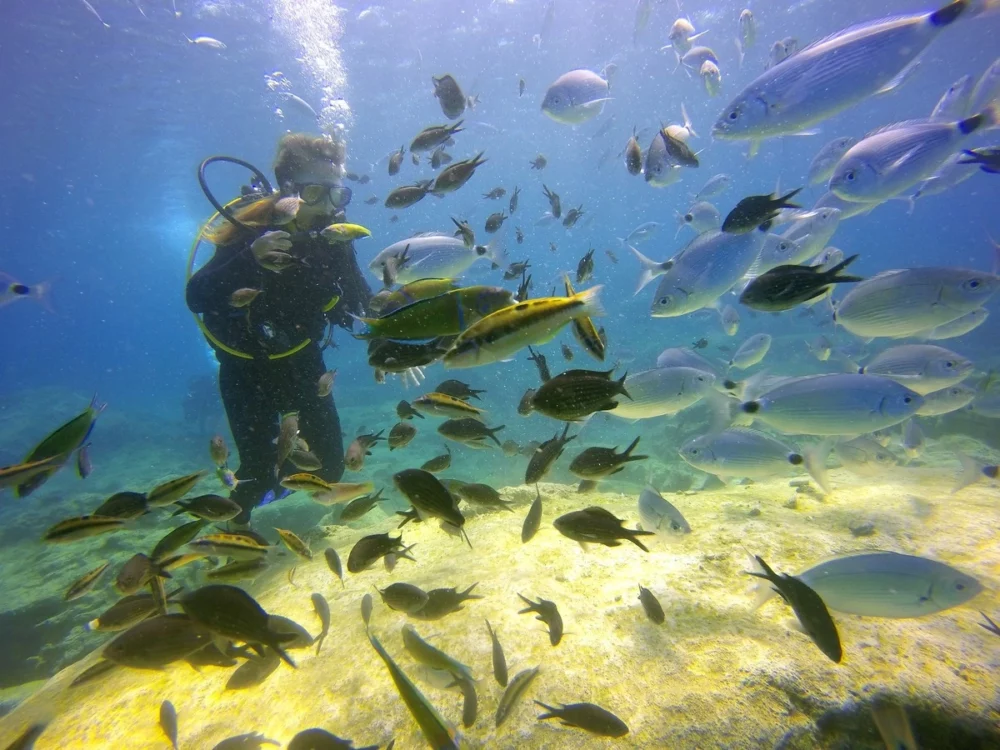 Why Take a Scuba Yacht Charter?
You will experience some of the best diving sites while enjoying your private yacht's luxurious amenities. Forget those short boat rides from the land. For those who want to experience the undersea world, consider venturing to hard-to-get-to-locations by a private yacht.
There's nothing quite like diving from the deck of your private charter yacht. In addition to the exclusive services, you have no pre-determined schedule to fit into. Plus, you get to sample those off-the-beaten-track dive sites.
You will experience such convenience and ease as your yacht will anchor right at the dive site or nearby waters, where your dive experience is only a short dinghy ride away. Scuba diving provides you with incredible memories of your charter, not to mention a lot of excitement, fun, and adventure!
Scuba Diving Yacht Charters
Luxury Yacht Charters offers you an assortment of scuba diving yachts for your luxury yacht charter vacation. From catamarans and sailing yachts to motor yachts, these luxury yachts charter all around the globe. Wherever you imagine yourself scuba diving, we will have the perfect yacht.
Top Scuba Diving Locations
Embarking on a yacht charter holiday and seeking top scuba diving spots? Here are some must-visit locations:
Bahamas
Dive into the turquoise waters of the Bahamas and explore breathtaking underwater landscapes. Encounter vibrant coral reefs, marine life, and intriguing blue holes. The Bahamas offers many captivating dive sites that cater to divers of all experience levels. Here are some notable dive sites in the Bahamas:
Andros Island: Explore the world's third-largest barrier reef, which stretches over 190 miles (305 kilometers). Andros Island is renowned for its impressive blue holes, such as the famous Blue Hole National Park and the mesmerizing Stargate Blue Hole.
Exuma Cays Land and Sea Park: Dive sites like the Washing Machine and the Crack are known for their strong currents, offering thrilling drift dives.
The Abacos: Discover the underwater wonders of the Abacos, including the vibrant coral reefs of the Elbow Cay National Park and the popular dive site called the "Cathedral."
Nassau and New Providence: Just a short distance from Nassau, the capital city of the Bahamas, lies various captivating dive sites. Explore the iconic James Bond wrecks, such as the Tears of Allah and the Vulcan Bomber, or visit the thrilling Shark Wall at Stuart Coves.
Caribbean | Scuba Diving Vacations
The Caribbean's diverse dive sites make it a place every diver should visit. From the vibrant reefs of the Cayman Islands to the mysterious cenotes of Mexico, each island offers unique underwater experiences.
Grenada offers an array of dive sites, including the world-famous underwater sculpture park, where you can explore unique sculptures amidst colorful marine life. The island also has captivating shipwrecks to explore.
St. Croix, in the U.S. Virgin Islands, features a variety of dive sites suitable for all skill levels. The reefs surrounding the island are teeming with marine life, and the wreck of the RMS Rhone is a must-visit for wreck diving enthusiasts.
Belize
Belize is a diver's paradise with the iconic Great Blue Hole, a massive underwater sinkhole surrounded by a stunning coral reef. The country also offers numerous other dive sites, including the Belize Barrier Reef Reserve System, a UNESCO World Heritage Site.
Greece | Scuba Diving Vacations Historical Sights
Explore the Mediterranean treasures of Greece and dive into ancient history. Discover underwater archaeological sites and fascinating caves. Some sites include the Marianna shipwreck, Psilos Kavos, and Kassandra shipwreck.
According to PADI, there are 165 dive sites around Greece, of which 86 are Reef dives, 66 are Wall dives, and 32 are Beach dives.
Croatia
Dive into the Adriatic Sea along Croatia's stunning coastline. Discover healthy marine ecosystems, underwater caves, and sunken shipwrecks that offer an intriguing glimpse into the country's maritime history.
According to PADI, there are 41 dive sites around Croatia, of which 27 are Reef dives, 13 are Wall dives, and 12 are Wreck dives.
Turkey
Experience the beauty of Turkey's coastal regions and dive into the Mediterranean or Aegean Sea. Encounter fascinating marine biodiversity, explore ancient ruins, and discover hidden underwater caves.
According to PADI, there are currently 53 dive sites listed around Turkey, of which 23 are Reef dives, 16 are Wall dives, and 11 are Cave dives.
The Galapagos
Ecuador's Galapagos Islands are a UNESCO World Heritage site and offer extraordinary diving opportunities. Dive with marine iguanas, sea lions, penguins, and schools of hammerhead sharks in the nutrient-rich waters of this pristine archipelago.
Fiji
Fiji is known for its vibrant coral reefs, soft coral gardens, and diverse marine life. The nutrient-rich waters attract many species, including manta rays, turtles, reef sharks, and colorful fish. With various groups of islands, there are many great places to visit on a Fijian yacht charter vacation.
French Polynesia | Incredible Scuba Diving Vacations
French Polynesia, including popular destinations like Bora Bora and Tahiti, is renowned for its crystal-clear waters and rich marine biodiversity. Dive with sharks and manta rays, and explore coral gardens in this tropical paradise.
Each destination has its charm, so choose based on your preferences and the time of year you plan to travel. Remember to prioritize safety and comply with local diving regulations. Your captain will arrange an incredible scuba diving vacation from a yacht.
Customized Dive Experience
In collaboration with Aqua Safari Adventures scuba services, we offer a customized dive experience on your yacht charter vacation. This is the perfect option for those concerned with diving in an unfamiliar location, who have never dived and want to learn, or for those who want to ensure they hit all the best dive spots.
We will arrange for a certified dive instructor from Aqua Safari Adventures to be your dive guide during your scuba yacht charter vacation. They will take care of all your diving needs giving you the best possible dive experience.
Your dive guide will come aboard as a crew member and coordinate your charter itinerary with the captain. You'll never go wrong with a scuba yacht charter if you're interested in colorful coral, tropical fish life, wall diving, and shipwrecks.
A customized yacht charter vacation ensures everything is set according to your preferences. Before heading out on your yacht charter vacation, you can consult with your dive guide, ask questions and discuss your concerns so that you can take a customized yacht charter vacation.
Interested In Becoming Scuba Certified?
Your professional dive instructor has the expertise to lead such coursework and can take you through becoming scuba certified.
It is all within your reach, and it is all up to you!
Whether you want to earn scuba certification or enjoy one of the exciting Scuba diving vacations on a yacht charter, we will make it happen.
Please call us today at 1 (321) 777-1707 or describe Your Vacation Vision to help you plan your fully-crewed private luxury yachting vacation! Inquire as soon as possible about your custom, crewed yacht charter.
You make the memories. We make the arrangements.