Why should you take a yacht charter in Greece? The Greek islands are famous worldwide, attracting tourists from all over the globe thanks to their unique culture and charm. Yacht charters in Greece combine the luxury of a floating resort with the freedom to do as you please.
Explore the depths of ancient history. Embark on a journey to uncover the island's abundant churches and monuments. You'll find an attraction suited to your preferences. And there's the added opportunity of luxury yacht charters available for those seeking an exclusive experience!
Are you feeling the call of adventure? It's time to visit Greece! Step onboard, enjoy the sunshine and forget about your mundane life as your crew takes care of everything.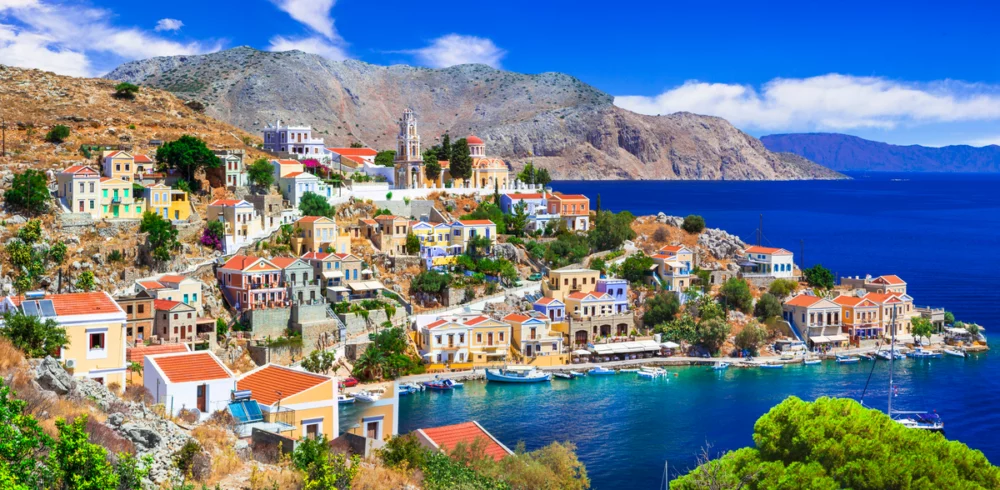 Discovering the Sailing Areas | Yacht Charters in Greece
You can choose from six cool sailing areas when planning your island-hopping yacht charter vacation in Greece. Forthwith, you'll find its unique charm and attractions:
Ionian Islands
Situated in the western part of Greece, the Ionian Islands boast lush green landscapes, serene waters, and a relaxed atmosphere. This region on the Ionian Sea includes destinations such as Corfu, Lefkada, and Zakynthos. You can access all of them by boat.
Often called the "Emerald Isle," Corfu boasts a rich history. Lefkada boasts Venetian architecture and a vibrant culture. Furthermore, it is renowned for its windsurfing opportunities. Likewise, it features stunning beaches like Porto Katsiki.
Meanwhile, Shipwreck Beach and its role as a nesting site for loggerhead sea turtles are well-known features of Zakynthos.
Saronic Islands
Located close to Athens, the Saronic Islands provide easy access from the Greek capital. You can explore islands such as Aegina, Poros, and Hydra here.
Aegina boasts the beautiful Temple of Aphaia and delightful pistachios. Poros offers charming streets, a history museum, and Love Bay Beach. Meanwhile, car-free Hydra charms visitors with stone-paved streets, donkey rides, and the Historical Archive Museum.
Cyclades
The Cyclades Islands include iconic destinations like Santorini, Mykonos, and Naxos. They are famous for their distinctive white-washed villages, stunning beaches, and vibrant nightlife.
Santorini's volcanic landscape and romantic ambiance make it a sought-after honeymoon destination. Meanwhile, Mykonos lures travelers with its high-end boutiques, bustling nightlife, and beautiful beaches.
While planning your Cyclades escapade, avoid July and August unless you don't mind crowded ferries and higher prices.
Sporades
The Sporades Islands are in the northern Aegean Sea. They are famous for their green landscapes and pristine waters. Skiathos, Skopelos, and Alonnisos are part of this charming group.
Skiathos offers picturesque beaches and boasts a lively town. Skopelos, famous for its natural springs, invites relaxation at Loutraki Thermal Spa. Alonnisos, home to the Alonissos National Marine Park, offers excellent diving opportunities.
Dodecanese
The Dodecanese Islands, close to the Turkish coast, feature historical sites, beautiful beaches, and authentic Greek culture. Rhodes, the largest of the island group, boasts the Palace of the Grand Master and the medieval Old Town. Kos, the birthplace of Hippocrates, offers attractions like the Castle of Antimachia and the Roman Odeon Theater.
Exciting Activities | Yacht Charters in Greece
The possibilities for adventure and relaxation are endless with a yacht charter in Greece. Moreover, while onboard, you can unwind, bask in the luxury, and savor the stunning views in excellent sailing conditions. You'll avoid the hassles of traffic jams and long lines at crowded tourist attractions.
Yacht charters in Greece take you to crystal-clear waters, perfect for diving and various water sports. The Greek islands offer multiple opportunities for activities like snorkeling, sea kayaking, or hiking.
Furthermore, with numerous islands within easy reach of Athens, you can tailor your Greek island experience to your preferences. A luxury yacht charter lets you lounge on a secluded beach, explore ancient ruins, or visit charming villages.
Luxury Aboard Your Yacht
Yacht charters in Greece are a haven of luxury, relaxation, and breathtaking scenery. Indeed, pampering awaits you. Your excellent crew is there to care for everything, ensuring your trip is out of this world.
The crew's attention to detail ensures comfort and convenience during your trip. For instance, they will stock your bar and provide fresh towels and linens.
Meals onboard yacht charters in Greece are a delightful affair. Your chef will craft delectable dishes, snacks, and drinks daily. You can choose whether your mealtimes are casual or formal.
You can also choose whether you dine beneath starlit skies on deck or in the romantic ambiance of candlelight indoors. Rest assured that every culinary experience will be exceptional.
Available Yacht Types
The yacht in Greece that you select may be motor or sail-driven. Here is some information about the available yacht types.
Motor Yacht: Motor yachts are like luxury sports cars on the water. Engines power them for fast and stable trips, making them great for zipping around and exuding classiness. Inside, they're roomy and comfy, with fancy stuff like nice bedrooms, gourmet food, and expert crews.
Sailing Catamaran: Sailing catamarans are all about balance. With two hulls, they have lots of space for you to move and enjoy the ride. They can sneak into little spots and stay steady on the waves, making them suitable if you're worried about feeling seasick. Plus, they're eco-friendly, using the wind to move.
Power Catamaran: Power catamarans are a mix of speed, comfort, and eco-friendliness. Additionally, they're like fast cars that are also good for the environment. You can soak up the sun, hang out with friends, and do water stuff on their big decks. Furthermore, they can also anchor in quiet spots and explore the coast.
Sailboat: Sailing yachts give you the classic wind-in-your-hair experience. They're perfect if you would like a peaceful, traditional sail. You'll feel super close to the sea, with the sound of wind and water making it a chill journey. While they're not as fast as motor yachts, sailboats let you enjoy the ride slowly.
Reserve Your Greek Yacht Charter
Luxury crewed yacht charters offer a harmonious blend of sailing, natural beauty, culture, and history for a memorable holiday. Make your dreams come true by embarking on a luxury yacht charter for a remarkable vacation in Greece.
Please call us today at 1 (321) 777-1707 or describe Your Vacation Vision to help you plan your fully-crewed private luxury yachting vacation! Inquire as soon as possible about your custom, crewed yacht charter.
You make the memories. We make the arrangements.