Best Restaurants and Food in Croatia You Don't Want to Miss
There is no end to the possibilities regarding restaurants and food in Croatia. Whether you're looking for traditional Croatian dishes or fusion cuisine, you'll find something healthy and delicious. You don't want to miss Croatia's best restaurants and food, from family-run places to upscale eateries. Croatia is also home to outstanding wines.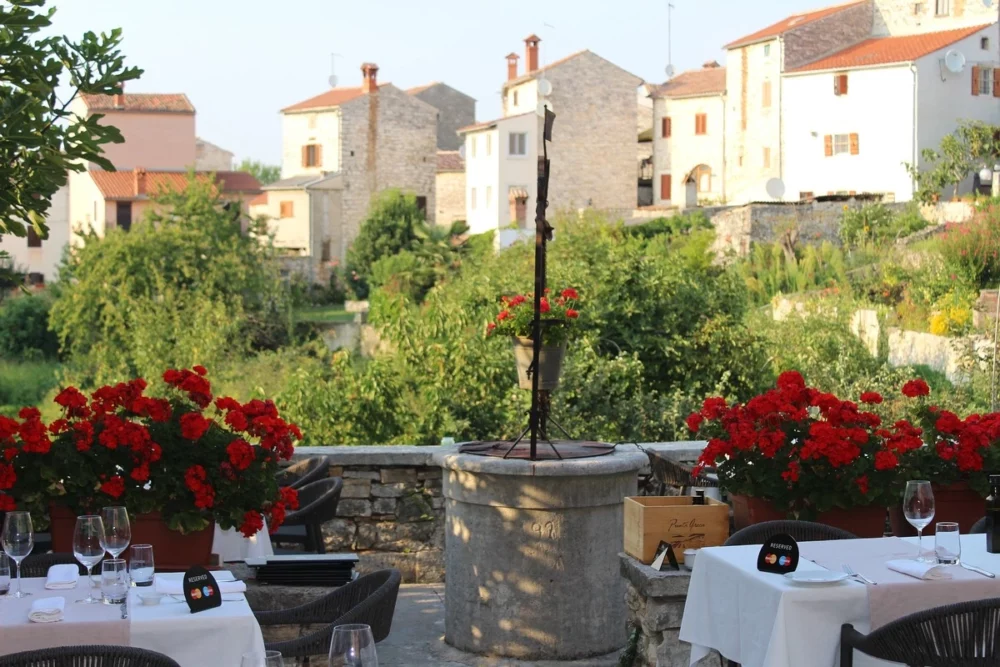 Istria
Foodies won't want to miss the great restaurants and food in Istria! This peninsula on the northern Adriatic coast is a delicious Mediterranean cuisine treasure trove. From flavorful seafood dishes to traditional truffle-based meals, Istria offers a variety of unique culinary experiences. Here are five of the top-rated restaurants in Istria that you should try:
Konoba Buscina, Umag, offers traditional dishes using seasonal, local produce. The menu features authentic Croatian flavors with specials such as Boskarin ox meat. This is a dish that only a few kitchens in Istria are licensed to prepare professionally.
Restaurant Zigante is dedicated to creating unique meals with truffles, which take the Istrian Tuber to the position it deserves. Wine lovers will enjoy pairing the wine with the flavors of the selected dish, and for an unmistakable choice, the expert sommelier completes your gastronomic pleasure with his suggestions.
Restaurant San Rocco in the small village of Gračišće serves traditional Istrian cuisine with various seafood dishes, grilled meats and vegetables, and other traditional favorites.
Restaurant Batelina, near the beach in Novigrad, is famous for its fresh seafood dishes, including grilled squid and octopus.
Konoba Nono in Rovinj serves a variety of traditional Istrian specialties, including pršut (dried ham), cheese, olives, homemade pasta, meat and fish, and many other traditional dishes. In Istria, you'll also find a variety of traditional foods, including fuži, a type of handmade pasta with a unique shape, and peka, a slow-cooked meal of meat or seafood cooked over an open fire. Istria is also famous for its excellent olive oil.
Kvarner
Kvarner is another beautiful region of Croatia, and it is known for its delicious food and top-rated restaurants. This part of Croatia has amazing seafood and traditional dishes like fritule (fried dough balls), pasticada (stewed beef in prune sauce), and bakalar (dried salted cod).
Restaurant Pjerin in Opatija is a true delight. It offers traditional Croatian specialties such as seafood risotto, veal shank, and gnocchi with octopus.
Jastog Restaurant, another great option in Opatija, serves fresh seafood dishes made with the catch of the day. Try the grilled squid or the mixed seafood platter.
Boškinac in Novi Vinodolski is one of the best restaurants in Kvarner. They offer an excellent selection of Croatian wines and delicious local specialties such as lamb, octopus salad, and pork stew with cabbage.
Villa Istranka in Lovran is a must-visit if you're looking for a memorable experience. They specialize in game meat, such as wild boar, deer, and classic Italian dishes. The atmosphere here is relaxed and inviting, making it the perfect place to enjoy a leisurely meal.
North Dalmatia
North Dalmatia should be on your list when exploring Croatia's food scene. Traditional North Dalmatian dishes often include seafood such as grilled sardines, shrimp, and squid. Local specialties include black risotto, mussels with potatoes, and pašticada with gnocchi.
Konoba Pjero is popular for its Dalmatian-style cuisine. Enjoy traditional dishes like pašticada with gnocchi, grilled squid, and homemade desserts.
Restaurant Amor in Šibenik offers a unique blend of Italian and Croatian dishes. Must-try dishes include lamb stew and homemade pasta.
Restaurant Boskinac in Novigrad has an extensive menu of traditional Croatian dishes. Popular dishes include homemade pasta and rabbit stew.
Central Dalmatia
Central Dalmatia is a beautiful region in Croatia with plenty of incredible restaurants and traditional cuisine. This area is particularly known for its seafood dishes, such as grilled fish, risotto with shellfish, or the local specialty – a seafood stew called brodet. Where ever you are in Dalmatia, be sure to taste the local wines.
Konoba Cetina in Omiš serves delicious fish specialties. Try their signature grilled squid dish.
On the island of Čiovo, Taverna Okrug is a charming tavern serving traditional Dalmatian dishes. Don't forget to order their famous octopus salad!
Konoba Kalalarga in Trogir has a stunning terrace with views over the city and sea. Try their traditional dishes like Pašticada or lamb under the bell.
Kula Norin in Kaštela has an incredible menu featuring fresh seafood dishes. Their homemade pasta and risotto are especially worth trying.
South Dalmatia
Regarding the best food and restaurants in Croatia, South Dalmatia must not be overlooked. From seafood delicacies to unique local dishes, the traditional cuisine in this part of the country is sure to delight your taste buds.
Bepa Restaurant in Split serves a variety of simple and delicious Mediterranean dishes.
Bistro Korta, a casual eatery, offers great local dishes such as pršut (smoked ham) and buzara (shellfish stew). Bistro Korta is a great spot to enjoy a classic Croatian meal in a relaxed atmosphere.
Verige is an upscale restaurant in Orebic, serving exquisite Mediterranean cuisine with a hint of French influence.
Restaurant Mimoza, Dubrovnik, is a charming little spot offering a wide selection of traditional delicacies; we recommend fish and meat specialties, barbecue, and vegetarian dishes. Enjoy the taste of traditional dishes prepared under the baking bell: fish, lamb, and veal. Their grilled tuna steak is especially popular and comes highly recommended.
Taverna Agora has a cozy atmosphere and breathtaking views of Dubrovnik; It is a great spot for some delicious traditional Dalmatian fare. Try their signature dish of brudet (fish stew).
Please call us today at 1 (321) 777-1707 or describe Your Vacation Vision to help you plan your fully-crewed private luxury yachting vacation! Inquire as soon as possible about your custom, crewed yacht charter.
You make the memories. We make the arrangements.