As luxury yacht brokers, we feel it's essential to attend boat shows in the various regions of the world in which we do business. It helps us get to see the condition of the yachts. Meet the crews and get a feel for the level of service they will provide, and tour the area our clients will be cruising, all so we can make appropriate recommendations.
On this occasion, an impressive Greece charter crew onboard ORION wowed us.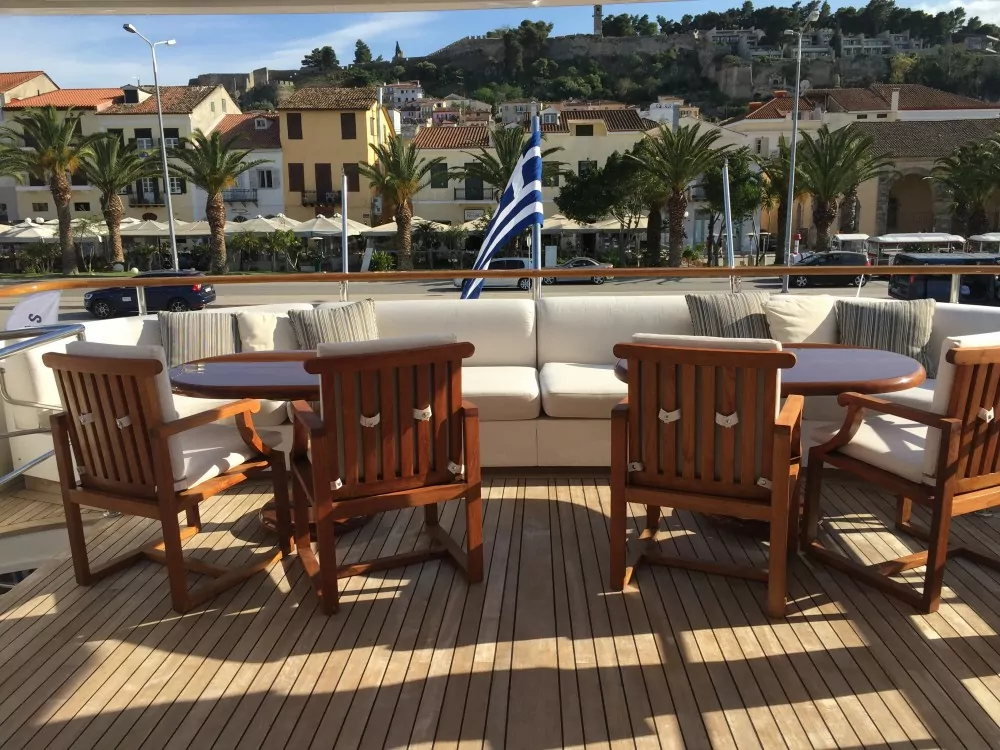 With these goals in mind, Chris and Karin Patrick, our most seasoned yacht brokers, headed to the 2015 Greece Yacht Show in Nafplion, Greece. There, they toured 57 yachts over three days, spending time with each crew and inspecting them. What they discovered amazed them.
Greece Yacht Charter ORION | What it is Like
Unlike many other charter areas in Greece, the crews work on the boat year-round, not just during the chartering season. Jobs are not easy to come by in Greece; even more rare are jobs that provide steady employment in this highly coveted industry. Most of the crew members are Greek. Their commitment to their country, families, fellow crew members, and yachts is unwavering.
So, how could this year-round commitment impact your charter experience? Each crew member brings a level of excellence to his or her job from which you directly benefit.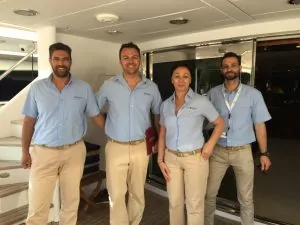 This crew keeps the yachts in impeccable condition. While some motor yachts, sailboats, and catamarans are over 10 years old, they look brand new. This is a direct result of these crews' hard work all year.
And because these crews live and work in Greece throughout the year, they know the popular hot spots and have special locations to share with their guests.
This high level of service may lead you to think that this cruising area does not offer much value. However, the charter rates for the boats at the show range from $10K-$150K+ (depending on the yacht), plus provisioning costs and crew gratuities. With a wide range of options, we feel confident we can match you and your guests with the perfect boat and crew.
Luxury Greek Yacht Charters and Impressive Crews
Greece is famous for its stunning beaches, crystal-clear waters, and awe-inspiring landscape. But for those seeking a truly luxurious vacation, nothing beats the experience of sailing along the Greek coastline on a private luxury yacht charter.
These vessels offer stunning scenery views, and the exceptional crews that staff them are truly impressive. A Greek charter yacht crew can provide the perfect experience for solo travelers or groups of friends. Keep reading to learn more about the unforgettable experience of sailing in Greece with a luxury yacht charter.
Luxury Yacht Charters in Greece: An Experience Like No Other
Greece offers an experience like no other. Imagine sailing along the crystal-clear waters of the Aegean Sea, exploring the stunning Greek islands. Whether you choose the picturesque Ionian Islands, the breathtaking Cycladic Islands, or the historical Dodecanese Islands, there is something for everyone.
With a crewed yacht charter, you can sit back, relax, and let the impressive crew take care of every detail. It's time to make your dream vacation a reality.
Your Impressive Greece Charter Crew Makes It All Possible.
The impressive crews of Greek luxury yacht charters are the backbone of the ultimate cruising experience. From experienced captains to attentive stewards, these crews ensure that every aspect of your charter is flawless. They have extensive knowledge of the charter destinations. They can also provide valuable insights and recommendations for places to see, things to do, and the best restaurants.
With their exceptional hospitality and attention to detail, they go above and beyond to create a memorable journey for you and your fellow travelers.
Top Destinations to Explore on a Greek Yacht Charter
Embark on a Greek yacht charter and explore the top destinations that will leave you breathless. Discover the stunning beauty of the Ionian Islands, immerse yourself in the charm of the Cycladic Islands, or delve into the history of the Dodecanese Islands. Each destination offers unique attractions, so you'll have the opportunity to experience the best that Greece offers, all from the comfort of your luxury yacht.
Fine Dining Onboard
Your luxury yacht charter in Greece is a gastronomic adventure. From delectable Mediterranean cuisine to gourmet creations, your onboard chef is ready to tantalize your taste buds.
Enjoy personalized meal services tailored to your preferences and dietary needs. Dine accompanied by the stunning backdrop of the Greek coastline. Fine dining onboard a Greek yacht charter is the ultimate treat for your senses.
Watersports and Activities
If you like adventure, a luxury yacht charter in Greece offers a lot of exciting watersports and activities. Dive into the crystal-clear waters for snorkeling or scuba diving, or try paddleboarding or kayaking. For adrenaline junkies, there's jet skiing and wakeboarding. Your Greek yacht charter will have plenty of toys to keep you and your guests busy!
Making Memories: Special Occasions and Celebrations on a Yacht Charter
Celebrate life's special moments on a luxury yacht charter in Greece. Whether it's a birthday, anniversary, or honeymoon, these charters provide the perfect setting for unforgettable celebrations. Imagine toasting to love and happiness as you sail along the stunning coastline, surrounded by your loved ones. The crew will go above and beyond to ensure every detail is perfect, from personalized decorations to customized menus.
Sailing with Safety and Comfort: Impressive Greece Charter Crew
Safety and comfort are paramount when embarking on a luxury yacht charter in Greece. Before setting sail, you must know what you need to ensure a smooth and enjoyable journey. Your captain will review safety procedures before setting sail. He and the crew will ensure everyone on board is always safe and comfortable throughout your journey.
Why a Luxury Yacht Charter in Greece Should Be on Your Bucket List
A luxury yacht charter in Greece is an experience that belongs on everyone's bucket list. The breathtaking scenery, the impeccable service, and the endless opportunities for adventure and relaxation make it a truly unforgettable journey. Whether you're sailing solo or with friends, the impressive crews will ensure that every moment is top-notch.
Please call us today at 1 (321) 777-1707 or describe Your Vacation Vision to help you plan your fully-crewed private luxury yachting vacation! Inquire as soon as possible about your custom, crewed yacht charter.
You make the memories. We make the arrangements.