Caribbean Power Catamarans
Discover the turquoise waters and white sand beaches of the Caribbean on a power catamaran charter vacation. On a Caribbean Power Catamaran, you can quickly cruise from island to island and discover the stunning beauty of this region.
Spacious cabins, professional crews, colorful coral reefs, and lively nightlife are just a few reasons to book a power catamaran charter vacation in the Caribbean.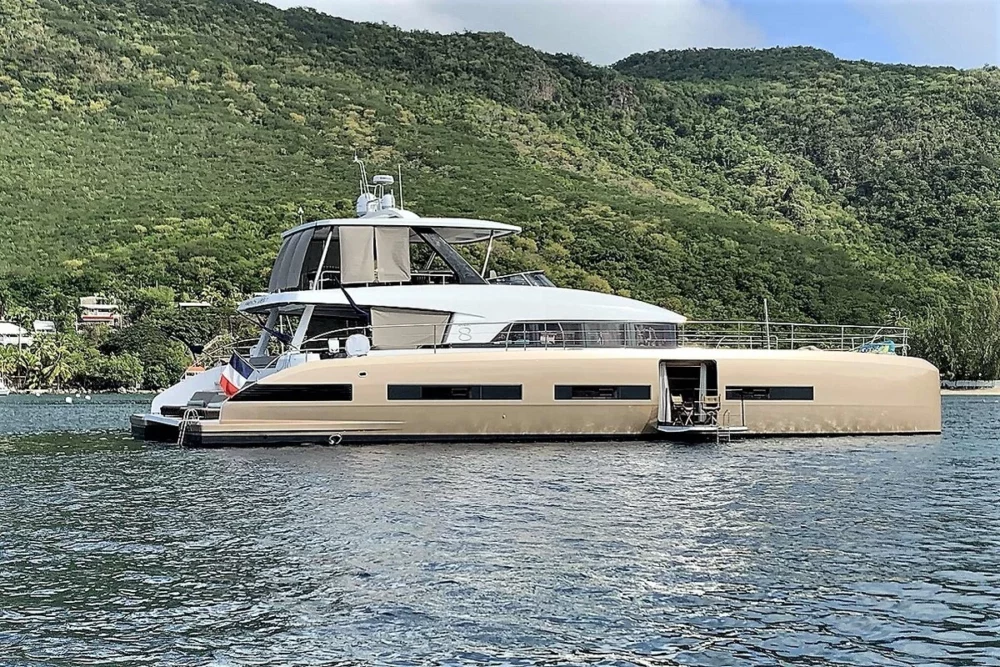 Benefits of a Power Catamaran
Unlike other types of boat charter, power catamarans provide more spacious interiors, deck space, larger accommodations, and increased stability while cruising. Moreover, a private crew, including a captain and chef, will help make your vacation one to remember.
You can customize your itinerary to ensure you see all the sights you want, from snorkeling trips to dinners at local restaurants. Plus, your crew can provide insight into the area's culture, history, and wildlife.
Island Hopping
The beauty of a power catamaran charter is that you can explore multiple islands in the Caribbean during one vacation. It's the perfect way to get away from it and visit many different places. When you hop from island to island, you can see the differences in the landscapes, cultures, and activities that make each island unique. Each day can bring a different experience — and new memories — as you discover what each island has to offer.
Caribbean Islands to Visit
The Caribbean is home to some of the world's most beautiful and diverse islands. The most popular islands include St. Martin, St. Lucia, Grenada, St Vincent and the Grenadines, and Turks and Caicos. But many lesser-visited islands in the Caribbean offer unique experiences as well.
For those who love outdoor adventure, the island of Dominica is a must-see. With its rugged terrain, rainforests, and bubbling hot springs, Dominica is known as the "Nature Isle of the Caribbean." Anguilla is another excellent destination for outdoor enthusiasts with its crystal-clear waters and beaches. Antigua offers plenty of activities for the active traveler, from snorkeling and windsurfing to hiking and hiking trails.
If you're looking for a more laid-back vibe, consider one of the quieter Caribbean islands, such as St. Kitts or St. Eustatius. Here you can stroll along pristine white sand beaches or relax in a hammock by the ocean.
Things to See and Do | Caribbean Power Catamarans
The Caribbean is a paradise of turquoise waters, lush rainforests, and vibrant cultures that offers visitors endless opportunities for discovery and adventure. From the natural beauty of its white-sand beaches to the historical architecture of its colonial towns, there are plenty of things to see and do in the Caribbean.
Snorkeling or scuba diving in the clear, warm waters of the Caribbean Sea. Whether a beginner or an experienced diver, you can find numerous dive sites around the islands.
Soak up the sun.
Swim in the clear water.
Kayak or paddle board.
Explore one of the many ancient ruins scattered throughout the region, such as Mayan ruins in Mexico and Guatemala and Aztec pyramids in Belize and Costa Rica.
Other Caribbean yacht options:
Please call us today at 1 (321) 777-1707 or describe Your Vacation Vision to help you plan your fully-crewed private luxury yachting vacation! Inquire as soon as possible about your custom, crewed yacht charter.
You make the memories. We make the arrangements.