Taste outstanding wines amidst a backdrop of the most beautiful Greek landscapes. Explore an exhilarating variety of flavors while learning about the ancient wine culture of Greece and exploring its unique history during a Greek wine-history yacht vacation aboard M/S ARKTOS.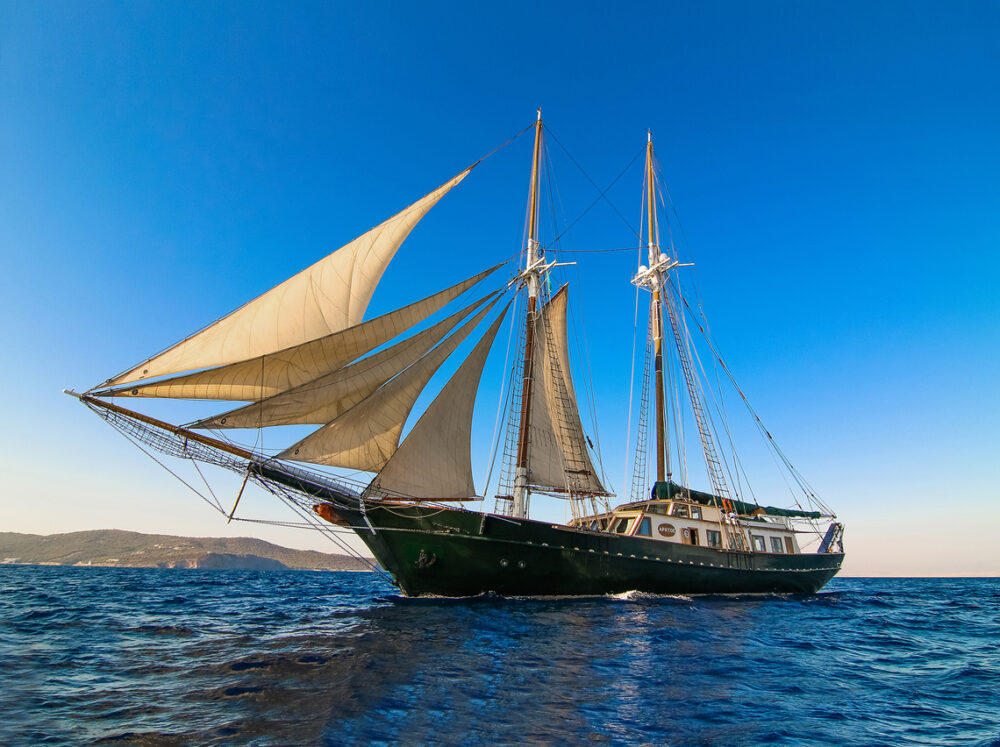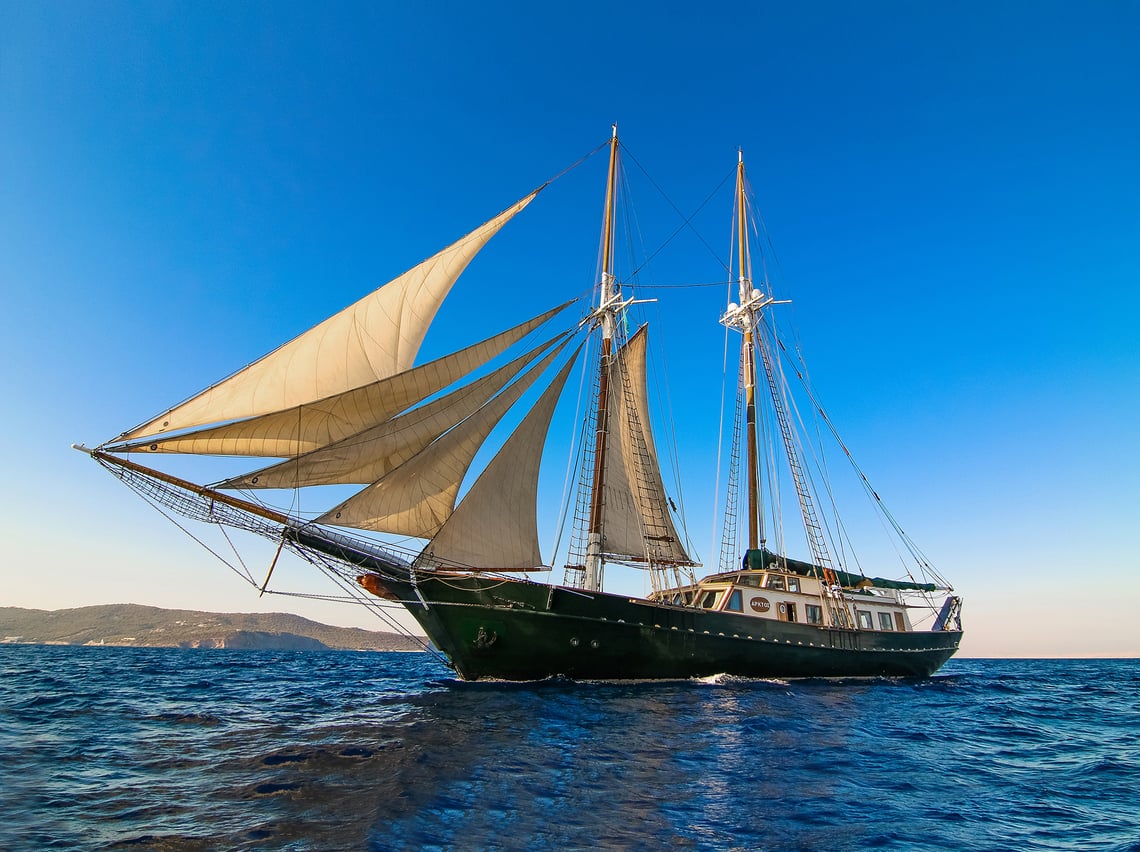 Motor-Sailer ARKTOS
While on your luxury yacht vacation aboard ARKTOS, you can:
Experience Greece's ancient sites
Enjoy beautiful beaches and coastline
Swim and play in stunning blue waters
Stop at some of the country's most prestigious wineries
This unique trip will open your eyes to one of the world's oldest civilizations and show why Greece has become one of the hottest destinations for luxury yachting vacations today. What's more, if you're a wine lover, there's no better way to discover the history and culture of Greece than on Motor-Sailer ARKTOS. ARKTOS combines exclusive wine tastings with stops at historical sites, monuments, and archaeological sites to deliver an experience you'll never forget.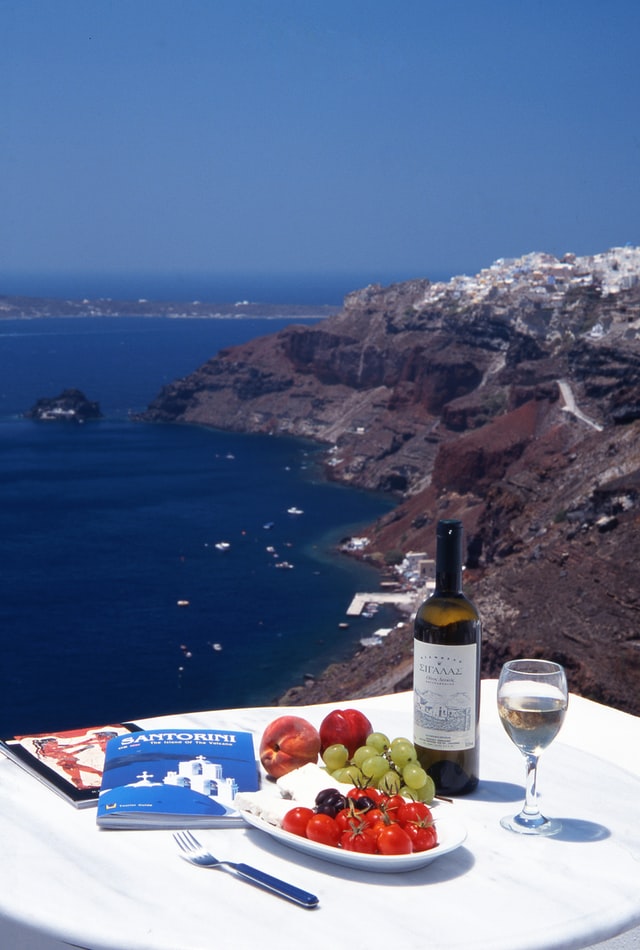 The Wine Tasting Itinerary
Taste the best Greek wines onboard ARKTOS and experience a rich symphony of flavors, culinary delights, and Greek culture. This is an absolute must for all wine lovers. You will discover that this wine-tasting itinerary is a very special way to experience more of Greece!
Grab your chance to tour stunning island vineyards and taste indigenous Greek wines that rarely make it outside of Greece. Recent generations have revived these Cycladic vineyards, breathing new life into ancient traditional grapes growing on the volcanic soils. In addition, the goblet-shaped bush vines are a rare and beautiful attraction. Grown low to the ground and in a circular shape, the grapes are protected by a nest of leaves and vines. This has been practiced for millennia to protect delicate grapes from the wind and elements.
Day One: Aegina and Agistri
On the first day, take in the view of Aegina. This working island, close to Athens, is uncrowded and authentic. The next stop on the first day is Agistri, a small heaven on earth in the Saronic Gulf. With its abundance of plants and trees, sandy beaches, and crystal clear waters, you may not want to leave.
Day Two: Milos
Day two takes you to Milos. The island has a unique charm due to its terrain's rare morphology and mineral wealth. The sea has sculpted the coastline into countless indentations and inlets, mostly covered by fine white sand. Visit Konstantakis Cave Winery.
Day Three: Santorini
Santorini is a small group of volcanic islands and the site of one of the largest volcanic eruptions in the world. What remains today is a submerged volcano and caldera. What's more, the vineyards of Santorini produce intriguing wines reflective of their unique volcanic soil. The wineries in Santorini include:
Days Four and Five: Paros and Antiparos
While on Paros, visit the Moraitis Winery. The Moraitis family-owned winery has been operating for over a century, boasting 40 acres of organic vineyards. In the afternoon, hop over to Antiparos, a small island next to Paros. It's a wonderful place to relax, swim, and walk on the beach.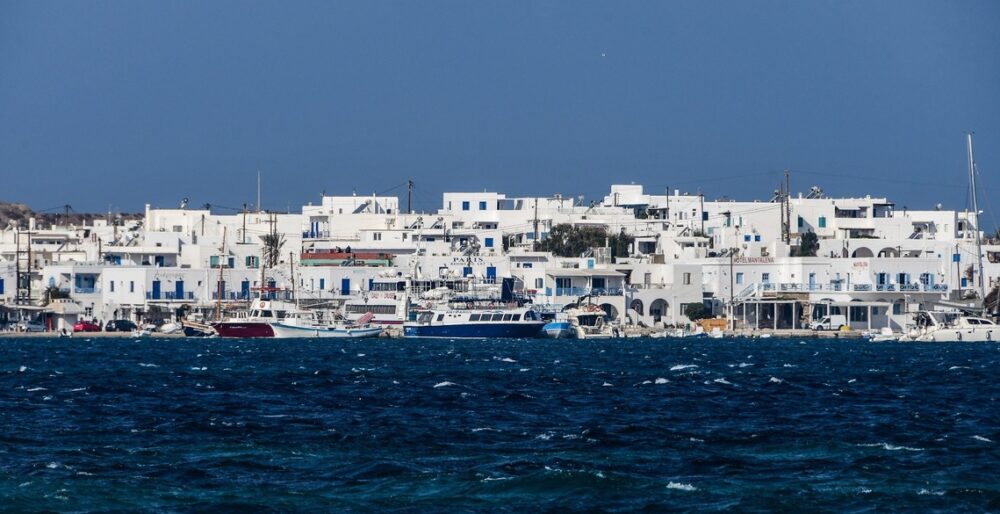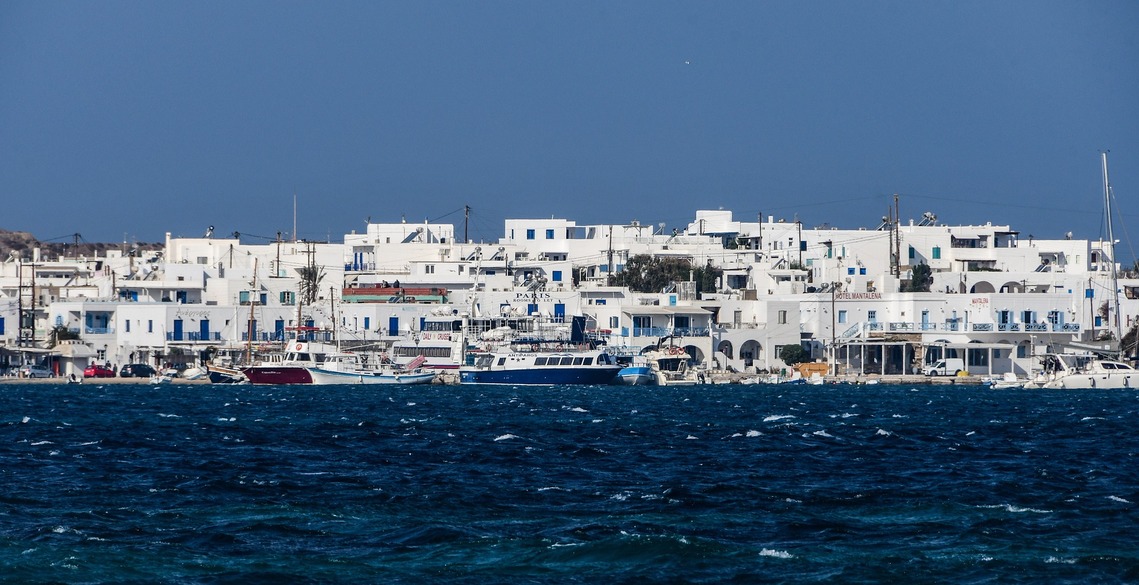 Day Six: Mykonos
The island of Mykonos island is known for its intense nightlife and beautiful beaches, as well as great restaurants and fantastic shopping.
Day Seven: Tinos
The last island we will visit is Tinos, located on the northern side of the Cyclades. The beaches are warm and sandy, and the entire island is a wonderland of natural beauty. Visit T-Oinos Winery.
The Yacht: ARKTOS
ARKTOS is impressive, with 113.6 feet of deck space and a 152-foot overall length. The care taken to maintain this ship certainly shines through in every space aboard the yacht.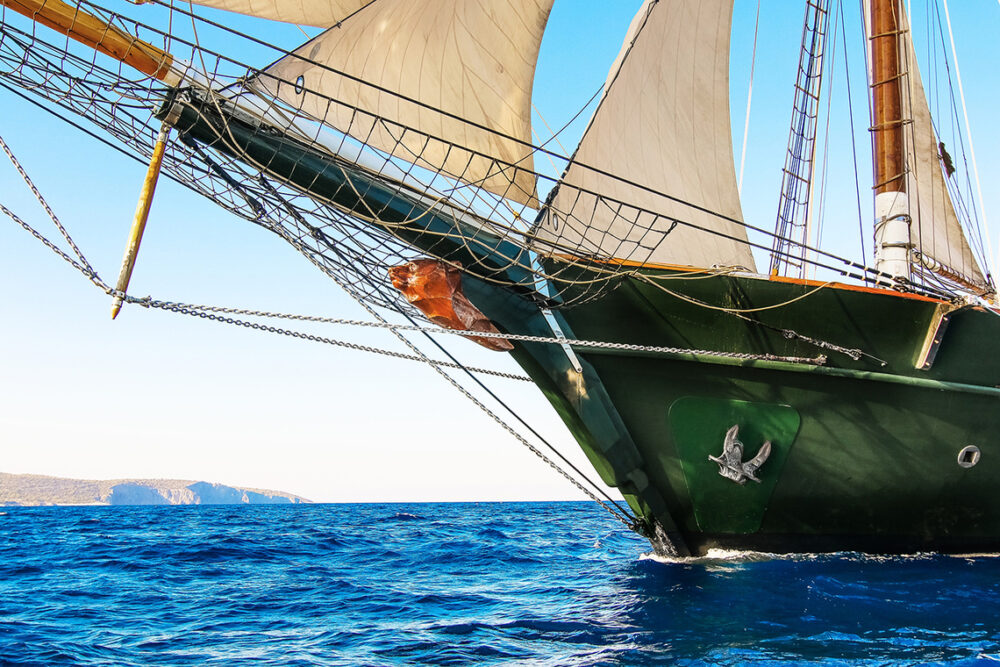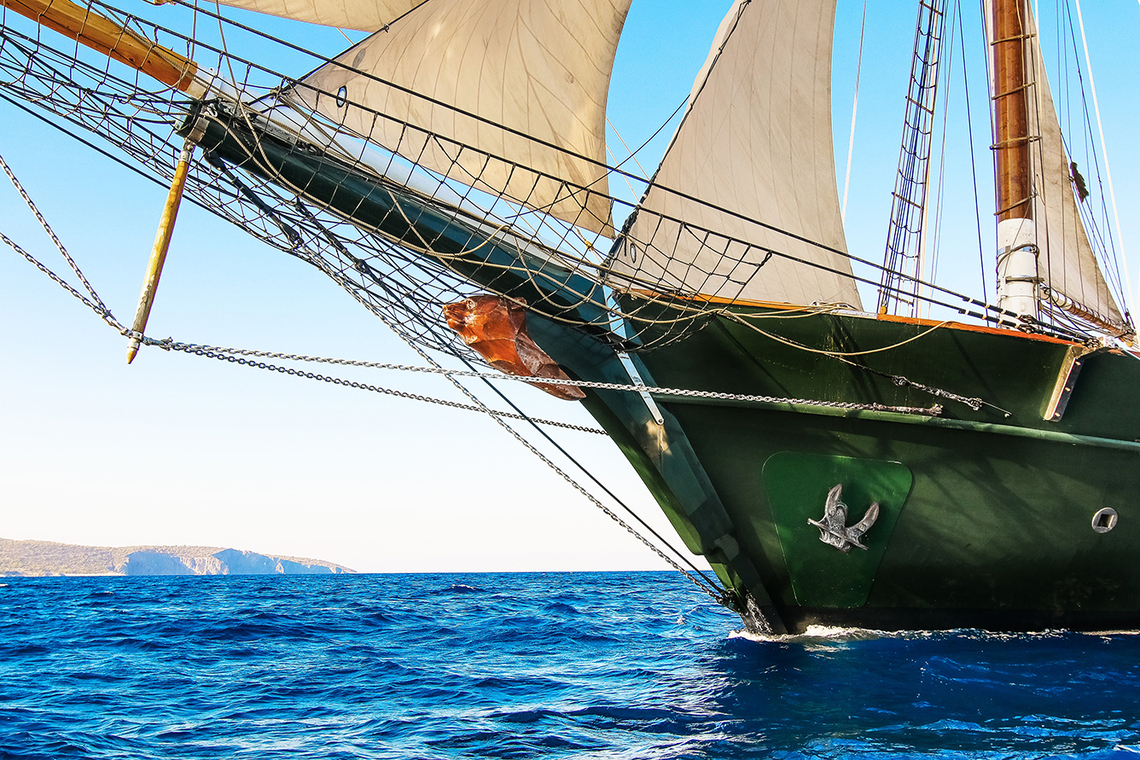 ARKTOS has satellite communication (phone/fax/email/internet), direct dialing, and internal communication. For entertainment, there is a 42″ plasma satellite TV in the salon and a Sat TV in every guest cabin. There is also an audio system in the salon, dining, cabin, and deck areas. Additionally, there is a library with CDs, DVDs, a hard disk with over 1000 movies for each cabin, and many books.
The main salon features plush armchairs, a writing desk, and a bar lounge that invites you to indulge in quiet. There are many exciting artifacts onboard, including the poem "Ithaca" by the famous Greek poet Cavafy. There's also an antique dagger preserved in a glass case.
Accommodations
ARKTOS accommodates up to 11 guests in 5 luxurious and spacious cabins. All cabins have fully-equipped ensuite bathrooms, flat-screen TVs with a movie directory, HDMI connection, individual Bluetooth speakers, and a safe. Four cabins have mini-fridges.
Greek Wine/History Yacht Vacation
Get to know Greece and all its historical marvels through the best Greek wines aboard ARKTOS. You may also enjoy looking at Greece In Film before you embark on your journey! Contact us today to learn more about this ultimate Greek experience!
If you prefer a sailing catamaran, SANTORINI may be an option. It is based in Santorini, which is famous for its wines. Here are 6 Reasons to Sail Greece on Catamaran-SANTORINI. Also, Greece Motor Sailors.
Please call us today at 1 (321) 777-1707 or describe Your Vacation Vision to help you plan your fully-crewed private luxury yachting vacation! Inquire as soon as possible about your custom, crewed yacht charter.
You make the memories. We make the arrangements.