Turkish Gulet Rental
Experience the unparalleled beauty of Turkey on a luxurious Turkish Gulet cruise. A gulet is a traditional wooden sailing yacht and the perfect way to explore the stunning coastline of Turkey. Whether you're looking for a romantic escape or a fun-filled family vacation, a Turkish Gulet yacht rental is a great way to experience the stunning beauty of Turkey's coastline.
From the amazing seafood to the breathtaking views, a gulet cruise through Turkey is the perfect way to create memories that will last a lifetime.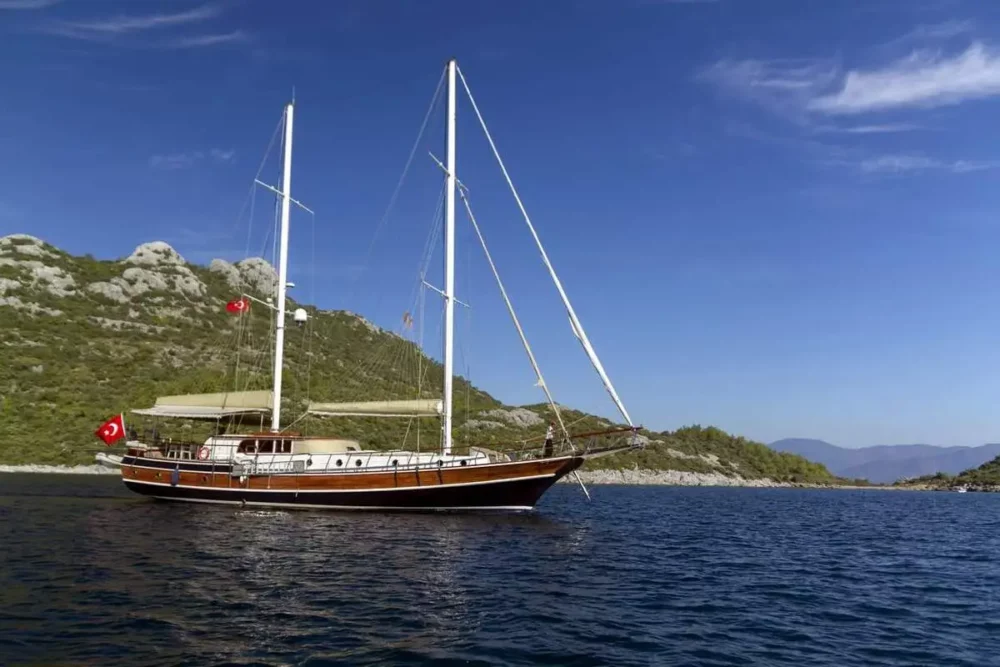 What Is a Turkish Gulet?
A Turkish gulet yacht is a traditional wooden sailing vessel originating from the Turkish coast and used for fishing and transportation. Today, these boats can be made of steel or other materials and have been modernized. Many are equipped with luxurious amenities to offer an unforgettable experience for travelers seeking a unique and comfortable vacation on the sea. While they have sails, they typically use their motor engines as their main power source.
The Turkish gulet yacht is a popular choice for luxury yacht charters in Turkey, where the calm and crystal-clear waters of the Mediterranean provide the perfect setting for relaxation and adventure. Most private yachts can accommodate 12 guests, while some Gulets are licensed to carry more, even up to 36. Whether you are looking for a romantic getaway, honeymoon, family vacation, or adventure with friends, a Turkish Gulet yacht charter can offer it all.
Why Choose a Turkish Gulet Yacht Charter Vacation?
A luxury yacht charter in Turkey is the perfect way to experience the beauty of the Mediterranean and Aegean Seas. And what better way to explore these stunning waters than on a Turkish Gulet yacht? Here are a few reasons why you should choose a Turkish Gulet yacht charter for your next vacation:
Authenticity: Gulet yachts have a rich history in Turkey and are the traditional way to sail along the Mediterranean and Aegean coasts. Choosing a Gulet yacht charter immerses you in Turkish culture and traditions.
Comfort: Gulet yachts offer a high level of comfort and luxury. You'll have your private cabin with en-suite facilities and spacious decks to relax and enjoy the views.
Flexibility: A gulet yacht charter allows you to explore at your own pace and tailor your itinerary to suit your interests. You can anchor in secluded bays, visit charming coastal towns or soak up the sun on sandy beaches.
Privacy: With a Gulet yacht charter, you'll have the privacy of your yacht away from the crowds. This is perfect for couples looking for a romantic getaway, families with children, or groups of friends.
Experience: The crew of a Gulet yacht charter is experienced sailors who know the best spots to visit and the hidden gems to explore. They'll also cover all the details, including meals, cleaning, and activities.
Overall, a Turkish Gulet yacht charter vacation is an unforgettable experience that combines luxury, culture, and adventure. You'll have the chance to explore Turkey's stunning coastline, immerse yourself in local culture and relax in comfort and style.
Luxury Yachts and Turkish Gulets To Charter
In addition to Turkish Gulets, or Motor Sailers, you can charter Motor Yachts, Sailboats, and Catamarans in Turkey or elsewhere in the Mediterranean.
Top Places To Visit on a Turkish Gulet
Turkey has a rich history, and a diverse landscape offers countless opportunities for exploration and relaxation. While a private yacht charter from Istanbul is not common, we've highlighted the best destinations to visit on your luxury yacht charter in Turkey:
Bodrum
This bustling port town boasts a beautiful harbor and lively nightlife. Visit the Castle of St. Peter, the Bodrum Museum of Underwater Archaeology, and stroll through Bodrum's charming Old Town. One of the top things to do in Bodrum is to explore its many historic sites, including the Bodrum Castle and the Ancient Theatre of Halicarnassus. You can also visit local museums, such as the Museum of Underwater Archaeology, which houses fascinating artifacts from shipwrecks in the region.
For those who love nature, there are plenty of outdoor activities in Bodrum. The Bodrum Peninsula is home to beautiful beaches, coves, and bays where you can swim, snorkel, and sunbathe.
Fethiye | Turkish Gulet Yacht Rental
Located on the stunning Turquoise Coast, Fethiye offers breathtaking views of the sea and mountains. Dip in the famous Oludeniz Blue Lagoon, visit the ancient Lycian tombs, and shop in the bustling market.
Marmaris
Known for its sandy beaches and crystal clear waters, Marmaris is a popular destination for watersports enthusiasts. Visit the Marmaris Castle and Museum, explore the lively marina, and relax at the spa. You can easily set sail from Marmaris to nearby destinations such as Datça and Hisarönü. Datça is a quaint village known for its unspoiled beaches, crystal-clear waters, and traditional architecture. Hisarönü is another beautiful town between two stunning bays and an excellent spot for swimming, snorkeling, and sunbathing.
Gocek
This picturesque town is nestled in a natural harbor surrounded by lush mountains. Enjoy Gocek's beautiful beaches, visit the ancient ruins of Caunos and the Lycian Rock Tombs, and sail in the calm waters. Göcek is famous for its natural beauty, calm and clear waters, and stunning scenery. It is also known as the yachting paradise of Turkey due to its strategic location between the Mediterranean and the Aegean seas, making it a popular stopover for yachts and sailboats.
A Göcek, Turkey yacht charter will allow you to explore the many hidden coves and secluded bays along the coast, allowing you to escape the crowds and relax in peace. The town is quaint and charming, with a picturesque harbor lined with traditional fishing boats and modern yachts.
No matter where you choose to visit on your luxury yacht charter in Turkey, you will be surrounded by breathtaking scenery and endless opportunities for relaxation and adventure.
Activities To Enjoy On A Turkish Gulet Rental
A Turkish Gulet yacht charter vacation offers endless activities that can keep you busy and entertained throughout your trip. Here are some of the activities you can enjoy on your Turkish Gulet yacht charter vacation:
Swimming and Snorkeling
Turkey boasts some of the most pristine beaches and turquoise waters, perfect for swimming and snorkeling. With a Gulet yacht charter, you can explore secluded bays and coves and enjoy crystal-clear waters while swimming and snorkeling.
Water Sports
If you're an adventure-seeker, you can indulge in various water sports such as kayaking, water skiing, wakeboarding, windsurfing, and paddleboarding. Some gulet yachts offer water sports equipment you can rent or use for free.
Exploring Historical Sites
Turkey has a rich history, and there are numerous historical sites and ruins that you can visit during your Gulet yacht charter vacation. You can explore ancient cities such as Ephesus and Hierapolis, visit medieval castles, and marvel at the stunning Ottoman architecture.
Hiking and Trekking
If you're a nature lover, Turkey has many beautiful hiking and trekking trails. The Lycian Way, for instance, is a famous trail that offers stunning coastal views and breathtaking scenery.
Enjoying Local Cuisine
Turkish cuisine is renowned for its unique flavors and fresh ingredients. With a Gulet yacht charter, you can indulge in delicious Turkish cuisine freshly prepared by the onboard chef. You can also visit local markets and try street food and local delicacies.
Relaxing on Board
One of the best things about a Gulet yacht charter vacation is the opportunity to unwind and relax on board. You can soak up the sun on the deck, read a book, listen to music, or enjoy the breathtaking views while sipping a cold drink.
Best Time To Take A Turkish Gulet Yacht Rental
The best time to go on a Turkish Gulet yacht charter vacation is from May to October when the weather is warm and sunny, and the sea is calm. During these months, you can enjoy swimming, sunbathing, and various water activities like snorkeling, diving, and fishing.
Peak Season
In July and August, the peak season, the Turkish coast can get quite busy, with many tourists flocking to popular destinations. If you prefer a more peaceful vacation, it's recommended to go in May, June, September, or October, when the crowds are thinner and the prices are lower.
The weather in Turkey can be unpredictable, especially in the early and late seasons. It's advisable to check the weather forecast before your trip and be prepared for occasional rain or wind. However, even if it rains, there are many indoor activities and cultural sites to visit, such as ancient ruins, museums, and bazaars.
The best time to go on a Turkish Gulet yacht charter vacation depends on your preferences and budget. Whether you want to soak up the sun, explore the Turkish coast, or experience local cuisine and culture, there's something for everyone in Turkey. Just make sure to book your Gulet yacht in advance, especially if traveling during the peak season, to avoid disappointment and secure the best deals.
Please call us today at 1 (321) 777-1707 or describe Your Vacation Vision to help you plan your fully-crewed private luxury yachting vacation! Inquire as soon as possible about your custom, crewed yacht charter.
You make the memories. We make the arrangements.