Virgin Islands Motor-Yacht Charters
There are many excellent crewed Virgin Islands Motor-Yacht Charters available for charter. Some of these great Motor-Yachts are available year-round while others are based in the area only from April to September for the peak period. The area encompasses both the U.S. Virgin Islands and the British Virgin Islands. East of Puerto Rico, this beautiful area of the Caribbean offers yacht guests many options to hop around the islands or simply relax on a pristine beach.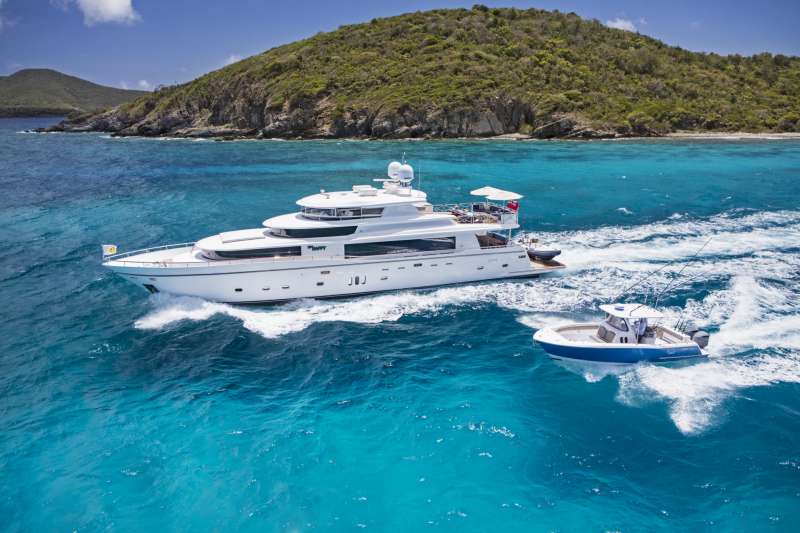 Islands To Visit in the Virgin Islands
With many options to choose from, we will provide you with boats based on your charter dates, group size, and preferred sailing area. Areas you may enjoy are the following:
Virgin Islands Motor-Yacht Charters | Advantages
Motor Yachts are a luxurious and comfortable way to spend time in the Virgin Islands. But unfortunately, finding a good excuse to take a luxury vacation is tough.
But, you can't deny that you need a break. However, finding the right time and budget for a vacation can be tricky.
If you're still having doubts or feeling guilty about taking a break to the Virgin Islands, here are some advantages to consider:
Virgin Islands Motor Yacht Charters are the perfect way to explore some of the world's most beautiful and exotic locations. You can get away from the hustle and bustle of everyday life and explore the Virgin Islands off the beaten path. Not many people visit such areas, so you can be sure that you will not end up in a crowded place.
It's the perfect way to island hop. You can get on and off from one island to the next with a motor yacht. There are different charters to suit your needs. So, whether you're looking for a day trip or a week-long adventure, you can explore the Virgin Islands at your own pace and even create your own itinerary.
You get the best private crew and personalized services while onboard. Motor yacht charters provide the perfect way to explore the Virgin Islands. Your sailing crew will ensure you get the best sailing vacation ever. Choose from yacht charter packages that are all-inclusive and customizable to fit your needs. Cruising, you can even celebrate wedding ceremonies, corporate events, and family reunions.
Virgin Islands Motor Yacht Charters offer a more private and flexible experience than your typical yacht charter. Motor yacht charter also offers a variety of amenities, including private staterooms, gourmet kitchens, and a staff dedicated to providing you with the best possible dining experience.
Getting a private motor yacht gives you access to the Caribbean Sea and the Atlantic Ocean. This is the perfect charter for those who want to experience the Virgin Islands in all their glory. With this tour arrangement, you can explore the beautiful Virgin Islands and the turquoise waters of the Caribbean Sea.
With a private yacht, guests can explore over 100 islands, beaches, and cays dotting the Virgin Islands. There is no shortage of activities for the adventure seeker, from shipwreck dives to underwater exploration. With so much to see and do, Virgin Islands Motor Yacht Charters is the perfect way to experience the Virgin Islands.
Get closer to unexplored beaches following your schedule. With Virgin Islands Motor Yacht Charters, you get a comfortable and well-appointed crew that's happy to cater to your every need.
Book your Virgin Islands Motor-Yacht Charters today.
Still unsure about booking a yacht charter? You can't let this opportunity pass. From exploring the hidden coves to sprawling coastal towns and glittering skylines, you can see the world's most beautiful destinations.
Never run out of water activities – swimming, snorkeling, diving, fishing, kayaking; the list goes on. Your chef on board can give you a world-class sailing dining experience with a fully equipped kitchen.
Spend lazy days lounging on the deck with nothing but blue skies and sea breeze from the Virgin Islands. And who doesn't love cocktails over sunsets in the Virgin Islands paradise?
Don't miss out on these unforgettable experiences. Book your Virgin Islands Motor-Yacht Charters with us today!
Please contact us at 1 (321) 777-1707 or complete our contact form to start planning your yacht charter vacation! It's never too early, or too late to inquire about your bespoke private yacht charter.
You make the memories. We make the arrangements.