Imagine the ultimate dream vacation—sailing the enchanting Greek Isles on your very own private, crewed yacht. You may have thought this experience was out of reach. You may be surprised to learn that it is not as difficult as you think. So, if you're ready to turn your dream into reality, let us walk you through the steps of booking a yacht charter in Greece.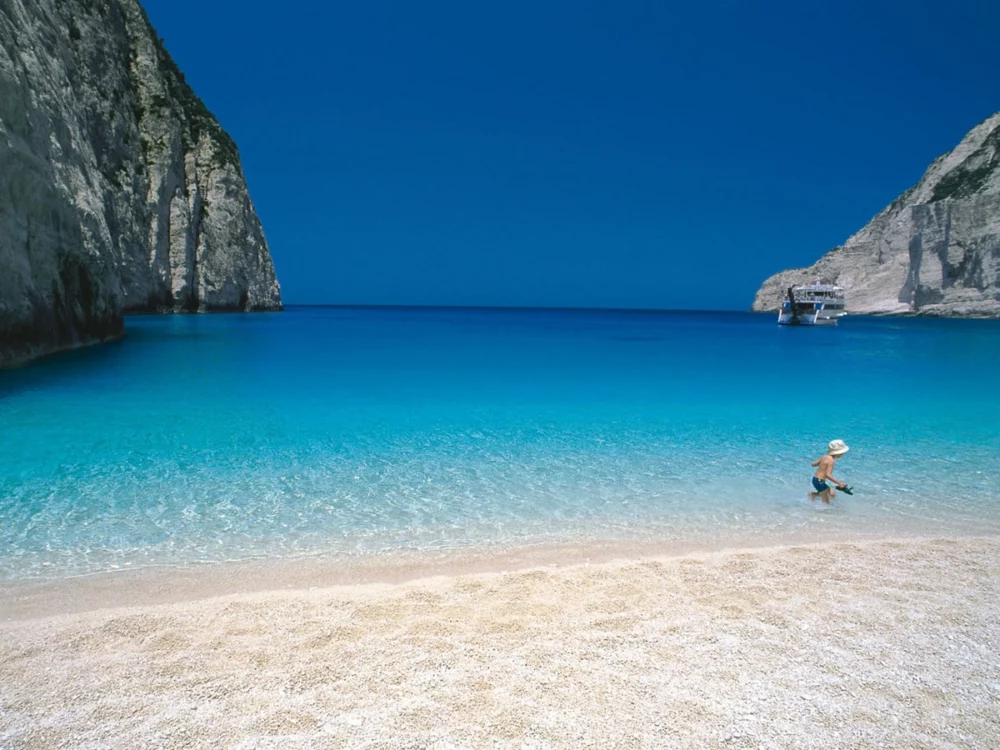 Before You Begin: Why Greece?
Here's what makes Greece the ultimate choice for your yacht charter:
Stunning Landscapes and Awesome Cruising Grounds
Greece boasts a kaleidoscope of breathtaking landscapes, each more beautiful than the last. From the majestic cliffs of Santorini to the lush greenery of Corfu, the Greek Islands hold a treasure trove of natural beauty. The coastlines have hidden coves, pristine beaches, and scenic harbors. Drop anchor in countless postcard-perfect locations.
Sailing in Greece is a sailor's dream come true, with its diverse cruising grounds. The summer winds are reliable in the Aegean Sea. There you can cruise the Cyclades, Dodecanese, and Sporades islands.
Meanwhile, the serene waters of the Ionian Sea embrace the Ionian Islands, captivating sailors with its tranquility and charm. For first-time charter guests, the sheltered waters of the Saronic Gulf, conveniently close to Athens, provide an ideal starting point.
A Tapestry of History and Culture
Steeped in history and culture, Greece is a treasure trove of wonders waiting for you to explore. From ancient ruins to world-class museums and UNESCO World Heritage Sites, every step in Greece is a journey through time. Stroll through the narrow streets of Rhodes Old Town. Or. stand in awe at the archaeological site of Delos.
Culinary Delights
Greek cuisine is a delightful part of the yacht charter experience, treating your taste buds with a symphony of flavors. Fresh seafood, olives, feta cheese, tzatziki, moussaka, and more grace local taverns' menus. Ouzo or regional wines complement meals.
Discover the joy of dining at a local eatery nestled in a secluded bay. Or, taste local fare amidst the vibrant ambiance of a bustling town. It's an unforgettable culinary journey.
The People
The warm embrace of Greek hospitality, known as 'philoxenia,' awaits you at every turn. The genuine friendliness of the locals makes visitors feel truly at home. The people of Greece enhance the magic of your voyage.
Step 1: Setting the Stage for Your Yacht Charter Vacation
Now that you've decided that Greece is the perfect place for your yacht charter vacation, here are four steps to making your dream a reality:
First, narrow down some important elements for your Greek yacht vacation search. Consider your desired dates for the charter. When do you want to embark on this yachting journey? July and August are popular months to visit Greece.
Next, think about the composition of your group. Is it a family trip, a group of friends, or a romantic escape for couples? Knowing the size and composition of your group will help us find the perfect yacht to accommodate everyone comfortably.
The next step is to consider your budget. Budget is important, so you should consider the approximate charter cost. Factors include the charter fee, APA expenses, taxes, and gratuities.
After determining your budget, decide what type of yacht you would like to charter. Perhaps a sleek motor yacht, a roomy catamaran, a classic sailboat, or a unique motor sailer? We have a wide range of options to suit your tastes.
Furthermore, let us know if you have a special occasion to celebrate during your trip. We can tailor the experience accordingly.
Lastly, think about the type of activities and experiences you desire. Are you interested in investigating ancient ruins, tasting delicious Greek cuisine, or trying water and wind sports? Having a solid idea of these details will simplify the process of finding the perfect yacht for your dream vacation.
Step 2: Explore the Greek Yachts for Charter
Now that we have a clear picture of your interests, it's time to explore the types of yachts available for charter in Greece.
Consider the features you desire in a yacht. Will you need multiple bedrooms for your group? Or, perhaps you require specific onboard facilities. Our knowledgeable brokers are available to answer any questions you may have when choosing a yacht.
As a unique option, Greece offers the chance to charter a motor sailor, delivering a perfect blend of elegance and sailing experience. So, let's dive into the options and find the yacht that aligns perfectly with your vision.
Motor Yachts
Motor yachts are fast and elegant. Powerful engines power these sleek vessels, so you can cruise through the Greek Isles effortlessly.
The panoramic windows provide fantastic views of the Greek coastline as you navigate from one enchanting destination to another. Whether you seek to explore popular hotspots or discover hidden coves, a motor yacht ensures a sophisticated yachting experience.
Catamarans
Catamarans present a perfect fusion of stability, space, and sailing pleasure. These multi-hulled vessels provide a steady and comfortable sailing experience. They are excellent for families, groups, or those seeking a relaxed journey. With their wide decks and ample outdoor living areas, catamarans offer the ideal setting for al fresco dining, sunbathing, and taking in stunning vistas.
Glide across the azure waters, and experience the joy of a smooth and peaceful voyage. Catamarans are ideal for exploring shallow bays, navigating between charming villages, and finding hidden gems in Greece's coastal wonders.
Sailboats
Sailboats embody the timeless allure of sailing and offer an authentic yachting experience. Driven by the power of the wind, these classic vessels invite you to connect with the elements and embrace the true spirit of sailing.
Sailboats come in various sizes and styles, catering to different group sizes and preferences. Enjoy the thrill of an intimate escape amidst the beauty of nature.
Motor Sailers
Motor sailers blend the best of both worlds. Revel in a motor yacht's elegance while enjoying a sailboat's charm. These graceful vessels feature engines and sails, offering versatility and efficiency for your yacht charter adventure.
With spacious decks and stylish interiors, motor sailers ensure a delightful and memorable yachting journey.
Step 3: Discover the Greek Islands Experiences
Beyond the luxury of your private yacht, Greece offers an array of unforgettable experiences. Your journey will be full of wonder and excitement, from exploring ancient ruins with a rich history to visiting beautiful islands with breathtaking landscapes.
Water and Wind Sports
For the adventurous spirits, Greece boasts an array of water and wind sports, including kiteboarding, windsurfing, and traditional surfing.
Regarding thrilling water and wind sports, a yacht charter in Greece offers an array of exceptional locations that cater to every adventurer's desire. As you sail through the azure waters, here are some remarkable spots where you can partake in these exciting activities:
Kiteboarding
Head to the beautiful island of Naxos, renowned as one of the best kiteboarding destinations in Greece. The Meltemi winds blowing from the Aegean Sea create the perfect playground for kiteboarders. Agios Georgios Beach, in particular, offers a vast stretch of sandy coastline and consistent winds. It is an ideal spot for kiteboarding enthusiasts to ride the waves and perform stunning aerial tricks.
Windsurfing
Lefkada, one of the Ionian Islands, boasts the scenic Vassiliki Bay, a world-famous windsurfing destination. Known for its reliable thermal winds, Vassiliki welcomes windsurfers of all levels. Beginners can take advantage of the calmer morning winds. More experienced riders can challenge themselves with the stronger afternoon winds that surge through the bay.
Stand-Up Paddleboarding (SUP)
The calm and clear waters of Navagio Beach on the island of Zakynthos make it a perfect place for stand-up paddleboarding. Paddle along the stunning coastline, exploring sea caves and admiring the iconic shipwreck that lies ashore. Additionally, the tranquil waters of Elafonissi Beach in Crete offer another serene setting for SUP enthusiasts to enjoy the beauty of Greece's landscapes.
Kayaking
The Ionian Sea beckons kayakers with its beauty. The scenic waters around Kefalonia, specifically the enchanting Melissani Cave and the tranquil Myrtos Beach, offer ideal spots for these activities. Further south, the calm waters of the Corinthian Gulf near Galaxidi invite kayakers to explore the fascinating coastline and discover secluded coves.
Beaches
If relaxing is your style, picture yourself basking in the sun on private beaches and exploring hidden coves with crystal-clear waters. And as the sun sets, Greece's vibrant nightlife scene invites you to dance the night away.
Nightlife
Exploring the Greek Islands can lead you to iconic destinations such as Mykonos, known for its lively nightlife, Santorini, with its awe-inspiring cliffs and Paros, exuding a trendy New Age vibe. No matter your interests, there's a Greek island experience that's perfect for you.
Itineraries for Your Greek Yacht Charter
We will work with you and your captain to craft a custom yacht charter itinerary. Since there are so many unique places to visit, having a set plan will help you make the most of your time.
What would you like to see and do?
Before you begin, define your group's preferences and interests. Are you seeking peaceful, secluded anchorages or lively, bustling ports?
Does the allure of historical sites captivate you, or does Greece's vibrant nightlife entice you? Identifying must-see islands or landmarks lays a solid foundation for your personalized itinerary.
How long is your charter?
The duration of your yacht charter significantly influences your itinerary design. A week-long charter may allow in-depth exploration of a single island group, such as the Cyclades or Ionian Islands. For those with more time at their disposal, a two-week charter opens the possibility of traversing multiple island groups, immersing you in diverse experiences.
Where do you want to start?
Optimizing your sailing experience begins with selecting an ideal starting point. Athens is a popular choice since it has an international airport and is close to the Saronic Gulf and Cyclades. Alternatively, start your voyage from the Ionian Islands, like Corfu or Lefkada, or the captivating island of Rhodes in the Dodecanese.
Balance Exploration and Relaxation
A well-crafted itinerary strikes the perfect balance between exploration and relaxation. Each destination should offer a mix of engaging activities, such as exploring local attractions, savoring delectable taverna cuisine, embarking on invigorating hikes, snorkeling in pristine waters, and savoring leisurely beach moments. Remember, this is your cherished vacation—relaxation is as important as exploration.
Remember, Flexibility is Key
A plan is crucial, but flexibility adds joy to a yacht charter. The weather may lead to route changes, and unexpected discoveries may require more time. Embrace the freedom, welcome spontaneity, and enjoy adjusting your itinerary as you wish.
Step 4: Let CKIM Group Bring Your Greek Yacht Charter to Life
When considering the perfect time to visit Greece for a yacht charter, you'll find an abundance of treasures awaiting you. The allure of Venetian architecture gracing the charming towns of the Dodecanese Islands combines harmoniously with the gentle sailing conditions that prevail in the Saronic Islands.
Whether you opt for the classic elegance of sailing yachts or explore our comprehensive yacht charter offers, your voyage promises to be a harmonious blend of historical richness, idyllic landscapes, and a maritime adventure that beckons throughout the seasons.
Moreover, if you're interested in exploring beyond Greece, we also have an extensive selection of options in neighboring Mediterranean countries and even across the globe.
Contact CKIM Group and start planning your Greek yacht charter! Whether you're in the early planning stages or ready to set sail, we're here to guide you through the entire process of chartering a yacht in Greece.
Our mission is to help you escape to Greece on a luxury yacht charter, where unforgettable memories and the beauty of the Greek Isles await you.
Please call us today at 1 (321) 777-1707 or describe Your Vacation Vision to help you plan your fully-crewed private luxury yachting vacation! Inquire as soon as possible about your custom, crewed yacht charter.
You make the memories. We make the arrangements.