Lagoon Catamarans have a long history of building beautiful, well-made catamarans. With each new model that they create, they retain the industry's attention. Nowhere is this more evident than in luxury yacht charters.
Lagoon specializes in custom designs for private ownership, and they also offer vessels for luxury yacht charter vacations. On a Lagoon catamaran charter, you can expect an interior with a 'just like home' feeling.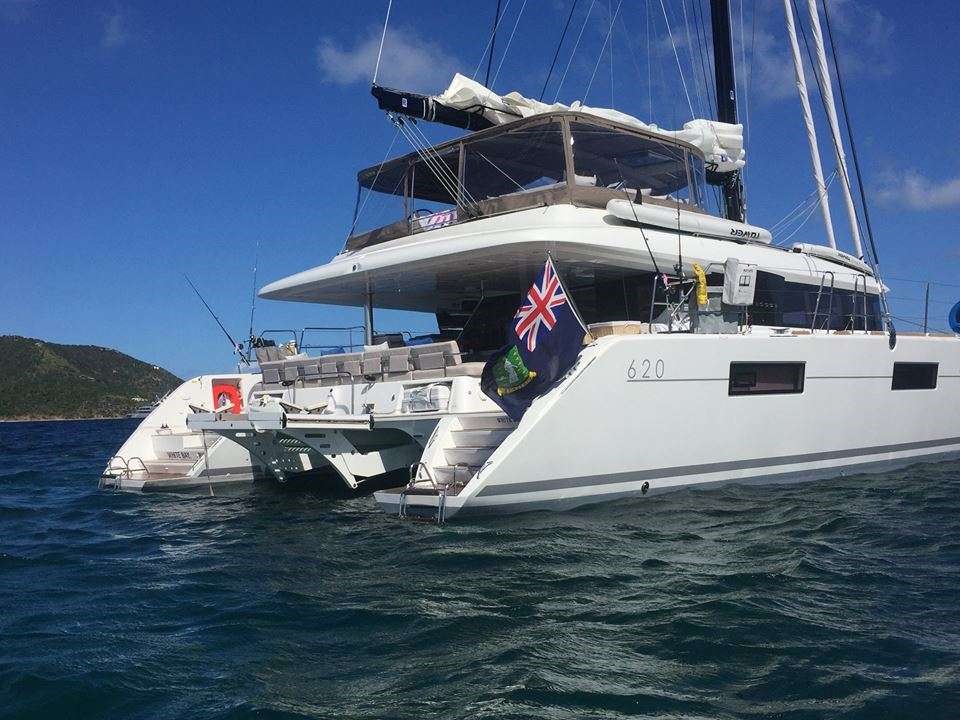 Lagoon Sailing Catamarans
The Lagoon sailing catamarans offer a smooth and relaxed sailing experience. Since these yachts are both stable and spacious, they are a popular option for crewed charters.
Lagoon 40
The Lagoon 40 is a stylish and spacious sailing catamaran designed for cruising and leisure. It also offers a comfortable and well-appointed interior with various layout options to accommodate different preferences.
Lagoon 42
The Lagoon 42 is a popular cruising catamaran known for its innovative design and modern features. It offers a generous living space, including spacious cabins and a large salon area.
Lagoon 46
The Lagoon 46 is a luxurious sailing catamaran designed for bluewater cruising and long-distance voyages. With its elegant and contemporary design, the Lagoon 46 boasts a spacious flybridge and ample interior spaces.
Lagoon 51
The Lagoon 51 is a premium sailing yacht. It offers a comfortable and luxurious onboard experience with a roomy layout and high-quality materials. This catamaran is capable of long-range cruising. It has advanced navigation and safety features to handle various sea conditions.
Lagoon SIXTY 5
The Lagoon SIXTY 5 is a flagship yacht designed for long-distance cruising and opulent living. Indeed, it represents the pinnacle of Lagoon's expertise and craftsmanship, offering a spacious and refined interior with customizable layout options.
Lagoon SEVENTY 7
The Lagoon SEVENTY 7 is a prestigious, large sailing catamaran crafted for luxurious yachting experiences. This catamaran has state-of-the-art technology, premium amenities, and high-performance sailing capabilities.
These sailing catamarans have a powerful sail plan and can reach impressive speeds, making them perfect for exploring open waters. The Lagoon catamarans' shallow draft also allows access to smaller coves and inlets. You can thus reach secluded beaches and picturesque anchorages.
Power Catamarans by Lagoon Catamarans
If sailing isn't your cup of tea, Lagoon's power catamarans are an excellent choice for your crewed charter. Lagoon's power catamarans provide all the same space, comfort, and luxury as their sailing counterparts. However, they have the added convenience of propulsion from powerful engines.
Lagoon SIXTY 7
The Lagoon SIXTY 7 is a remarkable power catamaran that exemplifies Lagoon's commitment to innovation and design excellence. With its sleek and elegant lines, this 67-foot motor yacht stands out as a luxurious, high-performance vessel.
The interior of the Lagoon SIXTY 7 is spacious and beautifully designed, offering ample living spaces and luxurious accommodations. The salon has panoramic windows that flood the space with natural light, creating a bright and inviting atmosphere.
The flybridge provides a fantastic vantage point and a comfortable outdoor area for relaxation, socializing, and enjoying the scenery. The flybridge has everything you need: seating, sunbeds, and a helm station. It is a perfect space for cruising or entertaining guests.
Lagoon SEVENTY 8
The Lagoon SEVENTY 8 is the flagship power catamaran in the Lagoon fleet, representing the pinnacle of luxury and performance. The SEVENTY 8 is a long-range cruiser capable of handling extended voyages and offering unparalleled onboard living.
The interior of the Lagoon SEVENTY 8 is very spacious and tastefully appointed. It has a luxurious owner's suite and several guest cabins designed to provide maximum comfort and privacy. The salon offers a grand living area with large windows, providing panoramic views.
The flybridge of the SEVENTY 8 is a luxurious outdoor living space. It offers various amenities, including seating, dining areas, a bar, and a helm station. It also serves as a hub for entertainment and relaxation while enjoying the pleasures of the open sea.
Locations for Your Lagoon Catamaran Charter
If you're looking to charter a Lagoon catamaran for your next vacation, you have plenty of options for locations. Lagoon catamarans are available for charter all around the world, from the Caribbean to the Mediterranean to the South Pacific.
Popular charter destinations include the Bahamas, the British Virgin Islands, the US Virgin Islands, and St. Martin. The warm waters, beautiful beaches, and great sailing conditions make this region a top pick for sailors. In addition, there are plenty of activities to keep everyone entertained, from snorkeling and scuba diving to beach hopping and island exploring.
In the Mediterranean, popular charter destinations include Croatia, Greece, and Italy. These countries' history, culture, and cuisine make them an ideal choice for those who want to combine sailing with sightseeing. The waters are also relatively calm and clear, making them perfect for swimming, snorkeling, and other water-based activities.
Lagoon catamarans are also available for charter in the South Pacific for those looking to venture further afield. Destinations include Tahiti, Fiji, and the Cook Islands, where crystal-clear waters, stunning coral reefs, and beautiful lagoons await.
Popular Lagoon Catamarans Available for Charter
FRENCHWEST, a 78-foot Lagoon accommodates 8 guests in 4 large cabins. The yacht debuted in 2020 and has been receiving rave reviews ever since. FRENCHWEST provides an excellent backdrop for your vacation with loads of space both inside and out, including a flybridge.
JOY. JOY is an unbeatable choice for a bespoke yacht charter holiday. On the main deck, a huge main salon forms the heart of the yacht. JOY accommodates 8 guests in 4 cabins. Plenty of roomy living areas make this an ideal yacht for families and groups of friends.
C'EST LA VIE, a 67-foot Lagoon, accommodates eight guests in 4 ensuite cabins. C'EST LA VIE has e-foils, sea bobs, scuba compressors and gear, floating docks, and a tender to get you to the beach. In addition, if you are interested in becoming dive certified, Captain Robbie is a PADI dive instructor.
TELLSTAR is now TWIN FLAME 77, a Lagoon 77.
The inside of Twin Flame 77 is roomy and comfortable. The salon is big, bright, and cozy. The salon also offers easy access to both the aft and forward cockpits, allowing seamless movement around the yacht. The expansive flybridge offers a breathtaking 360-degree view.
Accommodations on Twin Flame 77 are luxurious, catering to eight guests. The master stateroom features a seating area, while there are three additional elegantly appointed queen cabins.
Please call us today at 1 (321) 777-1707 or describe Your Vacation Vision to help you plan your fully-crewed private luxury yachting vacation! Inquire as soon as possible about your custom, crewed yacht charter.
You make the memories. We make the arrangements.