The East Mediterranean offers unspoiled terrain, hidden beaches, unique cuisine, and warm hospitality. The Turkish Riviera, in particular, is a yacht charter paradise. You can explore this gorgeous area aboard 131′ Motor Yacht ARIELA.
Boasting 12 guest accommodations, 1 Master, 2 Double, and 2 Twin Cabins, she exudes comfort and style. Her team of 7 experienced and dedicated crew ensures the highest level of service. Charter Turkey Motor Yacht ARIELA for a relaxing getaway!
In the summer months of May through October, ARIELA is available for charter in Turkey and the Mediterranean. The yacht typically offers customized itineraries from Marmaris and Bodrum to Antalya, the Greek Cyclades, Crete, or Santorini, with each location being the most sought-after spot for crewed luxury motor yacht charters.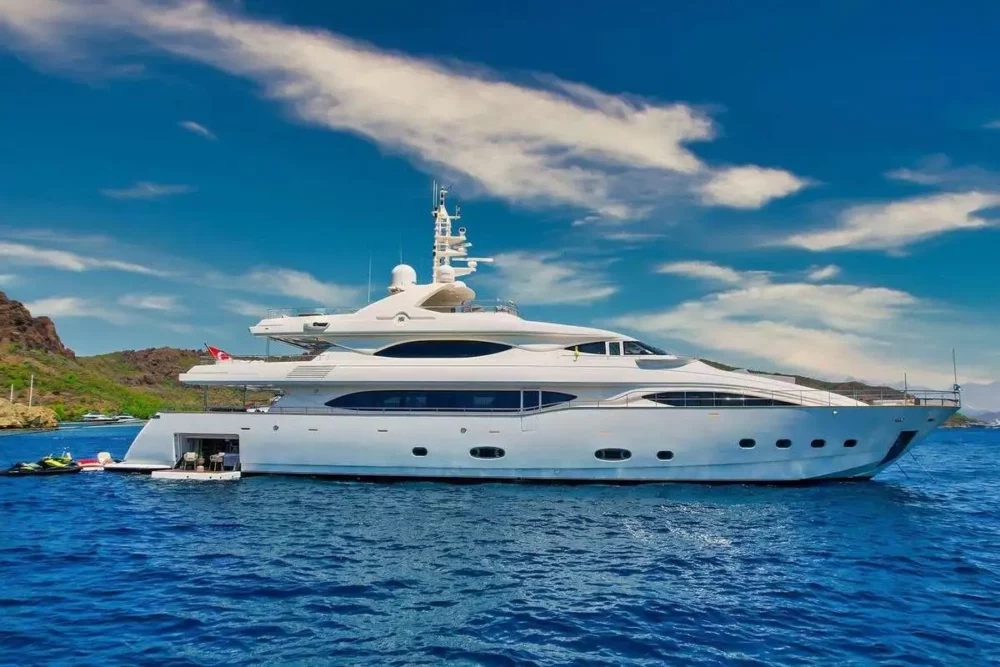 Key Features
This impressive superyacht has incredible cruising and maximum speed, making it easier to see more!
She can sleep up to twelve passengers in six cabins with two twins and four doubles.
Additionally, her crew of seven is child-friendly and well-qualified to give guests an amazing East Mediterranean yacht charter vacation.
ARIELA is authorized by the RYA water sports center, which offers you the chance to acquire a JET SKI certificate before setting out on your exquisite superyacht charter.
Moreover, the master cabin has an office, an impressive 40" SAT TV, and a spacious king-size bed at its center.
Water Toys | Charter Turkey Motor Yacht ARIELA
ARIELA also comes with many fun water toys:
1 x 2.80 / 9' crew tender with 9hp outboard
2 x SEA DOO Waverunner
Kayak, Canoe, Windsurf, SUP Paddle Boards on request
Inflatable and Towing toys, tubes
Wakeboard, Kneeboard
Water skis
Board games & Beach games on request
Snorkeling equipment
Fishing equipment
Swimming Platform
Professional rendez-vous diving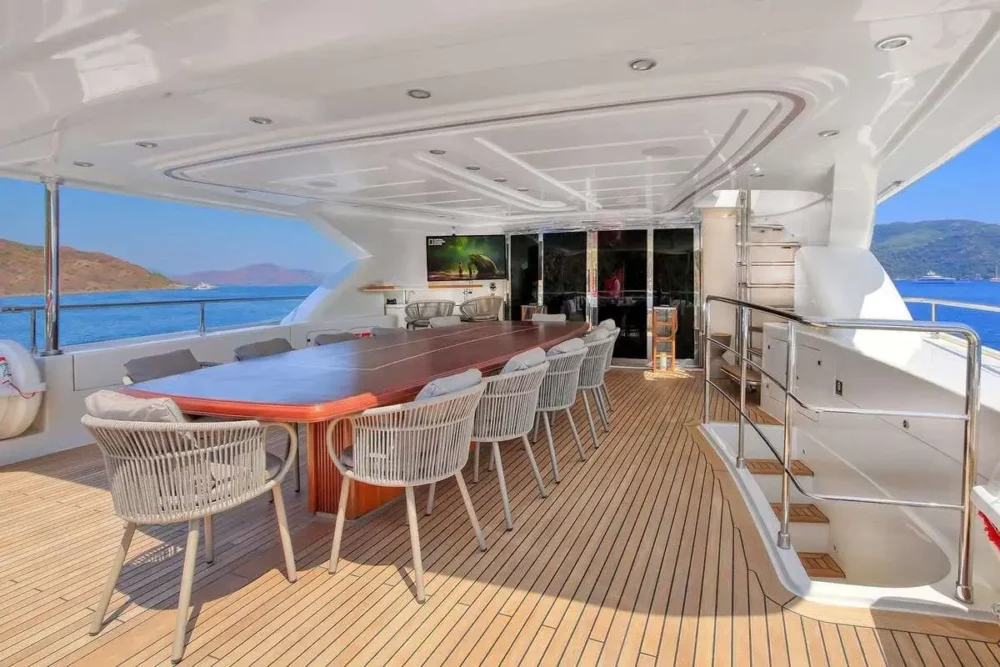 Additional Water Toys Available On Request
Waverunner
Jet Skis
FlyJetBoard
Sea Bobs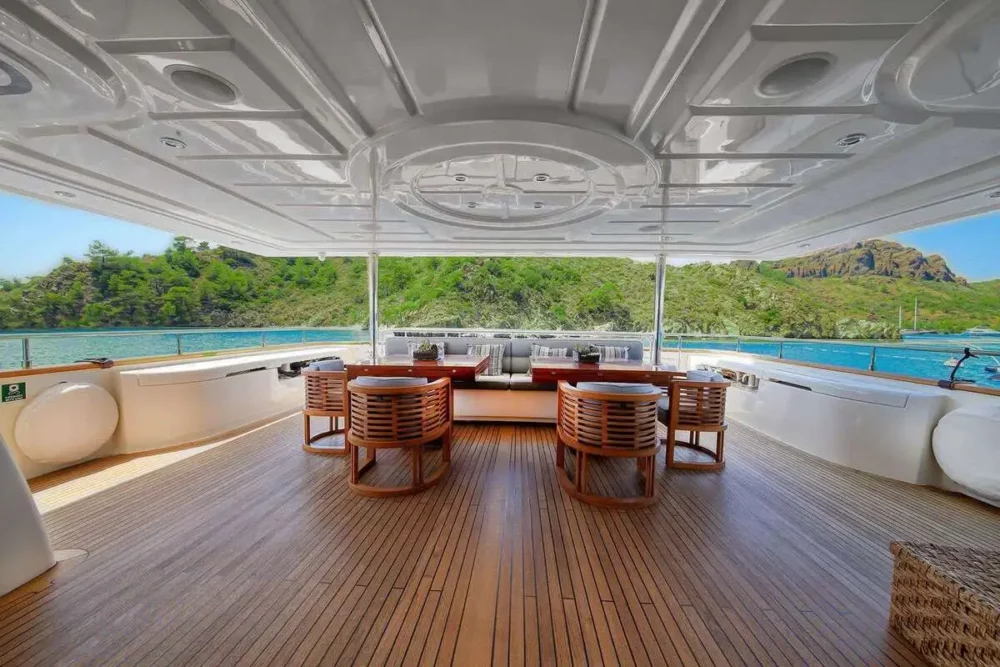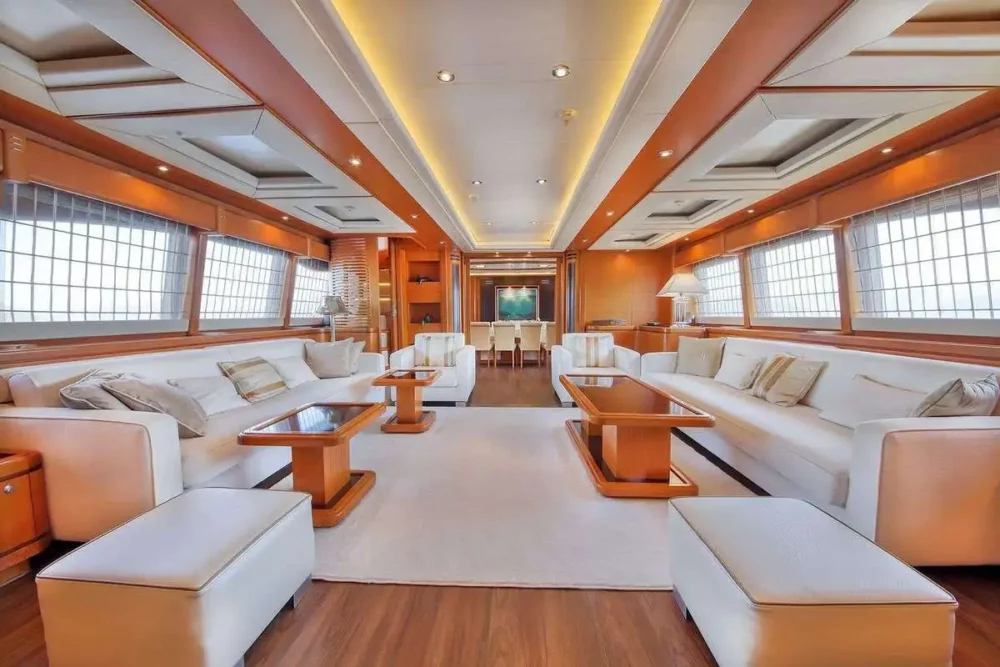 Places to Visit on Your Turkey Yacht Charter
Turkey is a stunning destination for a luxury yacht charter, offering a combination of breathtaking coastlines, rich history, and vibrant culture. Here are some of the top destinations to visit on a luxury yacht charter in Turkey:
Bodrum
Known as the "Saint-Tropez of Turkey," Bodrum is a popular yachting destination with its picturesque bays, crystal-clear waters, and lively nightlife. Explore Bodrum Castle, relax on beautiful beaches, and indulge in gourmet dining and upscale shopping.
Marmaris
Nestled between two intersecting stretches of coastline, Marmaris offers a perfect blend of natural beauty and modern amenities. Discover the bustling marina, visit the ancient city of Kaunos, and enjoy water sports and diving in the surrounding turquoise waters.
Gocek | Charter Turkey Motor Yacht ARIELA
In the Gulf of Fethiye, Gocek is a tranquil and scenic destination surrounded by verdant hills and hidden coves. With its well-equipped marinas and luxury resorts, it attracts yachting enthusiasts from around the world. Explore nearby islands, dine in waterfront restaurants, and enjoy the area's unspoiled beauty.
Antalya
This stunning coastal city is renowned for its luxurious resorts, historic sites, and vibrant nightlife. Dock your yacht in the modern marinas and visit ancient ruins like Perge and Aspendos. Stroll through the charming old town, Kaleiçi, and experience the bustling atmosphere of Antalya's shopping and dining districts.
Kas
A picturesque town on the Turquoise Coast, Kas is a hidden gem with a charming harbor and a relaxed ambiance. Visit the sunken city of Kekova, explore ancient Lycian tombs, and enjoy swimming and snorkeling in crystal-clear waters. Kas also offers excellent opportunities for hiking and paragliding.
Fethiye
Fethiye is a vibrant coastal town known for its stunning beaches and landscapes, including the famous Blue Lagoon of Oludeniz. Sail along the beautiful coastline, visit Butterfly Valley, and explore the ancient rock tombs of the Lycian civilization. Fethiye is also a gateway to the renowned Saklikent Gorge and the impressive ruins of Tlos.
Istanbul
Although not on the coast, Istanbul is a must-visit city in Turkey. Dock your yacht in one of Istanbul's marinas and immerse yourself in the city's fascinating blend of Eastern and Western cultures. Explore iconic landmarks like the Hagia Sophia, Blue Mosque, and Topkapi Palace. Indulge in the vibrant culinary scene and experience the bustling markets and bazaars.
These destinations offer various experiences, from stunning natural beauty and historical sites to vibrant nightlife and cultural attractions.
The Best Time to Charter Turkey Motor Yacht ARIELA
Generally, the most popular seasons for yacht charters in Turkey are spring (April to June) and autumn (September to November), when the weather is mild and the crowds are smaller than in the peak summer months. However, the choice of the season also depends on the activities and experiences you seek.
Spring (April to June): This is an excellent time for yacht charters in Turkey as the weather is generally pleasant with warm temperatures. It's a great time to explore coastal towns, visit historical sites, and enjoy water activities like swimming and snorkeling. The vegetation is lush, and the landscapes are beautiful during this time.
Summer (July to August): The summer months are the peak tourist season in Turkey, particularly along the coastal areas. The weather is hot and sunny, and the waters are warm, making it perfect for swimming and sunbathing. However, popular destinations can get crowded, especially in July and August, and prices for charters and accommodation may be higher.
Autumn (September to November): Autumn is another fantastic season for a yacht charter in Turkey. The weather remains warm and pleasant during September and October, with fewer tourists compared to the summer months. It's an ideal time to explore historical sites, indulge in water activities, and enjoy the beauty of the Turkish coast without the peak-season crowds.
Winter (December to March): Winter is the off-season for yacht charters in Turkey, as the weather can be cool and rainy, particularly in coastal areas. However, some people prefer visiting during this time to experience Turkey's quieter and more serene side. Istanbul, in particular, has a unique charm during the winter months.
Don't hesitate to contact us to learn more about how to charter Turkey motor yacht ARIELA or another excellent yacht!
Please call us today at 1 (321) 777-1707 or describe Your Vacation Vision to help you plan your fully-crewed private luxury yachting vacation! Inquire as soon as possible about your custom, crewed yacht charter.
You make the memories. We make the arrangements.