A private yacht charter in the Bahamas may seem like something only for the rich and famous. However, it doesn't have to be that way at all. With many different price points and styles, you can find exactly what you want when booking your private yacht charter in the Bahamas.
Choose from motor yachts, power catamarans, or sailing catamarans—or even better, tell us what you wish to experience. Read on to learn more about private yacht charters in the Bahamas.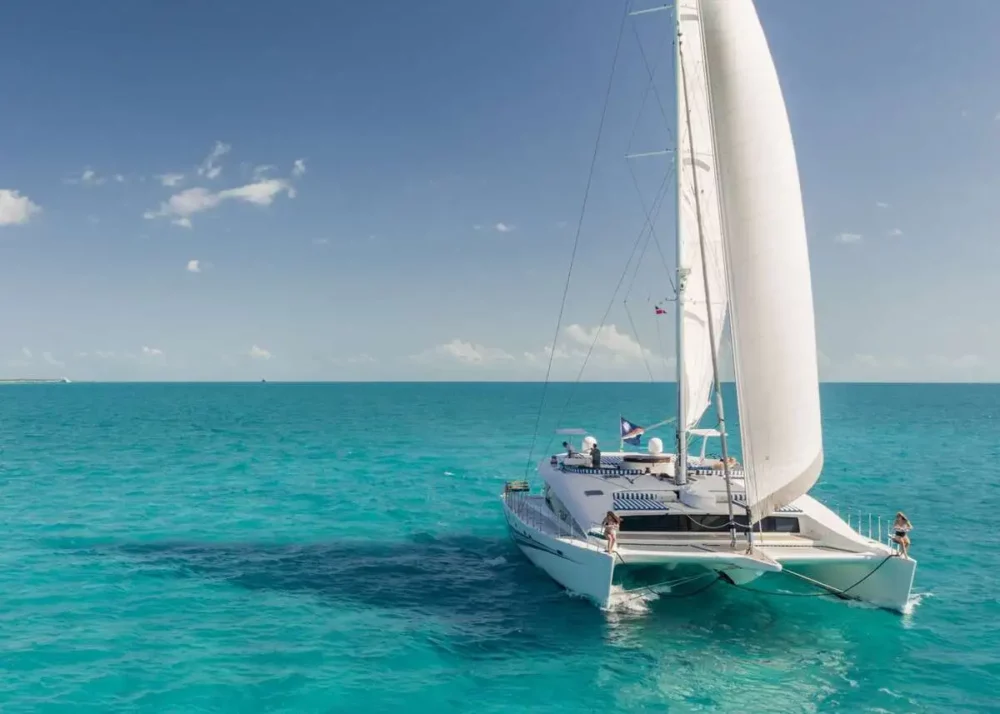 Reasons Why a Private Yacht Charter in the Bahamas is Like No Other Experience
There are lots of reasons to visit the Bahamas on a private yacht. We've narrowed it down to these top three reasons:
Unique locations. If you're looking for a place to escape it all, you'll want to consider traveling on a private yacht. You can charter in some of the most remote locations in the Bahamas. While other island destinations are busy and filled with hotels, restaurants, and shops, private yacht charters offer guests complete privacy.
Foodie-worthy dining. Another great reason to travel on a private yacht charter is that these vessels have full kitchens and state-of-the-art equipment. Chefs whip up delicious meals using fresh and local ingredients.
There's something incredibly romantic about eating under the moonlight while enjoying conversation over excellent food and drinks. Your private chef will create custom menus to suit your group's preferences and any dietary requirements. Moreover, you will also be able to pre-select your preferred beverages.
Exclusive itineraries. With private yacht charters, you can create your itinerary based on where you want to go, how long you plan on staying at each location, and which islands you wish to visit. Please have a look at our sample Bahamas charter itineraries.
5 Things to Consider When Booking Your Charter
Private yacht charters in the Bahamas are one of those bucket list items that many people have dreamed about but may not know how to book. In truth, it's not as complicated as you might think. These tips will help you understand what you need to know and consider before making your reservation. There are five things to consider when looking at booking a private yacht charter in the Bahamas for your vacation:
Who is traveling with you? Family, friends, couples?
What types of locations do you want to visit on your trip?
What type of boat interests you: motor yachts, catamarans, power catamarans?
What activities do you want to enjoy on your trip?
How many weeks would you like to spend on the yacht?
This information can help determine which kind of boat is best suited for your vacation. If everyone is an adult, one type of boat may work best; if there are children or mobility issues, another type or one with an elevator will work better.
Best Destinations for a Private Yacht Charter in the Bahamas
The Exuma Islands and popular destinations, like Staniel Cay and Harbour Island, are renowned for their breathtaking beauty. One can't miss the famous swimming pigs, a unique attraction that adds to the allure of these islands.
Harbour Island stands out with its picturesque pink sand beach, while Paradise Island boasts stunning crystal-clear waters that invite exploration. Whether you're seeking adventure or tranquility, the Exuma Islands offer a paradise unlike any other, where natural wonders and pristine landscapes harmonize to create an unforgettable experience.
Some of the best destinations for a private yacht charter in the Bahamas include the Abacos, Exumas, and Bimini. These places are among the most popular tourist destinations on the islands – but they're still off the beaten path enough to feel like a secluded hideaway.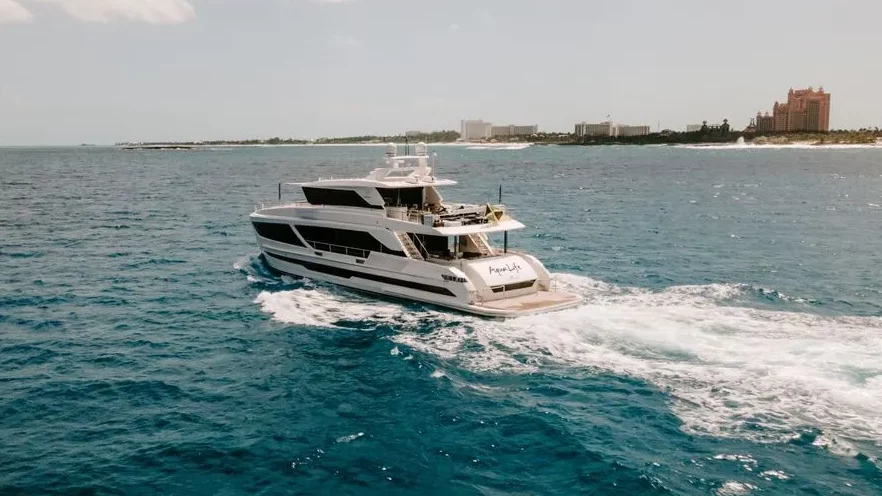 Abacos
Boats have always been a part of the Abacos. It's also a fishing hotspot. In fact, it's the center of some of the best fishing grounds in the world. Located just east of Grand Bahama Island, the Abacos offer something for everyone: fantastic fishing, incredible beaches, and various activities and amenities.
Abaco comprises several islands, including Marsh Harbour, Great Abaco Island, and Elbow Cay. There are many cays to explore, with natural beauty, beautiful beaches, and abundant marine life.
Marsh Harbour is the main town on the island, with plenty of great restaurants, shops, and nightlife. Stroll through the vibrant downtown area to experience the local culture, or take a boat tour of the nearby cays. There are also several attractions to explore, such as the Artisan Village, The Abaco Wild Horses, and the Wyannie Malone Historical Museum.
Exumas
Plenty of coral reefs are just waiting for you and your crew to explore. A snorkel, fins, and a mask are all you need to explore the colorful undersea world. You might even be able to spot dolphins swimming alongside your yacht!
The Exumas are a stunning chain of over 350 islands and cays in the Bahamas. A private yacht charter to the Exumas is a must-do for luxury travelers seeking an unforgettable experience. The Exumas are an unmissable destination, from the vibrant marine life to the turquoise waters and white beaches.
In the Exumas, you can find some of the most beautiful beaches in the Bahamas, with miles of shoreline and beautiful secluded spots perfect for snorkeling and scuba diving. Here, you'll find vibrant coral reefs, spectacular tropical fish, and the chance to spot some of the larger animals like nurse sharks, manta rays, dolphins, and even humpback whales.
Bimini
There are tons of water activities to enjoy in Bimini. Suppose you want to keep up your fitness routine while on vacation (or even lose some weight), then a snorkeling or kayaking trip is one of the best ways to do it.
From fishing to snorkeling to exploring historic sites, Bimini offers plenty of activities to make your stay memorable. For anglers, Bimini is a great spot for big-game fishing.
The waters around Bimini are teeming with excellent game fish such as marlin, sailfish, wahoo, and mahi-mahi. Experienced fishing guides are available to take you to the best spots. Snorkeling and diving in Bimini is also an unforgettable experience.
History buffs will appreciate the historical sites located on Bimini. Visit the ruins of the original Bimini settlement founded by Lucayan Indians, now part of the Bimini Underwater Archeological Preserve. Explore the fabled Fountain of Youth, which Juan Ponce de Leon discovered in 1513. Or visit "The Big Blue Hole," a deep underwater cave once used as a hideout by pirates.
5 Tips Before You Go
Your yacht broker will be available to answer all your questions, so don't hesitate to ask. We also have comprehensive FAQs and a First Time Charter Guide. In the meantime, here are some tips to consider before you go:
Carefully complete your preference sheet. Before you leave for your best Bahamas yacht charter, you will fill out a preference sheet. It will detail your likes, dislikes, food allergies, intolerances, etc. The crew will provision your yacht with your group's food and drink preferences.
Bring sun protection: The Bahamian sun is hot. Pack a hat and protective clothing if you don't want to ruin your holiday with a sunburn. Be sure to check with your charter broker about sunscreen already available on board, as most boats offer marine-safe sunscreen.
Be mindful of marine life: The Bahamas are home to many species of sharks, including hammerheads and bull sharks. Most likely, you won't see any. However, to stay safe, avoid swimming at night with less visibility.
Wear water shoes. Some areas may have hot sand and a lot of shells on the beach. Wearing shoes will protect your feet and give you better traction as well.
Keep an open mind and be flexible. Sometimes the wind and weather may alter your plans for the day. Your captain will always put the safety and well-being of your group first. You'll discuss the day's plans with your captain and crew daily.
Book Your Bahamas Private Yacht Charter Today
Here are some of the yachts available for your Bahamas private yacht charter:
Please call us today at 1 (321) 777-1707 or describe Your Vacation Vision to help you plan your fully-crewed private luxury yachting vacation! Inquire as soon as possible about your custom, crewed yacht charter.
You make the memories. We make the arrangements.