Here we look at regional Croatian specialty dishes, which you are likely to taste while sailing the Adriatic coast.
Octopus Salad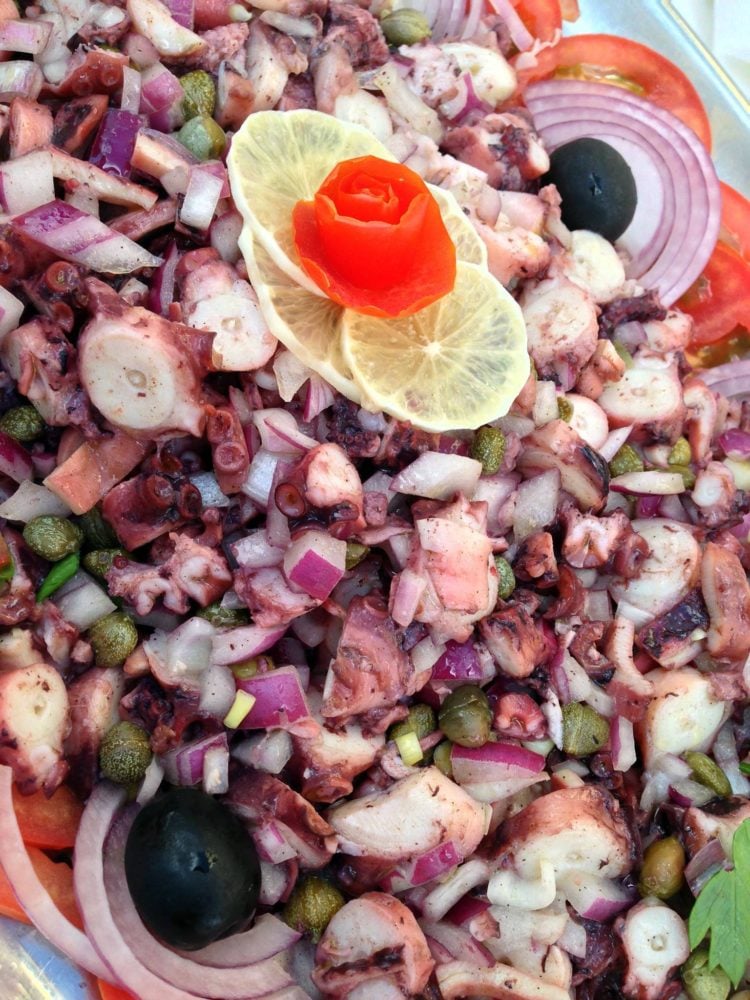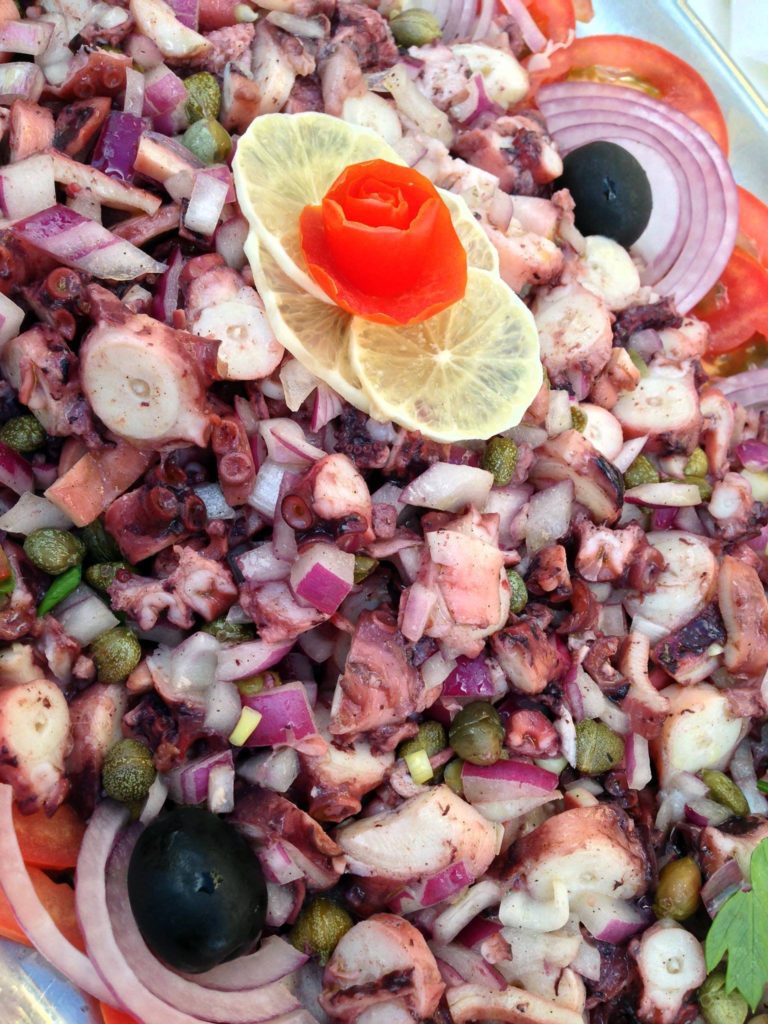 On a hot summer day, salata od hobotnica (octopus salad) makes an enticing appetizer. Served cold, it combines chunks of tender octopus, chopped onion, parsley, olive oil and vinegar. Local variations might see the addition of potato, tomato, olives or capers.
Black Risotto
Delicious, jet black crni rižot (black risotto) is made from rice, cuttlefish, onion, garlic, red wine and olive oil. It gets its color and unique flavor from the cuttlefish ink, which the cuttlefish spray at predators in self-defense. The Venetians probably brought black risotto to the region, and Napoleon was apparently very fond of it.
Shrimps "na buzaru"
The buzara method sees garlic fried in olive oil, followed by whole fresh shrimps, chopped tomato, parsley, and wine. It is cooked for 10-15 minutes, then served with plenty of bread, to mop up the delicious juices. Other shellfish, such as mussels or clams, can be prepared the same way.
Brodet
Also known as brudet or brujet (depending where you are), this slow-cooked fish casserole is another Croatian specialty dish. In the past, fishermen used this recipe to cook up any surplice catch they had not sold. It should include at least three different types of fish, plus onion, olive oil, garlic, tomato, wine and bay leaf. In the Neretva Delta area, they make it from eel. Contemporary gourmet chefs like to use monkfish and lobster instead served with polenta.
Pašticada
Popular throughout the former Venetian Empire, this dish probably dates from Byzantine times. Now a festive dish in Dalmatia, it combines sweet and savory flavors, as enjoyed by the ancients. Indeed the beef is slow-cooked with prošek (sweet wine), prunes, cloves, nutmeg, and cinnamon, and served with gnocchi.
Pancakes
Finally, something sweet? You'll be surprised to see that pancakes (palačinke) are often the only Croatian specialty dish offered for desert. But they are delicious. General you'll have a choice of three fillings – jam (usually apricot), chocolate, or ground walnut.
Ice Cream
In conclusion, you can also taste some excellent artisan ice cream (sladoled) in Croatia. Moreover, for the very best, visit Gianni in Dubrovnik. He makes 12 sorts of ice cream and sorbet – favorites are the lavender-and-honey ice cream, and the lemon-and-ginger sorbet.
Please call us today at 1 (321) 777-1707 or describe Your Vacation Vision to help you plan your fully-crewed private luxury yachting vacation! Inquire as soon as possible about your custom, crewed yacht charter.
You make the memories. We make the arrangements.