The majestic Hudson River, stretching from the Adirondack Mountains to the Atlantic Ocean, is a unique destination for a luxury yacht charter. Explore the stunning scenery and charming towns of New York City, Catskill, and Albany, as well as other beautiful destinations. Indulge in the ultimate luxury vacation with a Hudson River yacht rental.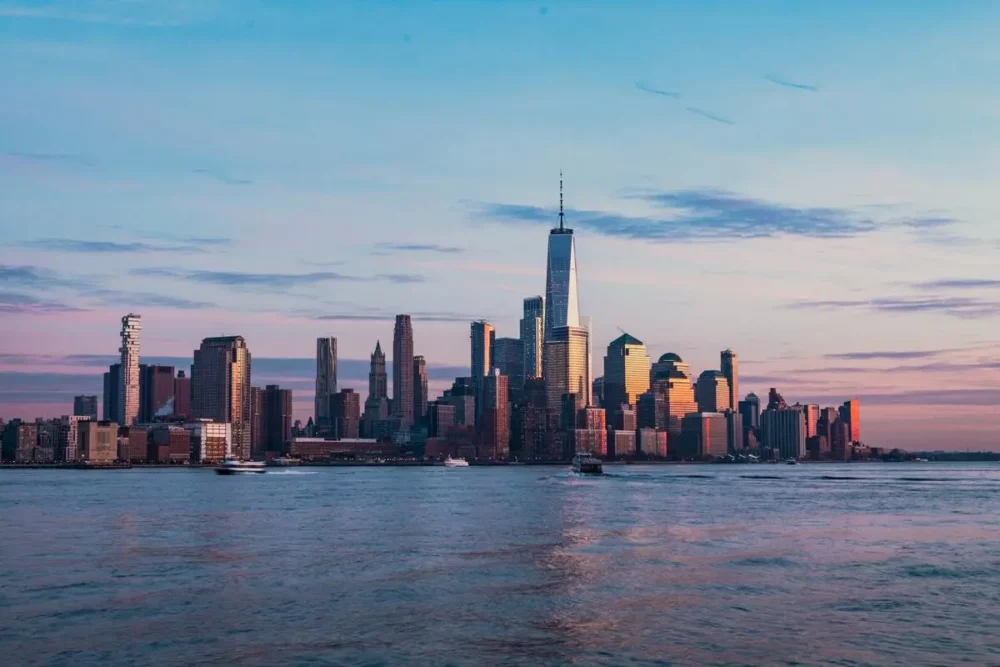 Why a Luxury Yacht is the Ultimate Coastal Adventure Experience
A Hudson River yacht rental offers the ultimate coastal adventure experience. You can relax and unwind in the lap of luxury and allow your dedicated captain and crew to pamper you. When you're not relaxing and soaking up the stunning scenery, you will have many activities to keep you busy.
A yacht charter along the Hudson River is also an excellent vacation that is close to home.
Explore Towns on the Hudson River
Many towns along the Hudson River make interesting day trips. You can explore the vibrant towns of New York, NY, Catskill, Albany, Kingston/Hyde Park, West Point, and Sleepy Hollow, to name a few. Every stop along the way offers a unique experience.
New York, NY
When you sail toward NYC, the city's iconic skyline unveils itself in all its glory. See landmarks like the Statue of Liberty, One World Trade Center, and the Brooklyn Bridge from the deck of your private boat.
The Hudson River offers a unique perspective of the city. Relax on deck, sip champagne, and enjoy the beautiful sights.
Catskill
Catskill, in the Catskill Mountains of New York, offers a delightful blend of history, art, and natural beauty. Explore the quaint village, with its historic architecture and artsy vibes.
Outdoor enthusiasts can hike the nearby Catskill trails or go boating on the Hudson River. Don't miss the Thomas Cole National Historic Site. This honors the famous landscape painter or the shops, galleries, and eateries that showcase local talent and cuisine.
Albany
Albany, the capital city of New York, is a dynamic and historic destination with a lot to offer. Visit landmarks such as the New York State Capitol, the Empire State Plaza, and the historic district of Lark Street. Albany also has a vibrant arts and culture scene, with numerous theaters, galleries, and museums to explore.
Kingston/Hyde Park
Kingston and Hyde Park offer a perfect blend of history, culture, and natural beauty. Kingston, known as the "First Capital of New York," boasts a well-preserved historic district. You'll encounter Dutch colonial architecture, charming shops, and a lively arts scene. The Rondout Waterfront district is a great spot for waterfront dining and exploring maritime history.
Hyde Park is home to the Roosevelt estate. There, you can visit the Franklin D. Roosevelt National Historic Site and the Vanderbilt Mansion National Historic Site. These attractions offer a glimpse into the lives of two prominent American families.
West Point
West Point, in the picturesque Hudson Valley of New York, is a place of immense historical and educational significance. The town is the home of the United States Military Academy (USMA). In addition to the military academy, West Point has museums, outdoor activities, guided tours, and more.
West Point is one of the iconic places to visit on your Hudson River yacht rental.
Sleepy Hollow
Sleepy Hollow, New York, is a historic village. It is famous for associating with Washington Irving's "The Legend of Sleepy Hollow." Explore the Sleepy Hollow Cemetery, Washington Irving's Sunnyside, and the Old Dutch Church.
The area offers guided tours, beautiful river views, and Halloween festivities. It is certainly a captivating destination for history and literary enthusiasts.
Enjoy Water Sports on a Hudson River Yacht Rental
Renting a yacht on the Hudson River provides a world of water sports and other outdoor activities. Enjoy getting out on the water, kayaking, paddleboarding, jet skiing, and swimming. Your yacht will have a variety of fun water toys to play with as you explore the bays and anchorages along your journey.
Savor Extraordinary Dining Experiences
Dining experiences on the Hudson River offer a unique blend of scenic beauty and culinary delights. Here are some options for dining on the Hudson River:
Riverfront Restaurants: Many riverfront towns along the Hudson offer charming restaurants with outdoor seating. These establishments provide a lovely setting for a meal while enjoying the river's beauty.
Yacht Dining: Your private chef will create an amazing custom dining experience daily. Enjoy gourmet meals on the deck while admiring the river views.
Waterside Bars and Cafes: Relax at waterside bars and cafes. Enjoy a drink or a light meal while watching boats go by.
Farm-to-Table Dining: Some towns boast farm-to-table dining options, offering fresh, locally sourced ingredients.
Picnicking: Your chef can pack a picnic for you to enjoy at one of the riverfront parks or scenic spots.
Wineries: There are several wineries in the Hudson Valley. Take a tour and taste local wines while enjoying vineyard views.
Plan Your Hudson River Yacht Rental Today
Your Hudson River yacht rental will be an adventure filled with luxury, breathtaking scenery, and exciting experiences. Imagine indulging in gourmet cuisine and sipping champagne on the deck of your private yacht. Spend precious time with friends and family and make lasting memories.
A Hudson River yacht rental ensures a perfect blend of relaxation and excitement. Call and make plans for your yacht charter today!
Please call us today at 1 (321) 777-1707 or describe Your Vacation Vision to help you plan your fully-crewed private luxury yachting vacation! Inquire as soon as possible about your custom, crewed yacht charter.
You make the memories. We make the arrangements.