Kennebunkport | Seaside Sophistication
Kennebunkport, Maine, is one of New England's most popular tourist destinations. The charming seaside village isn't just a nice place to visit; it is steeped in history and local lore. Kennebunkport is one of the oldest European-settled towns in the United States.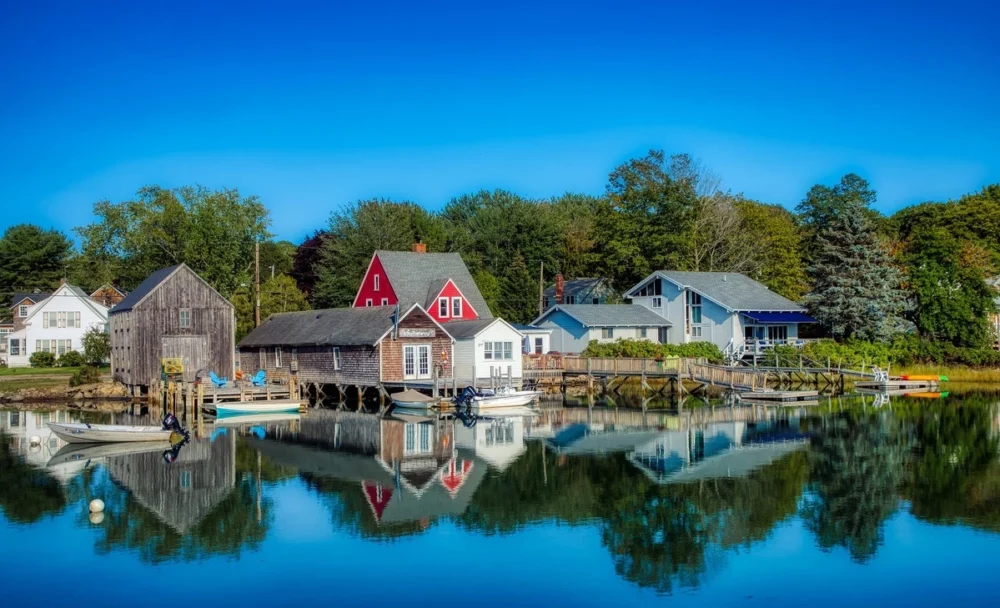 A Brief History
Founded in 1653, Kennebunkport's history dates back to the early colonial era, when it served as a prosperous trading and shipbuilding hub. Over time, it became a popular summer destination for the wealthy elite, including prominent political figures such as the Bush family. This rich history is reflected in the town's well-preserved architecture and preserved landmarks, adding to its unique character and charm.
Settled in the 1600s, Kennebunkport was once known as a ship-building mecca. Many five-masted ships and schooners started their journey to the sea from Kennebunkport. Sea captains built lovely mansions, many preserved today as historic inns.
Make Kennebunkport part of your New England Yacht Charter itinerary, and visit Portland, Rockland, and Camden.
Kennebunkport | Climate
Average temperatures in Kennebunkport vary drastically. Considering humidity, temperatures feel cold for about half of the year. Otherwise, it is lovely, with a fair chance of precipitation for about half of the year.
If you're looking for the warmest time to visit Kennebunkport, the hottest months are July, August, and June. The warmest time of year is generally mid-July, with highs around 83.2°F. Temperatures rarely drop below 59.5°F at night.
Places to see
Goat Island Light House. In the care of the Kennebunkport Conservation Trust, the lighthouse is full of history and haunted stories.
Cape Porpoise. Just a short distance from Kennebunkport, Cape Porpoise offers fantastic views of the rocky Maine coast. Explore the charming fishing village and visit Goat Island Lighthouse.
Goose Rocks Beach: Goose Rocks Beach is a haven of tranquility.
Seashore Trolley Museum. The first and largest electric railway museum in the world.
Wedding Cake House. Known formally as the George W. Bourne House, this iconic house is one of the most photographed houses in Maine.
Dock Square: The heart of Kennebunkport, Dock Square, is a bustling waterfront area teeming with charming shops, art galleries, and inviting cafes.
Walkers Point: The summer home of the Bush family. Although you can't access the property, the scenic coastal views make it a must-see spot during your yacht charter.
Kennebunkport Historical Society and Museum: Housed in the 1853 Nott House, the museum showcases exhibits highlighting the region's maritime heritage and local culture.
Things to do
Dine. Taste the best lobster roll in southern Maine at the Clam Shack.
Bike, walk, or drive along Ocean Avenue (overlooking Walker's Point).
Shop and explore the boutiques and galleries in Dock Square.
Kayak along the Kennebunk River.
Enjoy live entertainment outdoors at Vinegar Hill Music Theatre.
Lobster boat tours. Take a lobster boat ride and learn how Kennebunkport businesses work to make lobster fishing sustainable.
Top 5 Restaurants in Kennebunkport
The White Barn Inn Restaurant: Known for its refined elegance and exquisite cuisine, The White Barn Inn Restaurant offers a memorable fine dining experience. Indulge in delectable farm-to-table dishes crafted with locally sourced ingredients, complemented by an extensive wine selection.
Earth at Hidden Pond: Nestled in a serene wooded setting, Earth at Hidden Pond provides an enchanting farm-to-fork culinary experience. This award-winning restaurant focuses on using fresh ingredients from its farm. They also create dishes that celebrate the flavors of New England.
Stripers Waterside Restaurant: Overlooking the scenic Kennebunk River, Stripers Waterside Restaurant combines stunning waterfront views with exceptional seafood offerings. From locally caught lobster and oysters to creative seafood preparations, this restaurant promises an unforgettable dining experience.
David's KPT: Located in the heart of Dock Square, David's KPT delights guests with its contemporary American cuisine and welcoming ambiance. Enjoy a diverse menu featuring seasonal dishes, craft cocktails, and an impressive selection of wines.
The Tides Beach Club: For a more relaxed and casual dining experience, head to The Tides Beach Club. This oceanfront restaurant offers a beachy vibe and a menu featuring fresh seafood, light bites, and refreshing cocktails.
Kennebunkport | Marinas
Chick's Marina. Slips for yachts up to 165 ft. The Chicks Marina staff are at your service to arrange various concierge services, including restaurant reservations and car rentals.
Dimillos Kennebunk. Slips for yachts up to 85 feet: gated facility, electricity, fresh water, Wi-Fi access, on-site restaurant Federal Jacks.
Please call us today at 1 (321) 777-1707 or describe Your Vacation Vision to help you plan your fully-crewed private luxury yachting vacation! Inquire as soon as possible about your custom, crewed yacht charter.
You make the memories. We make the arrangements.