Greece Yacht Charters
Scenery unparalleled in the Mediterranean
Greece Yacht Charters. It's no secret why Greece is still one of the world's most magnetic destinations for luxury yacht charter vacationers. 3,000 years after laying the foundation for civic and social refinement. This land of amazing geographical and historical diversity continues to draw travelers from around the world.
Greece yacht charter vacations offer scenery unparalleled in the Mediterranean Sea. Experiences that will fill years of storytelling. Here you will find golden and quiet beaches, endless crystal blue waters, whitewashed traditional houses, notable traditional tavernas, nightclubs, sightseeing, unforgettable sunsets and much more. Among the most popular destinations in the waters surrounding the Greek peninsula are the Saronic Gulf, Cyclades, Sporades, Dedecanissa, Ionian Islands and Peloponissos. Any of these is yours with a Greece yacht charter arranged through Luxury Yacht Charters.
Yacht chartering in Greece continues to evolve with a variety of yachts ranging from the mono-hull sailing yachts, sailing catamarans, power catamarans and  motor yachts, from the moderately priced to the very high-end super yachts.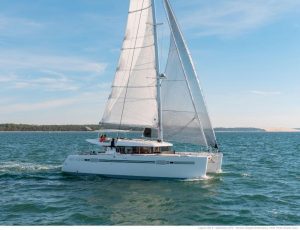 History-minded travelers will savor a visit to Greece, the birthplace of democracy, the birthplace of philosophers like Socrates and Plato and the home of ancient Grecian gods and mythology. Standing in the same buildings where giants of history stood provides you with exhilarating experiences not soon forgotten.
Greece yacht charter vacationers should plan to spend additional days on land in Athens exploring the historic sites and, if desired, on another island enjoying a villa or resort stay, which Luxury Yacht Charters can arrange for you. Land packages are also available.
We have years of experience putting together unique Greece Land Package designed specifically for you, with your interest and desires in mind. Visit Athens, Crete, Mykonos, and Santorini and  stay in the finest hotels.
If taking a private sailing vacation in Greece is on your bucket-list, good for you!  Allow Luxury Yacht Charters to help you bring your dreams to life.
Activities | General Information | Lesbos
Featured Yachts
MAP – Greece Yacht Charters
CONTACT US today at (321) 777-1707 to discover your Greece yacht charter vacation!
You make the memories. We'll make the arrangements.